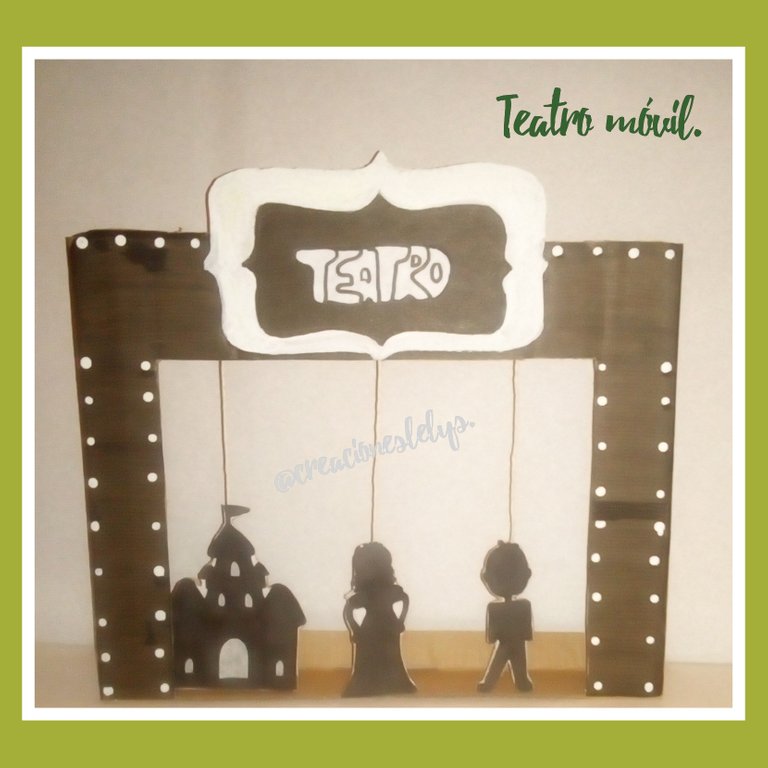 ¡Hola!
Soy Lelys 🤝 Bienvenidos a mi espacio creativo. El día de hoy vamos a realizar un lindísimo y divertido Teatro móvil, a los niños les encantará. Sólo necesitarás un trozo grande de cartón y algunos materiales que ya tienes en la casita. Empecemos.
Hello! I'm Lelys 🤝 Welcome to my creative space. Today we are going to make a beautiful and fun Mobile Theater, the children will love it. You will only need a large piece of cardboard and some materials that you already have in the house. Let us begin.

🃏 Cartón grueso.
🃏 Pintura al frío.
🃏 Pincel.
🃏 Marcadores.
🃏 Pegamento.
🃏 Dibujo de los personajes y demás objetos de tu obra.
🃏 Tijeras.
🃏 Papel carbón.
🃏 Hilo pabilo.
🃏 Thick cardboard. 🃏 Cold painting. 🃏 Brush. 🃏 Bookmarks. 🃏 Glue. 🃏 Drawing of the characters and other objects in your work. 🃏 Scissors. 🃏 Carbon paper. 🃏 Wick thread.

🃏 Selecciona el tamaño que tendrá el teatro móvil, mide y recorta ese tamaño en el cartón.
🃏 Observa la imagen. Ayudándote con un exacto, dibuja y recorta un recuadro más pequeño dentro del cuadro. Puedes hacer el corte de arriba ondulado. (Simular cortinas del telón)
🃏 Select the size of the * mobile theater *, measure and cut out that size on the cardboard. 🃏 Look at the image. Helping you with an exact one, draw and cut out a smaller square inside the square. You can make the top cut wavy. (Simulate curtain curtains)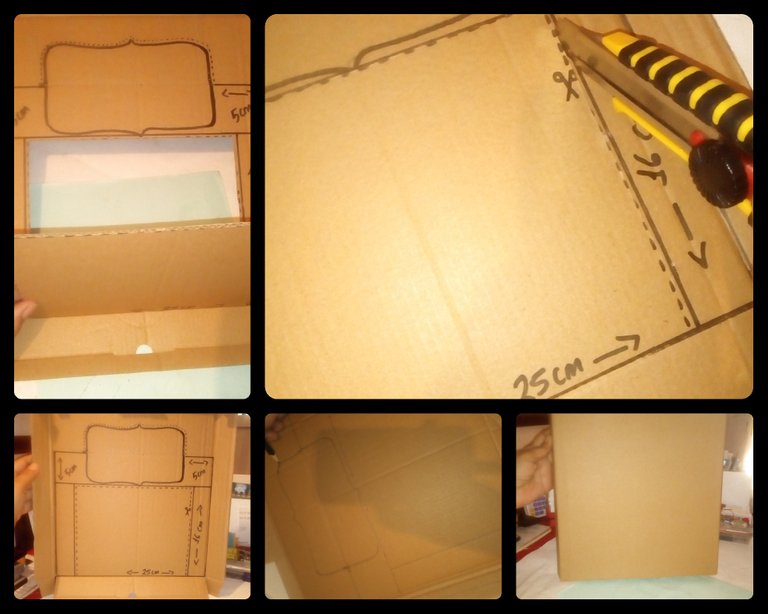 🃏 Pinta el cartón de los colores que más te agraden o con un tono negro claro (teatro de sombras)
🃏 Paint the cardboard in the colors that you like the most or with a light black tone (shadow theater)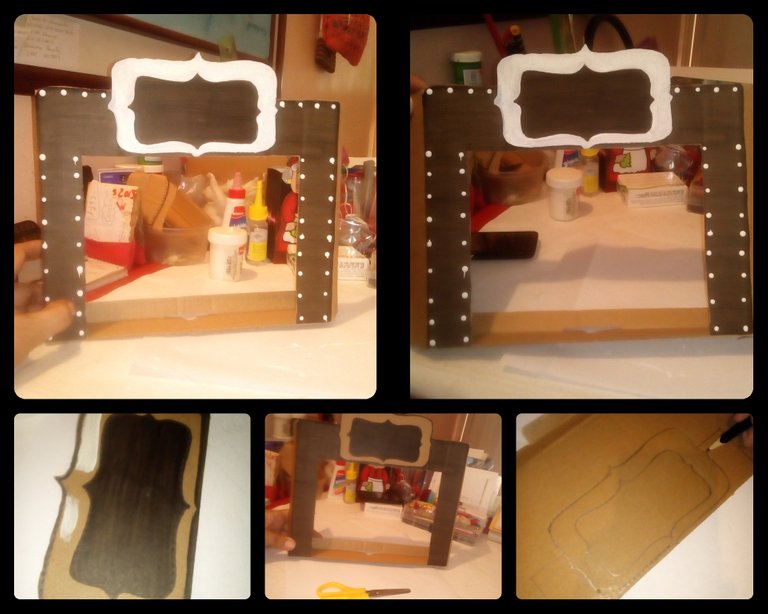 🃏 Toma las medidas necesarias y calcula los espacios estimados para cada personaje u objeto a colocar en el escenario.
🃏 Sobre otro trozo de cartón dibuja y recorta cada personaje y objetos. Píntalos en colores llamativos o en negro claro (simulando sólo las sombras)
🃏 Mi historia es la de una hermosa princesa que habita en un castillo lejano. Su anhelado príncipe viajó por durante largos días para llegar a visitarla. ¡Está feliz la princesa!
🃏 Take the necessary measurements and calculate the estimated spaces for each character or object to be placed on the stage. 🃏 On another piece of cardboard, draw and cut out each character and objects. Paint them in bold colors or light black (simulating only shadows)
🃏 My story is that of a beautiful princess who lives in a distant castle. Her longed-for prince traveled for long days to get to visit her. The princess is happy!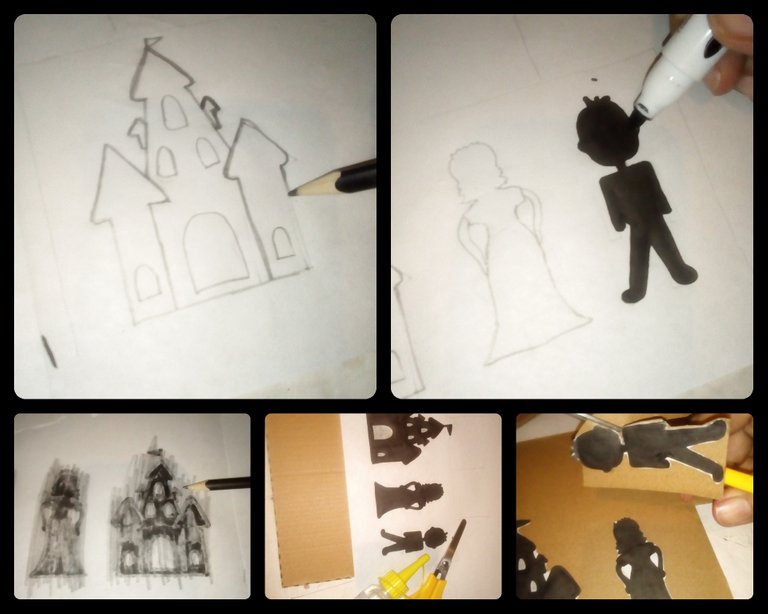 🃏 Organiza la escena. Una vez organizada, coloca una asita con hilo pabilo (si deseas que se mueva) pega un extremo en la parte superior del personaje u objeto y el otro en el extremo superior del teatro, por la parte de atrás.
🃏 Organize the scene. Once organized, place an asita with wick thread (if you want it to move) glue one end to the top of the character or object and the other to the upper end of the theater, from the back.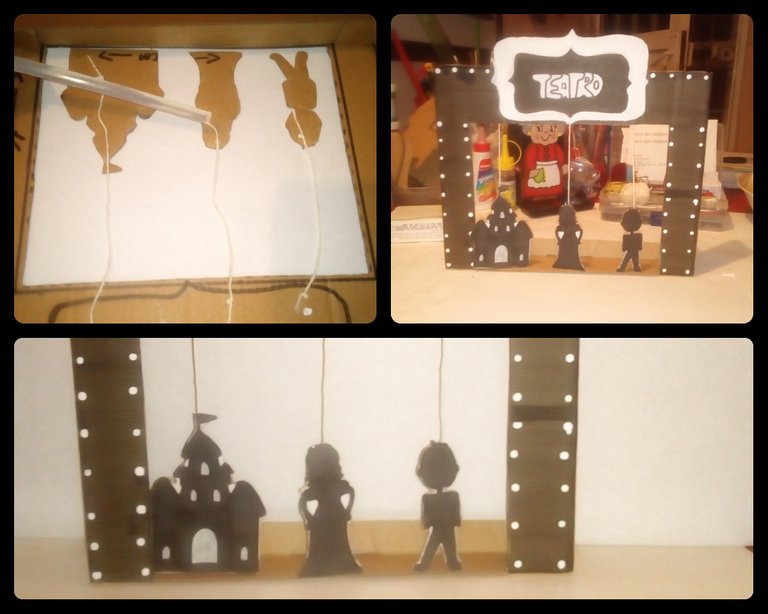 🃏 Decora el teatro si lo deseas con pegatinas u otros detalles.
🃏 Decorate the theater if you wish with stickers or other details.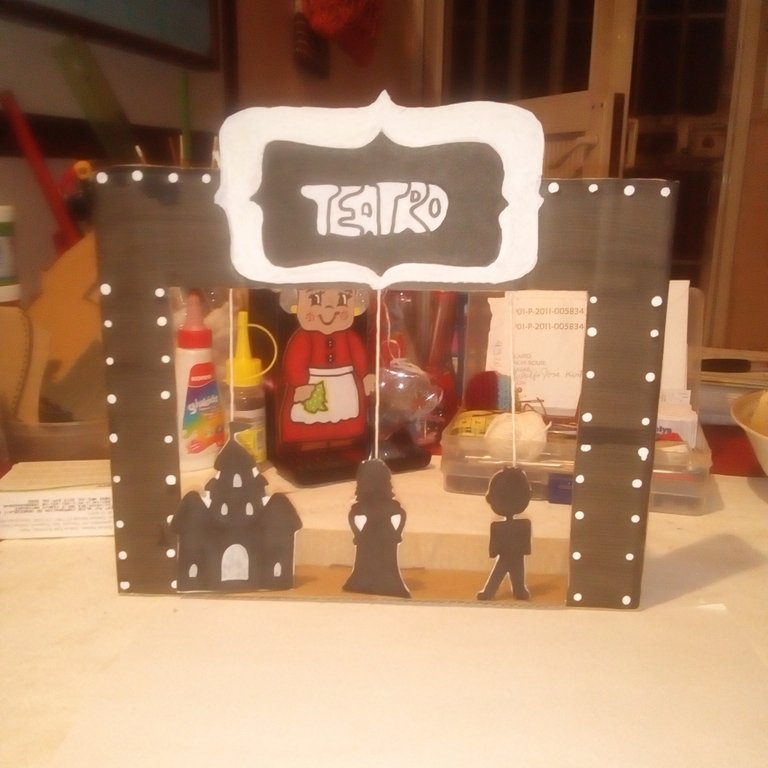 ¡Quedó genial!
Looks great!

📷 Todas las fotos son de mi autoría. Editadas con Polish, Canva e InCollage. Uso siempre traductor de Google. Me encantó hacer este proyecto. Podemos realizar en él muchas historias.
📷 All photos are my own. Edited with Polish, Canva and InCollage. I always use Google translator. I loved doing this project. We can carry out many stories in it.