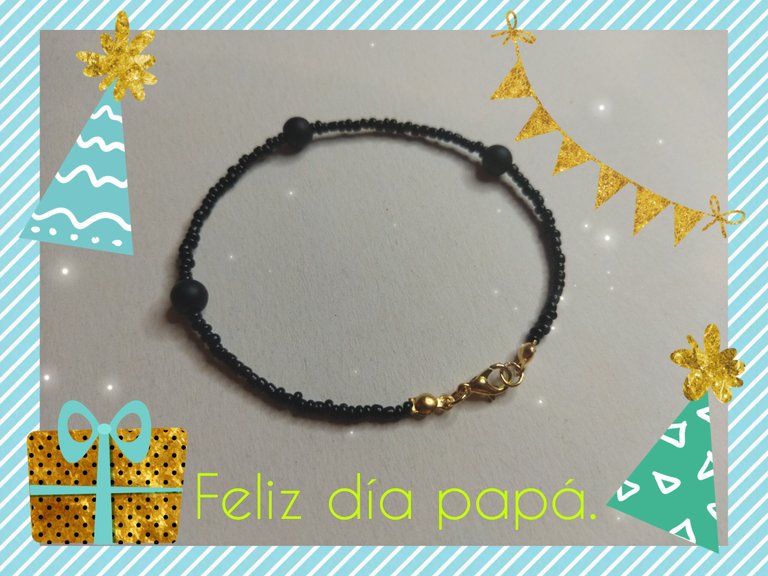 El segundo domingo de junio de cada año los venezolanos rendimos homenaje a todos aquellos hombres que asumen con orgullo, amor y responsabilidad el rol de padre en cada una de las familias de Venezuela.
Mis padres siempre recalcaron la importancia de la figura masculina en el seno familiar. Refiriéndose con figura aquella persona masculina con autoridad y muy comprometido con el bienestar de sus hijos y esposa. Cabe resaltar que un padre no es solo quien le da vida a los hijos, tampoco el que se encarga de llevar las provisiones al hogar. Un padre es un compendio de deberes, responsabilidades, emociones y sentimientos.
On the second Sunday of June every year, Venezuelans pay homage to all those men who proudly, lovingly and responsibly assume the role of father in every Venezuelan family.
My parents always emphasized the importance of the male figure in the family. By figure they mean a male person with authority and very committed to the welfare of his children and wife. It should be noted that a father is not only the one who gives life to the children, nor the one who is in charge of bringing provisions to the home. A father is a compendium of duties, responsibilities, emotions and feelings.
👔👔👔👔👔👔👔👔👔👔👔👔
Para ellos el día de hoy traigo un modelo de pulsera o brazalete que podemos hacer ya mismo. ¿No tienes que regalarle a papá en su día? No te preocupes, regálale amor, comparte con él en familia, dile que lo amas y hazle un precioso brazalete como recuerdo de esos momentos que vivirán juntos.
For them today I bring a bracelet or bracelet model that we can make right now. Don't you have what to give dad on his day? Don't worry, give him love, share with him as a family, tell him you love him and make him a beautiful bracelet as a souvenir of those moments you will live together.
BRAZALETE PARA PAPÁ.
BRACELET FOR DAD.
Vamos a organizar diferentes materiales para lograr un diseño bonito denn pulsera para papá. Para ello vamos a utilizar:
Hilo nylon.
Perlas.
Esconde nudos.
Argollas.
Seguros para pulseras.
Tijeras.
Mostacillas.
Pinzas de bisutería.
We will arrange different materials to achieve a nice design denn bracelet for dad. For this we will use:
Nylon thread.
Beads.
Hide knots.
Hoops.
Locks for bracelets.
Scissors.
Beads.
Jewelry tweezers.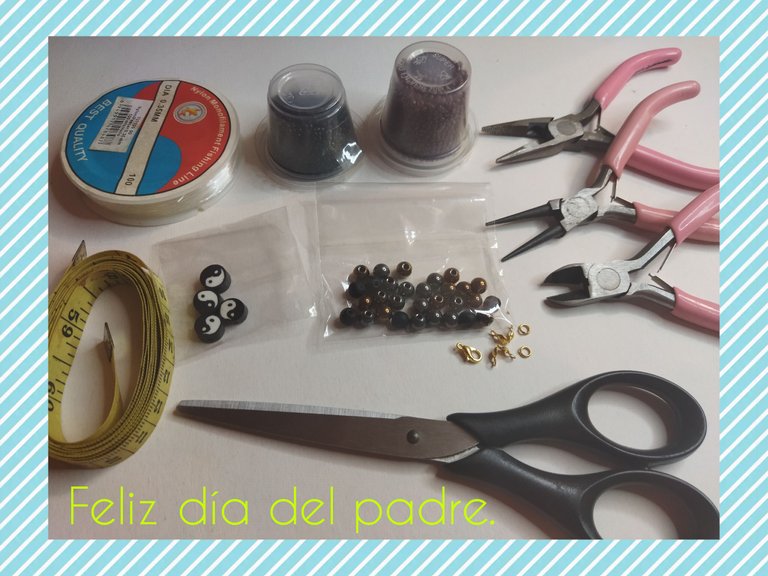 Hacerlas es muy fácil y rápido. Es un modelo sencillo que consiste en ordenar de manera armónica cada una de las perlas y las mostacillas. Aprovecha y haz una para cada padre de fue entorno, regala o vende. Este tipo de diseño es ideal para elaborar en serie y el precio es bastante accesible.
Paso 1.
Mide y corta 22 cm de hilo.
Paso 2.
Introduce en uno de los extremos del hilo un esconde nudos, haz un nudo en la punta del hilo, coloca el nudo dentro del esconde nudos y ciérralo. Coloca una argolla en el aro del esconde nudos.
Making them is very easy and fast. It is a simple model that consists of arranging in a harmonic way each one of the pearls and beads. Take advantage and make one for each parent in your environment, give as a gift or sell. This type of design is ideal to make in series and the price is quite affordable.
Step 1.
Measure and cut 22 cm of thread.
Step 2.
Insert a knot hider in one of the ends of the thread, tie a knot at the end of the thread, place the knot inside the knot hider and close it. Place a ring in the ring of the knot hider.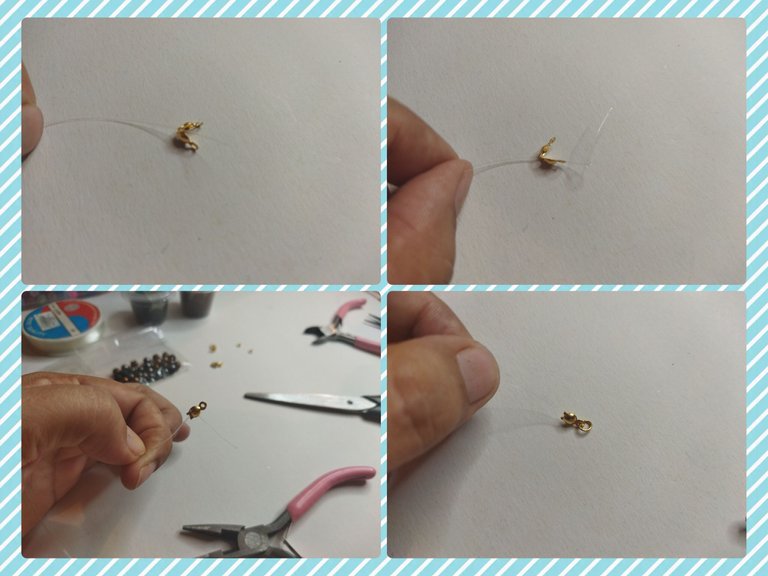 Paso 3.
Introduce todas las perlas y las mostacillas según el diseño que hayas elegido. Para hacerlo solo deberás tomar la punta del hilo sobrante y recoger cada mostacilla y cada perla logrando que entren en el hilo. Así harás hasta completar la medida de 20 cm de hilo. Es importante calcular y medir antes de cerrar completamente la labor. Te sugiero que siempre tengas a la mano la cinta métrica para que quede todo bien organizado en el nylon.
Paso 4.
En la punta del hilo nylon que queda después de meter todas las perlas vas a introducir un esconde nudos, haces un nudo y lo metes en el esconde nudos. Esto evitará que el hilo se regrese y se salga del esconde nudos. Cierra el esconde nudos. Mete una argolla en el orificio del esconde nudos y en la argolla mete el seguro para pulseras.
Step 3.
Insert all the beads and beads according to the design you have chosen. To do this, you only need to take the tip of the excess thread and pick up each bead and each bead, making sure that they fit into the thread. You will do this until you have completed 20 cm of thread. It is important to calculate and measure before completely closing the work. I suggest that you always have a tape measure at hand so that everything is well organized in the nylon.
Step 4.
At the end of the nylon thread that remains after inserting all the beads you are going to insert a knot hider, tie a knot and put it in the knot hider. This will prevent the thread from going back and out of the knot hider. Close the knot hider. Put a ring through the hole in the knot hider and insert the bracelet lock into the ring.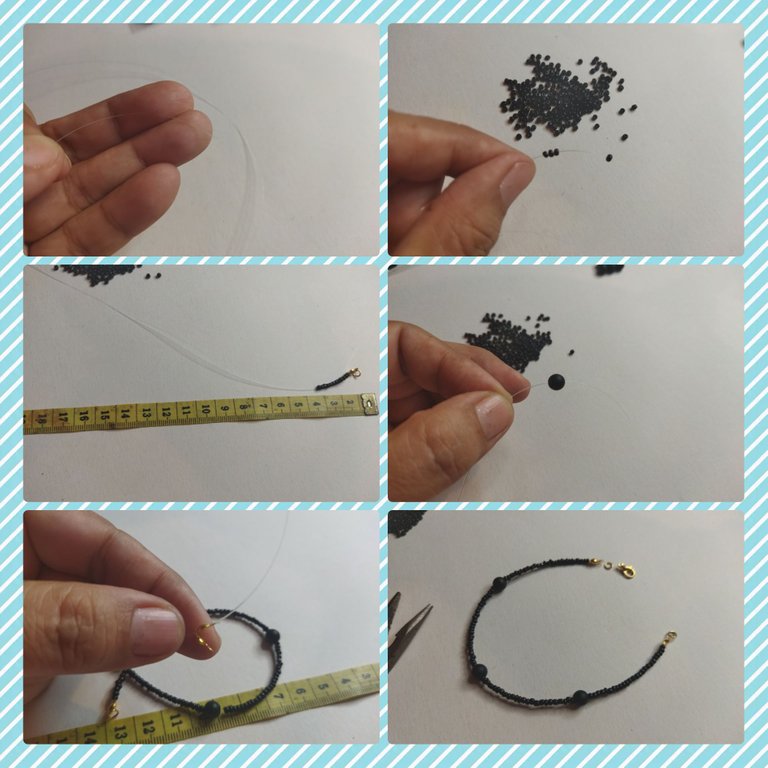 🤦 Elaborando estas pulseras ocurrió un accidente que aún no sé cómo fue, de pronto estaba la mesa ensangrentada y mi hijo se acercó a mirar lo que hacía para ayudarme. Justo estaba haciendo la pulsera para él, entonces aproveché que tenía un ayudante e hicimos otros diseños además de hacer también sujetadores para lentes que combinamos con las pulseras.
🤦 While making these bracelets an accident happened that I still don't know how it happened, suddenly the table was bloody and my son came over to look at what I was doing to help me. I was just making the bracelet for him, so I took advantage of the fact that I had a helper and we made other designs in addition to also making bracelets for glasses that we combined with the bracelets.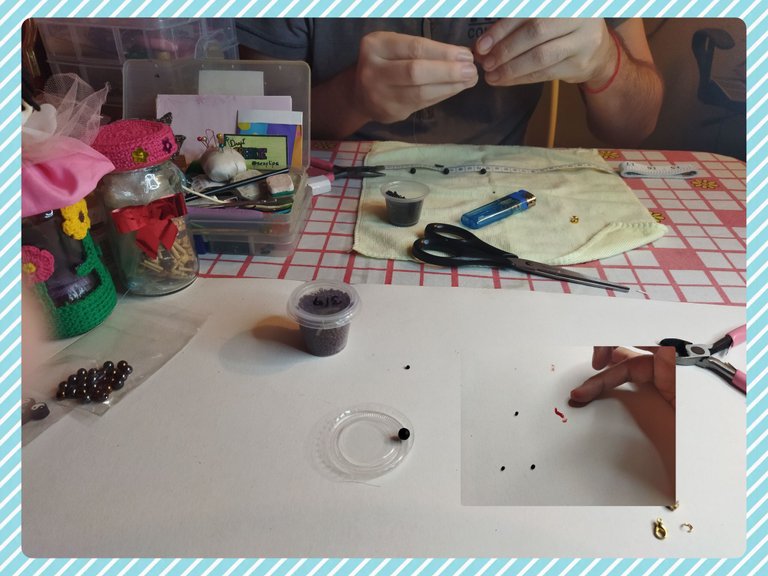 Seguimos el mismo procedimiento anterior e hicimos estos modelos. Los sujetadores miden 75 cm y las pulseras de 18 cm, 20 cm y 22 cm.
We followed the same procedure as above and made these models. The fasteners measure 75 cm and the bracelets measure 18 cm, 20 cm and 22 cm.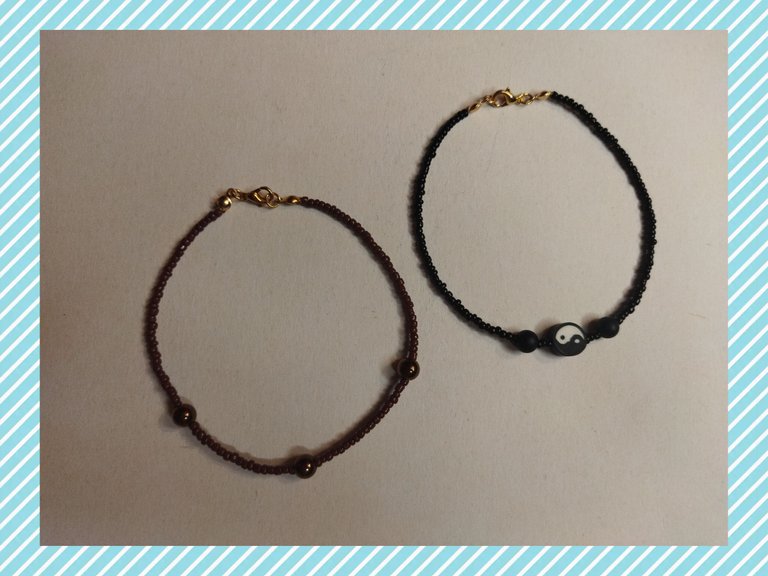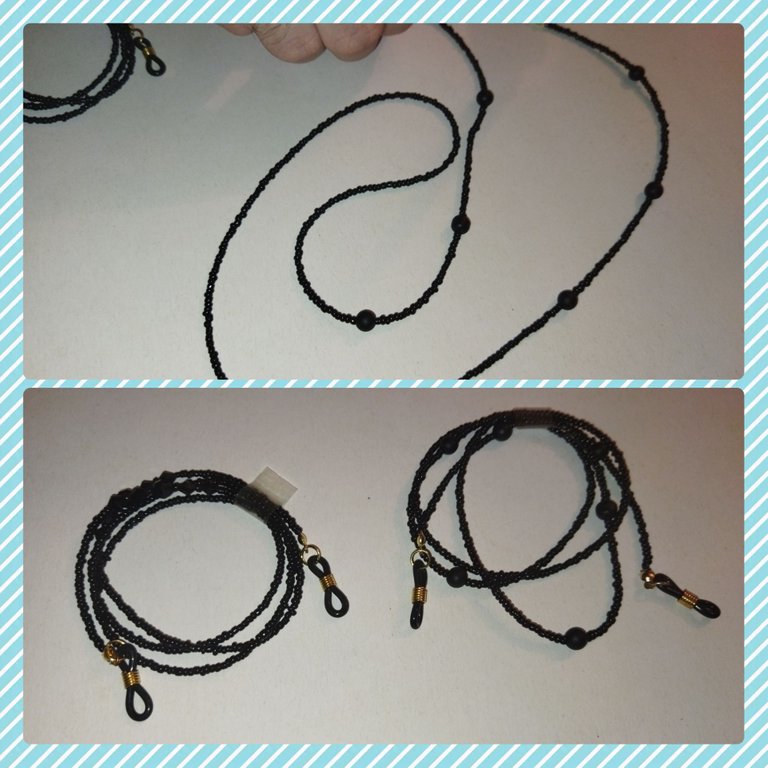 Como ves es un diseño muy bonito y varonil. Estoy segura que todos los padres querrán recibir una de regalo. Este día debe ser especial para ellos. Un agasajo bien merecido para todos los que han desempeñado muy bien su papel de padres.
As you can see it is a very nice and manly design. I am sure that all fathers will want to receive one as a gift. This day should be special for them. A well deserved treat for all those who have played their role as fathers very well.
👔👔👔👔👔👔👔👔👔👔👔👔
FELICIDADES PAPÁ EN TU DÍA.
CONGRATULATIONS DAD ON YOUR DAY.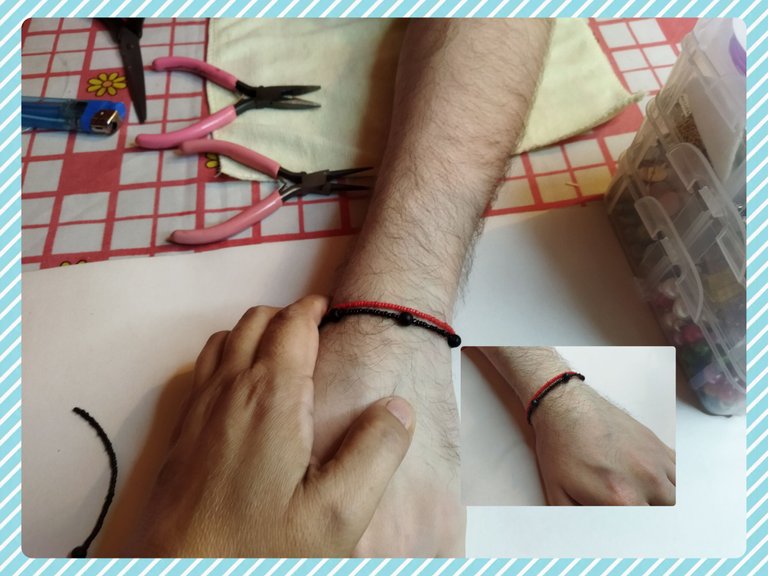 Muchas gracias por siempre acompañarme y leer mis publicaciones. Me encanta compartir con ustedes todas mis ocurrencias. Siempre dispuesta a leer sugerencias y recomendaciones.
Todas las fotos son de mi propiedad. Edité con Polish e Inshot. Usé el traductor de Deelp. Hasta pronto.🙋
Thank you very much for always joining me and reading my publications. I love to share with you all my ideas. I am always willing to read suggestions and recommendations.
All photos are my property. I edited with Polish and Inshot. I used Deelp translator. See you soon.