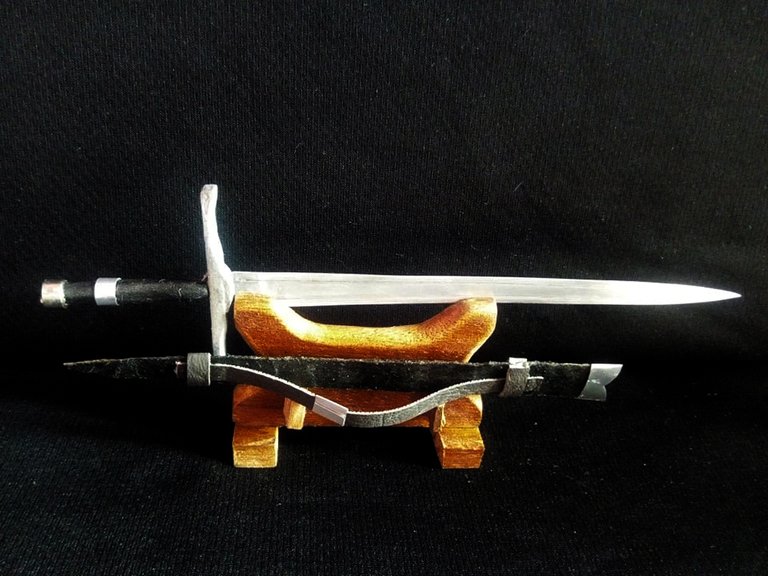 Hello friends of Hive, I hope you are very well. Today I want to present my latest work of art. It is the sword of Geralt of Rivia, the character of the game The Witcher, who also released the series on Netflix .. It is one of my favorite games both for the history and for all the resources to play them, one of them being swords. Geral uses two swords, one to fight normal creatures like humans or animals and the other he uses to fight monsters and powerful beings. The latter is the Steel sword. This miniature sword that I made is based on the Netflix series. The sword measures 15 cm between the blade and the hilt. The pedestal measures 6 cm wide by 4 cm high. All materials have been recycled. I used soda cans and wood waste. I hope you like it
Hola amigos de Hive, espero que se encuentren muy bien. Hoy quiero presentarles mi ultimo trabajo de arte. Es la espada de Geralt de Rivia el personaje del juego The Witcher, que tambien sacaron la serie en netflix.. Es uno de mis juegos preferidos tanto por la historia como por todos los recursos para jugarlos siendo uno de ellos las espadas. Geral utiliza dos espadas, una para luchar con ciraturas normales como humanos o animales y la otra que utiliza para luchar contra monstruos y seres poderosos. Esta ultima es la espada de Acero.Esta espada en miniatura que hice esta basada en la serie de netflix. La espada mide 15 cm entre la hoja y la empuñadura. El pedestal mide 6 cm de ancho por 4 cm de alto. Todos los materiales han sido de reciclaje. Utilicé latas de soda y desperdicios de madera. Espero les guste.
Process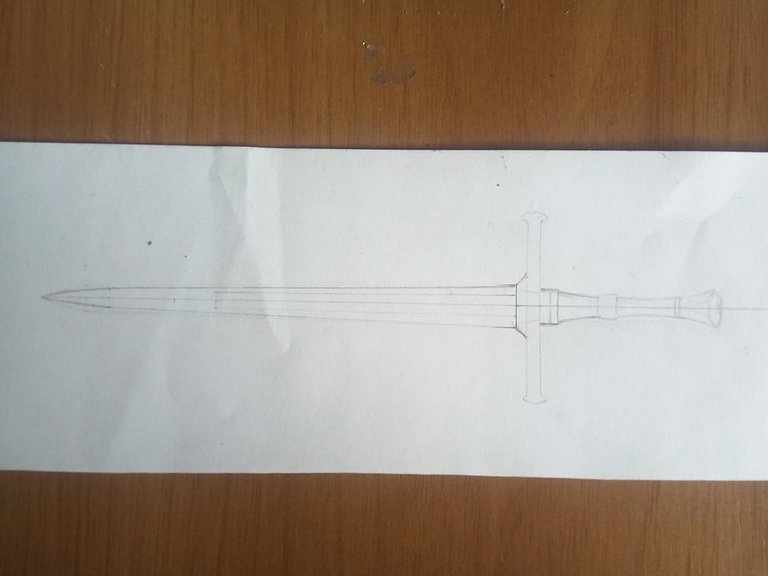 We take a piece of paper and make the design of the sword to get an idea of ​​how it will look and use it as a pattern to make the cuts and measurements. As I mentioned earlier I made it 15 cm long including the blade and the grip.
Tomamos un papel y elaboramos el diseño de la espada para tener una idea de como nos va a quedar y utilizarla de patron para hacer los cortes y las medidas. Como mencione anteriormente la hice 15 cm de largo incluyendo la hoja y la empuñadura.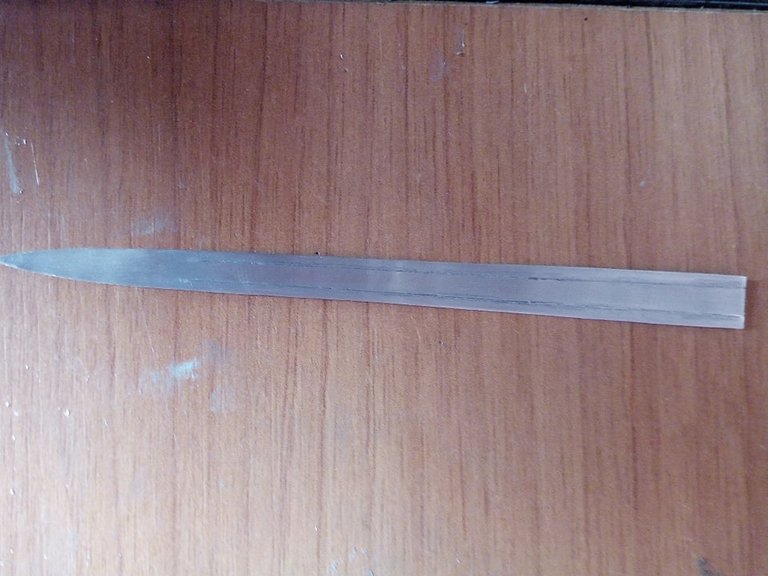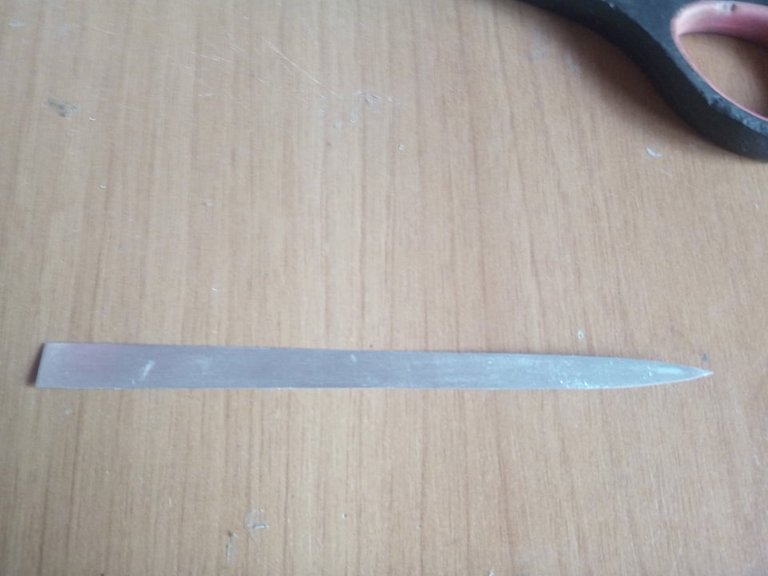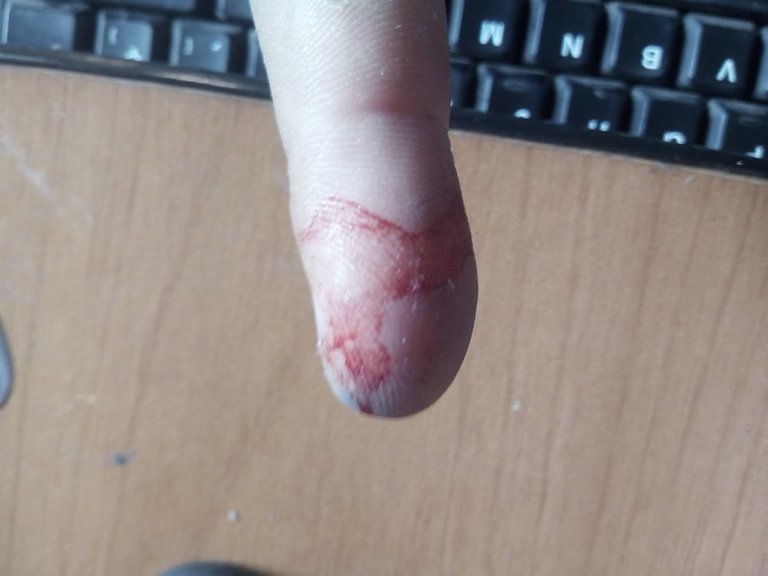 We cut the blade of the sword following the drawing we made. We do it very carefully. The soda can is a material that must be handled with great care. Here I had a small accident trying to cut the blade of the sword.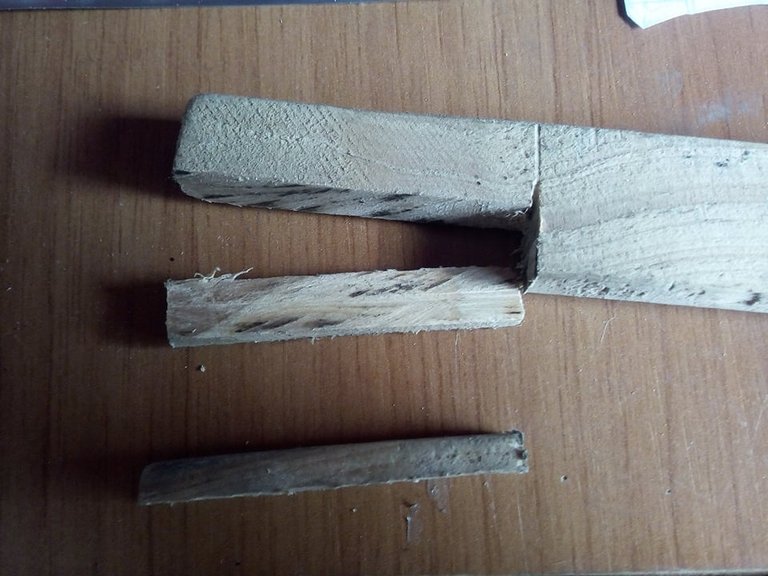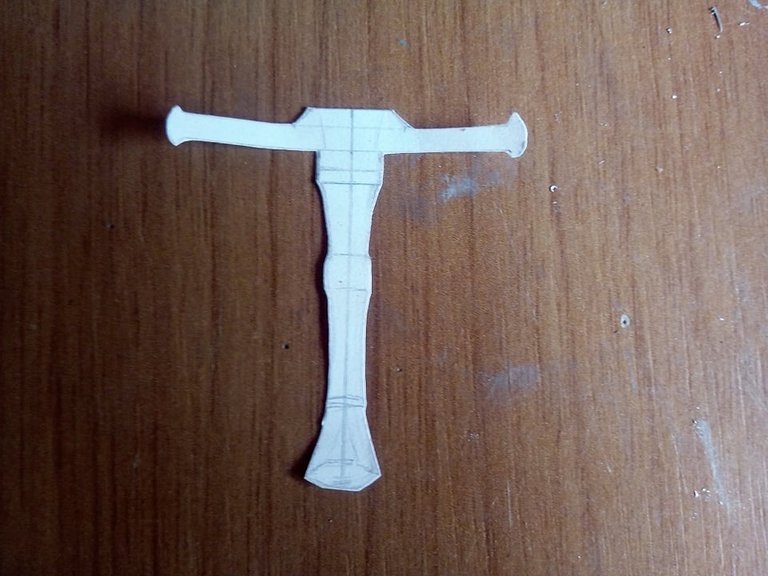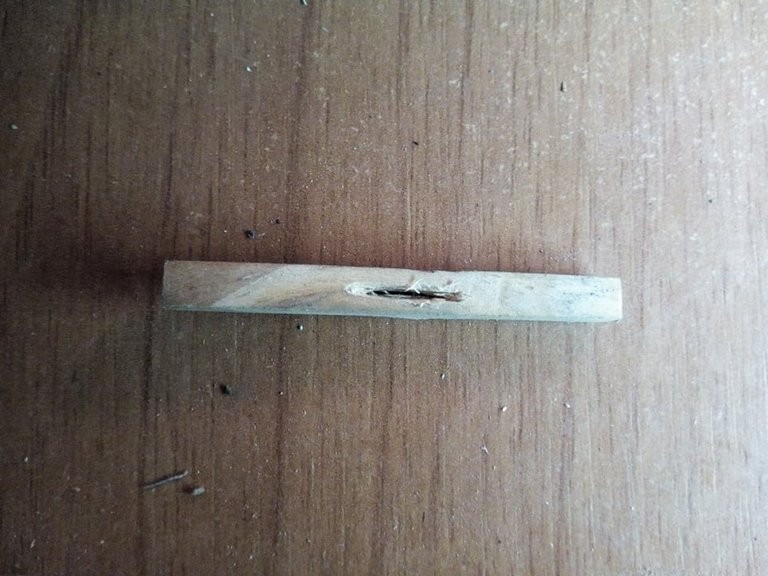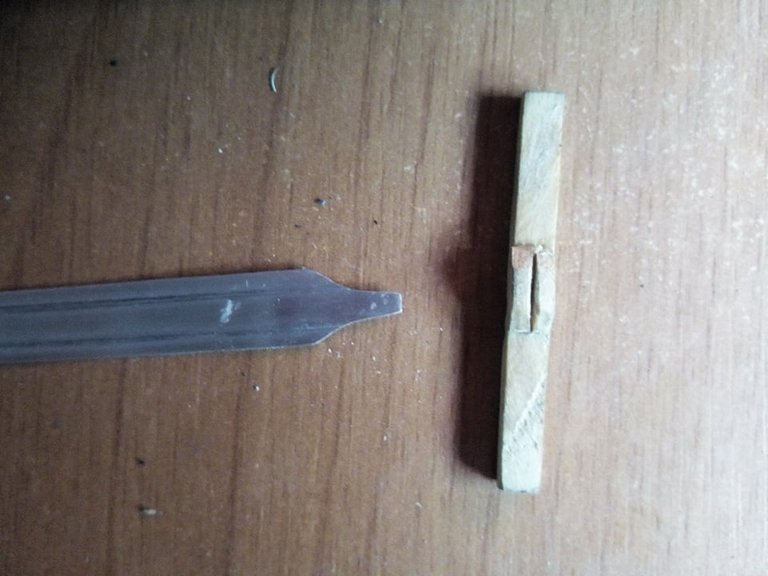 We take a piece of wood and cut it following the pattern of the handle. We cut two pieces, the one that goes vertically following the line of the sword blade and the one that goes horizontally. Pirmero we take out the horizontal piece and place it in this way. In the middle we open a small hole for the sword to pass through, and at the lower edge of the sword we make a cut so that it can pass easily.
Tomamos un pedazo de madera y la cortamos siguiendo el modelo de la empuñadura. Cortamos dos pedazos, el que va de forma vertical siguiendo la linea de la hoja de la espada y el que va de forma horizontal. Pirmero sacamos el pedazo horizontal y lo colocamos de esta manera. En medio abrimos un pequeño agujero para que pase la espada, y en el borde inferior de la espada hacemos un corte para que pueda pasar facilmente.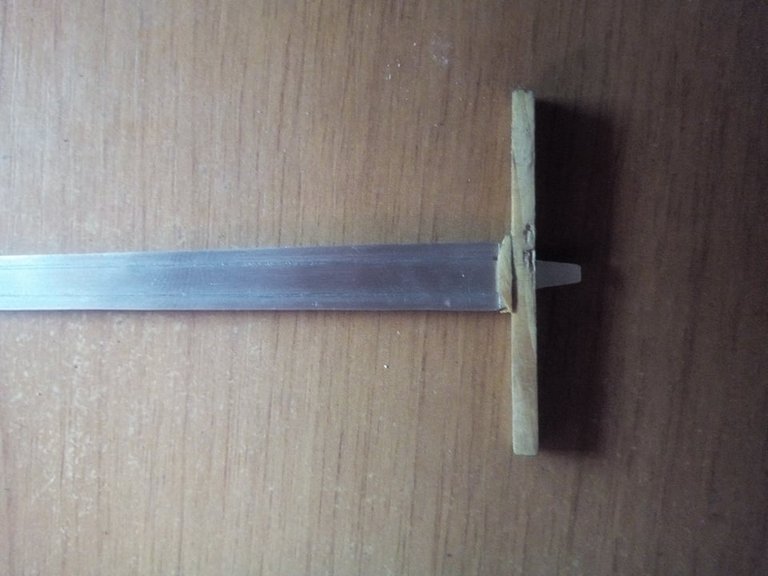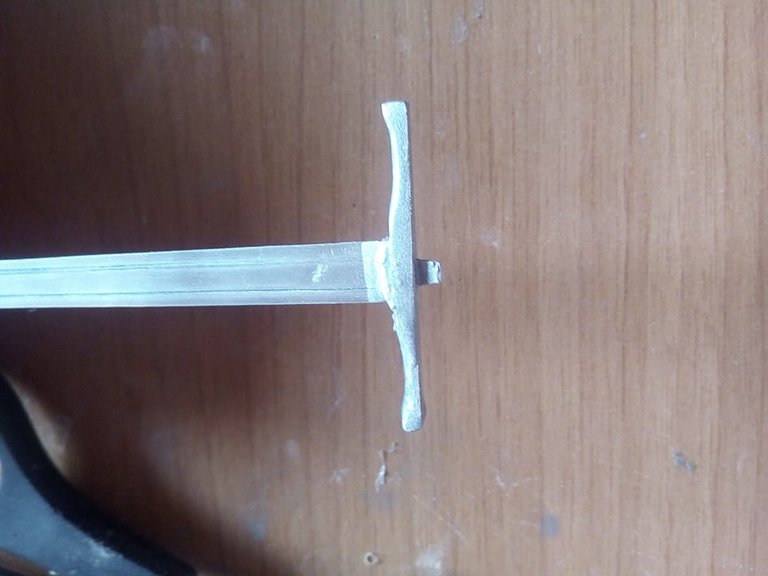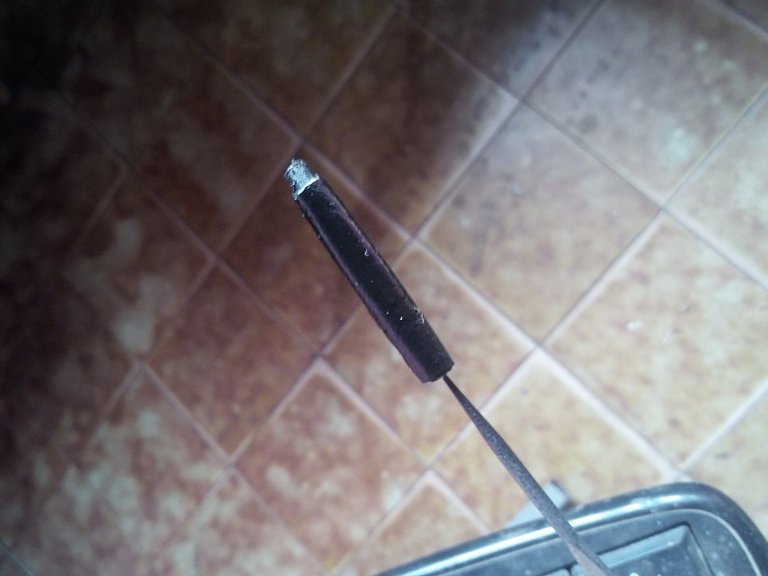 Once we have finished this part we introduce the sword in the horizontal part and put paint on it. I put silver paint on it. Then we cut the part of the fist and paint it black and join it to the rest of the sword and we will obtain this result. As we can see we have done almost all the sword.
Una vez hayamos terminado esta parte introducimos la espada en la parte horizontal y le ponemos pintura. Yo le puse pintura de color plateado. Luego cortamos la parte del puño y la pintamos de negro y la unimos al resto de la espada y obtendremos este resultado. Como podemos observar hemos hecho casi toda la espada.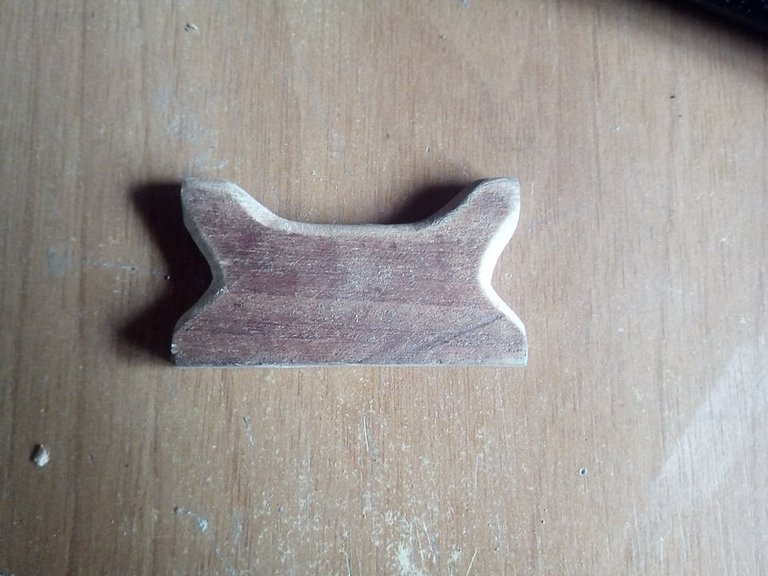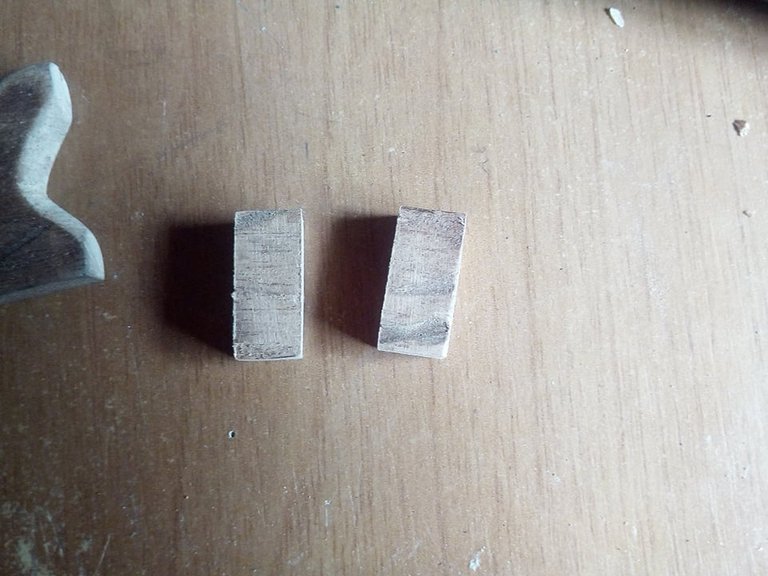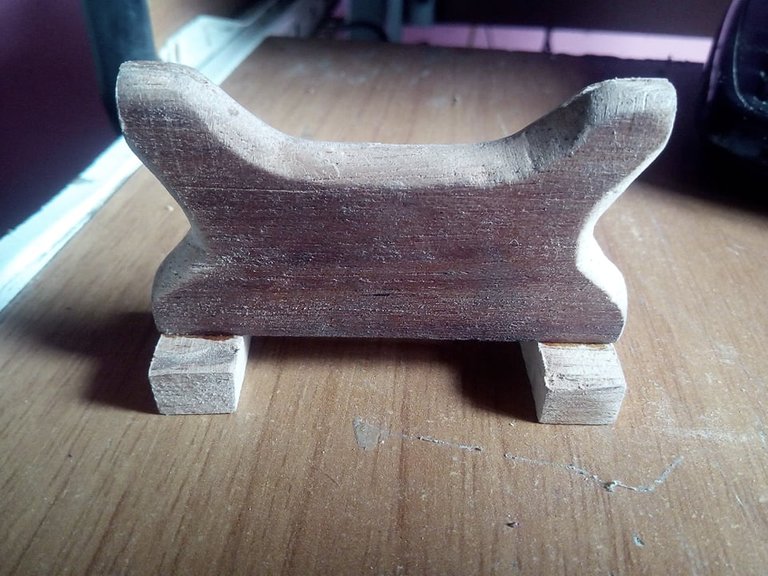 We make the pedestal with a small wood of about 6 cm. With a knife we ​​can mold the edges and give it a different finish so that it is not so common. I made this model very carefully, I put some small legs on it and lastly I applied transparent varnish so that the wood would obtain a shine and a more beautiful color.
El pedestal lo hacemos con una pequeña madera de unos 6 cm. Con una navaja podemos moldear los bordes y darle un acabado diferente para que no nos quede tan corriente. Yo le hice este modelo con mucho cuidado, le puse unas pequeñas patas y de ultimo apliqué barniz transparente para que la madera obtuviera brillo y un color mas hermoso.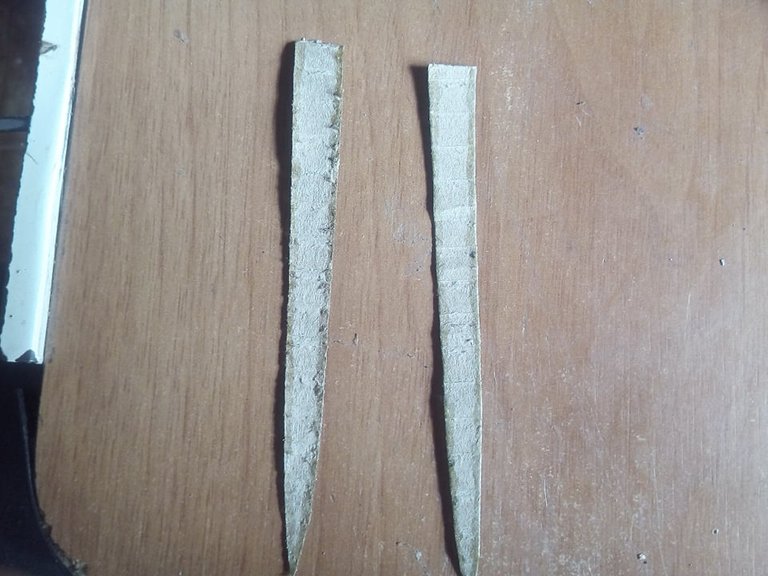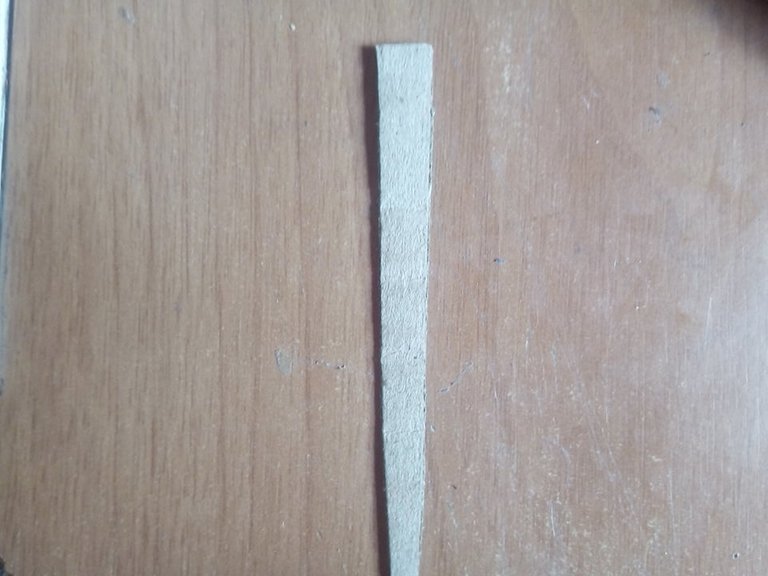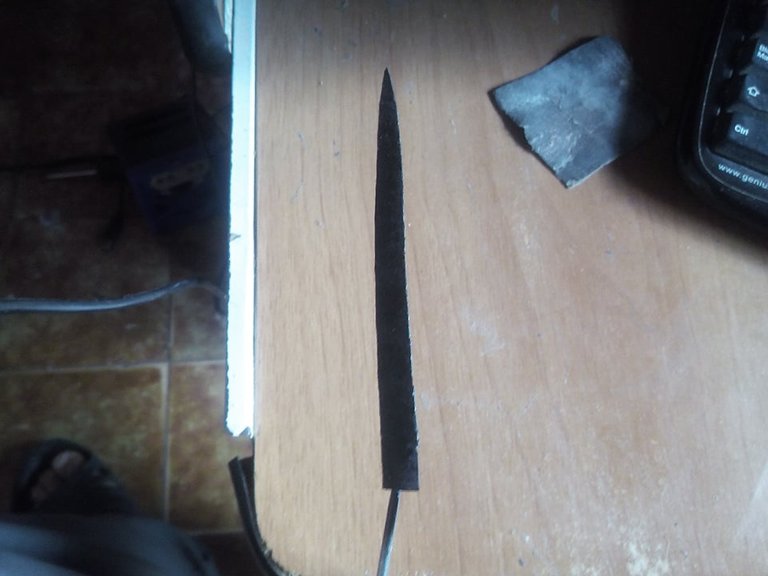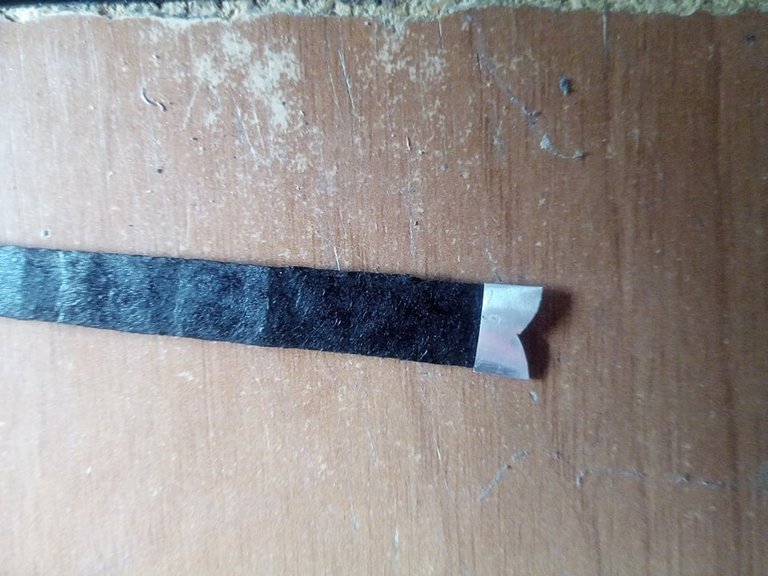 Of last place and the last accessory is the sword scabbard. I made it using cardboard and I hardened it with school glue so that it had consistency and hardness. Then paint it black with spray paint and put a metal ornament at the entrance to give it a better aesthetic. Last I put a small leather strap to achieve a better finish.
De ultimo lugar y el ultimo accesorio es la vaina de la espada. La hice utilizando carton y la endurecí con pega escolar para que tuviera consistencia y dureza. Luego la pinte de color negro con pintura en aerosol y le coloque un adorno de metal en la entrada para darle una mejor estetica. De ultimo lugar le puse una pequeña correa de cuero para lograr un mejor acabado.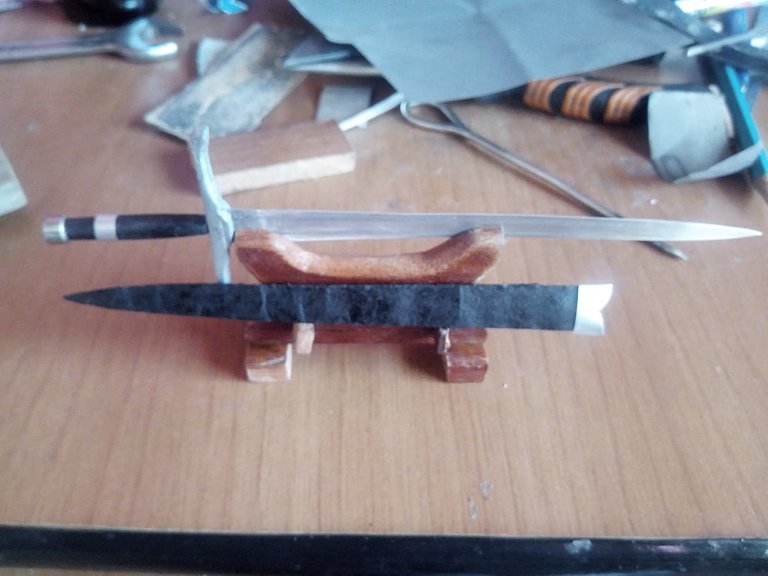 Once the 3 elements are finished, it is this way. The sword, the pedestal and the scabbard.
Una vez terminado los 3 elementos queda de esta manera. La espada, el pedestal y la vaina.
Final Work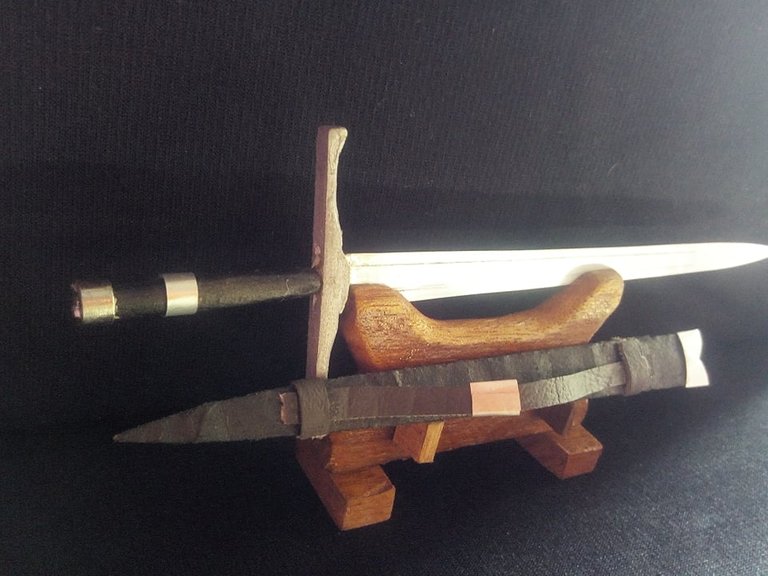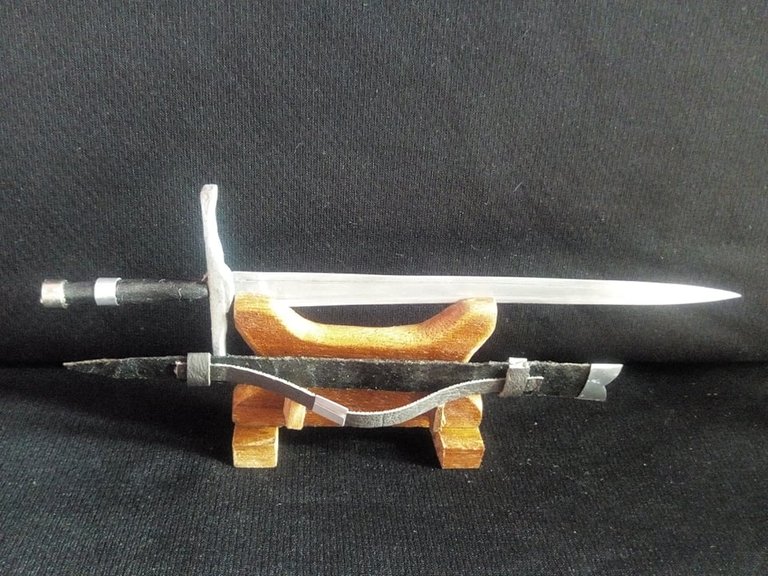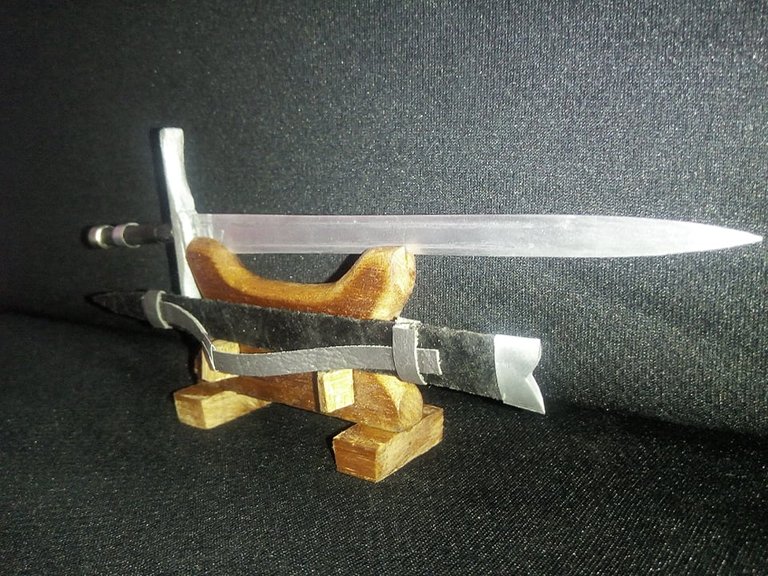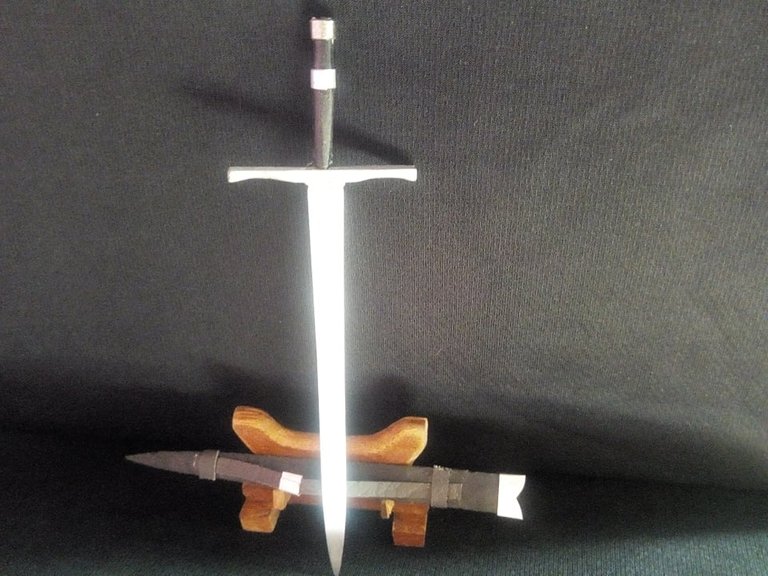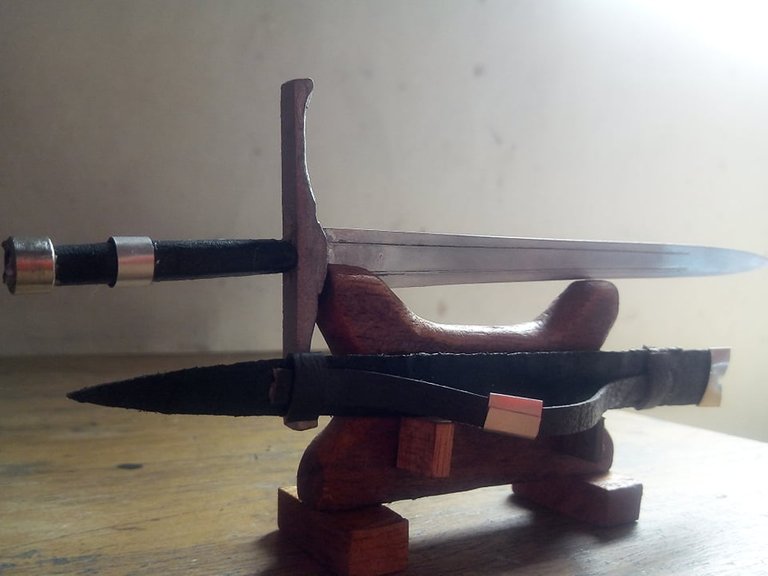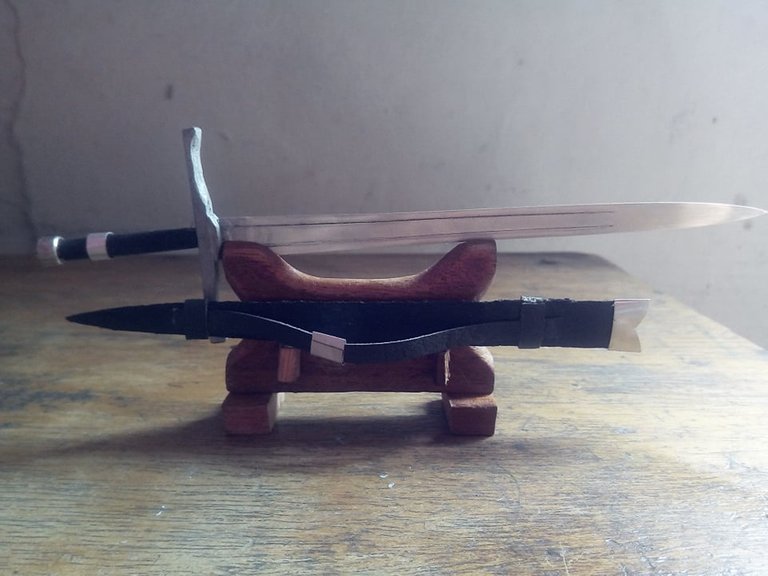 This has been all my work. I comment that I have had people interested in buying the miniatures that I have made like this sword. I hope that my art can leave the shelves of my house and can be known. I hope you liked the result as much as I did. If you like, you can comment and follow me, your opinion is always important to me and thus improve. Happy day to all, see you soon ..
Este ha sido todo mi trabajo. Les comento que he tenido personas interesadas en comprar las miniaturas que he hecho como esta espada. Espero que mi arte pueda salir de los estantes de mi casa y pueda ser conocido. Espero que les haya gustado el resultado tanto como a mi. Si gustan pueden comentar y seguirme, su opinion es siempre importante para mi y asi mejorar. Feliz dia para todos nos vemos pronto..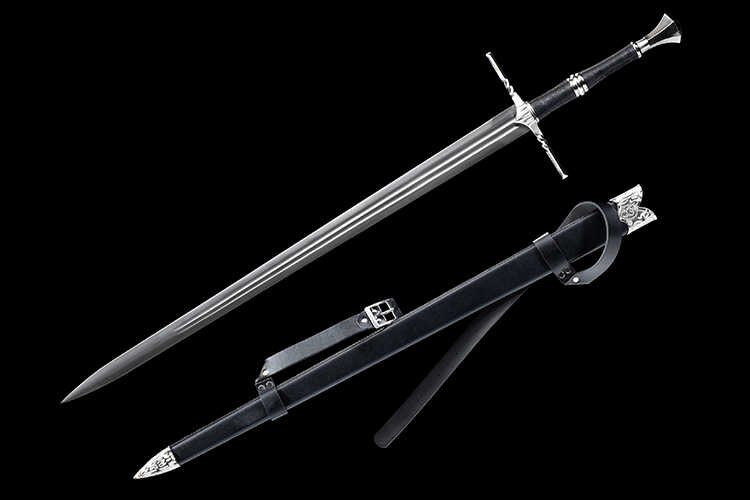 Reference image