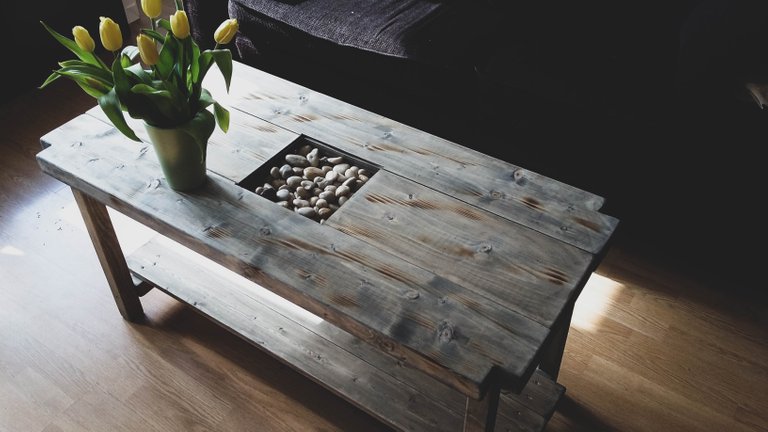 Who doesn't love when a plan comes together? It all started a few days ago, when @raili said that our old coffee table was getting too small for all our family and it was a hassle to eat pancakes behind it. Jams, cream cheeses, green tea, piles of pancakes and all that.
You can marvel at the first coffee table that I built 5 years ago here in this age old post. It was one of the first things that I built and due to being a bit flimsy, I had upgraded it several times through the years, metal legs, tighter connections etc.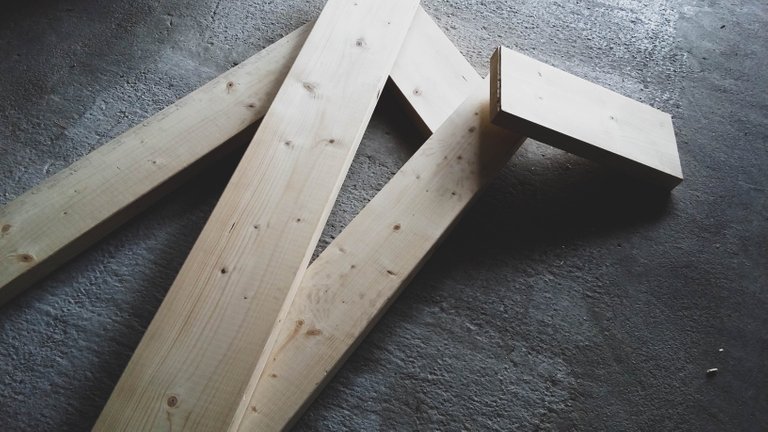 But now it had to take backstage as there was a new kid in town. There were no specific requirements for the table, other that it had to be just a tad bigger.
So a quick visit to the local timber merchant, I was back home with some planks and beams.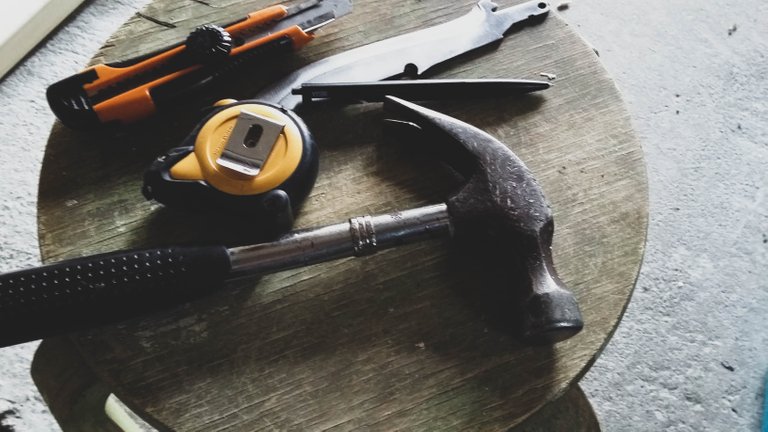 And build I was going to! And what more - I don't have very many tools, so I was gonna have to make due with my old trusty ones.
I even used my old handsaw for all the cutting, I have misplaced 2 new handsaws over a few years, but still have this ancient saw that I found 10 years ago in the cellar when I moved into my old place. And that saw is still kicking!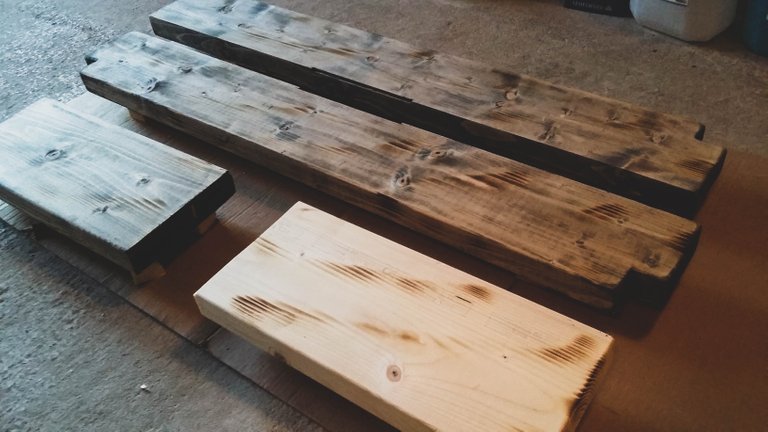 Grabbed some ebony-coloured stain as well from the hardware store. Since we decided to go with a bit lighter color this time, I only stained once and almost immediately wiped it off again, giving the wood an aged look.
As you can see, I also experimented with my gas torch, burning the planks here and there... hmm, should have experimented a bit somewhere before. But eventually, it all turned out quite nice.
Luckily, this stain dried fast, so I could work quickly. After an hour or two, the main planks were dry and I connected them with some metal plates and screws.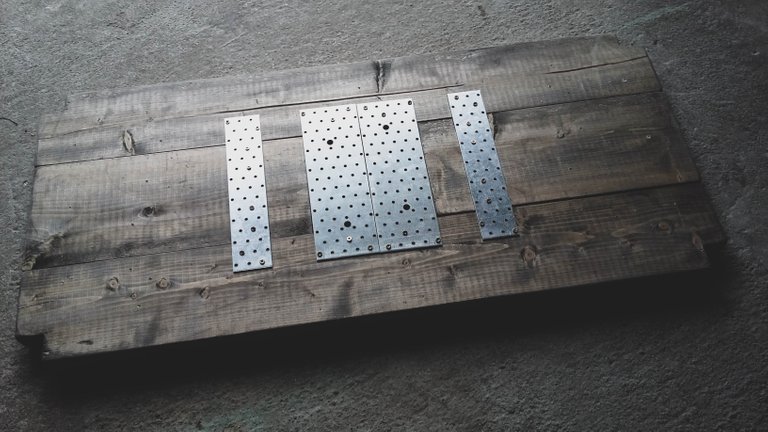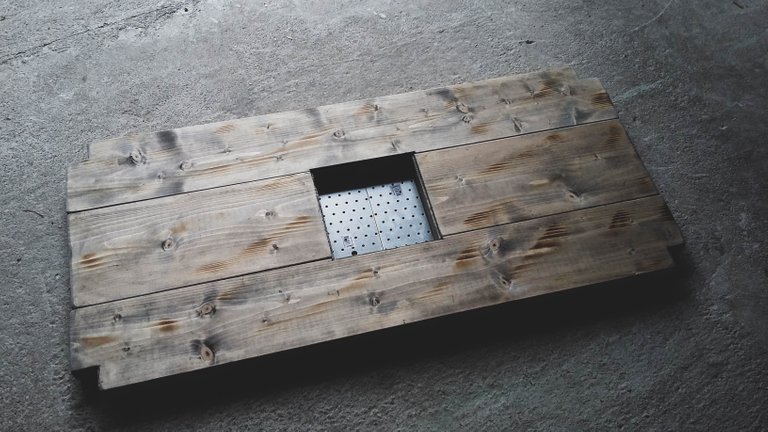 The middle two plates are covering the hole in the center, to hold whatever is going to be put there later.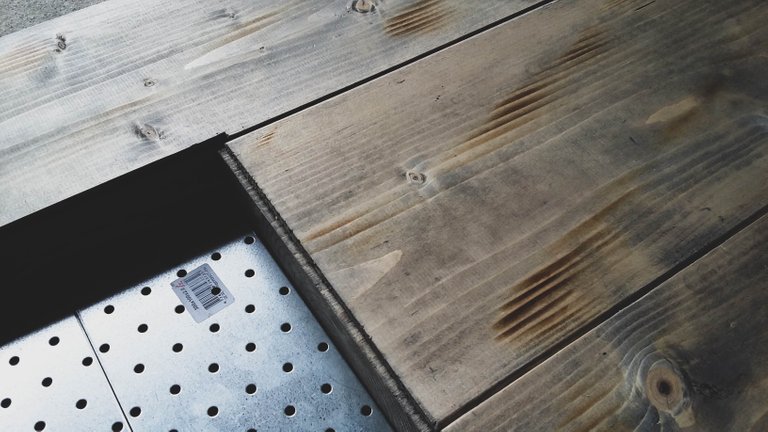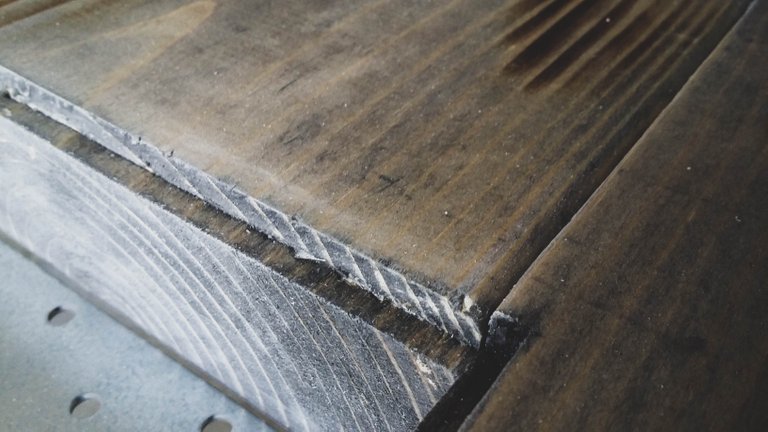 I also cut a 5mm corner around the edges of the hole - I am ordering a hardened bright glass to cover it later. For the cutting I used a plain carpet knife and a blade of a hacksaw as a ruler :) You can make due with anything, really.
You can see how I messed a bit up in one corner, but who cares, this table was never going to be clean-cut, rather I aimed at a look that still has the thumbprint of the worker on it.
Hold your hot teacup or a cold brew, dripping with condense water on the table, I won't mind. Scratch it? Who cares. It's rugged, it has it's character.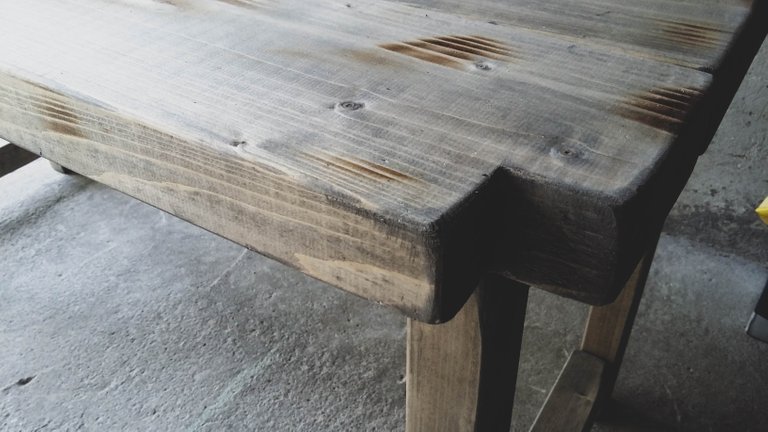 You can see how I manually cut the corners with my old handsaw, for the table to not be too bland. All the edges of the planks I sanded manually, I think with 80 grit paper.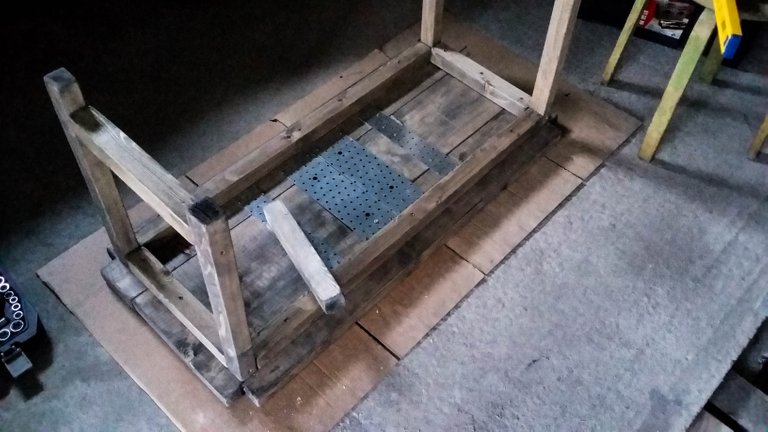 This photo is a bit of a lousy quality, since it's taken in the darkest corner of my garage, but you can see the frame under the table that gives those top planks some additional support.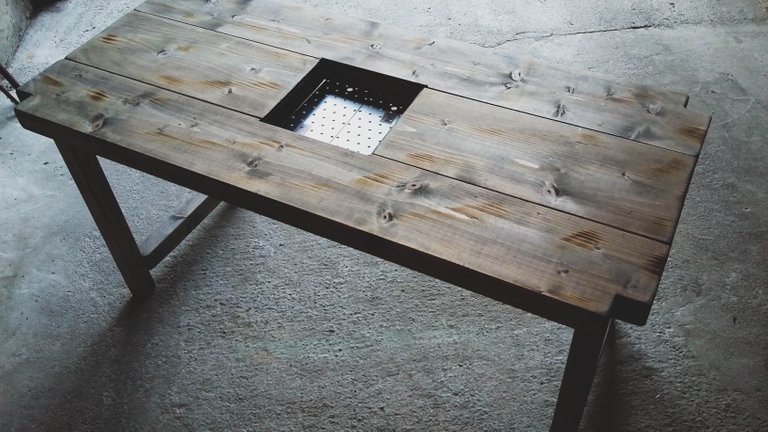 Viola! The table is standing. But it's flimsy... need to do something about it. I have an idea, I'll add some planks for the lower level, this will help stabilise it.
Another trip to the timber merchant and another hour of sawing, sanding and staining later, I have everything set.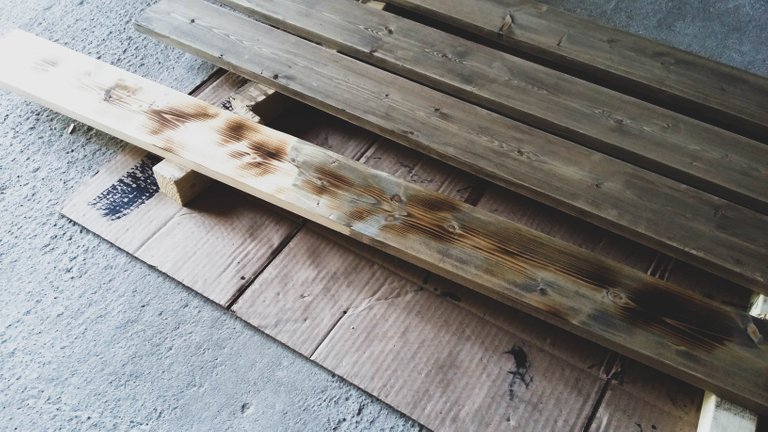 You can see I experimented with burning the wood on the leftover plank, just for the fun of it. Come on, don't tell me you don't like burning wood?
An hour of drying, and ta-da: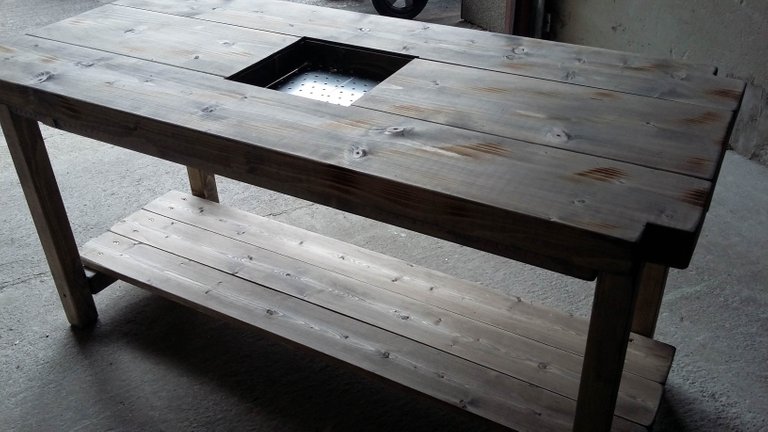 Looks good in the garage. I was aiming for something quicker, flimsier, but it turned out quite well, and the lighter color is easier on the mood as well.
Now to bring it into our living room and see how it fits.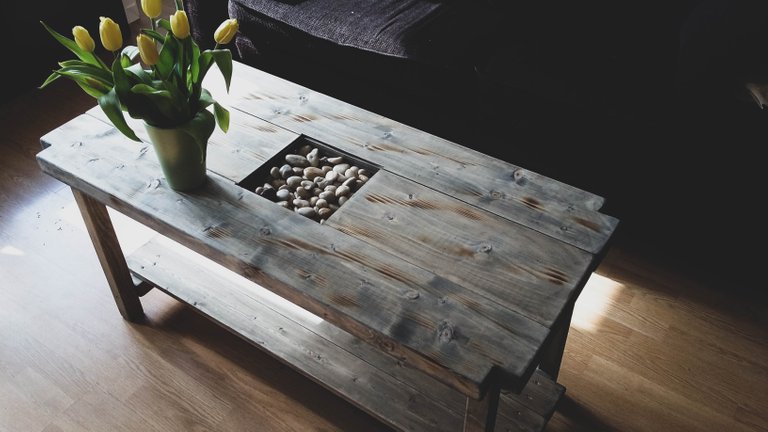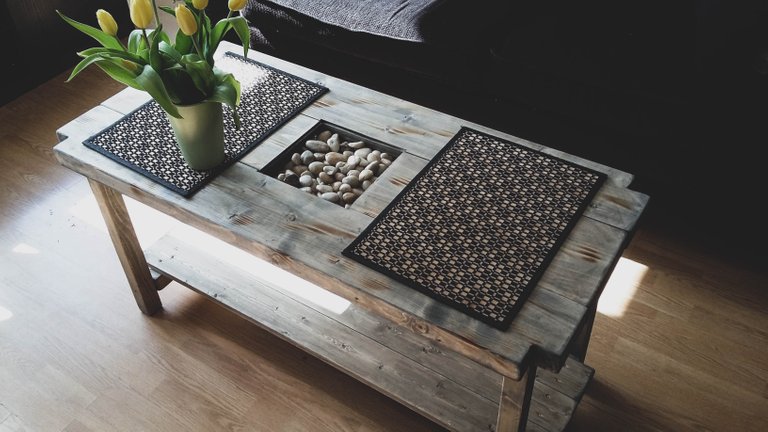 Needs a bit of upgrading later, when I get the glass. Also need to add felt under the legs and perhaps use some kind of wax, but the result is something I am very satisfied with. Sturdier than I expected and much better-looking.
Hope you like it ;)