Saludos amigos de la jardinería.
Greetings gardening friends.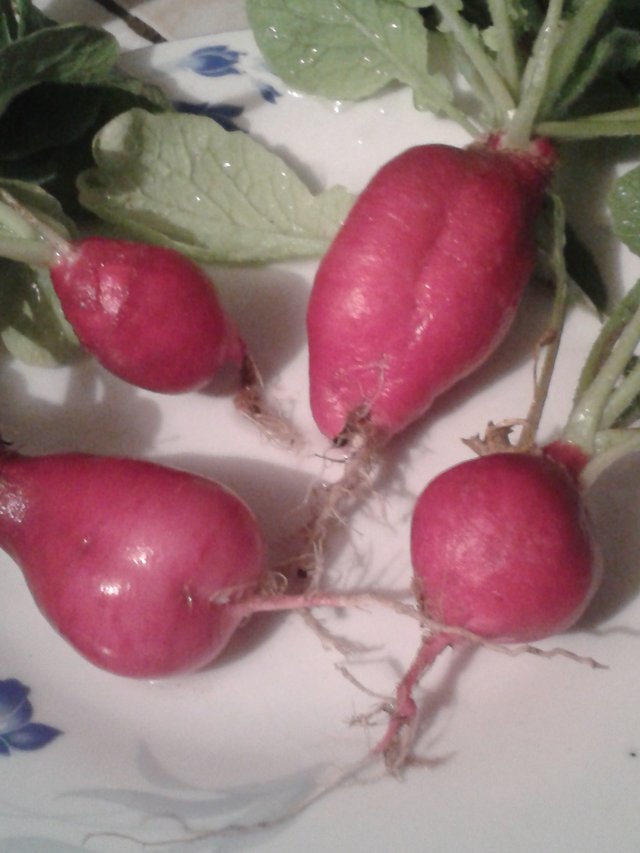 I like to plant at home, in my pots. I also recycle plastic containers, I cut them in the way I prefer or need. I open holes in it's back. And I get a seedbed, pot or container to reproduce plants in water.
Eeach sown plant starts with a seed. In this case, I bought the radish seeds from a natural products store. I grab the amount of seeds I need to sow and that's it. Now we proceed to planting.
Steps for planting:
1.- Choose the seeds.
We choose the amount of seeds that we want to sow. Not to waste. Because in the packages they sell in the market there are many seeds. You can sow about 20 seeds, if you are interested in having about 15 plants.
Me gusta sembrar en casa, en mis macetas. También reciclo envases de plástico, los corto en la forma que prefiero o que necesito. Le abro agujeros en su parte posterior. Y obtengo un semillero, maceta o un envase para reproducir plantas en agua.
Toda siembra comienza con una semilla. En este caso, compré las semillas de rabanito en una tienda de productos naturales. Agarro la cantidad de semillas que necesito sembrar y listo. Ahora a proceder a la siembra.
Pasos para la siembra:
1.- Escoger las semillas.
Escogemos la cantidad de semillas que queremos sembrar. Para no desperdiciar. Porque en los paquetes que venden en el mercado, vienen demasiadas semillas. Puedes sembrar unas 20 semillas, si estas interesado en tener aproximadamente unas 15 plantas.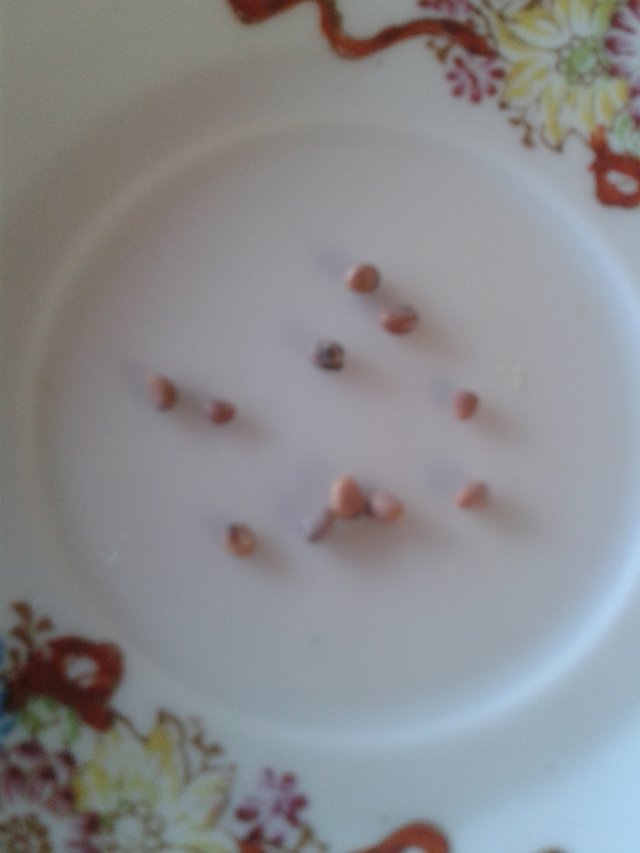 2.- Pick the soil to plant in.
Select or buy a good soil to plant vegetables. In the market you get it with labels, so you can use the mixed soils. They come packed and ready. You need this soil, with abundant nitrogen products, so that the seedlings can grow until they can be transplanted to their final homes.
These are the bags of soil that I prepare for my planting. It consists of compost and organic fertilizer, which I obtain from the waste of sheeps. I recycle them, prepare and mix it with my compost and soil in proportions.
2.- Seleccionar la tierra.
Selecciona o compra una buena tierra para sembrar vegetales. En el mercado la consigues con etiquetas, para que puedas usar las tierras mezcladas. Vienen empaquetadas y listas. Debe contener esa tierra, abundante productos nitrogenados, para que los plantines puedan crecer hasta poder ser trasplantados a su lugar definitivo.
Estas son las bolsas de tierra que yo misma preparo para mi siembra. Consiste en compost y abono orgánico, que obtengo de los productos de desecho de las ovejas. Las reciclo, preparo y mezclo con mi compost y tierra en proporciones.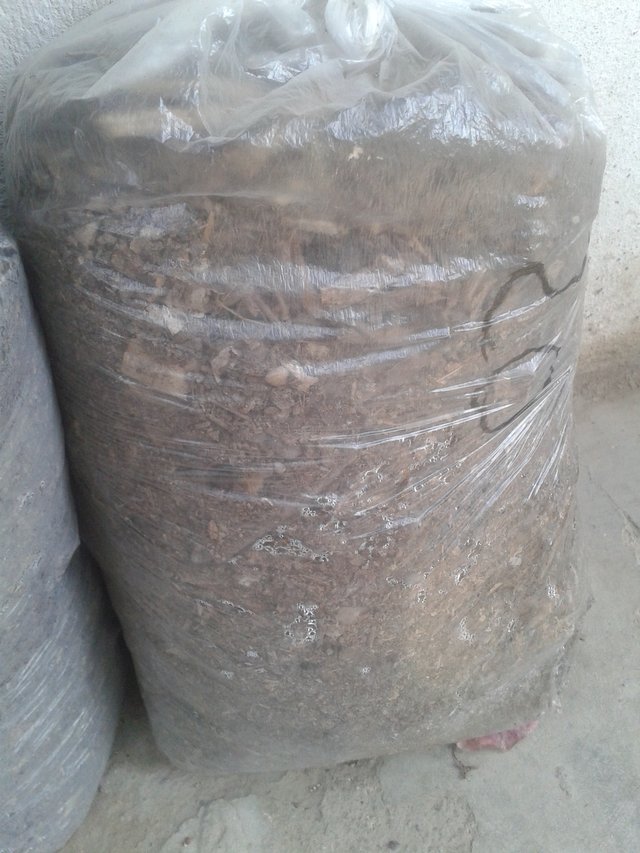 3.- Choose your pot.
I have plastic containers, I cut them out, I place my dirt. Later I add water so that the earth settles, and the seeds do not move from the place where I put them.
In this container I place only 4 seeds. I put two seeds in each hole I make with my finger pad. Separated from each other.
3.- Escoge tu maceta.
Tengo envases de plástico, los recorto, coloco mi tierra. Después agrego agua para que la tierra se asiente, y no se muevan las semillas del lugar donde yo las coloco.
En este envase coloco solo 4 semillas. Coloco dos semillas en cada agujero que hago con el pulpejo del dedo. Separadas unas de las otras.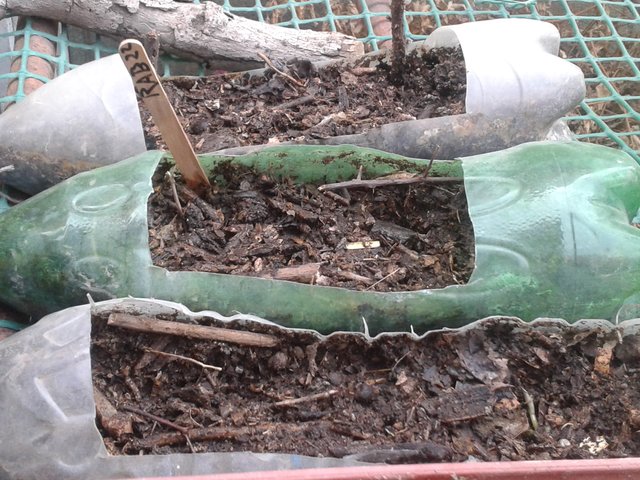 A los 5 días este es el resultado de la siembra. De las 4 semillas nacieron dos plantines. Pueden seguir desarrollándose aquí o ser trasplantado cuando estén más grandes.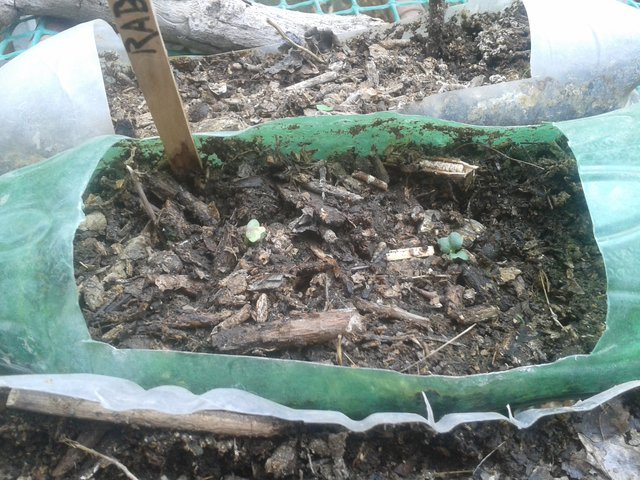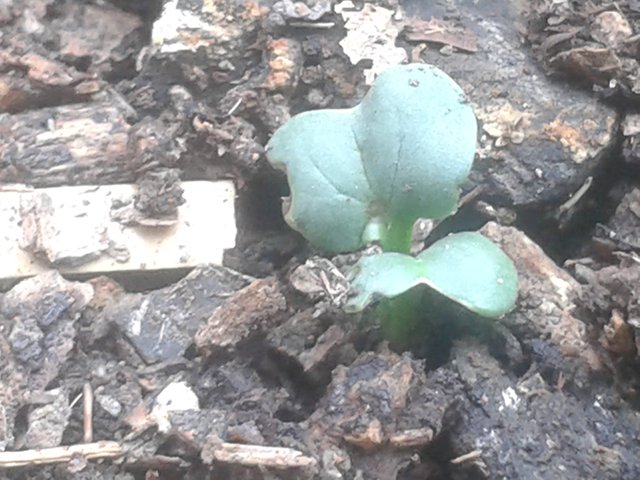 4.- Monitor your crops.
Now you just have to be aware of its growth, that it's not exterminated by pests and that it does not receive too much or too little water. The soil should always be slightly damp, but not puddled, as the plants would die. And it should be exposed to the sun for 4 to 6 hours a day.
These seedlings have a week, fifteen days, and this is how they've evolved so far.
4.- Vigilar el cultivo.
Ahora solo debe estar pendiente de su crecimiento, que no lo exterminen las plagas y que no reciba demasiada agua o muy poca. La tierra debe estar siempre con algo de humedad, pero no encharcada, pues las plantas morirían. Y debe estar expuesto al sol de 4 a 6 horas diarias.
Estos plantines tienen una semana, quince días, y así va su evolución.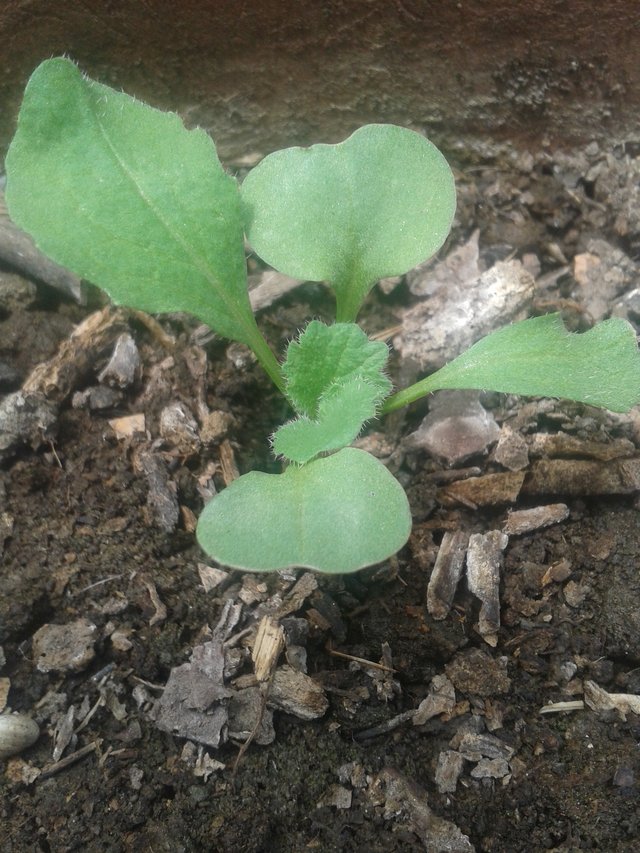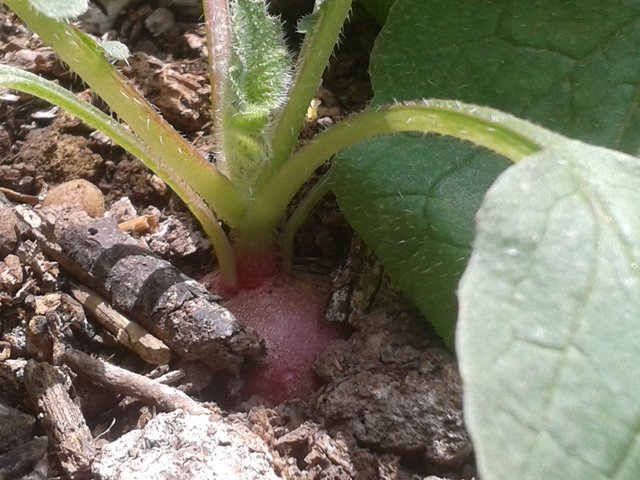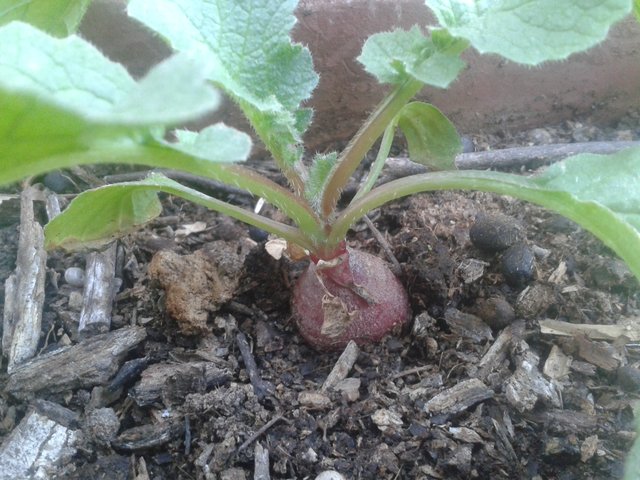 5.- And its harvest.
This is the final product around 20 days. A beautiful radish of good color and size.
5.- Y su cosecha.
Este es el producto final alrededor de los 20 días. Un hermoso rabanito de buen color y tamaño.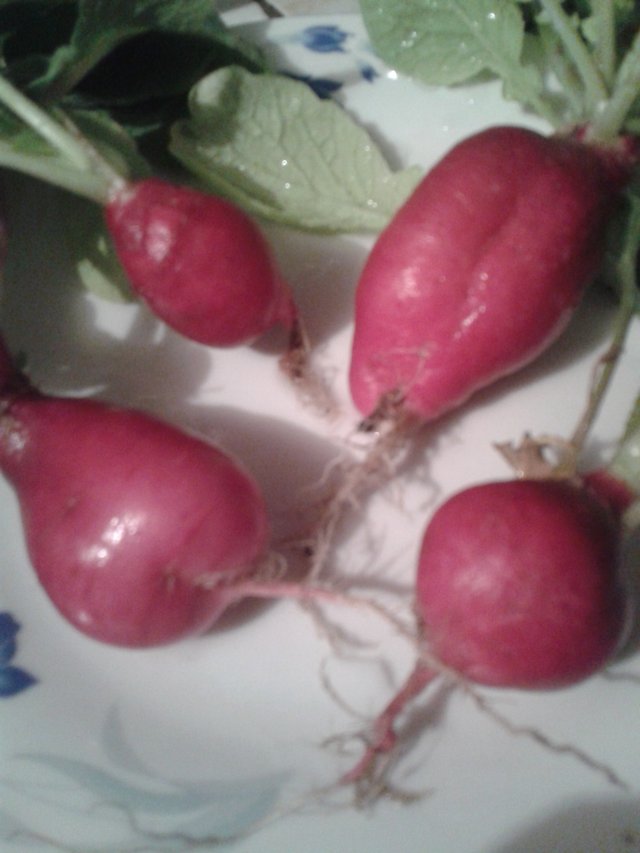 I hope that these steps will help you to do your own planting. And to consume organic products that are not treated with any type of chemical substances.
Planting in pots or recycled containers, with waste products from the vegetables and plants in our home and keeping the plants with our care without using products that contaminate our food.
This is my post for the DIY contest in the build-it community with the participation of judges @diverse and @mobi72.
This is the publication for you to participate:
https://peakd.com/build-contest/@build-it/build-it-weekly-contest-20-hive-2250-build-and-100-upvote-from-build-it-in-rewards-q99blc
Thank you for your visits and votes.
God always blesses us.
Espero que estos pasos les sirva para que se animen a realizar su propia siembra. Y a consumir productos orgánicos que no son tratados con ningún tipo de sustancias químicas.
La siembra en macetas o en envases reciclados, con productos de desecho de los vegetales y plantas de nuestro hogar y con el mantenimiento de las plantas con nuestros cuidados sin usar productos que contaminen nuestros alimentos.
Esta es mi publicación para el concurso de bricolaje en la comunidad de build-it con la participación de los jueces @diverse y @mobi72.
Esta es la publicación para que participes:
https://peakd.com/build-contest/@build-it/build-it-weekly-contest-20-hive-2250-build-and-100-upvote-from-build-it-in-rewards-q99blc
Gracias por su visita y voto.
Dios siempre nos bendice.
---
I am @gertu, from Venezuela to the world.
Soy @gertu, de Venezuela para el mundo.
---