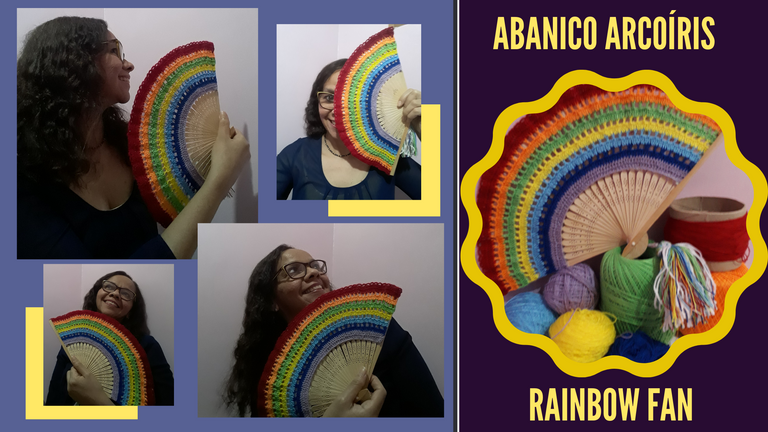 ---
Español
Buenas buenas, estoy feliz de saludarles nuevamente y desearles felices instantes llenos de brillo y esplendor
Hoy les comparto una creación muy especial, tejida en la técnica Crochet, esta creación es para mi hermana menor, ella últimamente no ha estado muy animada por diversos temas de salud, y entonces para animarla decidí tejerle un abanico arcoiris.
English
Hello, I am happy to greet you again and wish you happy moments full of brightness and splendor
Today I share with you a very special creation, woven in the technique Crochet, this creation is for my younger sister, she has not been very animated lately by various health issues, and then to encourage her I decided to weave a rainbow fan.
---
| ¿Qué materiales necesitamos? | What materials do we need? |
| --- | --- |
| Hilos con lo colores del acroíris | Threads with the colors of the rainbow |
| Tijeras | Scissors |
| Aguja lanera | Blunt yarn neddle |
| Ganchillo de 2,0 mm | Hook size 2,0 mm |
| Abanico | Fan |
| Silicón | Silcone |
---
¿Por dónde comenzamos?
Comenzaremos haciendo el patrón. Para ello dibujamos en papel la parte de la tela que tiene el abanico original.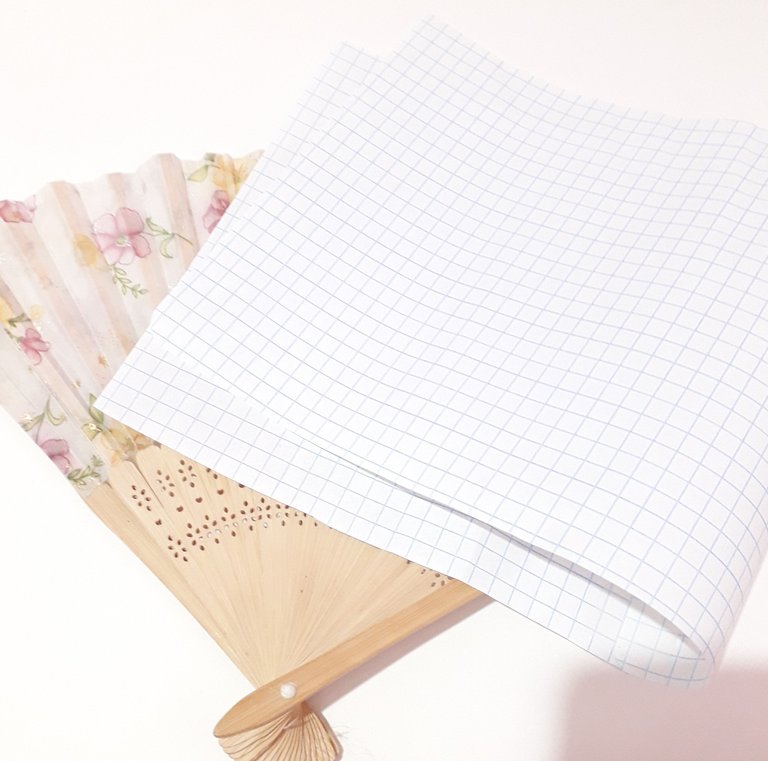 ---
Luego de dibujado se recorta el patrón.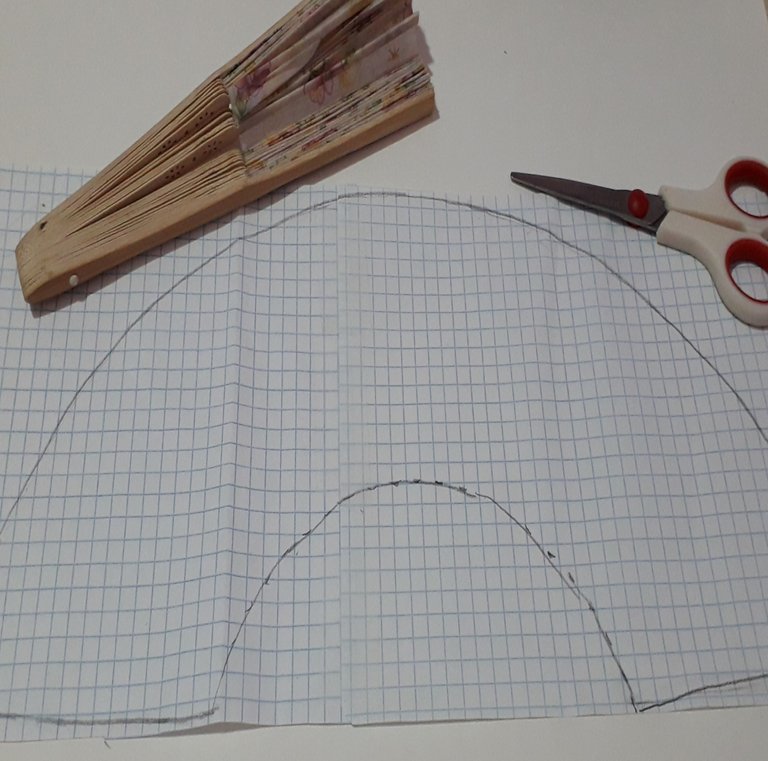 Where do we start?
We will start by making the pattern. To do this we draw on paper the part of the fabric that has the original fan.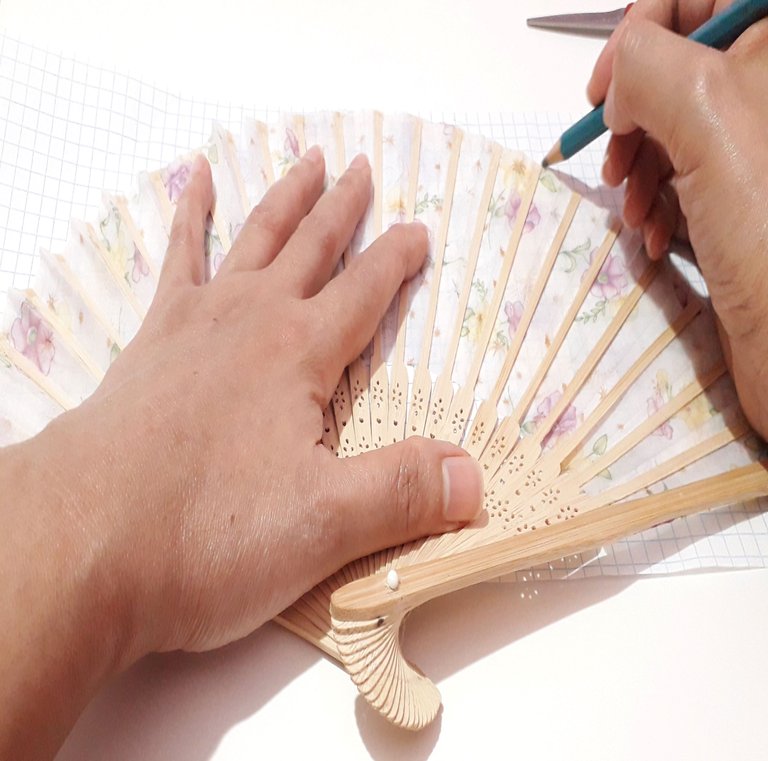 ---
After drawing the pattern is cut out.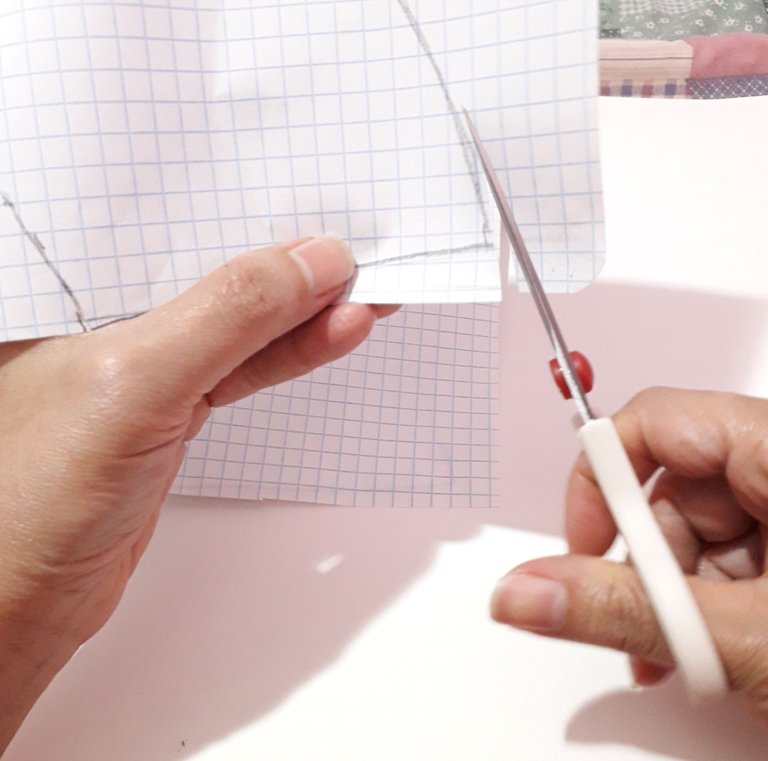 ---
---
| Abreviaturas | Abbreviations |
| --- | --- |
| Cadenetas | Chains |
| Punto alto (pa) | Double crochet (dc) |
| Punto deslizado (pd) | Slip stich (ss) |
| Aumentos (aum) | Increase (inc) |
Pasos
En color morado
Iniciamos con una cadeneta de 65. Giramos, y metemos el ganchillo en la 4 cad, tejemos 15 pa y hacemos un inc. Cada 15 pa tejemos un aum. Repetir hasta completar la vuelta.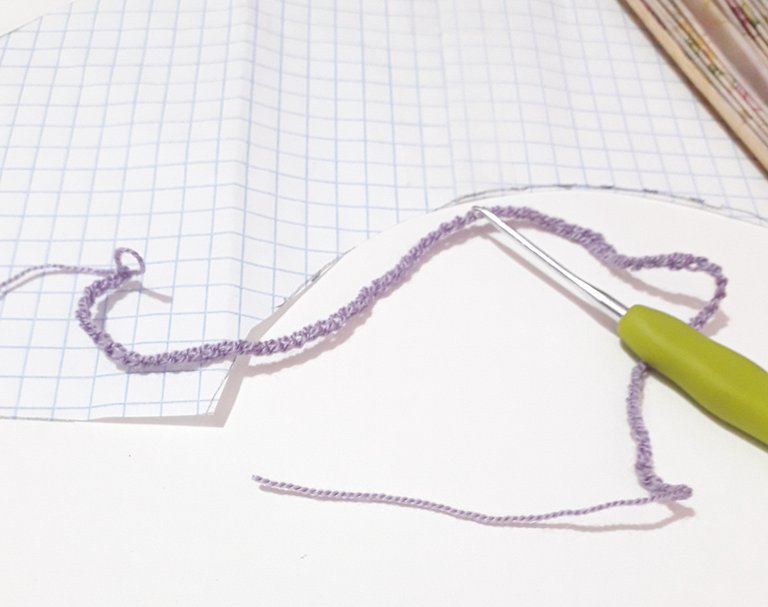 Nos mantenemos con el color morado, tejemos 1 pa obre cada pa de la vuelta anterior.
Steps
In purple
We start with a chain of 65. We turn, and we put the crochet in the 4 ch , we weave 15 dc and we make an inc. Every 15 dc we weave an inc. Repeat until completing the turn.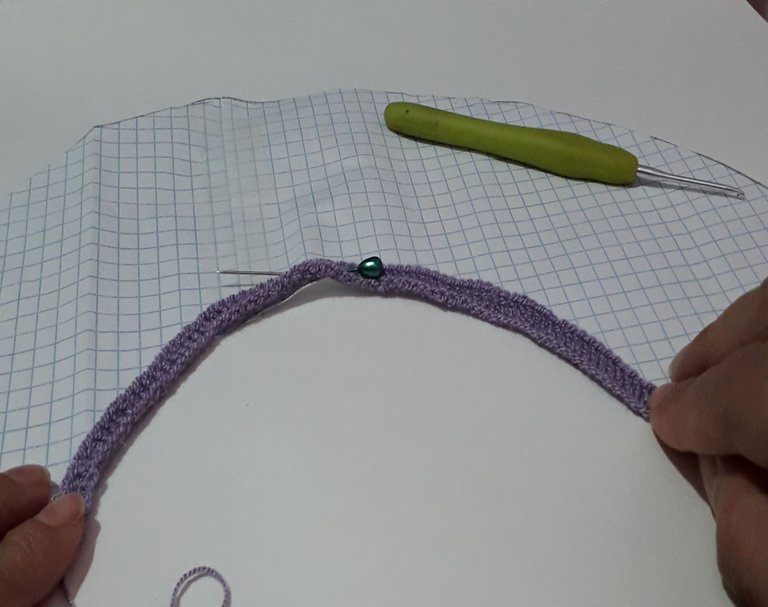 We keep the color purple, we weave 1 dc on each dc of the previous turn.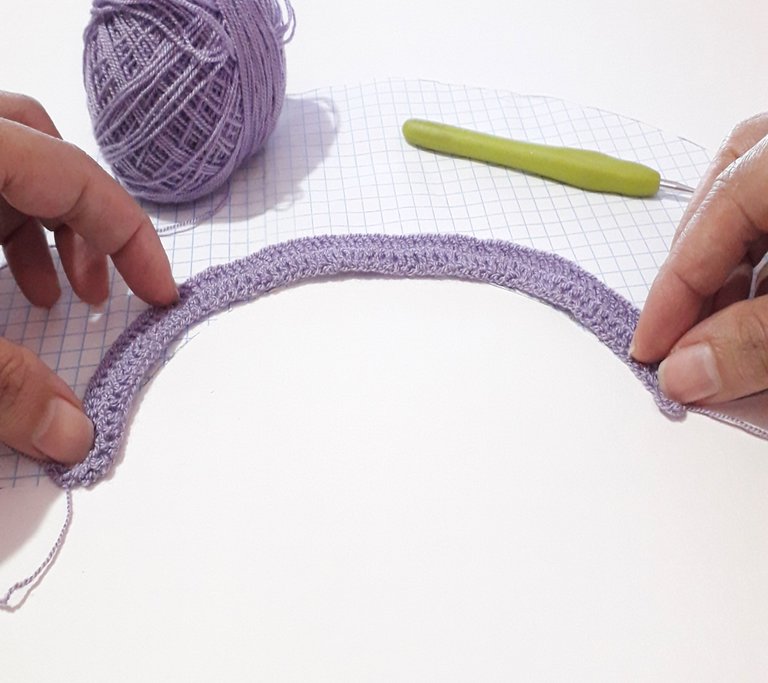 ---
En color azul
Cada 4 pa hacemos un aum, repetir hasta completar la vuelta. En la vuelta siguiente subimos con 5, metemos el ganchillo en el 3 pa de la vuelta anterior, hacemos 2 cad, luego un pa dejando dos pa por medio, tejemos 2 cad y un aum dejando 2 pa por medio. Repetir hasta completar la vuelta.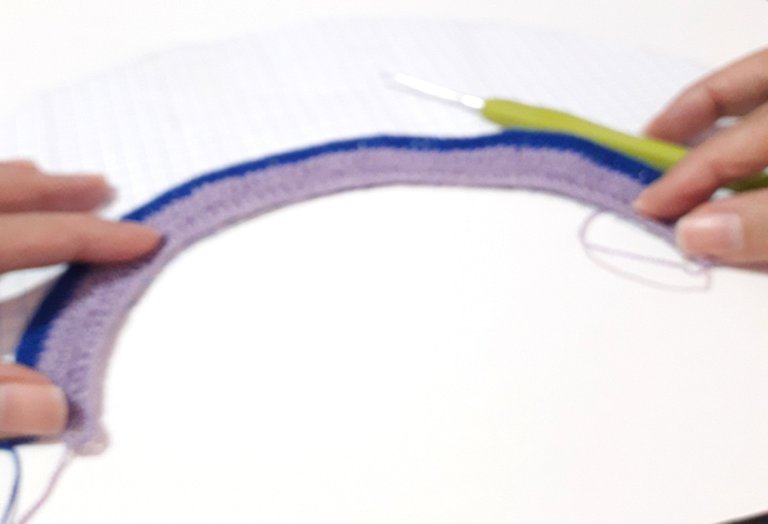 In blue color
Every 4 dc we do an inc, repeat until completing the turn. In the next round we go up with 5, we put the crochet in the 3 dc of the previous round, we make 2 ch, then one pa leaving two dc in between, we weave 2 ch and one aum leaving 2 dc in between.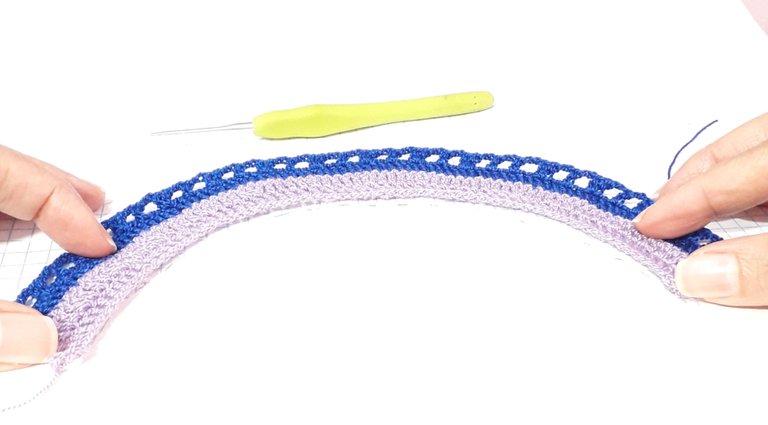 ---
Para los colores azul, amarillo, verde y anaranjado, repetir la secuencia descrita para el color azul.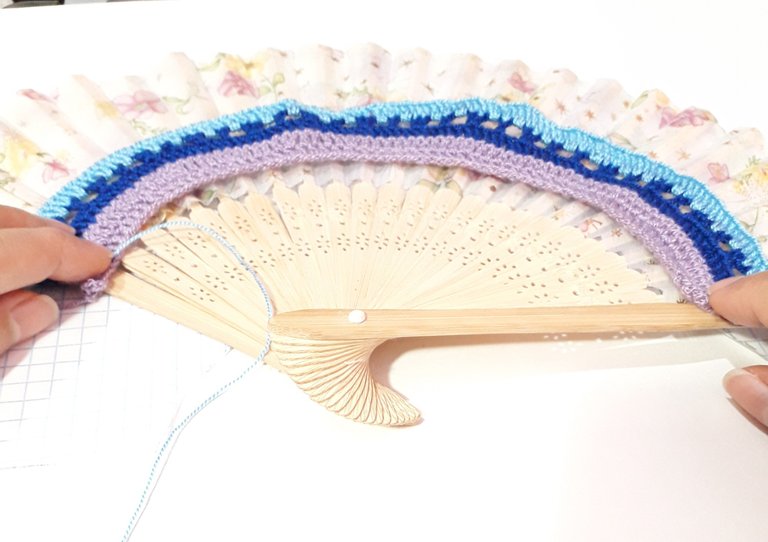 ---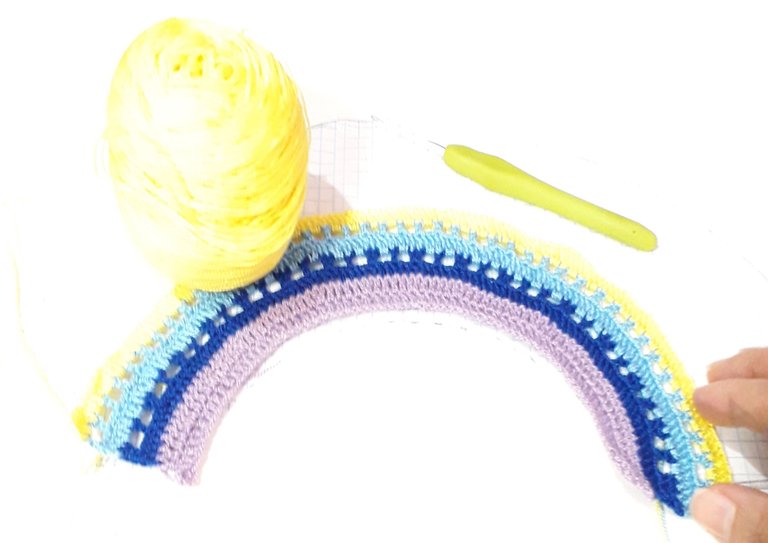 ---
Feliz tejiendo este proyecto, en cada color pienso en mi hermana y la veo bañada de ese color. Con el verde, la visualizo llena de esperanza, de fe y gozando de salud plena.
For the colors blue, yellow, green and orange, repeat the sequence described for the color blue.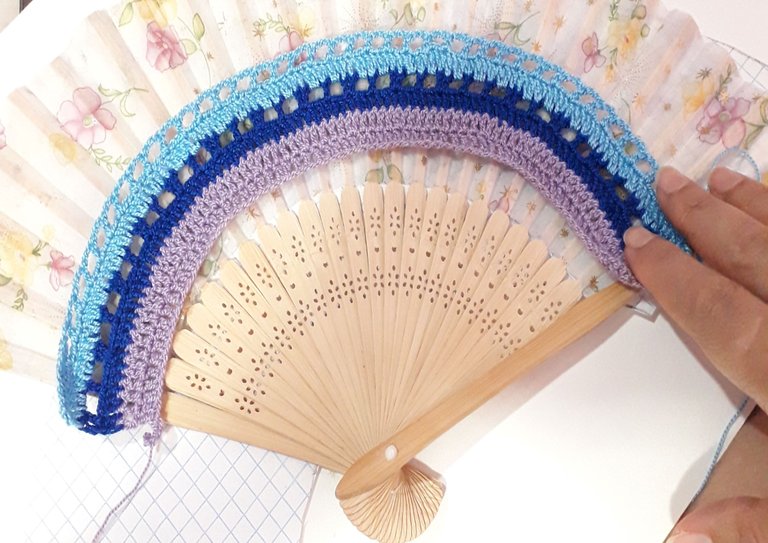 ---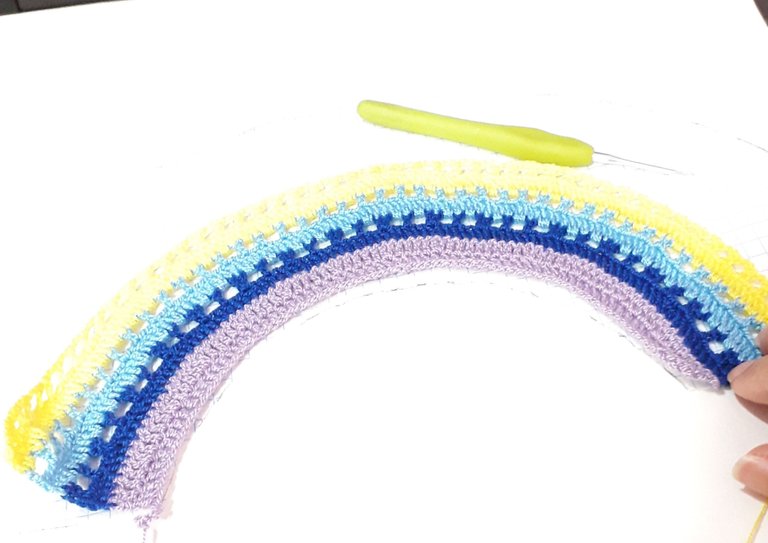 ---
Happy weaving this project, in every color I think of my sister and see her bathed in that color. With the green, I visualize her full of hope, faith and enjoying full health.
---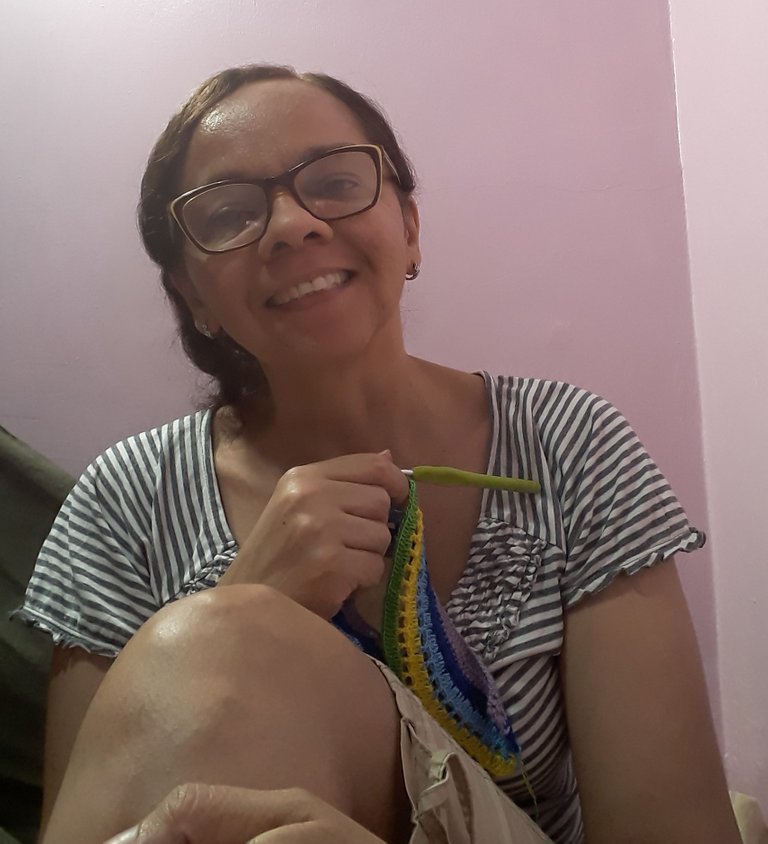 ---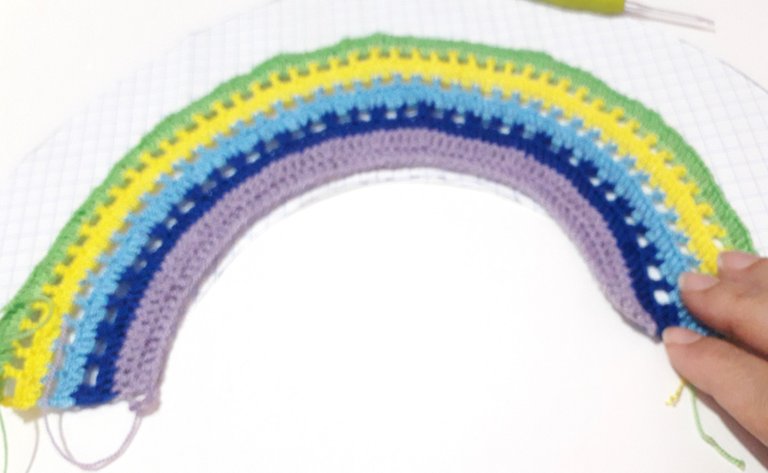 ---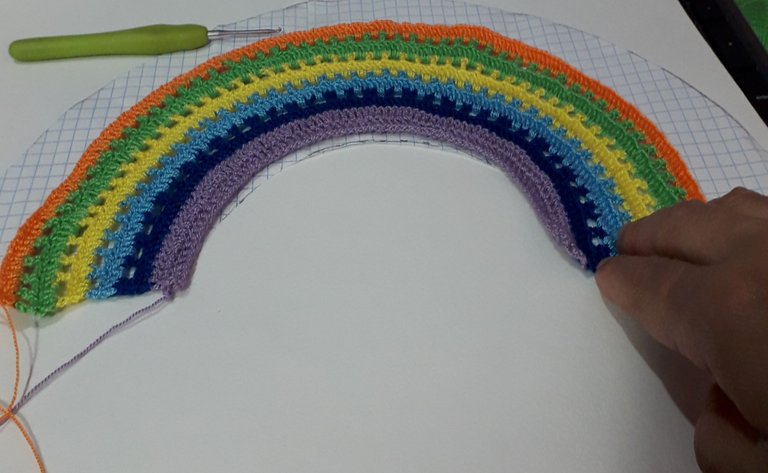 ---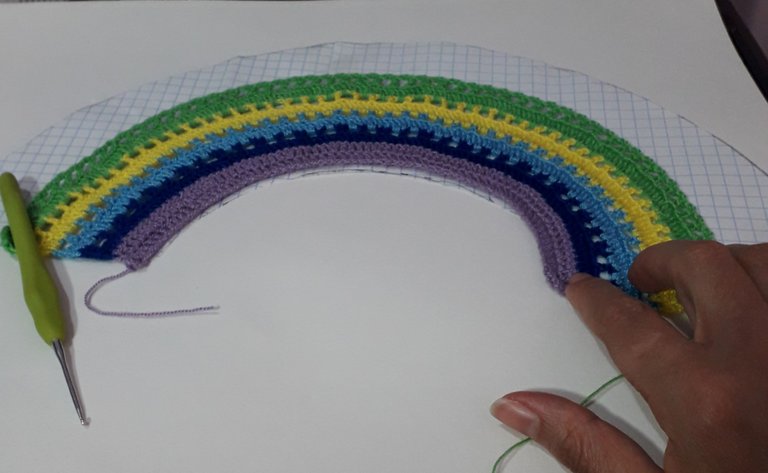 ---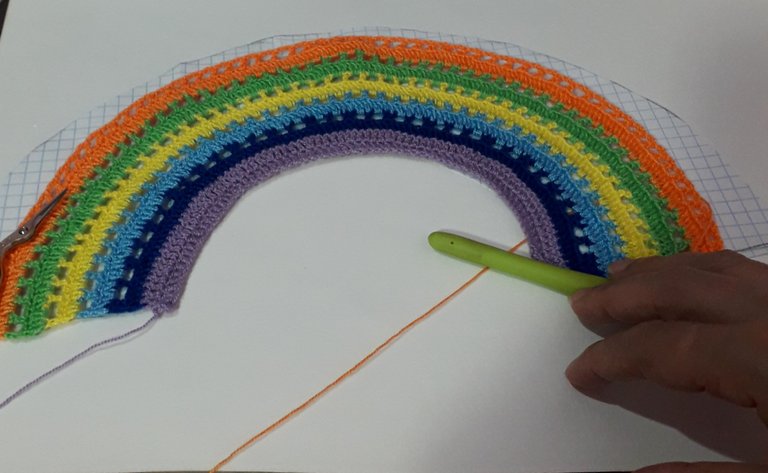 ---
Llegamos al último color, el color rojo
Las vueltas en el color rojo, las haremos tejiendo un pa en cada pa de la vuelta anterior.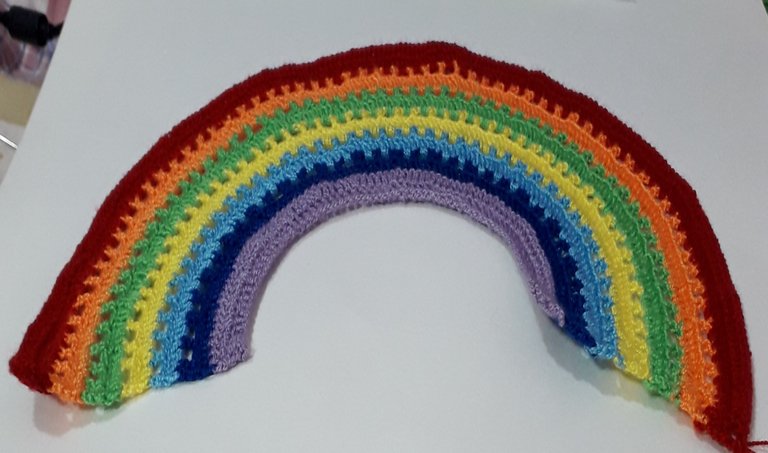 ---
In red color
The turns in the red color, we will make them weaving a dc in each dc of the previous turn.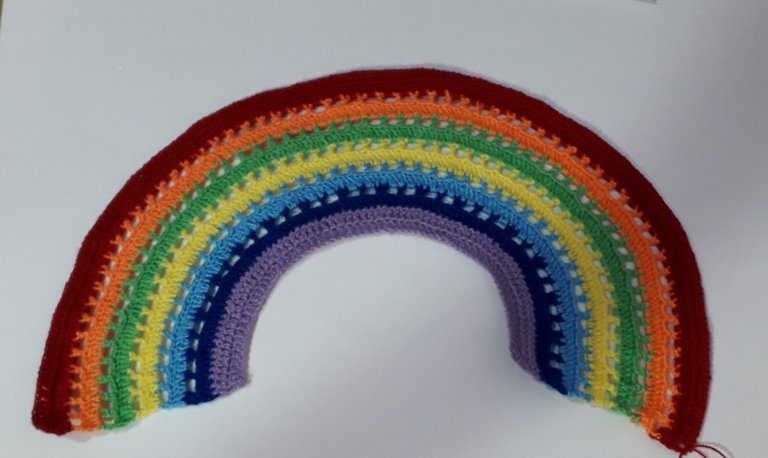 ---
Luego de cortar con tijeras y esconder lo hilos con la aguja lanera, pegamos con silicón la pieza tejida.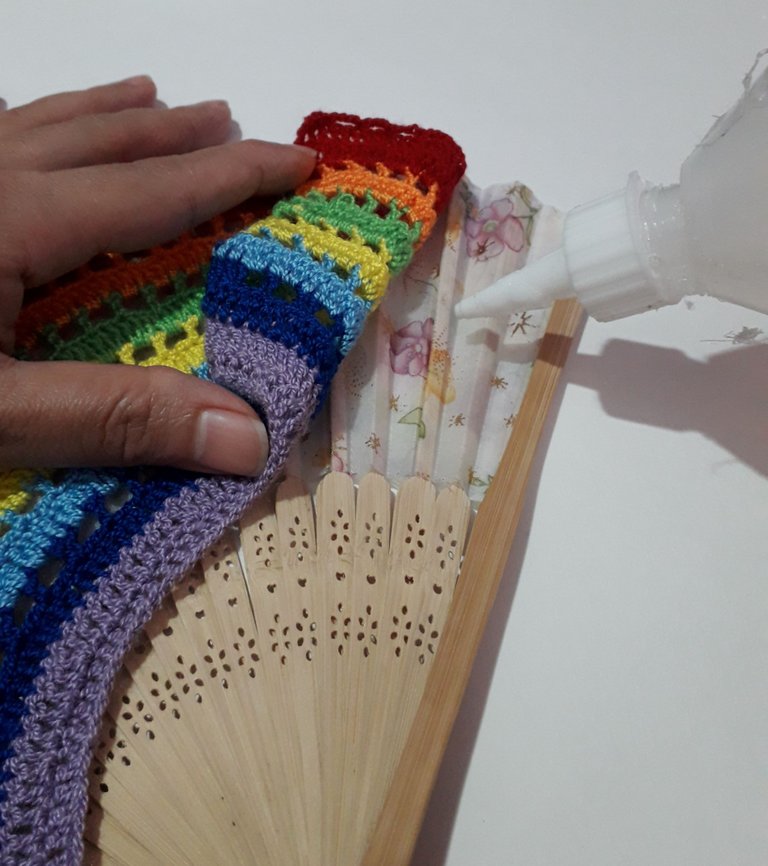 ---
After cutting and hiding the threads, we place the woven piece on top of the fan and glue with silicone.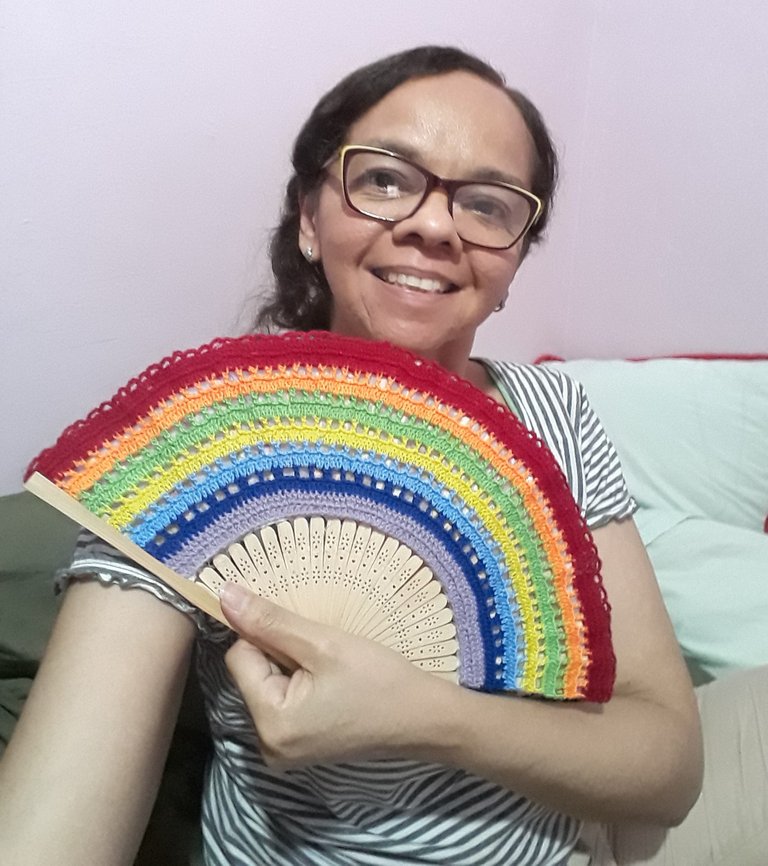 ---
---

Proyecto completado
Luego de haber completado la secuencia hemos llegado al final de este colorido proyecto. Seguramente cuando mi hermana reciba su abanico arcoíris se pondrá muy feliz.
Completed project
After having completed the sequence we have reached the end of this colorful project. Surely when my sister receives her rainbow fan she will be very happy.
---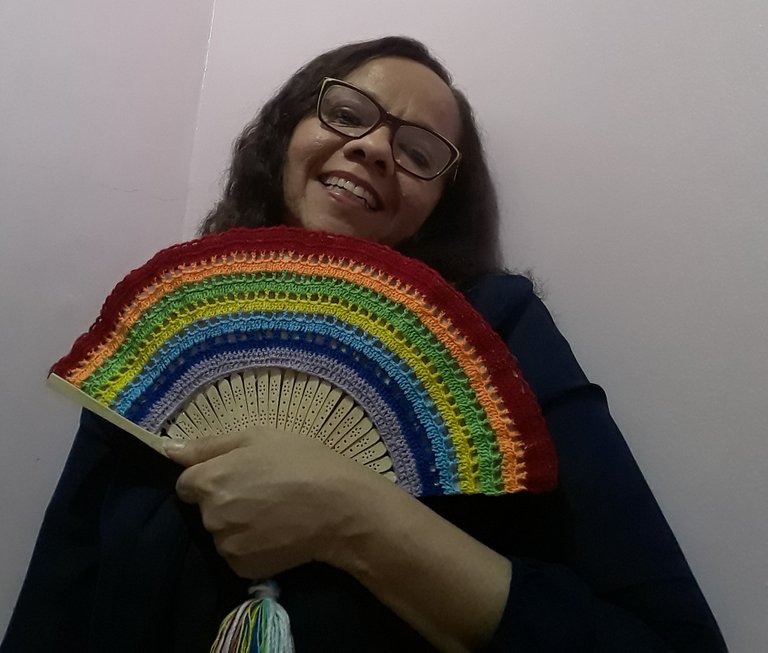 ---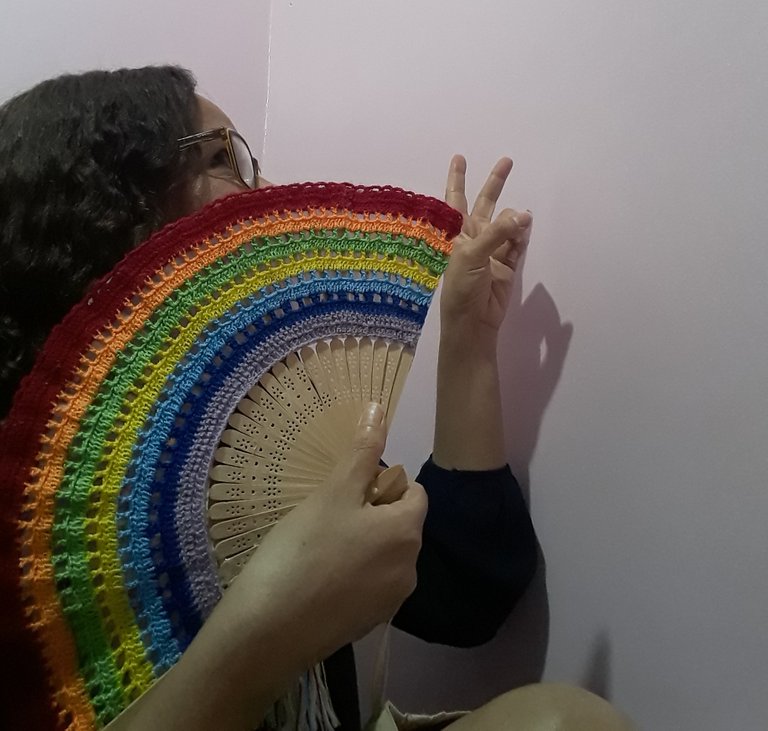 ---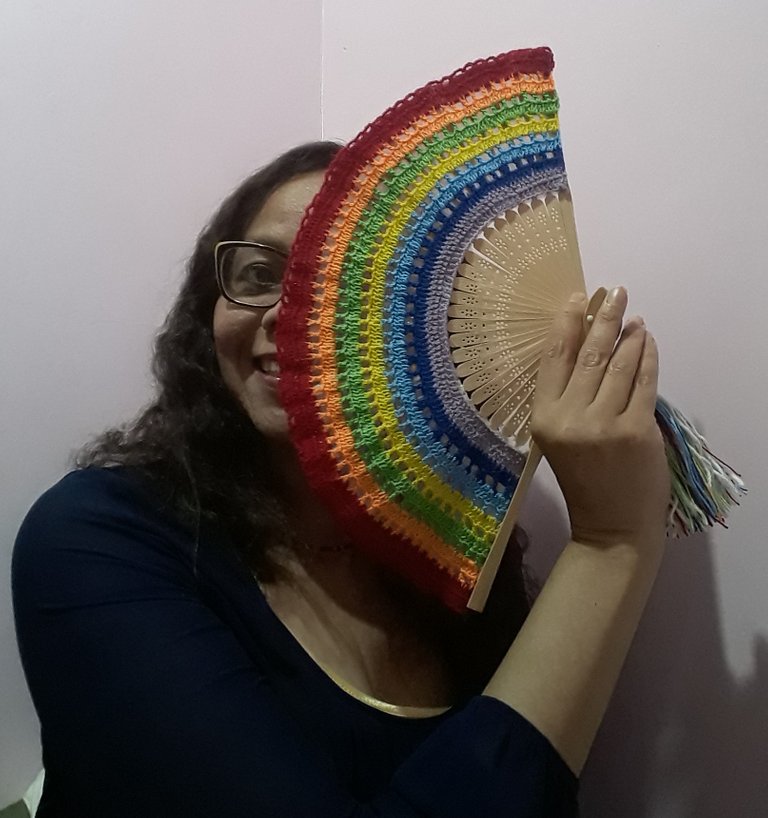 ---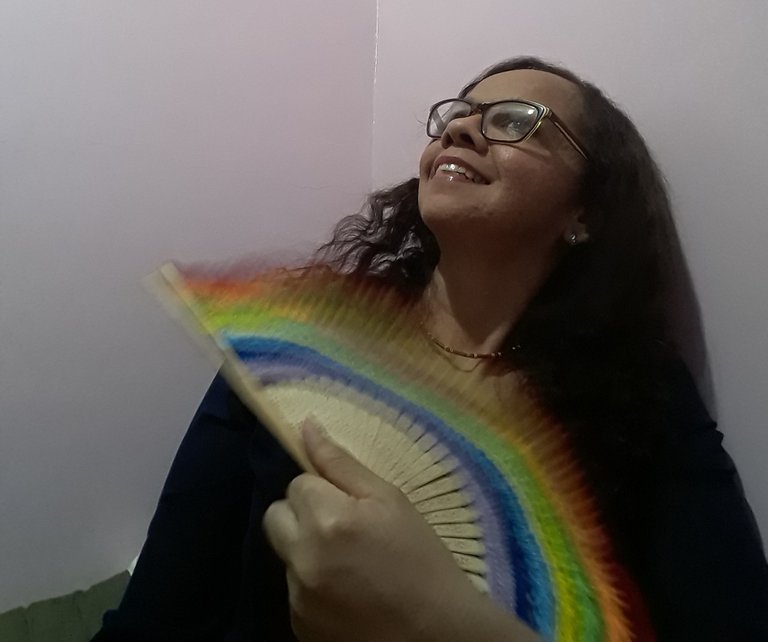 ---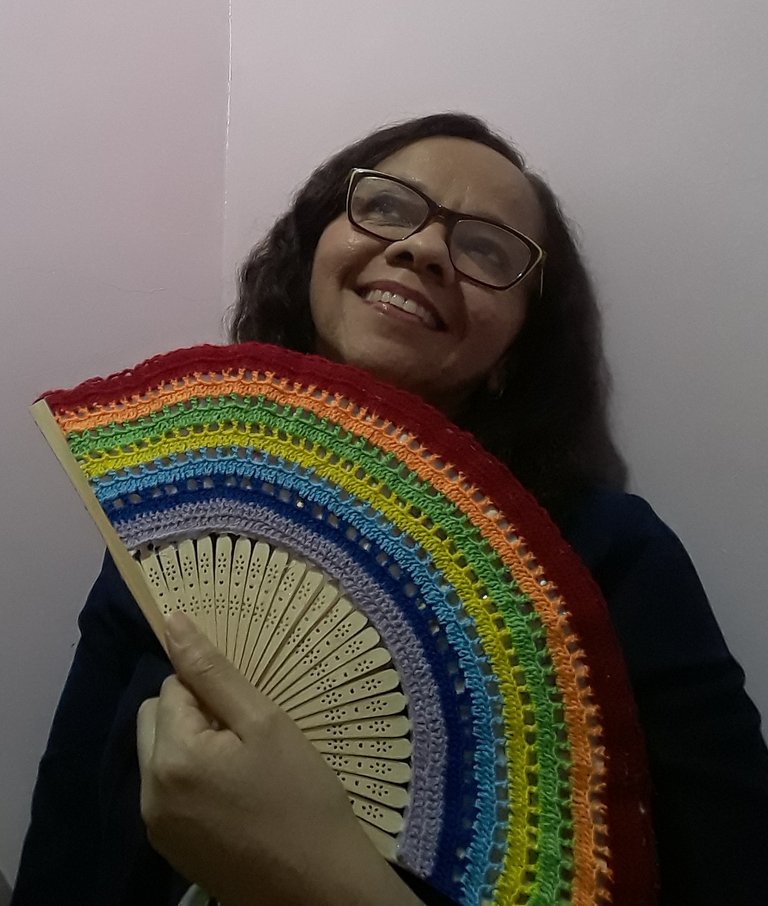 ---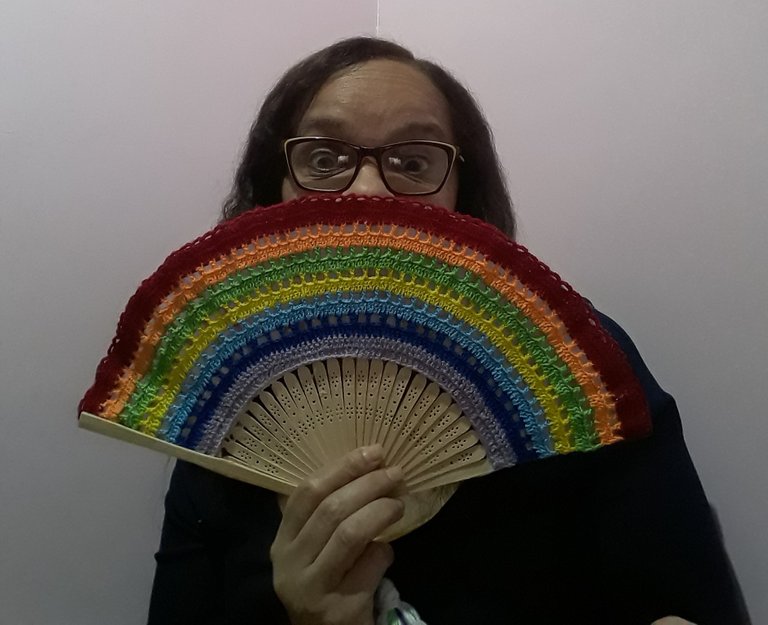 ---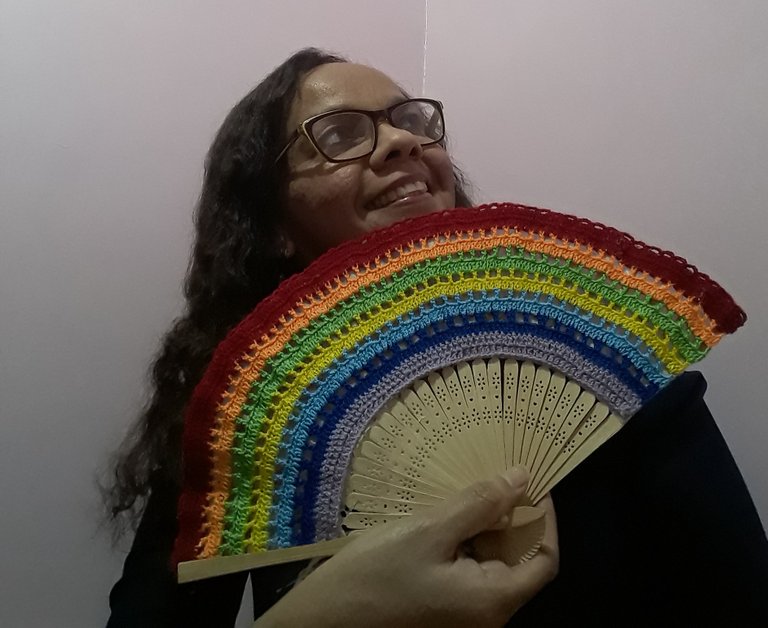 ---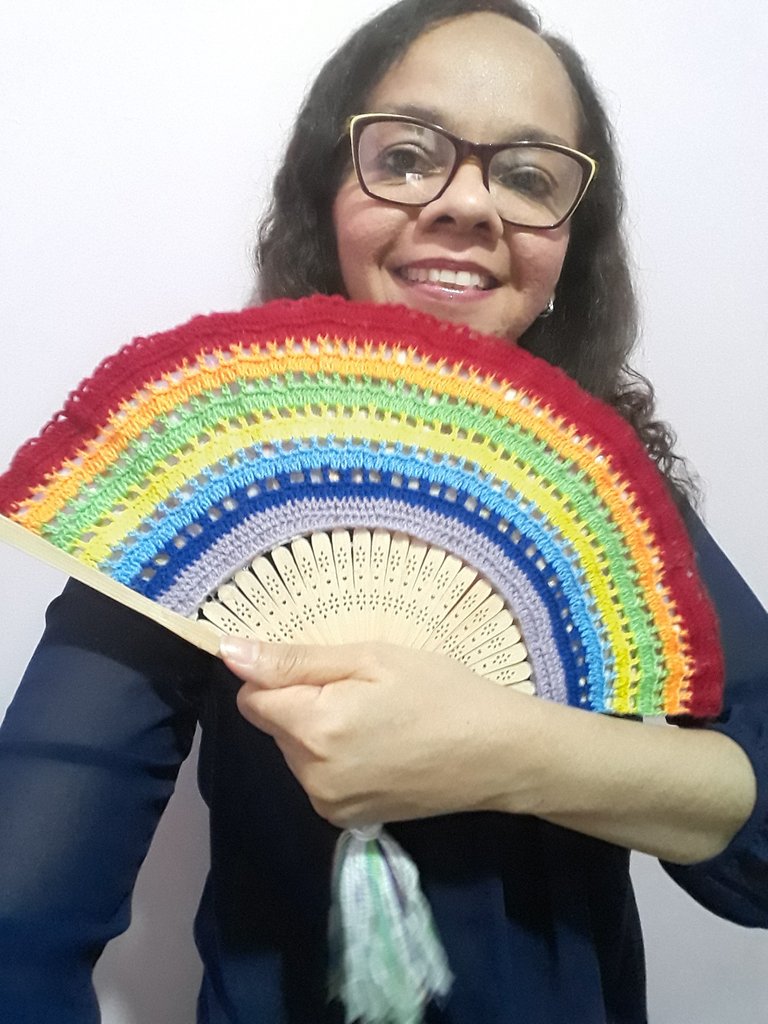 ---
Gracias por dedicar un espacio de su tiempo para leer la publicación. Si hay alguna pregunta, por favor pregúntame en la sección de comentarios a continuación.
Thank you for taking the time to read this publication. If there are any questions, please ask me in the comments section below.
---
Texto e imágenes: Por @jicrochet
Text and Images: By @jicrochet