Typically this job would be straight forward. A Plug-N-Play and away you go. Of course that never seems to be the case with Th Ol' Beast and I. This truck once worked the Right-of-Ways of Pacific Gas & Electric's electrical grid. Yep, it was an old truck used by the Lineman of IBEW Local 1245 in Northern California. Though this does create a cool back story for a Lineman like me, it does have its downfalls too. The Ol' Beast is a little rough around the edges.... Lineman Patina :wink:wink
I purchased this truck in Los Angeles, CA back in 2010-2011 from a Hispanic Midget, sporting a grown out mullet hair style. (I can't make this stuff up) My wife thought I was crazy to sell off my 2007 F150 fully loaded for an old work truck like this. Vinyl seats, rubber floors and no power anything. It didn't look near the way it looks today, let's just say that. It's what's under the hood that counts. 7.3 Powerstroke Turbo Diesel Engine (112k miles are the time of purchase) and a 5-Speed ZF5 transmission, along with a hydraulically driven from winch driven by a PTO (Power Take Off) Plus Ford never made a Crew Cab - Dually - 4 wheel drive. You could get a crew cab dually 2wd or a crew cab single rear wheel 4wd but they never made what I now own. Pacific Gas & Electric had the 4wd installed in these trucks back then to make them more useful for the Lineman in this area.
Well I didn't plan on giving a little history lesson of my Ol' Beast but I hope you enjoyed it. Plus it helps to somewhat explain why this truck had dents in the weirdest places. Like around the cab marker lights on the roof of the truck...
What the heck happened there!?!?
I did replace these once in the past but some of the LEDs quit working and the covers have fallen off, so it was long past the time to replace them.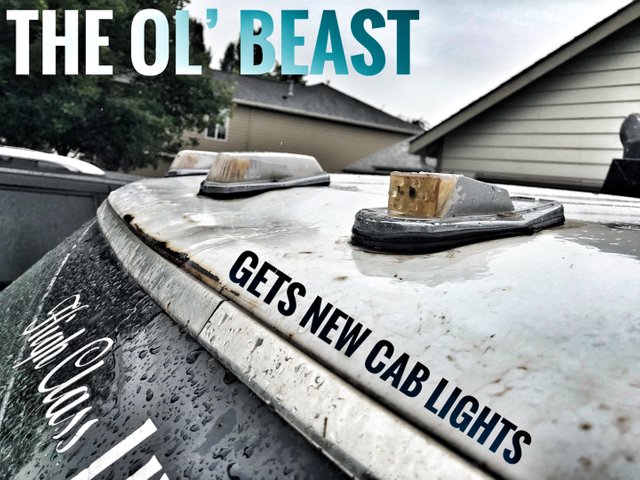 Now if you couldn't tell by the photo above, there are some good dents that run above the windshield almost the length of the cab. I honestly don't know how you get a dent there but "crazy $#!+ happens out on the right-of-way" is all I can say about that. Lol
The first time I changed these, I had to remove all the silicon sealant that was around the original lights. With the roof dented so bad the lights don't fit flush to the cab and without some sort of sealant water would get into the cab. Destroying the headliner and giving you a little shower during a rainy day.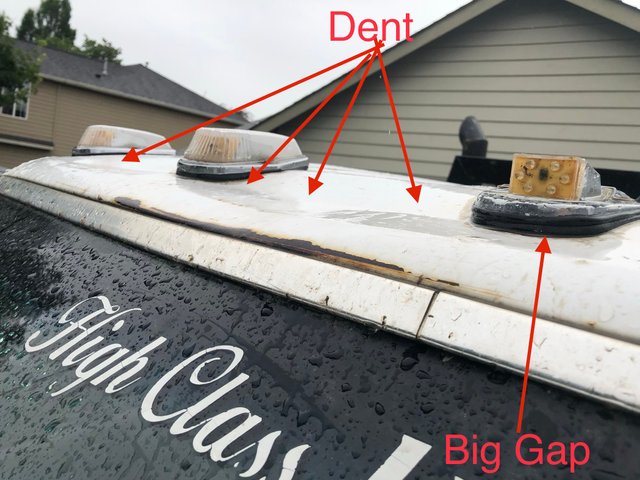 I used some weather stripping the first time and added multiple layers where the gaps were really big. It actually worked really well and I never got wet inside the truck and there are no water marks on the headliner. I call that a win.
These new lights I think are going to look great. I really like the Black as compared to the clear. Look you can still see the film left behind from the old sealant they used. Lol. Dang this is borderline embarrassing... The more I look closely at the Old Beast the more I realize it is a bit Rough LOL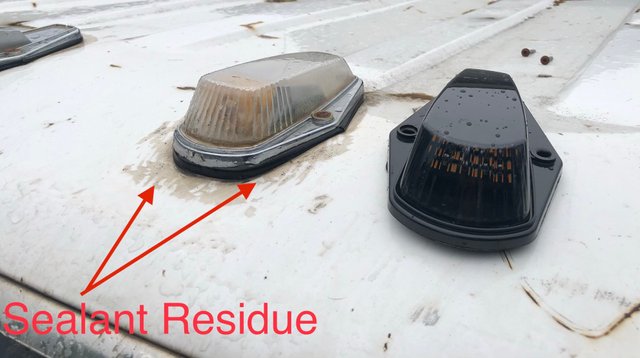 Under each of these lights is a 1 inch hole for the wiring. I used whatever tools I had to reach in the hole and try and push the dents up to better fit the lights. They got close but not quite perfect. Which I can't complain too much about. Nothing on this rig is "perfect"... just the way I like it.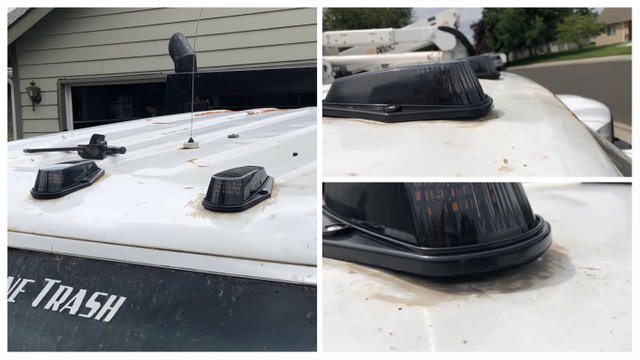 I have used a basketball to remove dents in the past but it only works in certain situations. Deflate the ball and stick it behind the dent. You need a solid surface behind the dent for the ball to push against in order to push the dent out. These access holes is so small I can't do this with a basketball. I was considering purchasing a bike tube. It would be small enough, long enough and strong enough to shove into the hole and placed into the area where the dent is. Then simply fill it with air and if all goes right it should pop the dent out. "In theory"
I was just going to get some black windshield sealant and call it good but the more I think about it the more I am thinking I can get this long dent out. Challenge Accepted But that is gonna have to be done another day. I have a TV to mount in the camp trailer (post coming soon) I went ahead and installed all of the new black cab lights and I think they look really good compared to the old clear ones.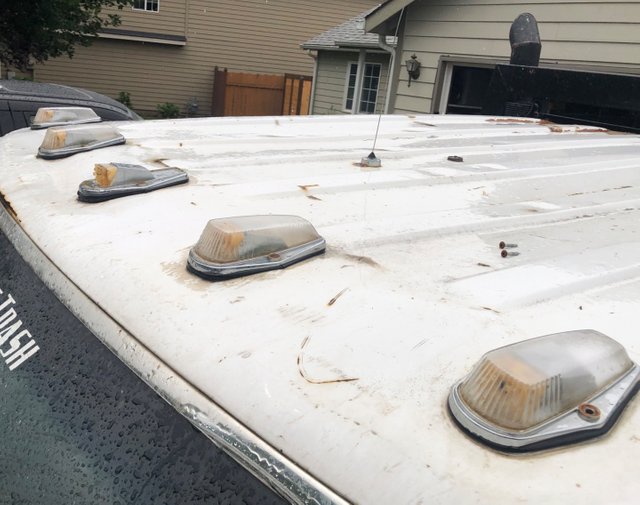 Though the dent do give The Ol' Beast character I think I am going to spend the time and make a worthy attempt at getting these dents out of the roof of the cab before I seal these lights up. I just hope we don't get a bunch of rain between now and then.
So stay tuned and see if using a bike tire to remove dents will actually work. I think it will... maybe... possibly...
Until Next Time...



Hive On
and


$50
Brings a New Look
to
The Ol' Beast