Greetings dear friends, today checking some of my drawers I found some empty perfume bottles that have very nice and decorative lids, which I did not want to throw away, so I got a little creative, so today I want to show you How to make an hourglass with recyclable materials.♻️💡⏳
Saludos apreciados amigos, hoy revisando algunas de mis gavetas encontré unos frascos de perfumes vacíos que tienen unas tapas muy bonitas y decorativas, que no quise desechar, así que me puse un poco creativa, por lo que hoy quiero mostrarles Cómo hacer un reloj de arena con materiales reciclables.♻️💡⏳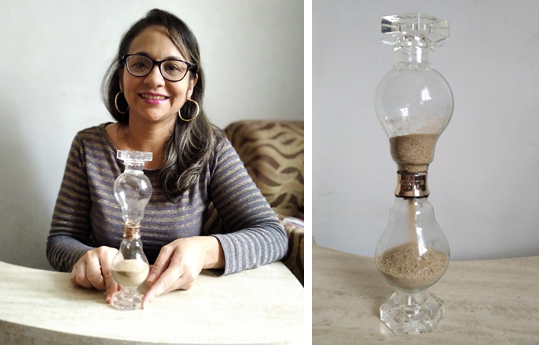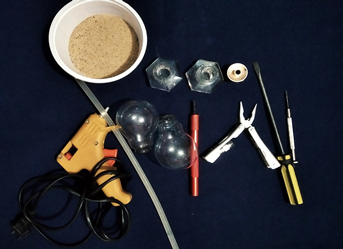 Step by Step:
The first thing to do is prepare the bulbs. For this we must follow some steps, it is important that when we are working with the bulbs we use a thick cloth to wrap it in case the bulb breaks it does not cause us any damage.
Paso a Paso:
Lo primero que debemos hacer es preparar los bombillos. Para esto debemos seguir algunos pasos, es importante que cuando estemos trabajando con los bombillos utilicemos un paño grueso para envolverlo en caso de que el bombillo se rompa no nos cause ningún daño.
Step 1:
With the cutter we eliminate the aluminum contact of the bulb that is in the upper part.
Paso 1:
Con el cutter eliminamos el contacto de aluminio del bombillo que se encuentra en la parte superior.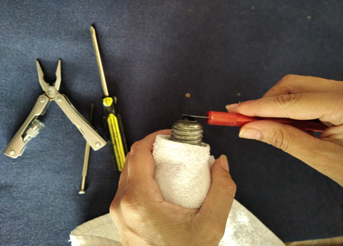 Step 2:
With the screwdriver we remove the insulation and break the internal base of the bulb.
Paso 2:
Con el destornillador retiramos el aislante y rompemos la base interna del bombillo.

Step 3:
Once the internal base of the bulb has been rotated, we remove it with the tweezers, then we remove the aluminum thread and eliminate the excess glass by washing the bulbs very well.
Paso 3:
Una vez rota la base interna del bombillo la sacamos con la pinza,luego quitamos la rosca de aluminio y eliminamos los excesos de vidrio lavando muy bien los bombillos.


The following steps are extremely simple, since we only have to glue each of the pieces that make up the hourglass.
Los siguientes pasos son sumamente sencillos, ya que solo tenemos que ir pegando cada una de las piezas que conforman el reloj de arena.
Step 4:
With the hot silicone we glue the caps on the bottom of each of the bulbs.
Paso 4:
Con el silicón caliente pegamos las tapas en la parte inferior de cada uno de los bombillos.

Step 5:
Then, we pour the sand into one of the bulbs, for this we will use a small paper funnel.
Paso 5:
Luego, vertemos la arena dentro de uno de los bombillos, para esto utilizaremos un pequeño embudo de papel.

Step 6:
Then we stick with the hot silicone the smaller cap that will join both bulbs. This lid is ideal, since it has the hole in the center and will allow the sand to circulate between both bulbs.
Paso 6:
Luego pegamos con el silicón caliente la tapa más pequeña que unirá ambos bombillos. Esta tapa es ideal, ya que tiene el orificio en el centro y permitirá circular la arena entre ambos bombillos.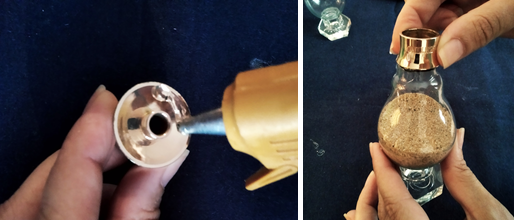 Step 7:
Here we repeat the previous step to join both bulbs and thus we finish our hourglass.
Paso 7:
Aquí repetimos el paso anterior para unir ambos bombillos y así culminamos nuestro reloj de arena.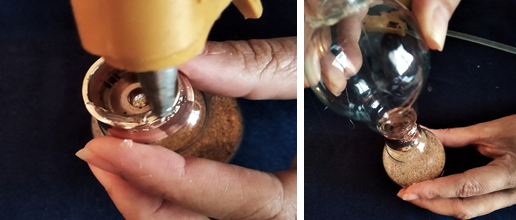 Many times we have objects at home that we think have no value or can not be useful to us, however if we get something creative we can make very beautiful things with them.
Muchas veces tenemos objetos en casa que pensamos que no tienen valor o no nos pueden ser útiles, sin embargo si nos ponemos algo creativos podemos hacer con ellas cosas muy hermosas.