Greetings hivers friends. My project for today is How to make an organizer with recyclable materials. We can use it to organize our office accessories, makeup, among others. It is very fast, easy and simple to do.
Saludos amigos hivers. Mi proyecto de hoy consiste en Cómo elaborar un organizador con materiales reciclables. Lo podemos utilizar, para organizar nuestros accesorios de oficina, maquillajes, entre otros. Es muy rápido, fácil y sencillo de hacer.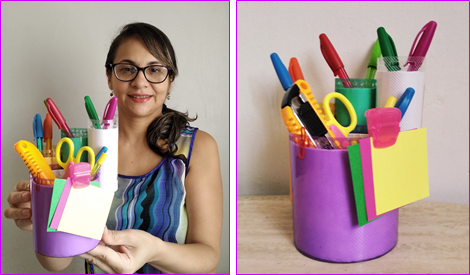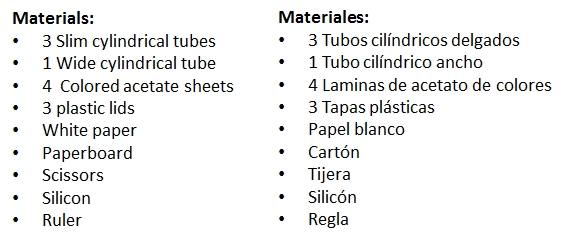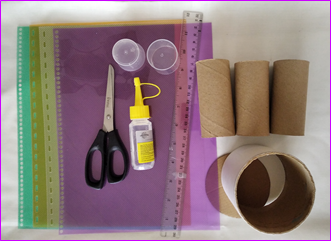 Step by step:
Step 1:
With the white paper we line the cylinders and the circle that we place at the bottom of the wide cylindrical tube.
Paso a paso:
Paso 1:
Con el papel blanco forramos los cilindros y el círculo que colocamos en la parte inferior del tubo cilíndrico ancho.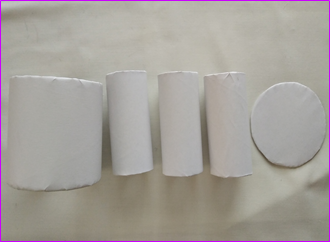 Step 2:
Then with the silicone we glue the cardboard circle to the bottom of the wide cylinder.
Paso 2:
Luego con el silicón pegamos el círculo de cartón en la parte inferior del cilindro ancho.

In the small tubes we will place the plastic caps that adapt to the size of the cylinder circumference.
En los tubos pequeños colocaremos las tapas de plásticos que se adaptan al tamaño de la circunferencia del cilindro.


Step 3:
Then we measure the size of the cylinders on the acetate sheets. These sheets had been used and had perforations on the edges, so I cut a larger size from the cylinder measurement to make them as a decorative motif.
Paso 3:
Luego, medimos el tamaño de los cilindros en las láminas de acetato. Estas láminas habían sido utilizadas y tenían perforaciones en las orillas, así que recorté un tamaño más grande de la medida del cilindro para que quedaran como motivo decorativo.


Step 4:
In this step we glue the acetate with the silicone around the cylindrical tubes.
Paso 4:
En este paso pegamos con el silicón el acetato alrededor de los tubos cilíndricos.


Step 5:
Finally, we glue the thin cylinders around the wide cylinder, placing them unevenly, to make a stepped shape.
Paso 5:
Por último, pegamos alrededor del cilindro ancho los cilindros delgados, colocándolos de forma desnivelada, para hacer una forma escalonada.


We already have our organizer ready. It is a very easy project to do, ideal for organizing our desks, makeup, brushes or others. Best of all, we have the vast majority of these materials at home and sometimes we think we can no longer use them.
Ya tenemos nuestro organizador listo. Es un proyecto muy fácil de hacer, ideal para organizar nuestros escritorios,maquillajes, pinceles u otros. Lo mejor de todo es que la gran mayoría de estos materiales los tenemos en casa y a veces creemos que ya no podemos darle utilidad.