Welcome to my blog .
Bienvenidos a mi Blog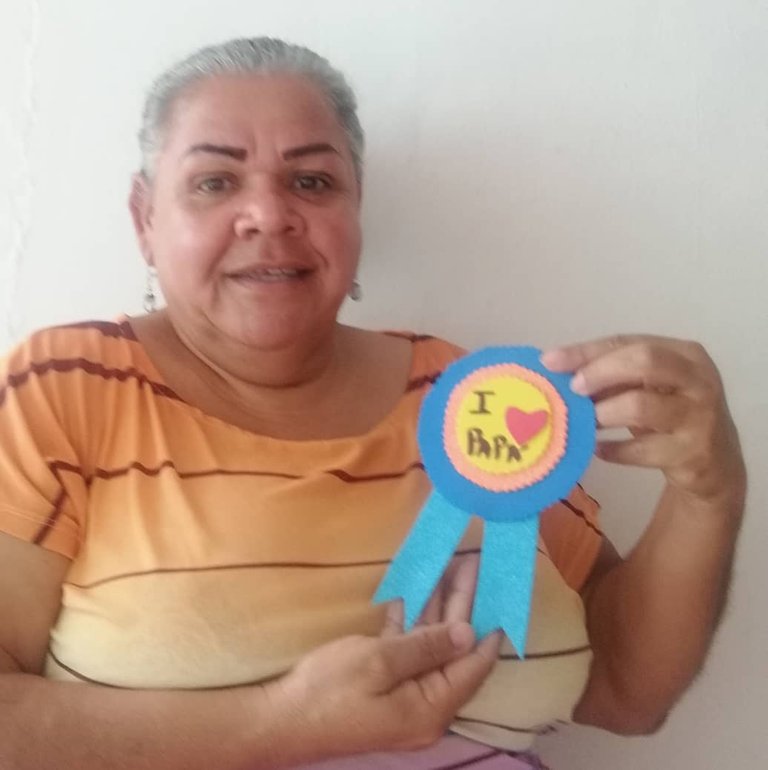 Hello hive community, I hope you are in excellent health.
Hola comunidad colmena, espero se encuentren en excelente estado se salud.
Let me share with you my creative work today, taking advantage of the fact that Father's Day is approaching, I decided to build this beautiful medal that can be given as a gift to those super dads, deserving of all the thanks for their dedication and dedication to their children. and the family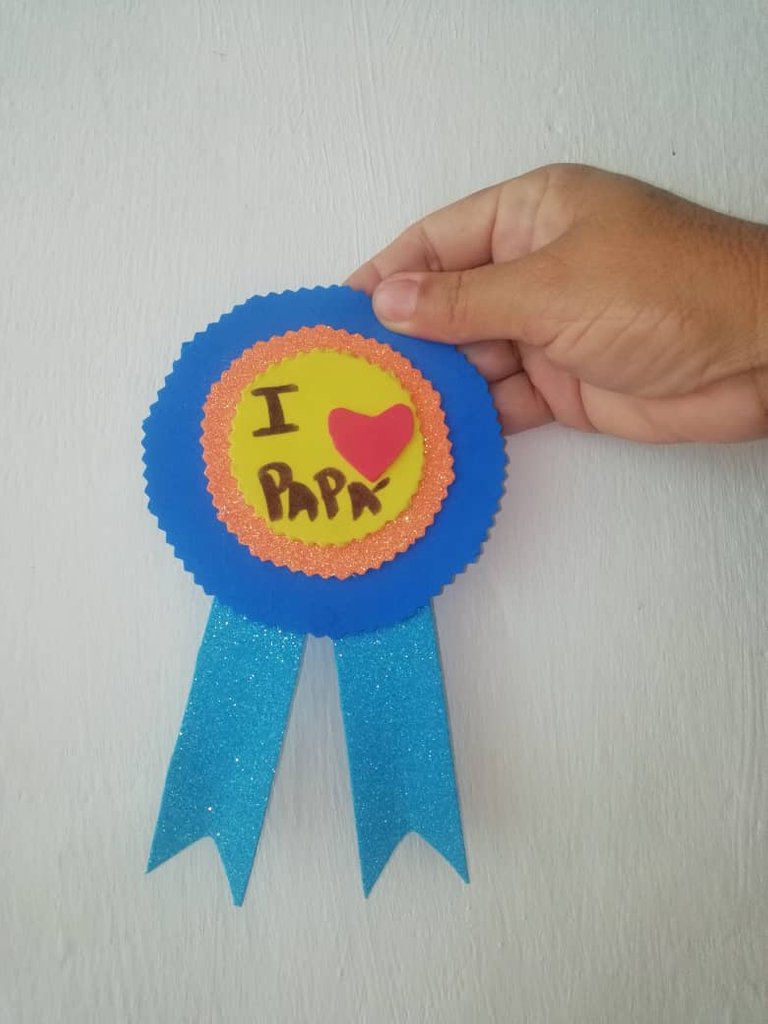 Me permito compartir con ustedes mi trabajo creativo de hoy, aprovechando que se acerca el día del Padre, decidí construir esta hermosa medalla que puede ser entregada como un detalle a aquellos súper papás, merecedores de todo el agradecimiento por su entrega y dedicación a los hijos y a la familia.

I consider that it is a different detail than what is used to, because it would be out of the ordinary, presenting a medal gives it poise and makes us make a difference. It is very simple to do, and with little material, accompany me until the end and I will explain step by step how I did it.
Considero que es un detalle diferente al que se acostumbra, porque saldría de lo común, hacer entrega de una medalla le otorga prestancia y nos hace marcar la diferencia. Es muy sencilla de hacer, y con poco material, acompáñame hasta el final que te explico paso a paso como la hice.
Materials:
Orange, blue, red and yellow foami cutouts
Silicon
Normal scissors
Shape scissor
Marker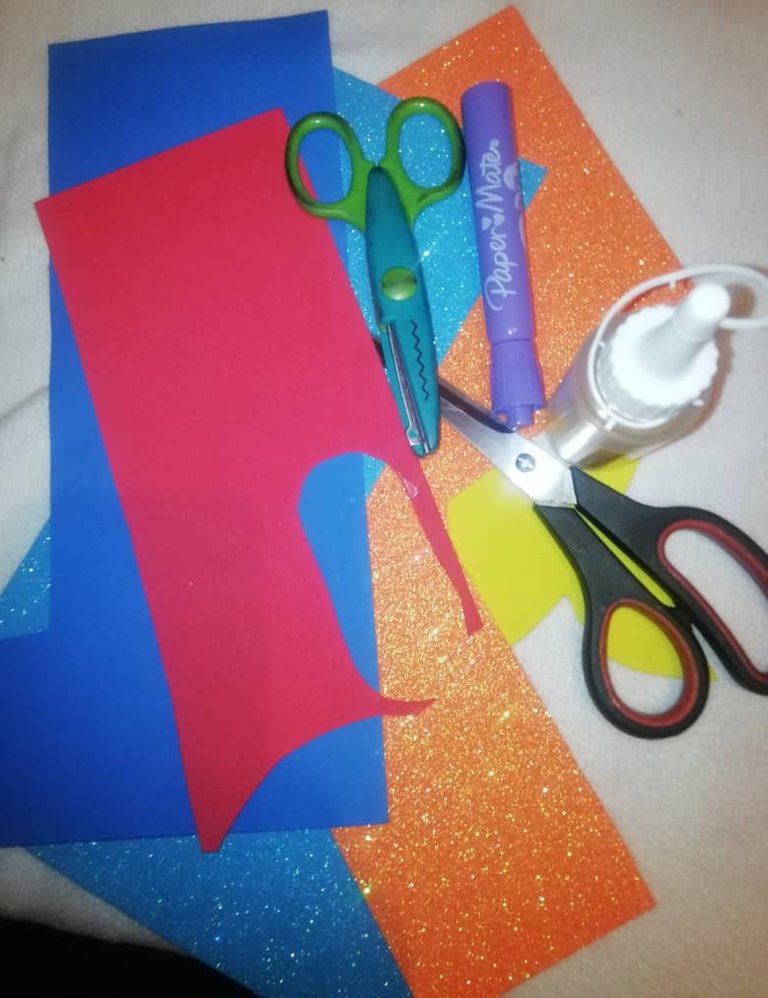 Materiales:
Recortes de foami naranja, azul, rojo y amarillo
Silicon
Tijera normal
Tijera de forma
Marcador
Step 1:
Three circles of different sizes are marked on each of the orange, blue and yellow foamis and the heart shape is cut out in red.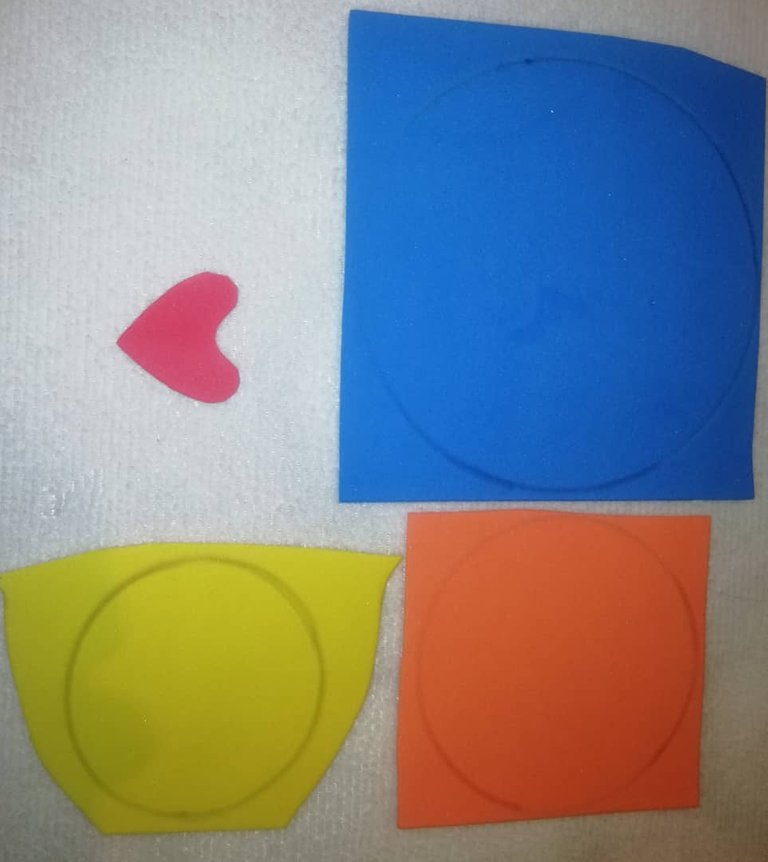 Paso 1:
Se marcan tres círculos de diferentes tamaños en cada uno de los foamis naranja, azul y amarillo y se recorta la forma del corazón en rojo.
Step 2:
The circles are cut out with the shape scissors.
Paso 2:
Se recortan los círculos con la tijera de formas.
Step 3:
The circles are glued from the largest to the smallest and left to dry. Then the heart shape is glued to the left side and allowed to dry.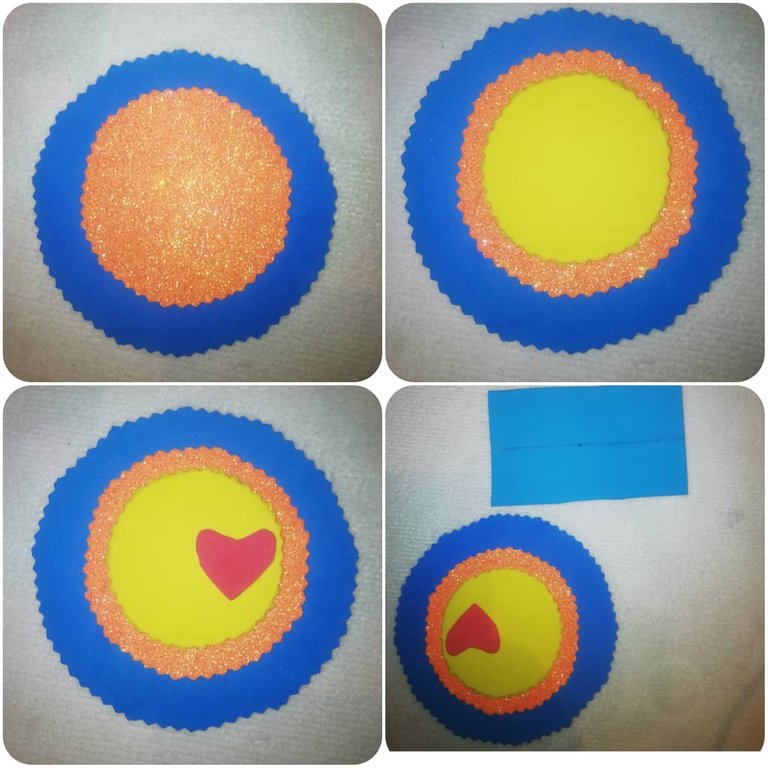 Paso 3:
Se van pegando los círculos del mas grande al mas pequeño y se dejan secar. Luego se le pega al lado izquierdo la forma del corazón y se deja secar.
Step 4:
Two strips of foami are cut and cut in a V shape at the ends and glued in circles and left to dry.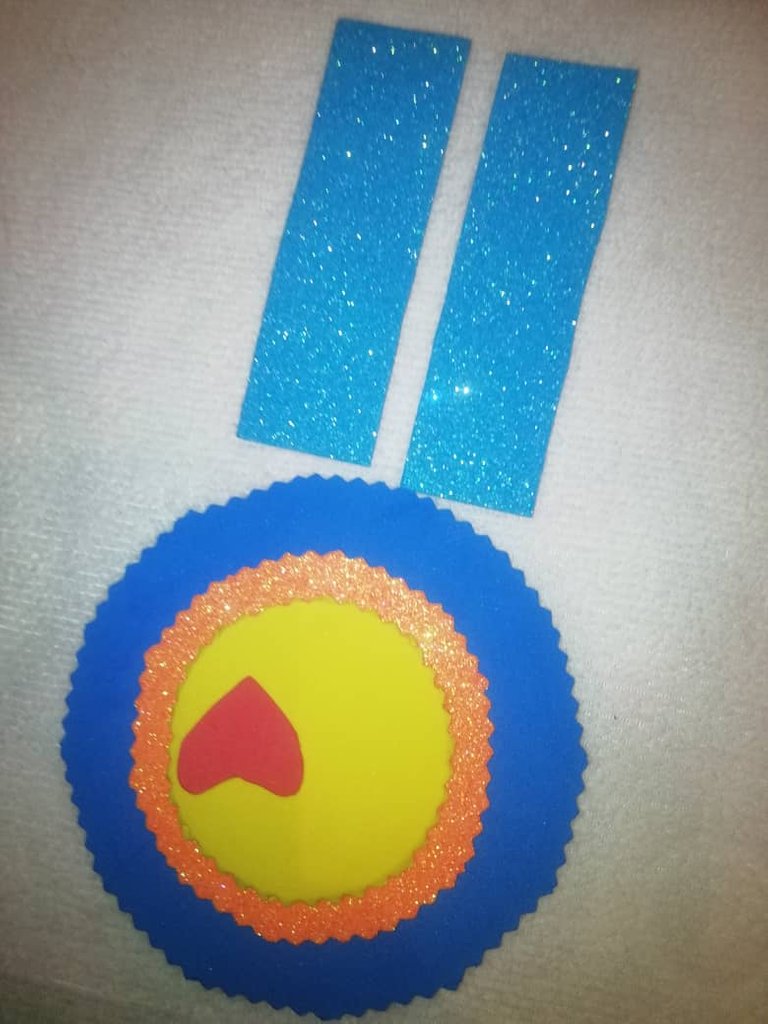 Paso 4:
Se cortan dos tiras de foami y se cortan en forma de V en las puntas y se pegan en los círculos y se dejan secar.
Step 5:
With the marker of the color of your preference, I used a purple one, a phrase for Dad was placed on it.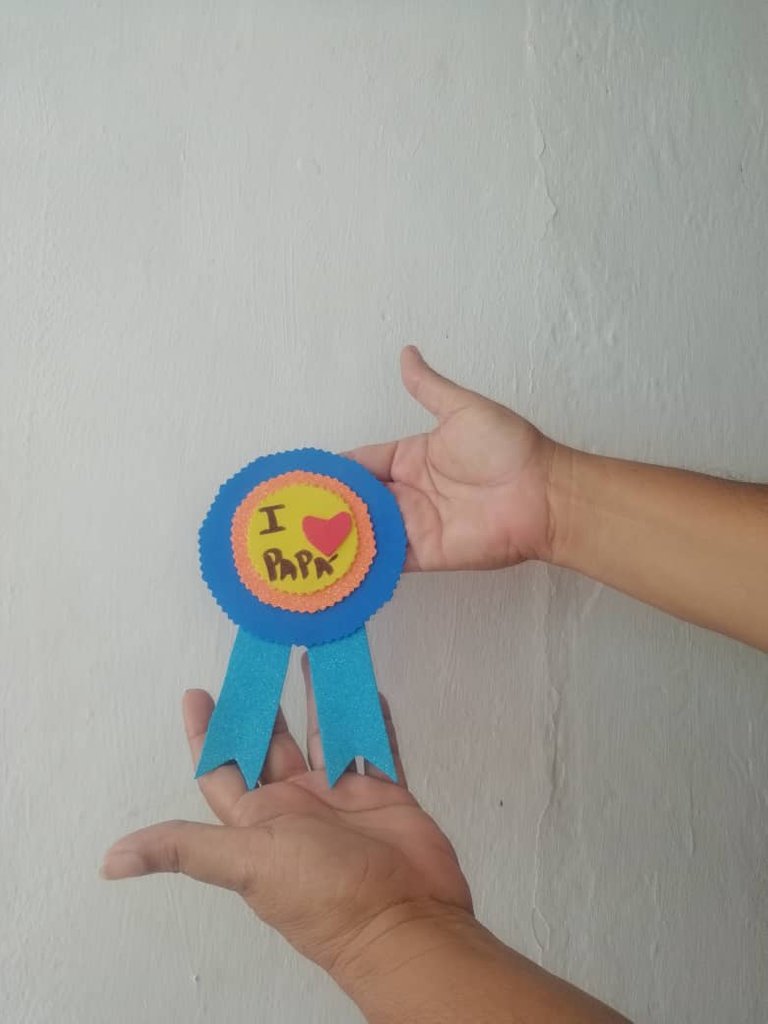 Paso 5:
Con el marcador del color de tu preferencia, yo use uno morado, se le coloca una frase para Papá.
And voila, we already have a beautiful medal to recognize the best dad in the world in his day. I hope you can encourage yourself to do it.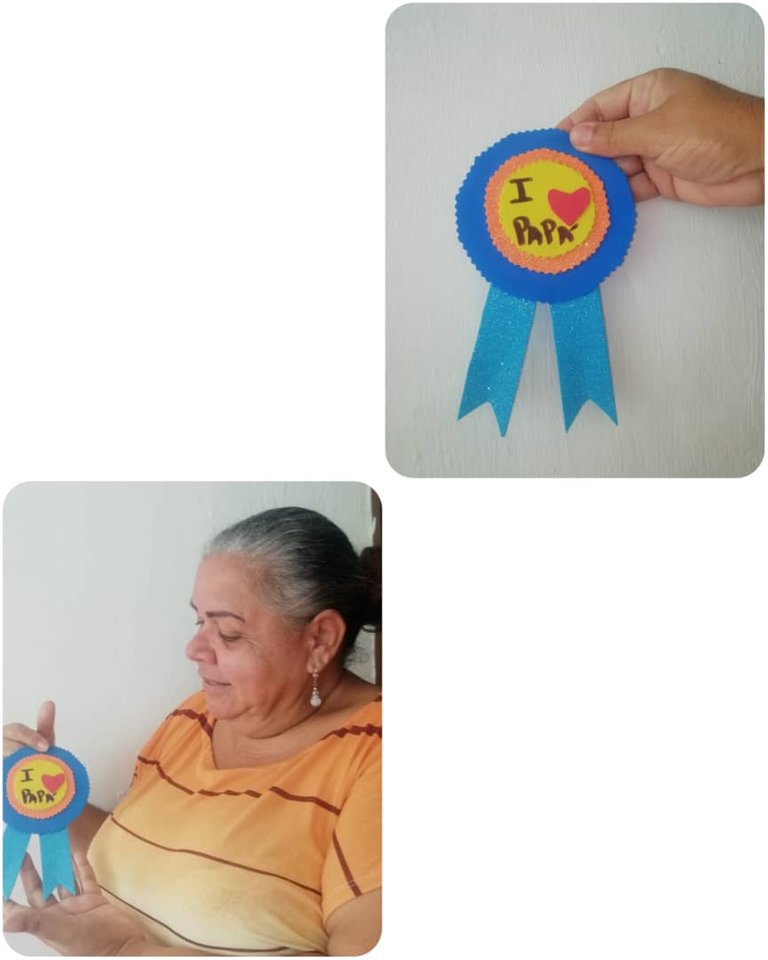 Y listo, ya tenemos una hermosa medalla para dar reconocimiento al mejor papá del mundo en su día. Espero te puedas animar a hacerla.
Thank you for visiting my blog.
Gracias por visitar mi blog.