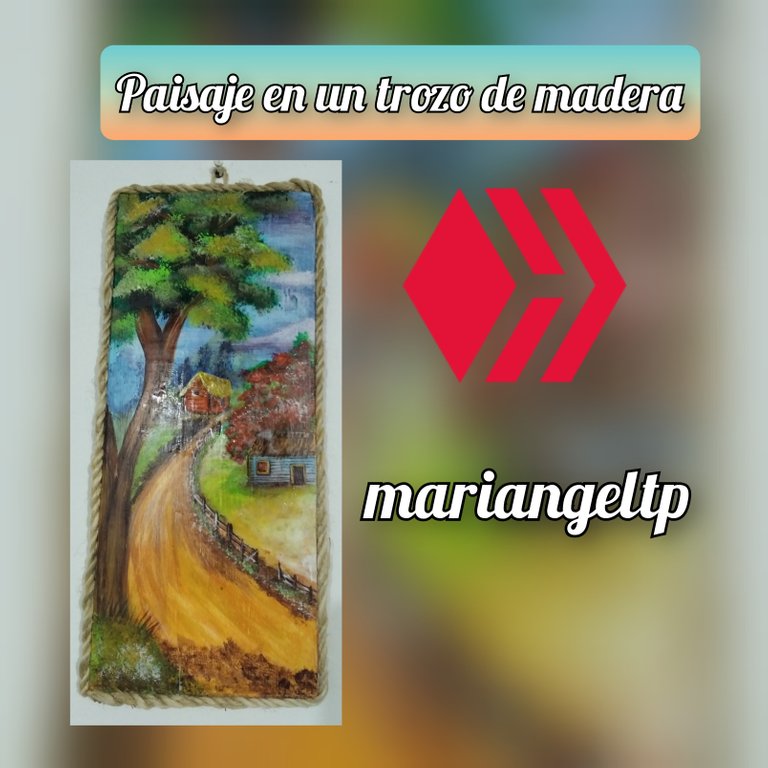 Hola, un gran saludo nuevamente por estos lados mostrando un poco de lo que apasiona hacer, decidí realizar un cuadro muy sencillo con un trozo de madera que me encontré tirado en la calle, pues si, dos trozos de madera que simplemente los agarré y dije ¡Para algo sirven! Hoy les traigo un hermoso paso a paso para que puedan recrearlo en casa.
Hello, a big greeting here again showing a bit of what you are passionate about doing, I decided to make a very simple painting with a piece of wood that I found lying on the street, well yes, two pieces of wood that I just grabbed and said they're good for something! Today I bring you a beautiful step by step so you can recreate it at home.

🎨Trozo de madera reciclado
🎨Pinturas variadas
🎨 Pinceles de diferentes tamaños
🎨Soga o mecate para decorar
🎨 Silicón caliente
Materials
🎨Recycled piece of wood
🎨Variety of paintings
🎨 Brushes of different sizes
🎨Soga or rope to decorate
🎨 Hot silicone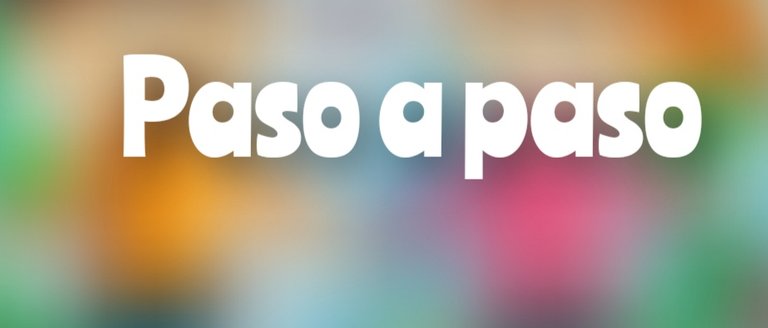 🏷️ Pintamos la madera de color blanco, esto sirve para que sea un fondo, y así los dibujos o colores sean más precisos.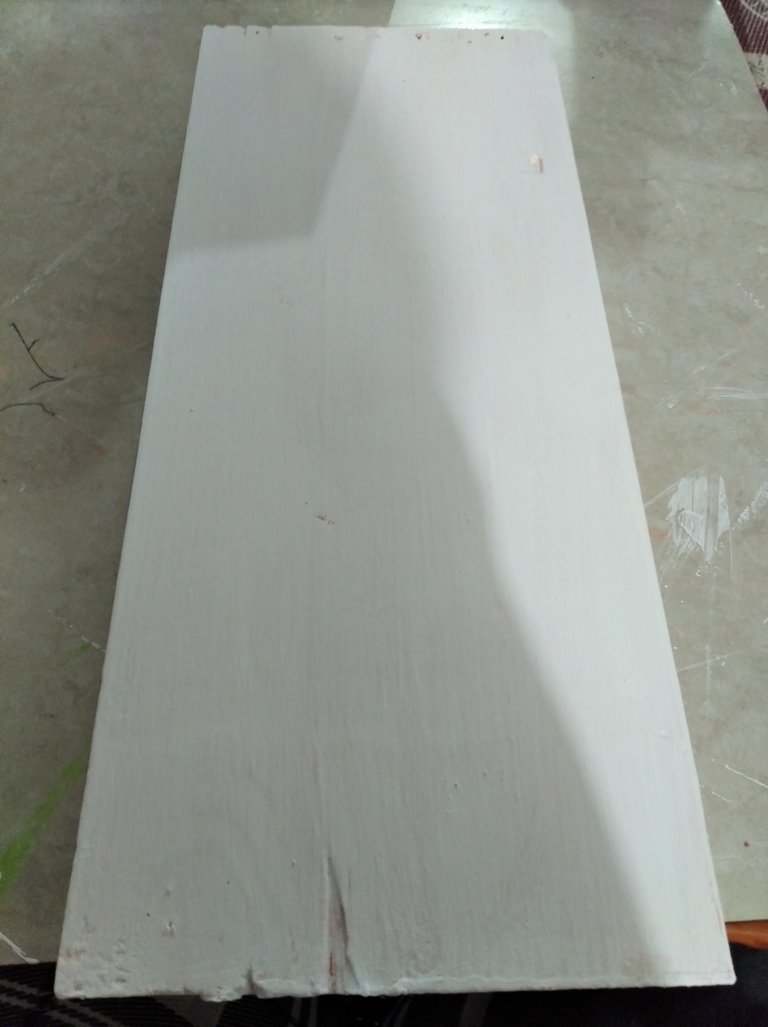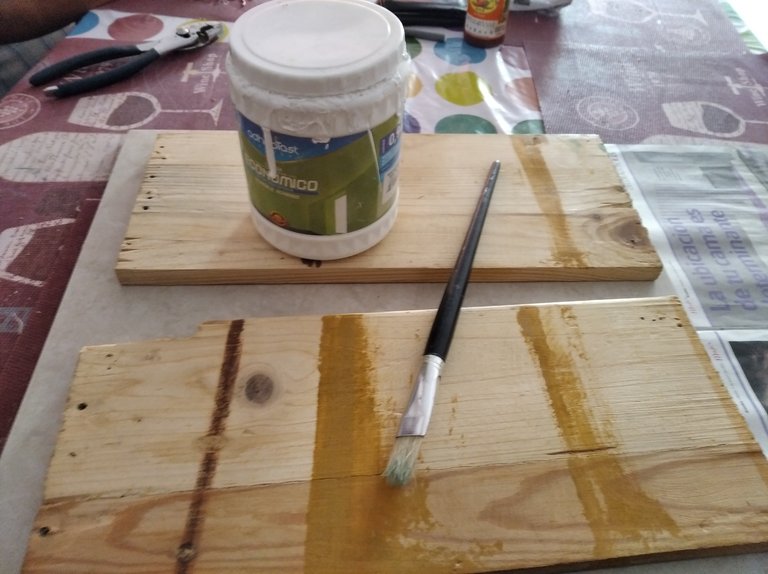 🏷️Dibujamos lo que queramos hacer en este caso un hermoso paisaje.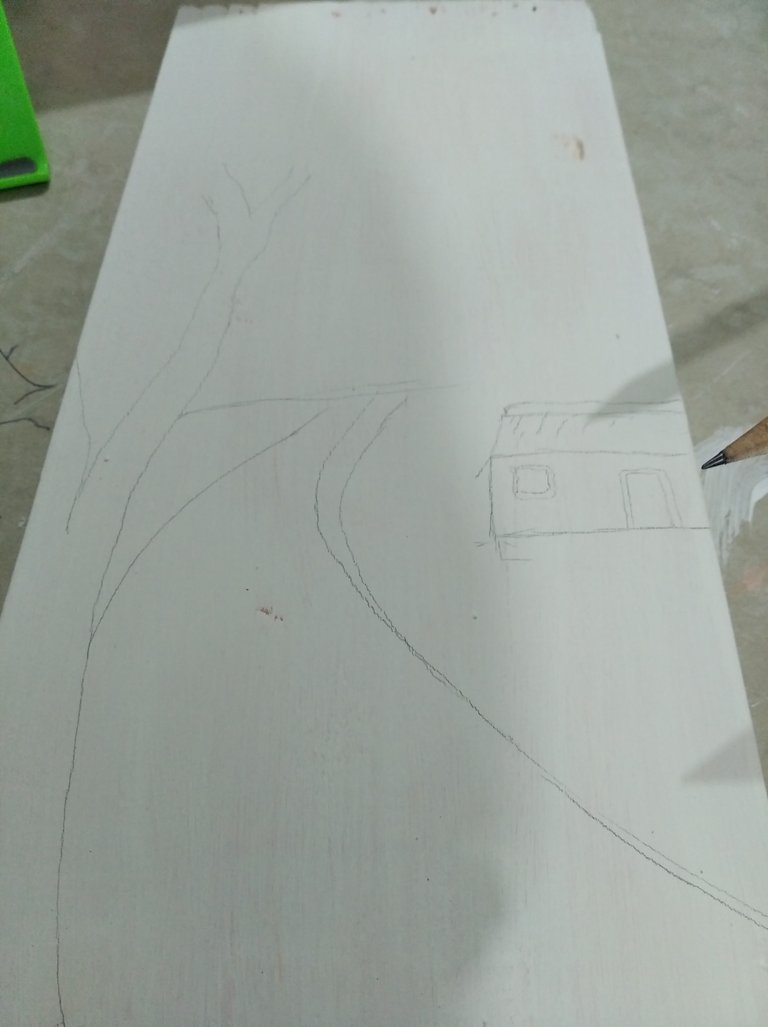 🏷️Lo primero que se debe hacer es pintar el cielo, combiné colores blanco celeste y violeta para hacer efectos de nubes usando pincel grueso.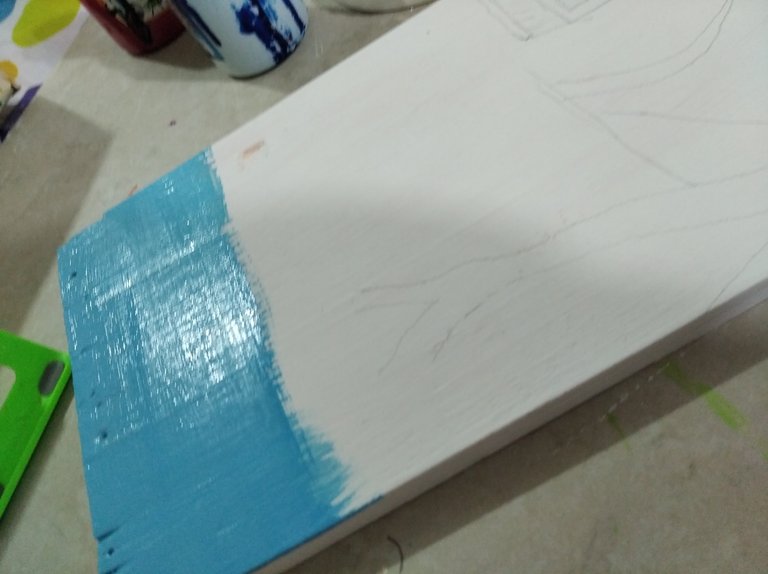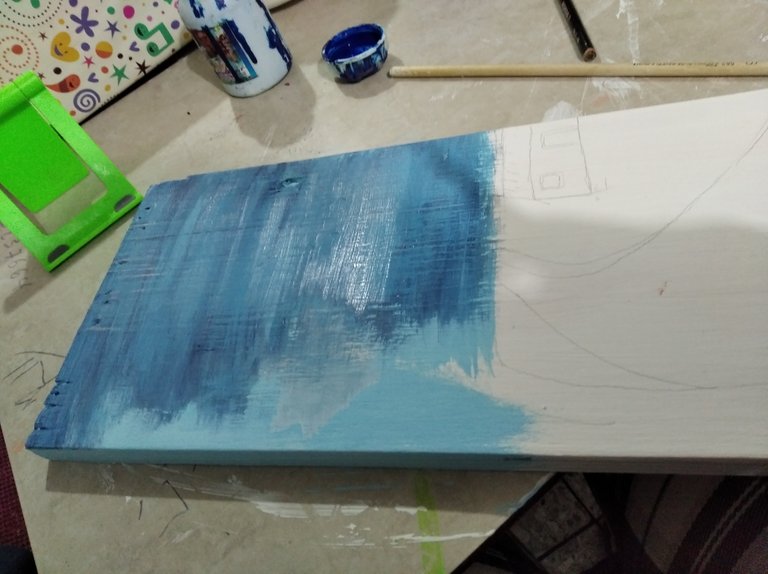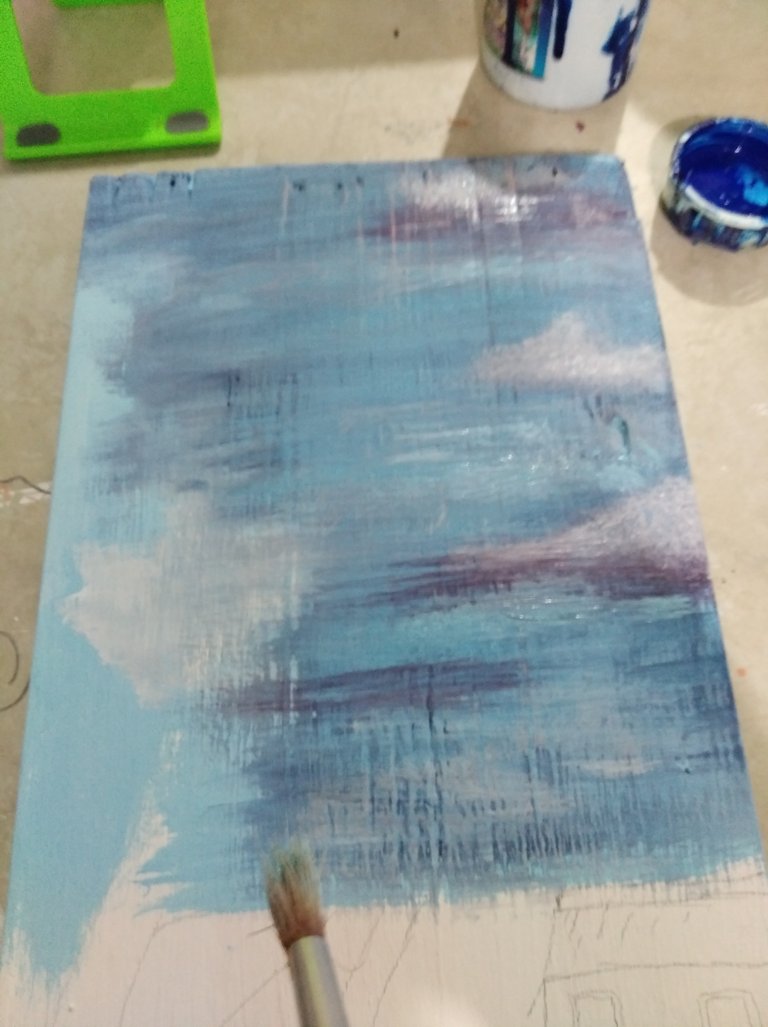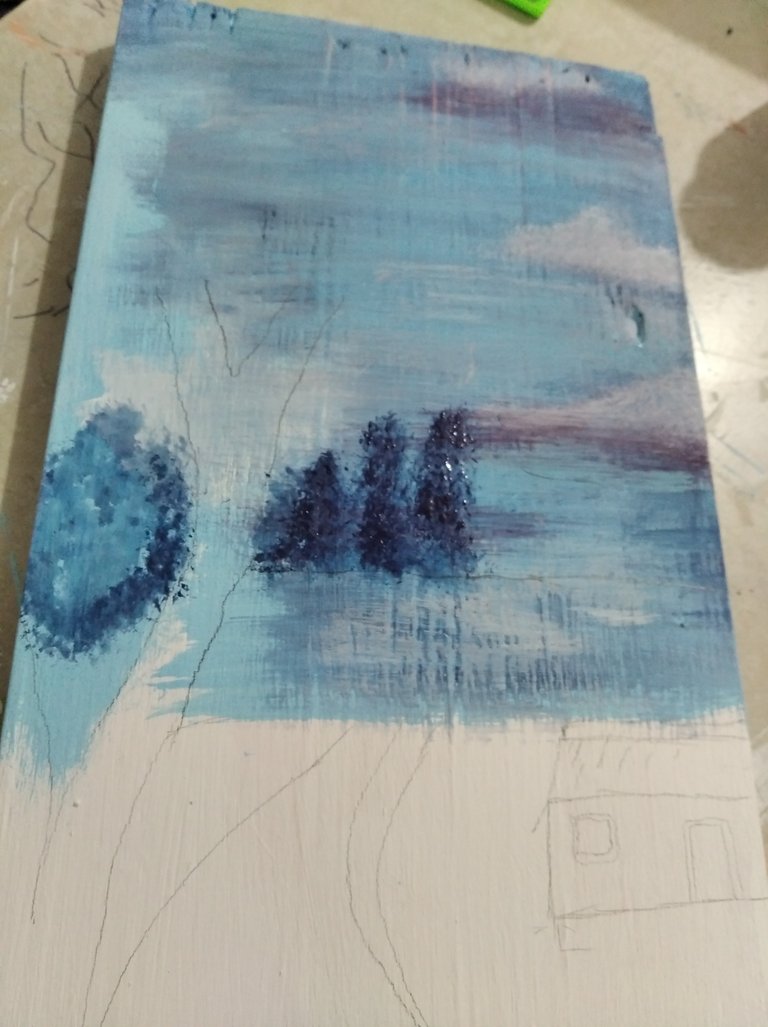 🏷️ Seguidamente para pintar el árbol inicie con el tronco usando pinturas café, blanco, amarillo y naranja luego las ramas en verde oscuro café y verde claro usando un pincel grueso y de celdas gruesas.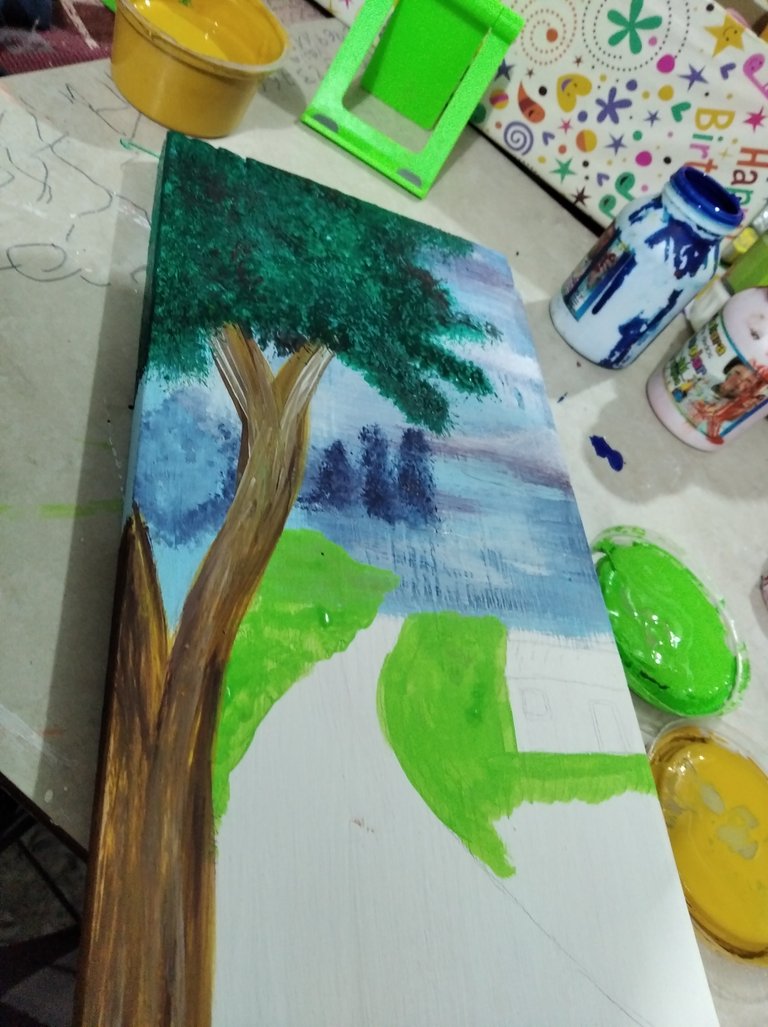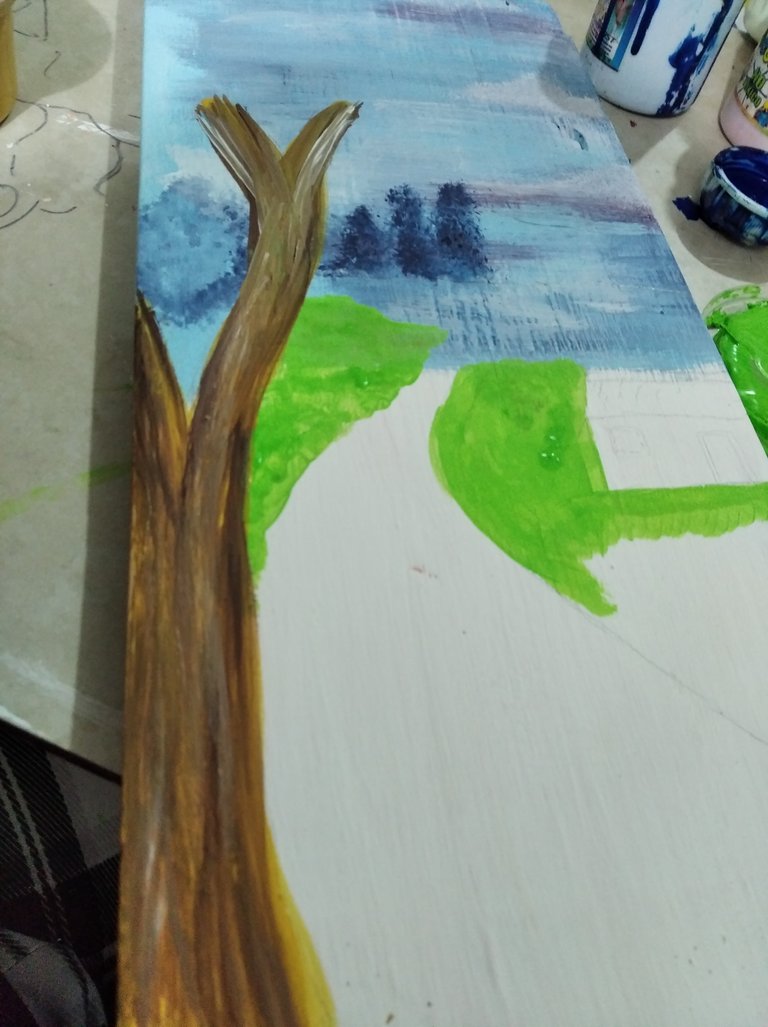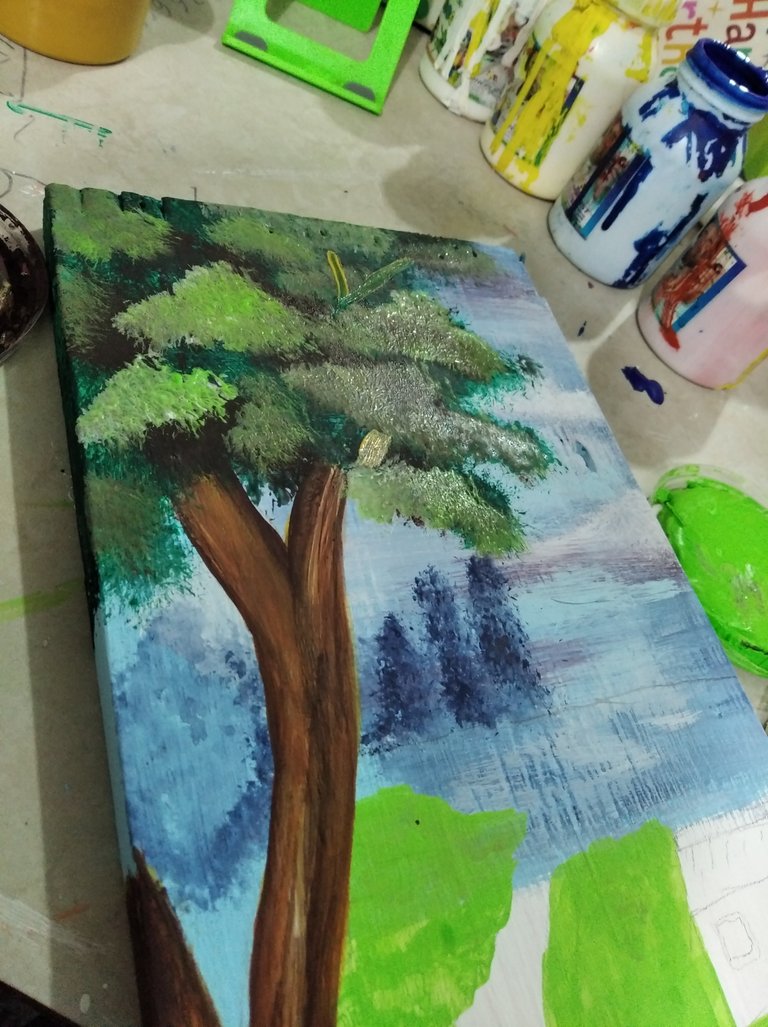 🏷️ De esta manera continuo dándole color al cuadro con cada uno de sus detalles combinando colores , las casitas las pinté con pinceles finos, el camino es combinación de naranja café y amarillo. Del resto fueron detalles propios de un paisaje.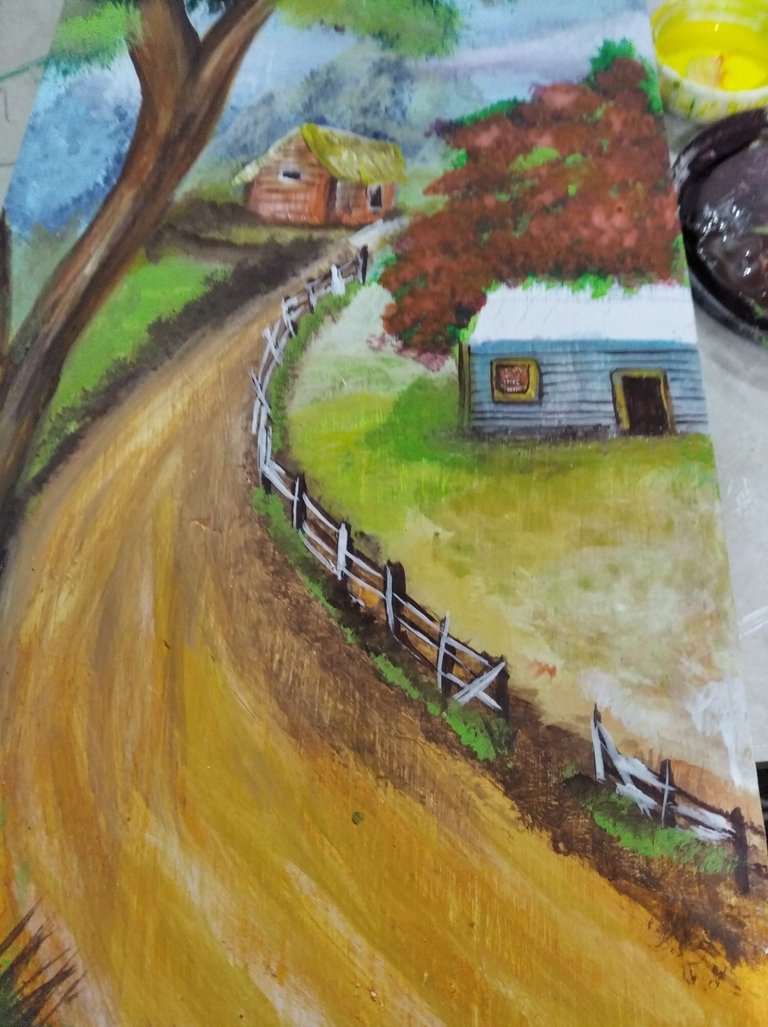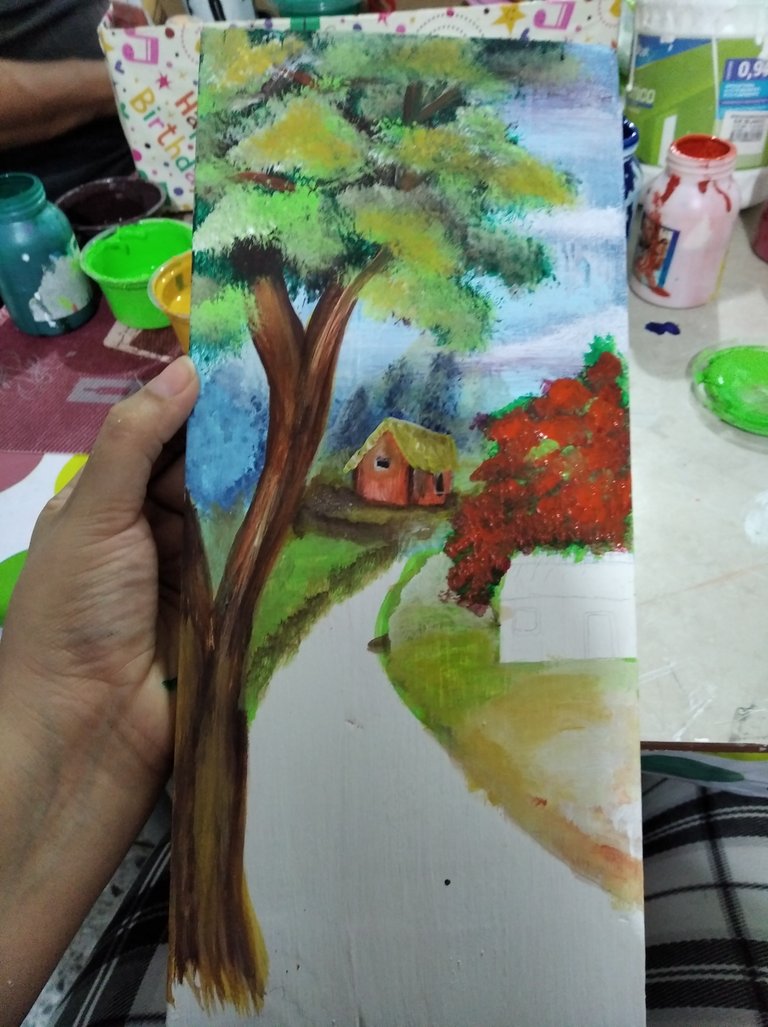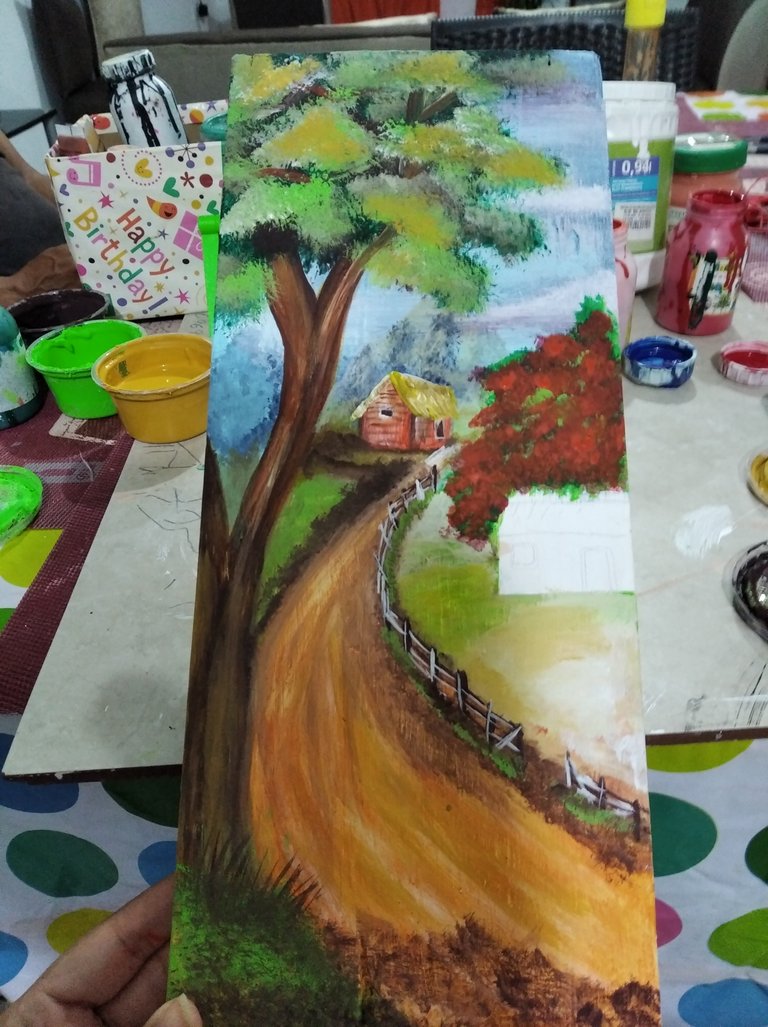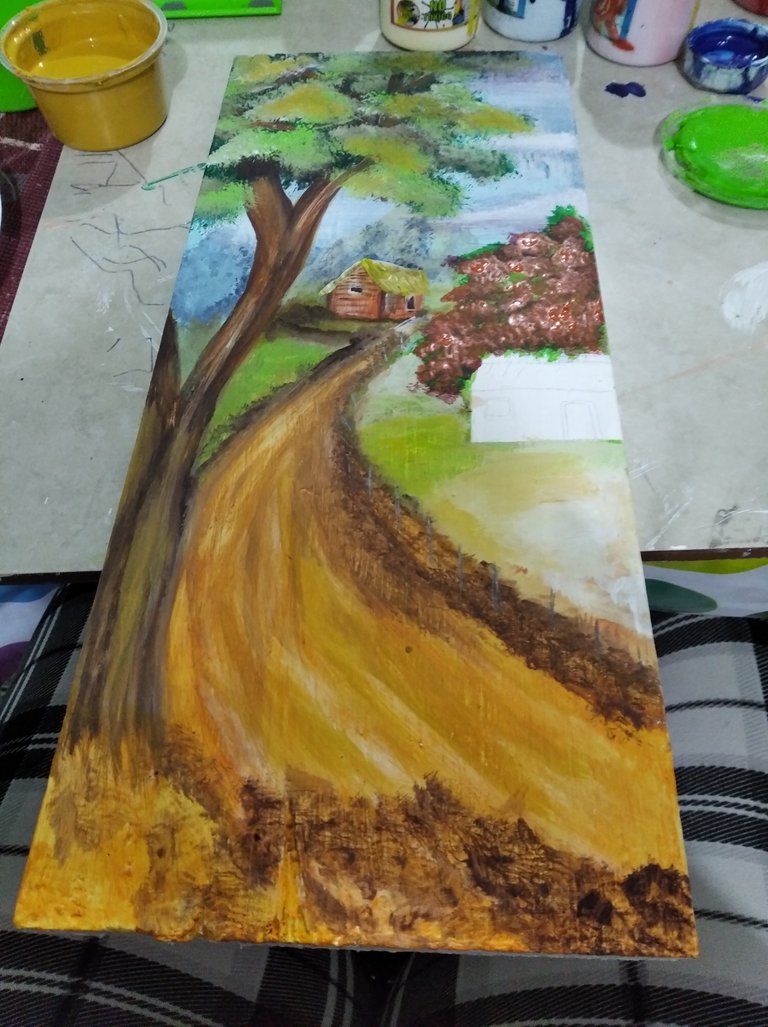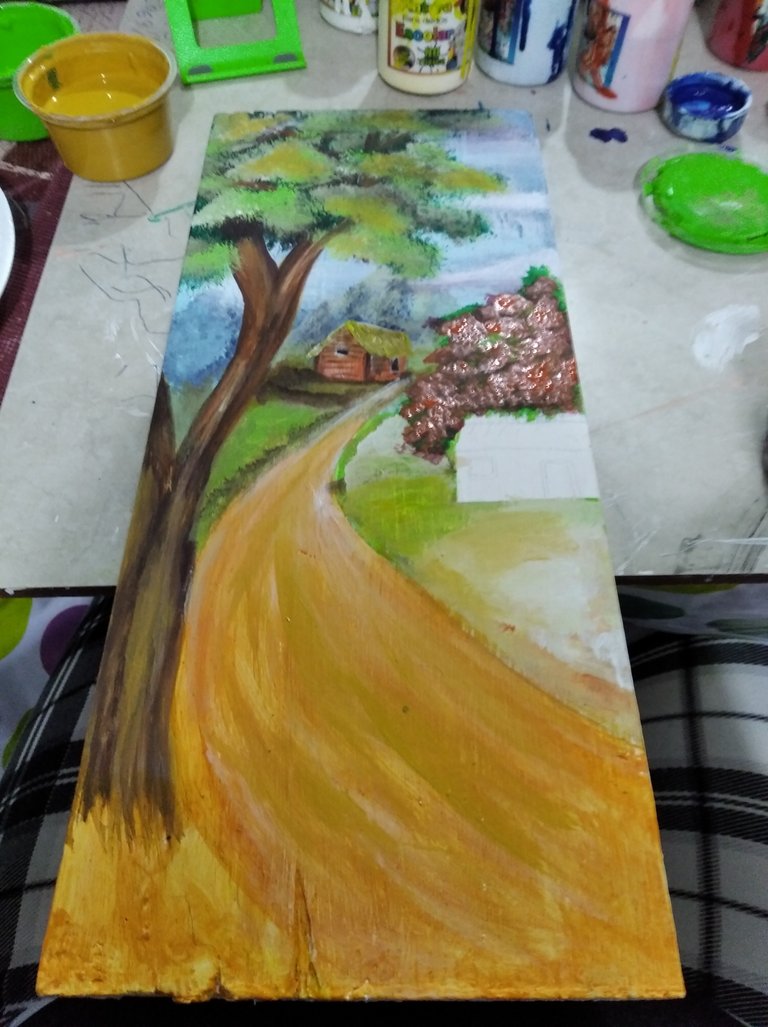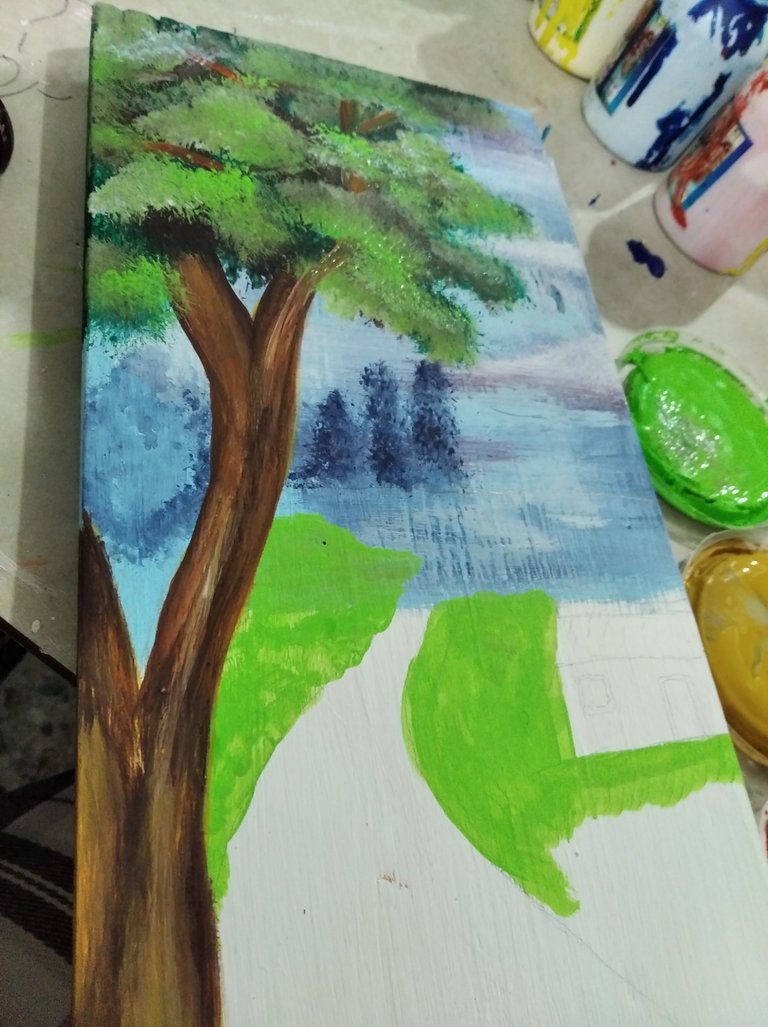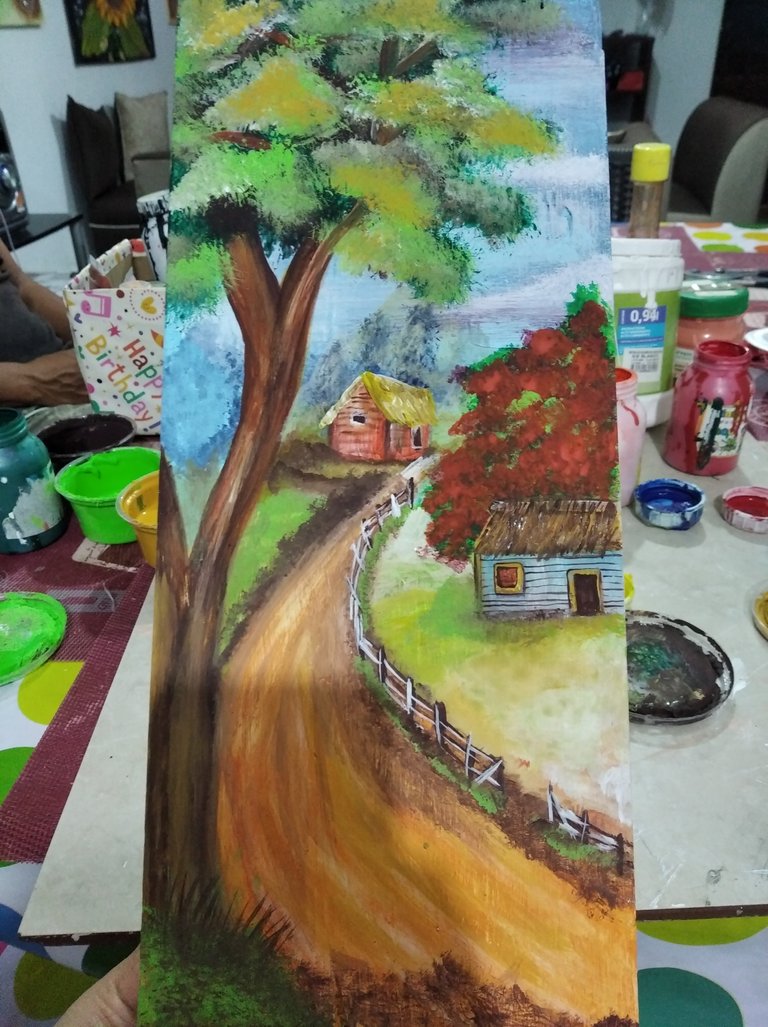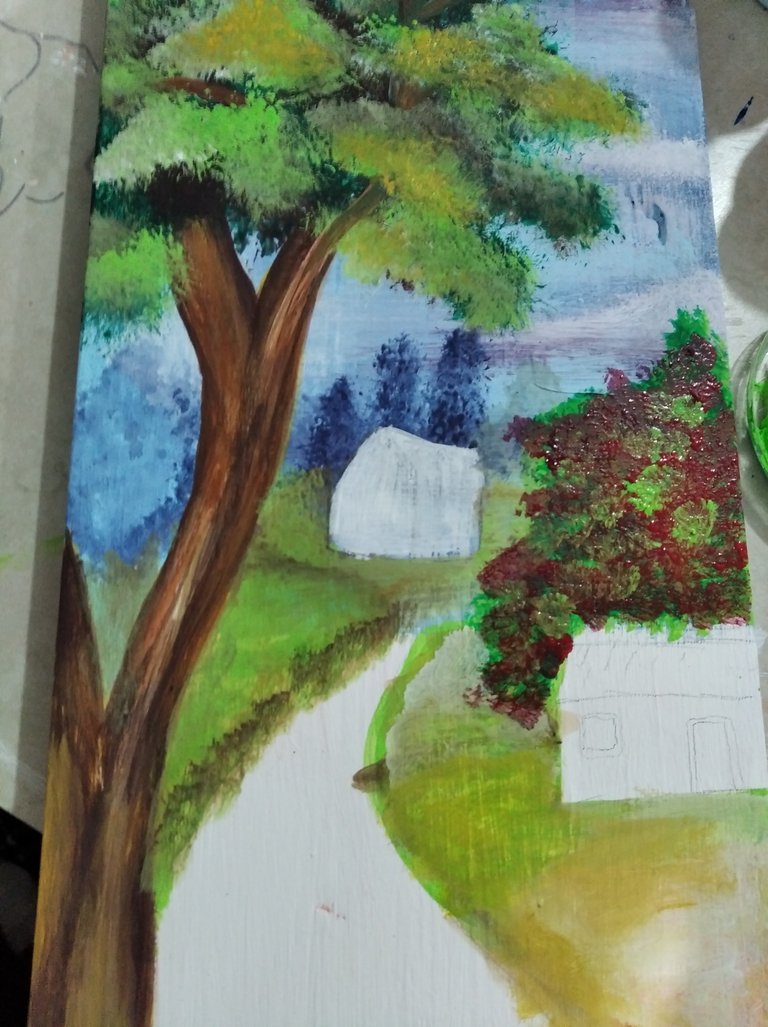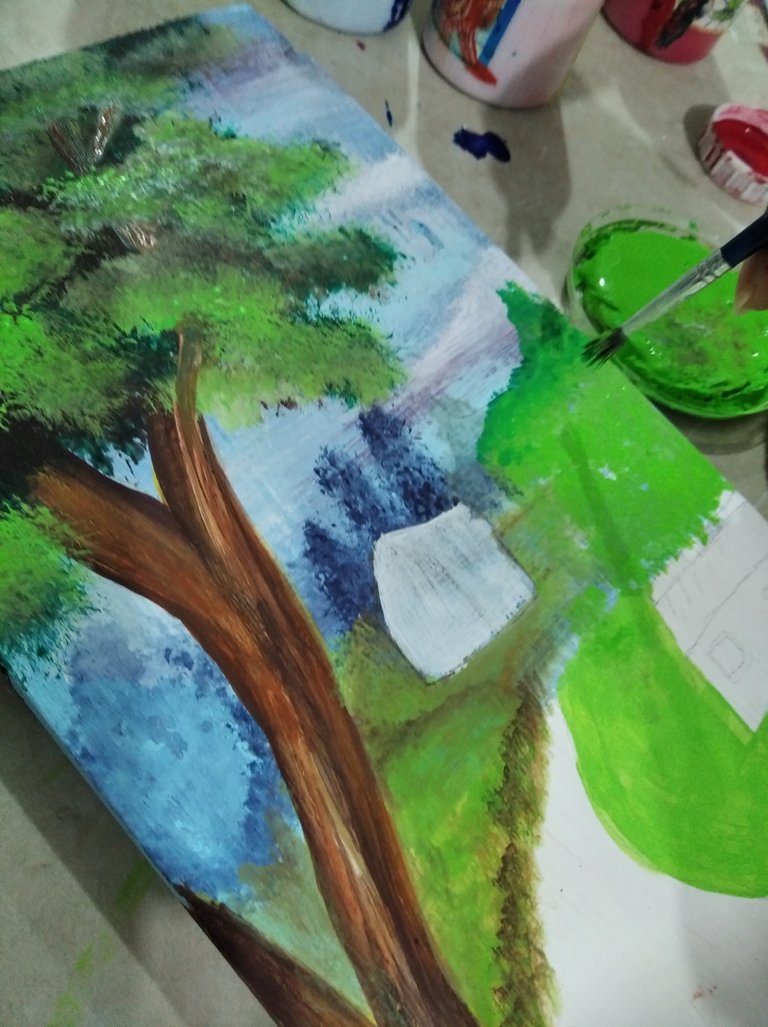 🏷️ Ya terminado y seca la pintura le coloco una capa de pega, esto me sirve para proteger la pintura y le da brillo.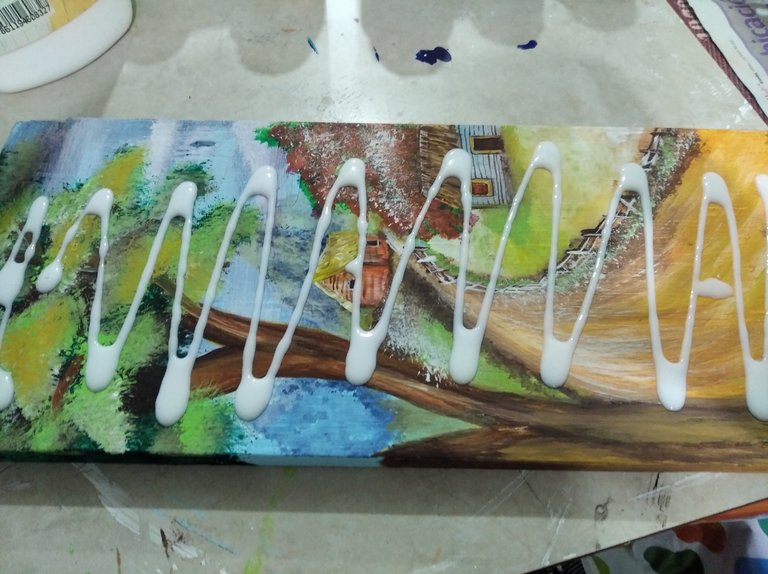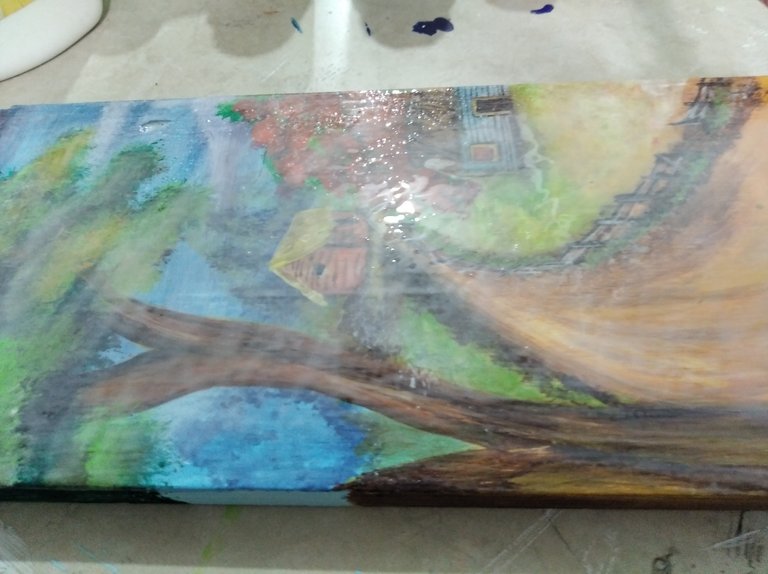 🏷️ Para decorar el borde le coloco soga pegándole con silicón caliente.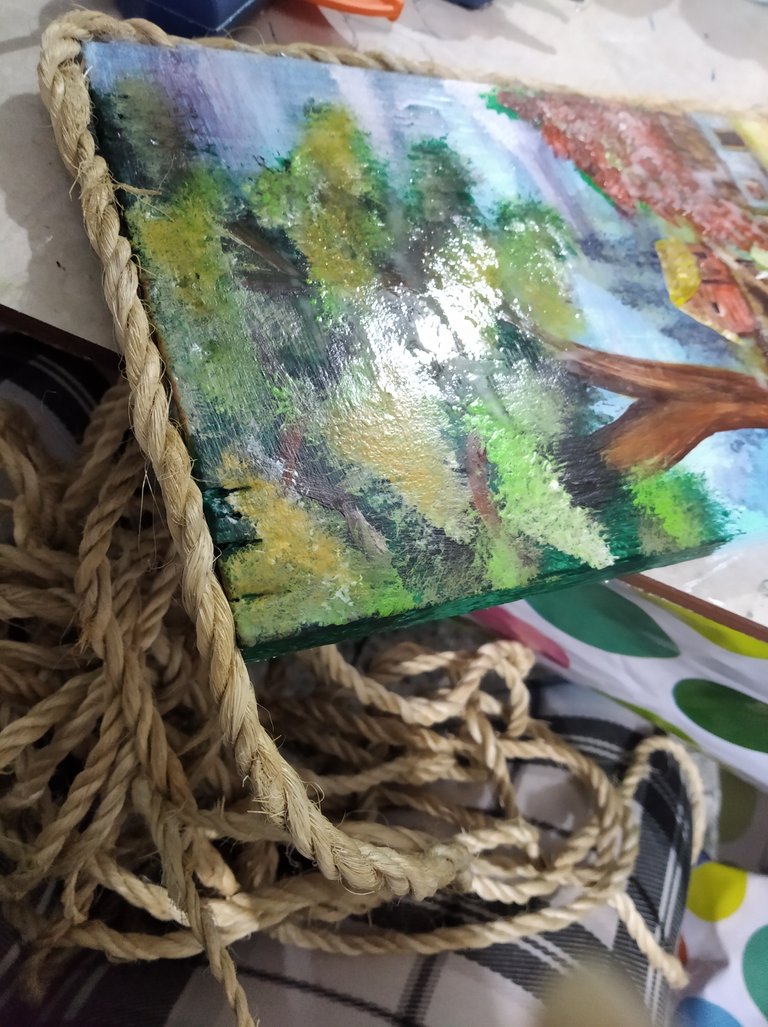 De esta manera tenemos un lindo cuadro decorativo para nuestro hogar. Muchas gracias por leerme.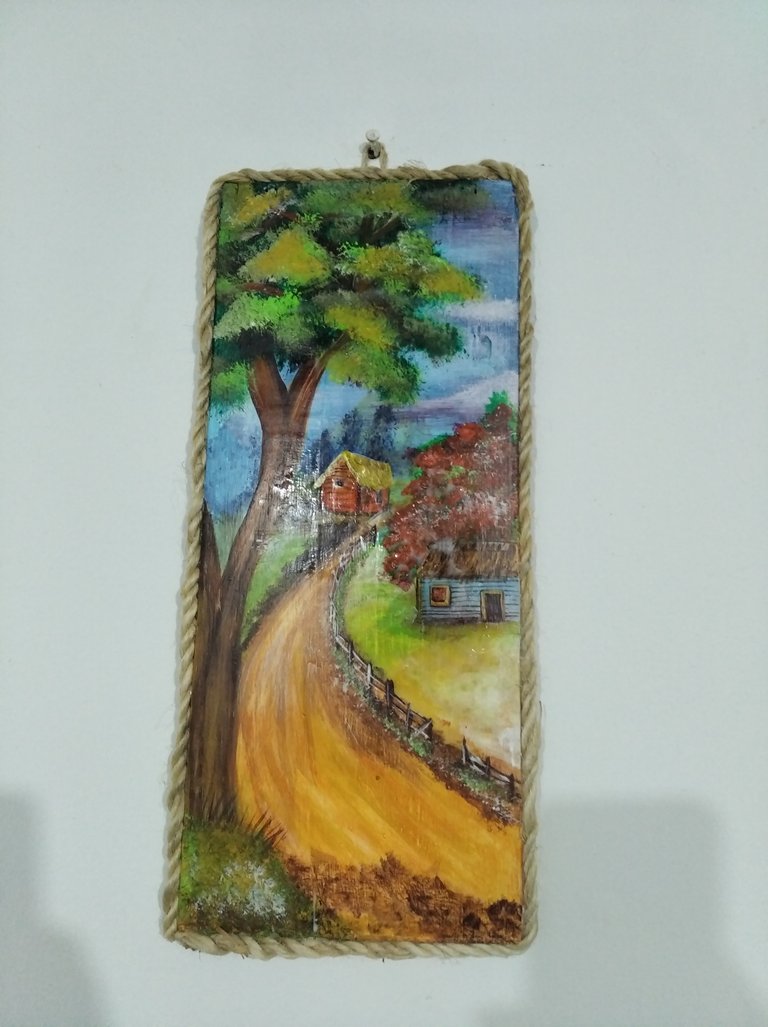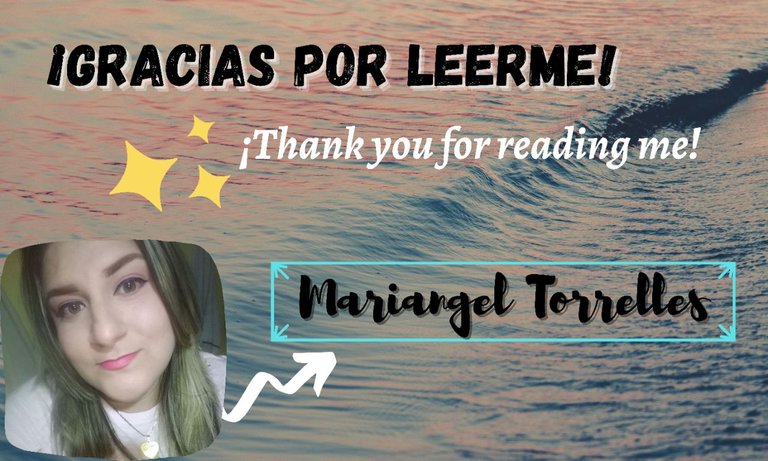 Step by Step
🏷️ We paint the wood white, this serves to make it a background, and thus the drawings or colors are more accurate.
🏷️ We draw what we want to do in this case a beautiful landscape.
🏷️ The first thing to do is paint the sky, I combined light blue and purple colors to make cloud effects using a thick brush.
🏷️ Next to paint the tree, start with the trunk using brown, white, yellow and orange paints then the branches in dark green brown and light green using a thick brush with thick cells.
🏷️ In this way I continue to color the painting with each of its details combining colors, I painted the houses with fine brushes, the path is a combination of orange-brown and yellow. The rest were details of a landscape.
🏷️ Once the paint is finished and dry, I put a layer of glue on it, this helps me protect the paint and gives it shine.
🏷️ To decorate the edge I put a rope hitting it with hot silicone.
In this way we have a nice decorative picture for our home. Thank you very much for reading me.