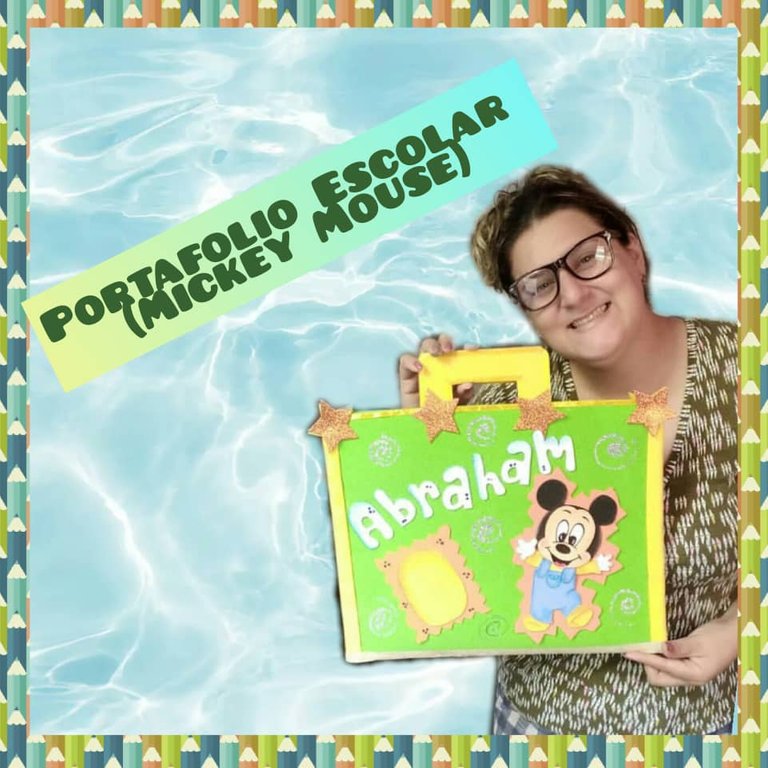 Hola !!! Mi querida familia de hive, en esta oportunidad quiero mostrarle un paso a paso para la elaboración de un hermoso portafolio escolar con temática (Mickey Mouse), donde últimamente es una herramienta muy utilizada en la parte educativa ya que nuestros niños guardan las asignaciones o actividades pedagógica para posteriormente ser entregado a sus docentes.
Hi !!! My dear hive family, this time I want to show you a step by step for the elaboration of a beautiful school portfolio with a theme (Mickey Mouse), where lately it is a tool widely used in the educational part since our children save the assignments or activities pedagogical to later be delivered to their teachers.
Los materiales utilizados son los siguientes;
Lamina de foami grande (verde manzana)
Foami tipo carta (rosa, negro, piel, azul claro)
Pistola de silicon
Silicona líquido
Regla
Lápiz
Pinturas acrílica (naranja, café, negro, blanco, fucsia, azul rey)
Tijeras
Escarcha
Hojas blancas
Cartulina de reciclaje
Pincel
Grapadora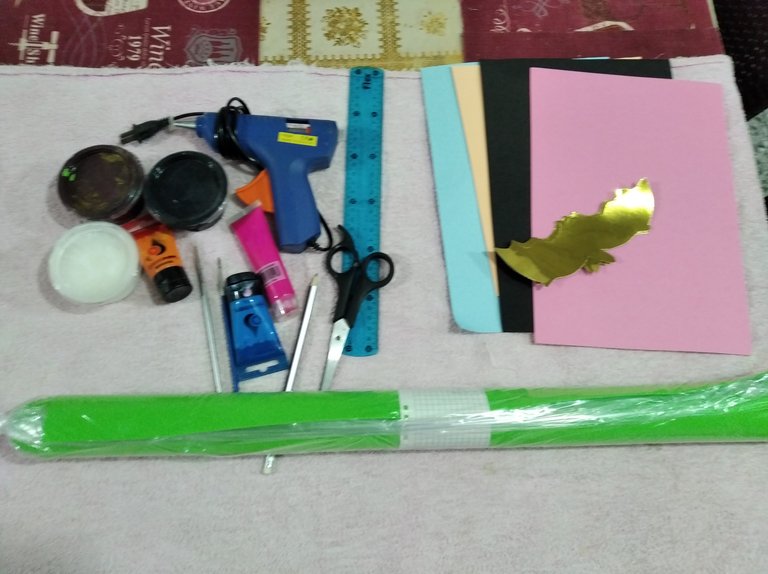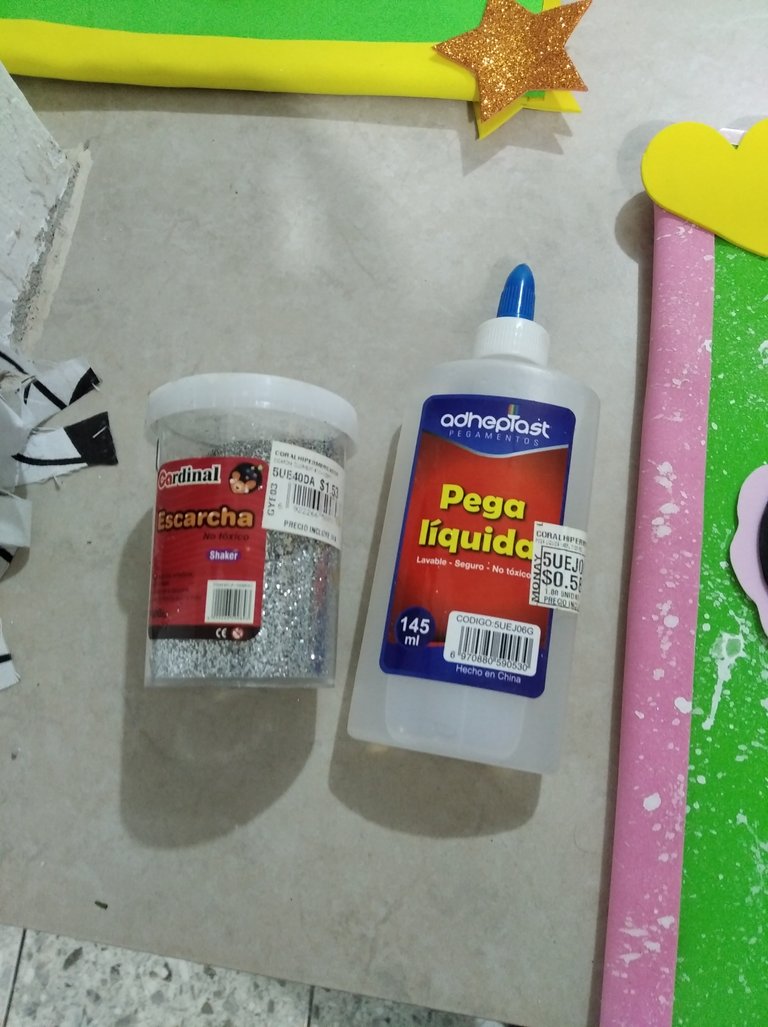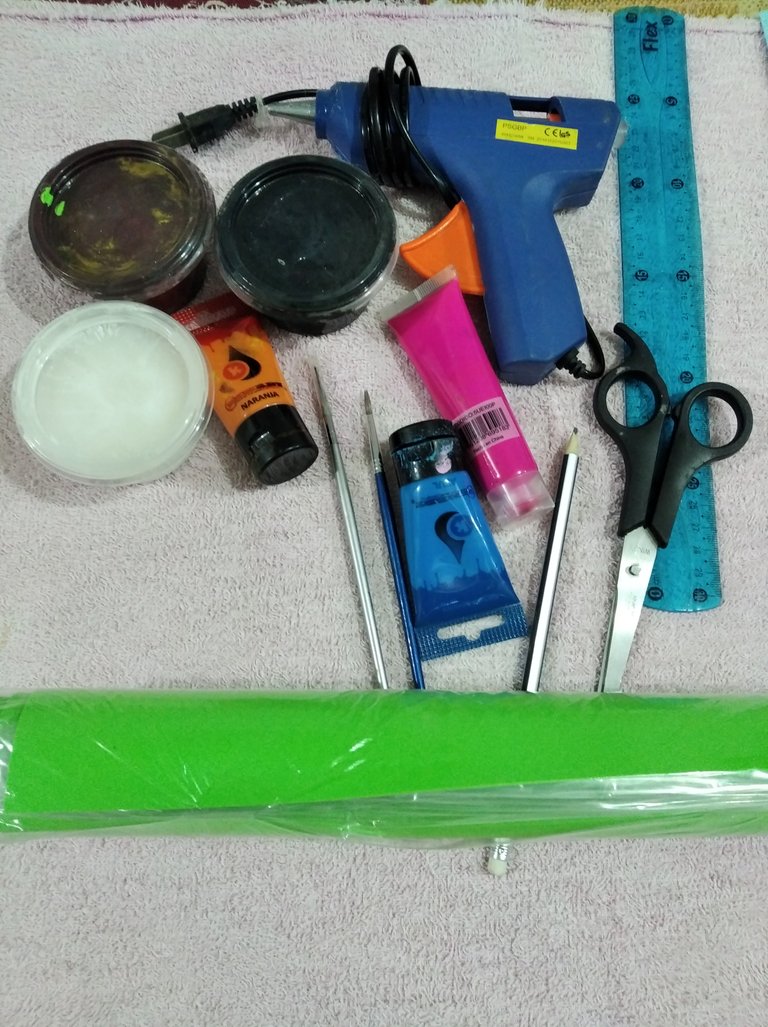 The materials used are the following;
Large foam sheet (apple green)
Letter type foam (pink, black, leather, light blue)
Silicone gun
Liquid silicone
Rule
Pencil
Acrylic paints (orange, coffee, black, white, fuchsia, royal blue)
Scissors
Frost
White sheets
Recycling cardboard
Brush
Stapler
Pasos para realizar la Figura principal (Mickey Mouse)
seleccionamos el dibujo que queremos hacer, en este caso es un Mickey bebé, se dibuja en una hoja blanca con lápiz común y corriente. Si la persona no sabe dibujar, también es válido calcar o imprimir.

Ya dibujada la figura, se procede a cortar las piezas, tomando en cuenta el dibujos (tiene 6 piezas)
Para transferir las piezas al foami, ubicamos cada una en el color que se desee cortar, en este caso , la cara (foami piel, el overol en azul así sucesivamente)

en el caso del rostro tiene , para definir los ojos, boca, y nariz, utilizo puntadas con el lápiz para que se haga mas preciso y no cometer errores al momento de transferir el dibujo.

para pegar las piezas y ordenar la figura (es ujn rompecabezas) utilizo silicona líquido en pocas cantidades para no desbordar pegamento.

ya culminada la figura, se pega en tro foami, para crear especie de fondo y que no se vean las uniones , luego recortamos dejando el grosor que queramos.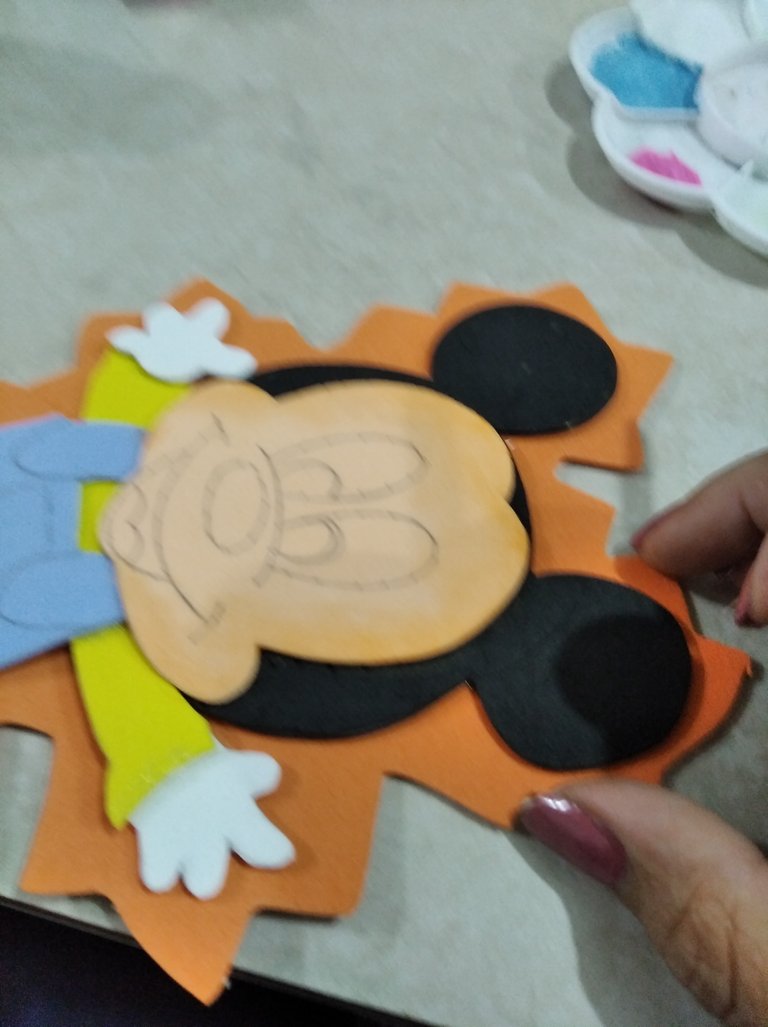 seguimos con la figura, difuminando en rostro con tonos naranjas, utilizando un pincel plano con poca pintura en el borde, los ojos se pintan con color blanco y usando un pincel lainer, la nariz en negro, la boca tiene combinación de colores entre negro y rojo. La verdad el rostro de mickey no tiene muchos detalles ni cantidad de difuminado. Así con toda la figura, hasta tenerla toda con detalles, ¡Lista para usar!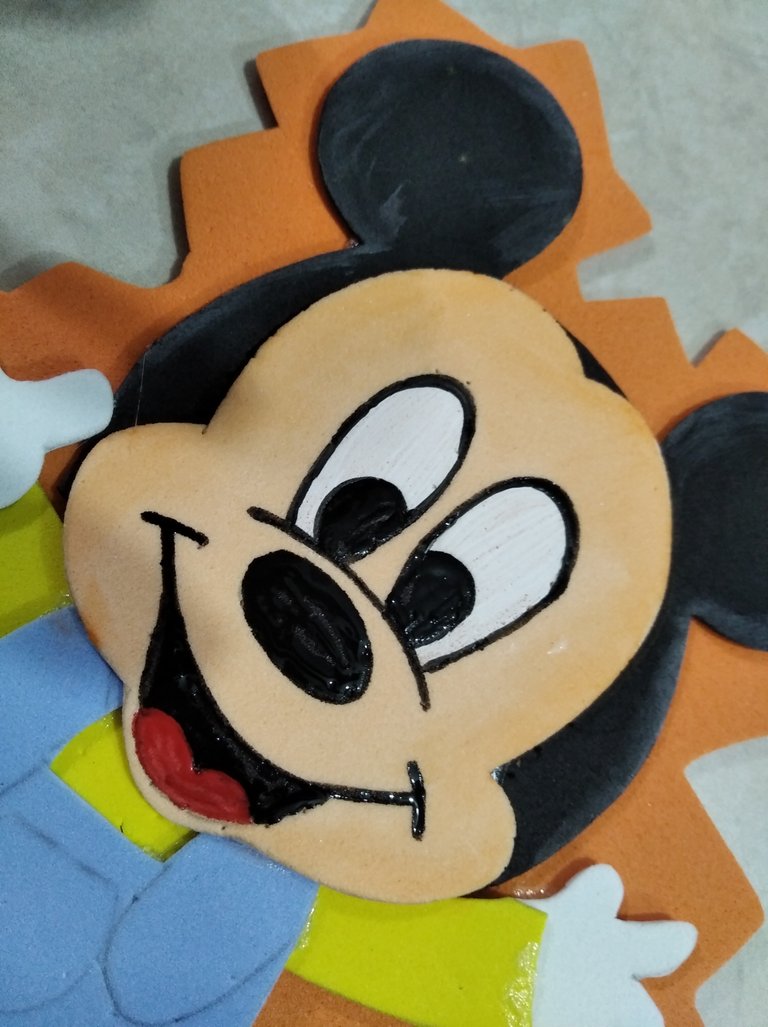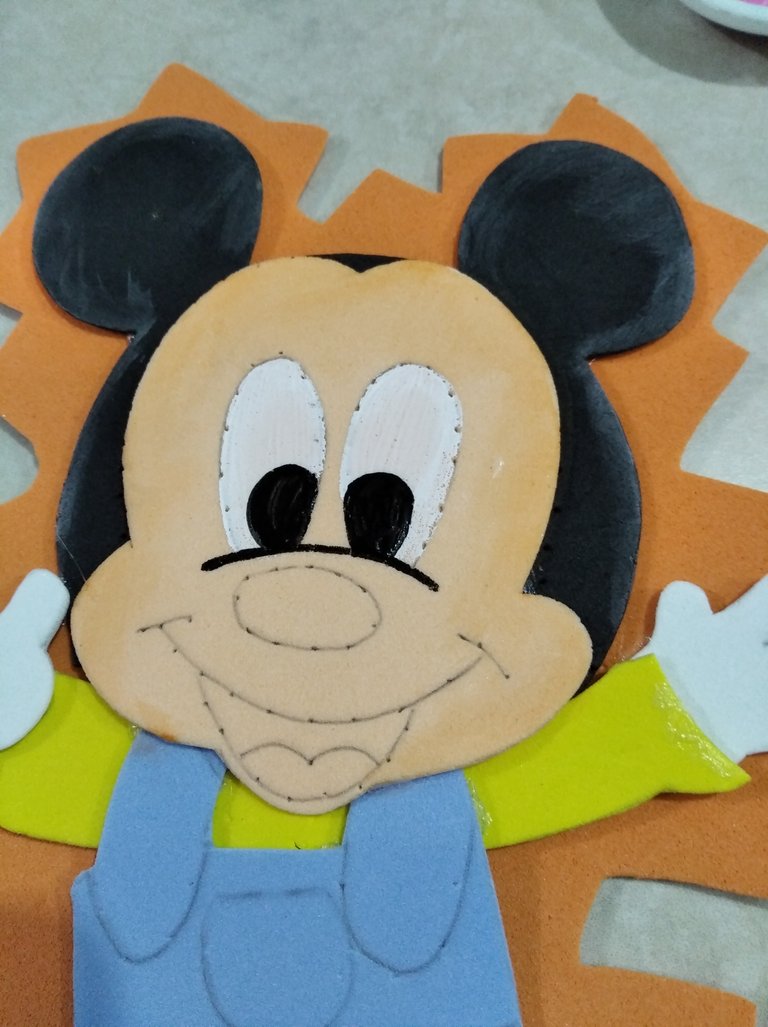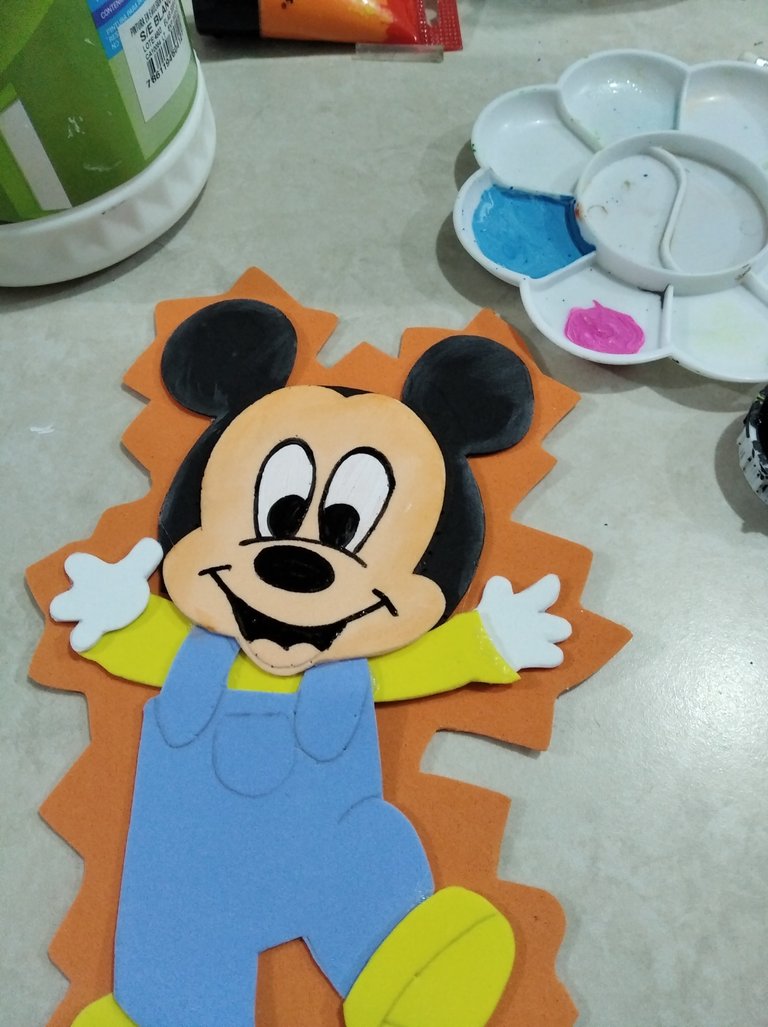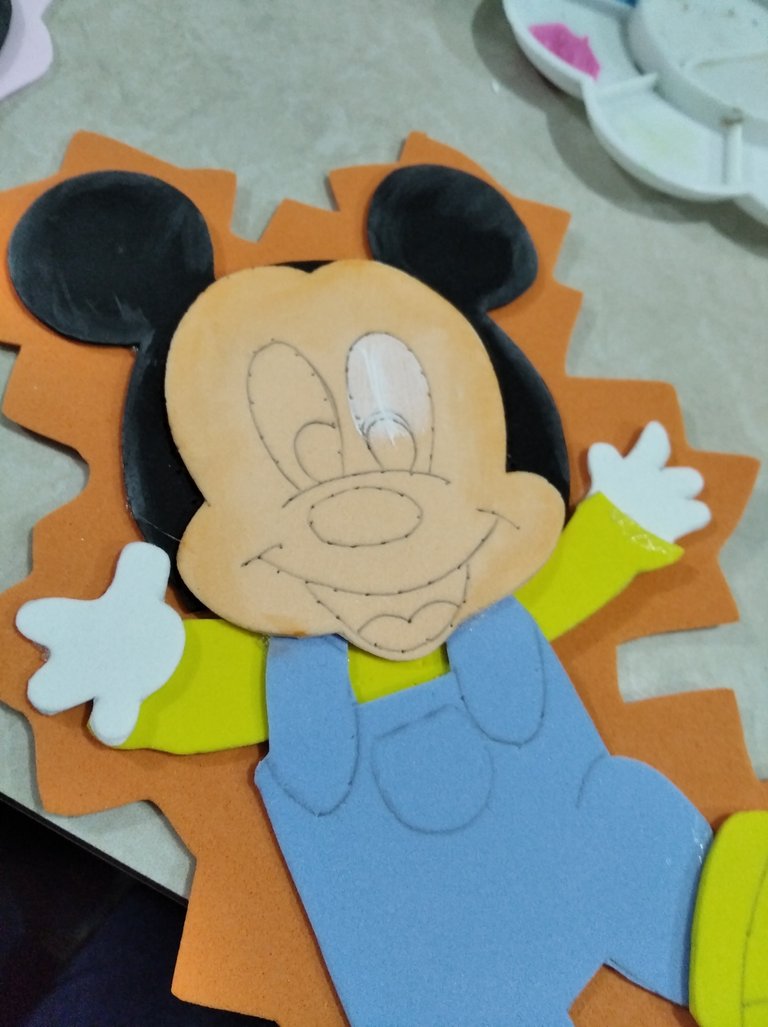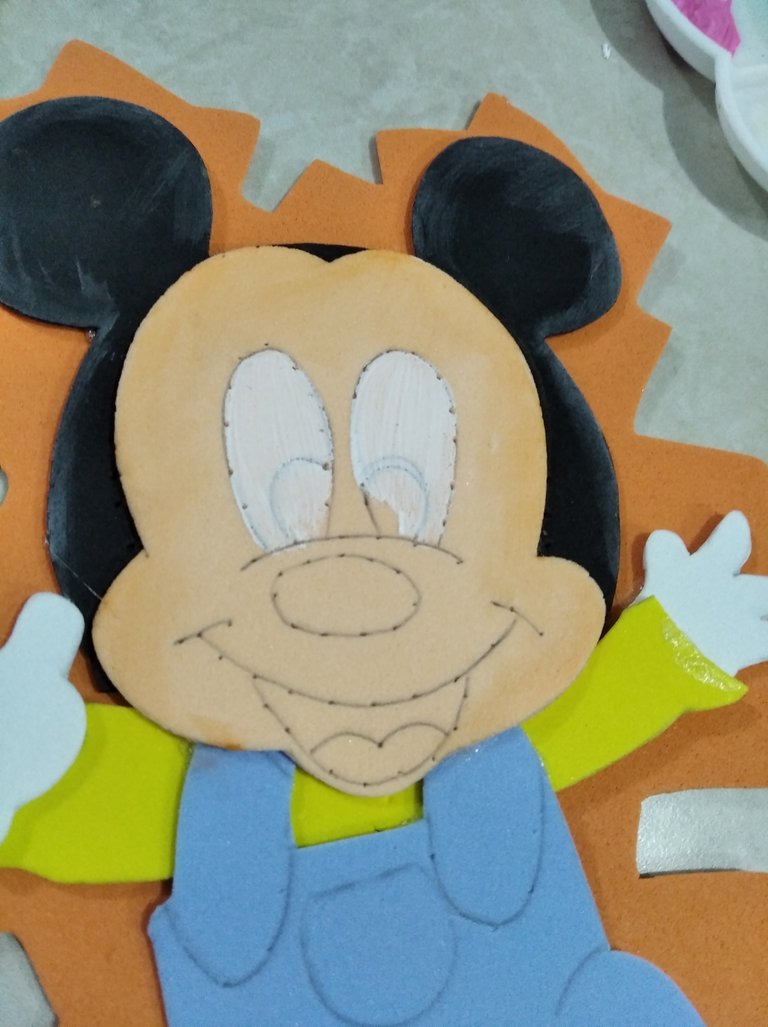 Steps to make the main figure (Mickey Mouse)
We select the drawing that we want to make, in this case it is a baby Mickey, it is drawn on a white sheet with an ordinary pencil. If the person does not know how to draw, tracing or printing is also valid.

Once the figure has been drawn, we proceed to cut the pieces, taking into account the drawings (it has 6 pieces)

To transfer the pieces to the foami, we place each one in the color to be cut, in this case, the face (skin foami, the overalls in blue, so on)

In the case of the face it has, to define the eyes, mouth, and nose, I use stitches with the pencil to make it more precise and not make mistakes when transferring the drawing.

To glue the pieces and order the figure (it is a puzzle) I use liquid silicone in small quantities so as not to overflow glue.

Once the figure is finished, it is pasted in three foami, to create a kind of background so that the joints are not seen, then we cut it leaving the thickness we want.

We continue with the figure, blurring the face with orange tones, using a flat brush with little paint on the edge, the eyes are painted with white and using a lainer brush, the nose in black, the mouth has a combination of colors between black and red. The truth is that Mickey's face does not have many details or amount of blurring. So with the whole figure, until you have it all with details, Ready to use!
Pasos para realizar el portafolio o carpeta
foami color verde manzana (lamina grande), se corta con una medida aaproximada de 35cm de ancho x 30cm de alto. (Doblado, abierto es el doble de las medidas)

al doblar el foami, medimos 2cm de cada lado, para luego pegar con silicona caliente, de tal manera no se despegue y quede bien asegurado. (Grapas)

para cubrir los laterales del portafolio y que no se vean los detalles de las grapas, se corta un liston de foami con 4 cm de ancho (color amarillo)

para elaborar el aza del portafolio, usamos cartulina de reciclaje, dibujamos con medicas 15cm x 7cm lo cubrimos con foami color amarillo. (2piezas)
para decorar el borde de la aza, colocamos cinta de cualquier color, en este caso amarillo .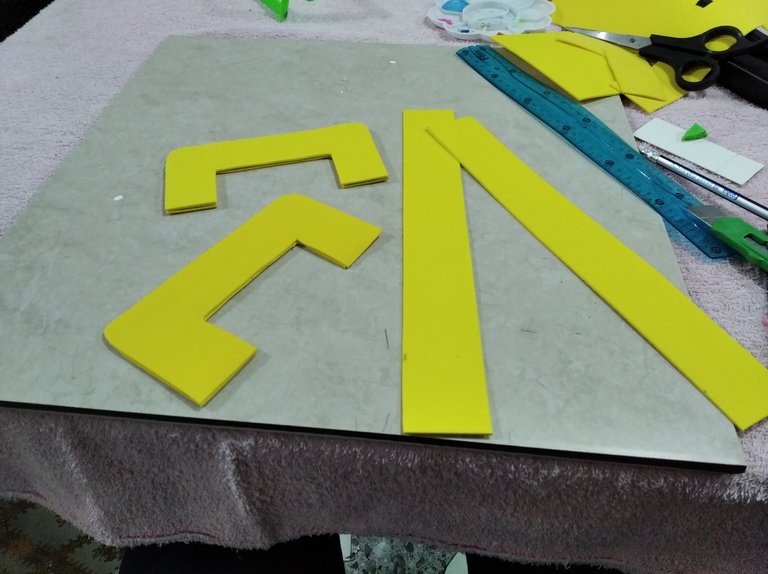 para decoración, transferí unas estrellas en foami brillante para pegarse las en el borde superior

Pegamos la figura principal (Mickey Mouse) en cualquier lado del portafolio como creamos conveniente.

para personalizar, recortamos las letras en foami blanco (nombre Abraham) y pegamos.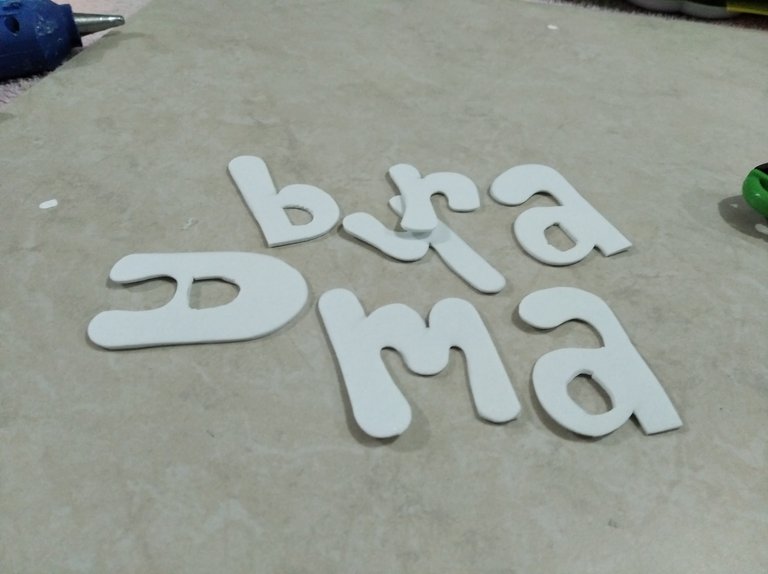 decoramos con escarcha (haciendo adornos con pega)
De esta manera tenemos un portafolio hermoso, y muy recreativo para la hora de guardar las actividades de los mas pequeños y así fomentar el interés por la creatividad.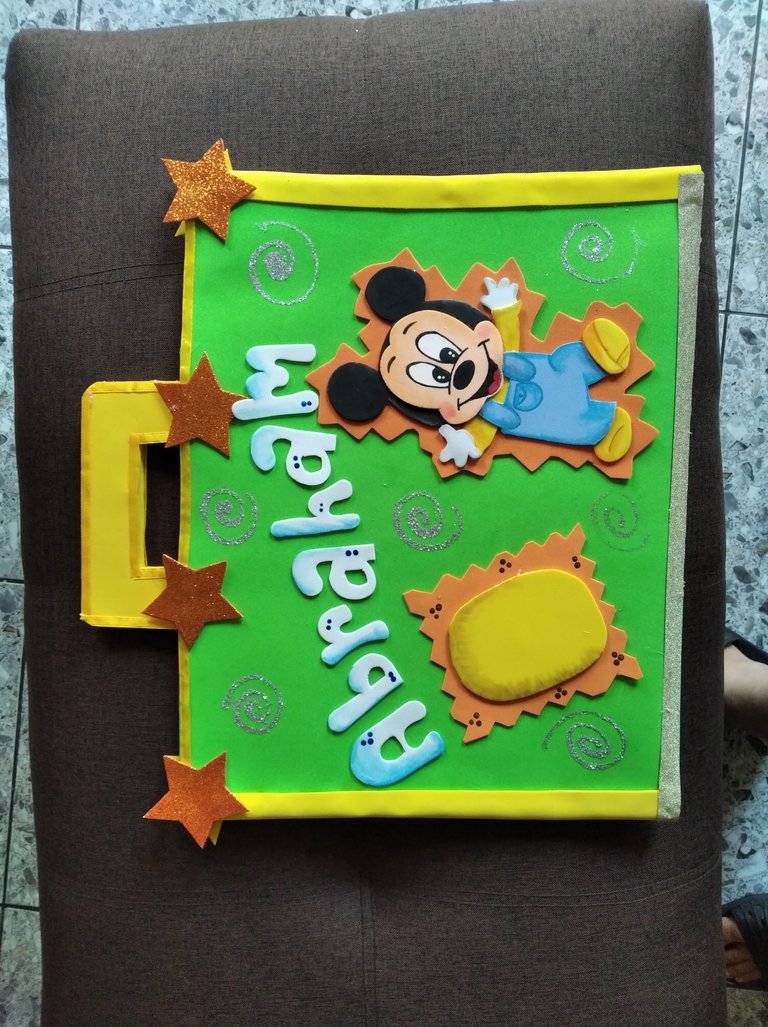 Steps to make the portfolio or folder
apple green foami (large sheet), cut to an approximate measurement of 35cm wide x 30cm high. (Folded, open is twice the measurements)

When folding the foam, we measure 2cm on each side, and then glue it with hot silicone, in such a way that it does not come off and is well secured. (Staples)

to cover the sides of the portfolio so that the details of the staples are not seen, a strip of foam is cut 4 cm wide (yellow color)

to elaborate the aza of the portfolio, we used recycling cardboard, we drew with medical 15cm x 7cm we covered it with yellow foami. (2 pieces)

to decorate the edge of the aza, we put ribbon of any color, in this case yellow.

for decoration, I transferred some stars in shiny foami to stick them on the top edge

We paste the main figure (Mickey Mouse) on any side of the portfolio as we see fit.

to personalize, cut the letters in white foami (name Abraham) and glue.

decorate with glitter (making ornaments with glue)
In this way we have a beautiful portfolio, and very recreational when it comes to saving the activities of the little ones and thus encouraging an interest in creativity.