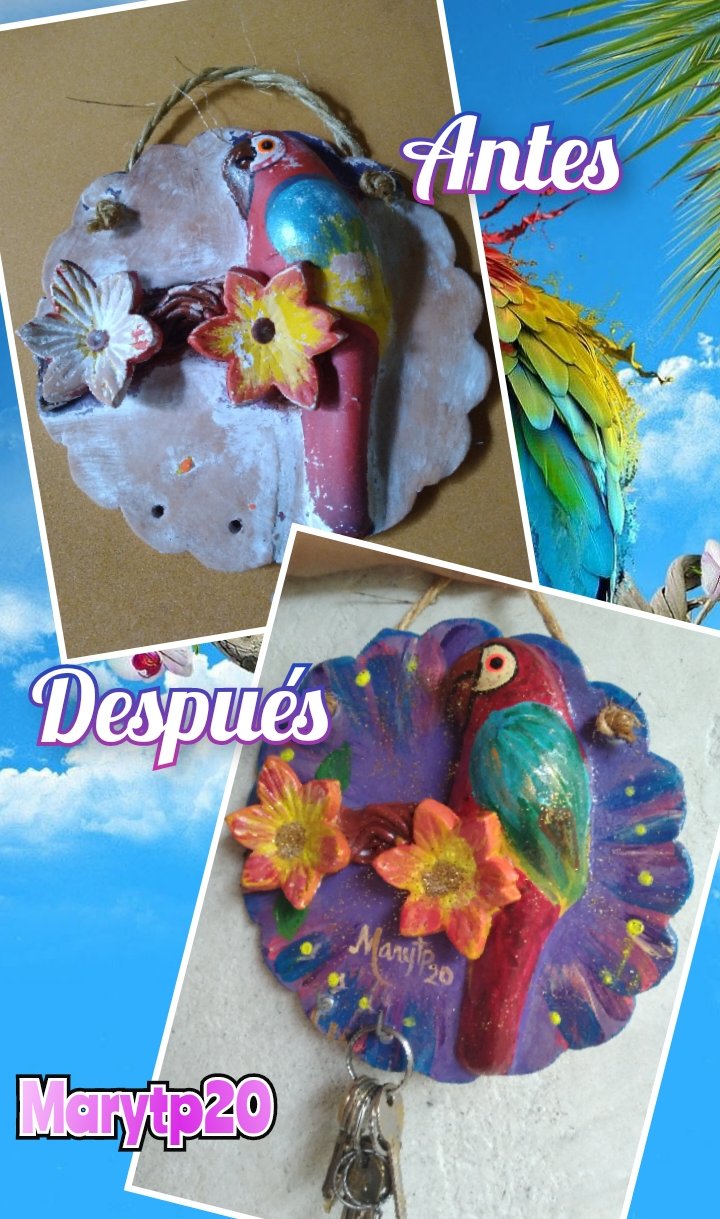 Español
Hola querida comunidad😍 para este nuevo día quiero regalarles un novedoso paso a paso dónde les explicaré detalladamente cómo restaurar una pieza que ya no uso en mi hogar, son innumerables los objetivos que tenemos descuidados pero, desconocemos como podemos reutilizar, convirtiéndose en algo bastante decorativo y de utilidad.
English
Hello dear community😍 for this new day I want to give you a new step by step where I will explain how to restore a piece that I no longer use in my home, there are countless objectives that we have neglected but, we do not know how we can reuse, becoming something quite decorative and useful.
---
¿De qué se trata?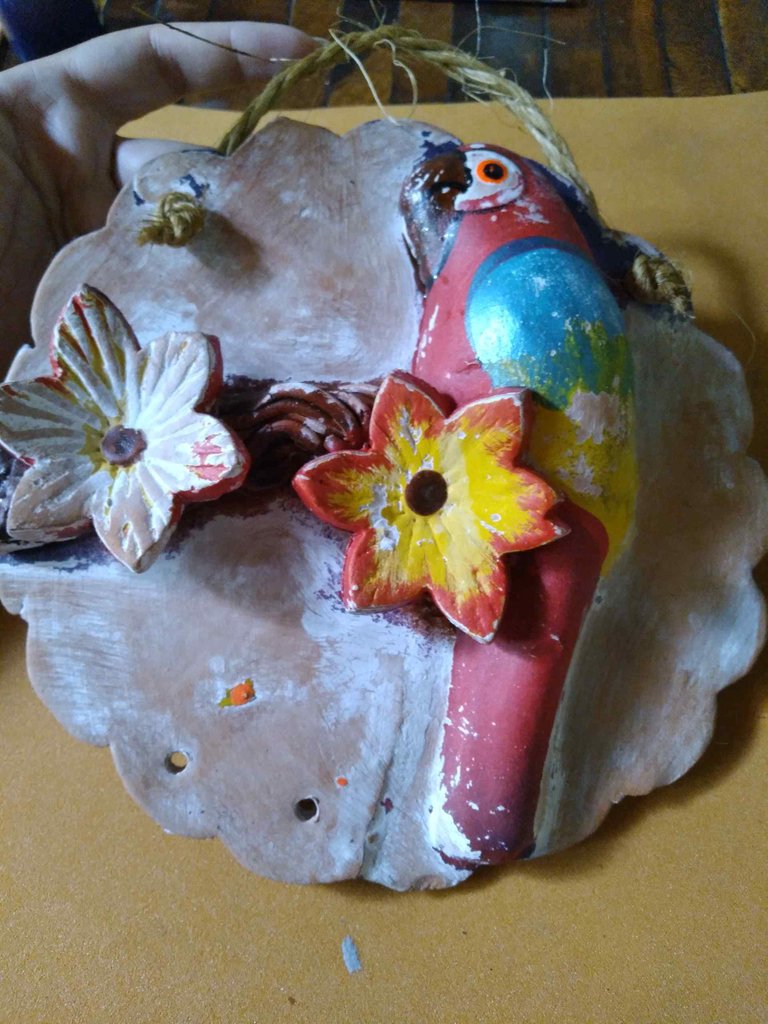 Es un porta llaves de pared con forma de Guacamaya y flores, inicialmente era muy colorido y bastante hermoso, fue un obsequio que mi hermana me dió ya hace un par de años, ella lo adquirió en un viaje que realizó a una ciudad donde venden este tipo de artesanías, un día cualquiera decidí guardarlo porque se había deteriorado tanto que ya no lucía tan hermoso como el principio, recientemente al revisar unas cajas en mi casa me percaté que aún estaba allí, tomando en cuenta el valor sentimental voy a proceder a su recuperación y utilidad en mi hogar nuevamente.
What is it about?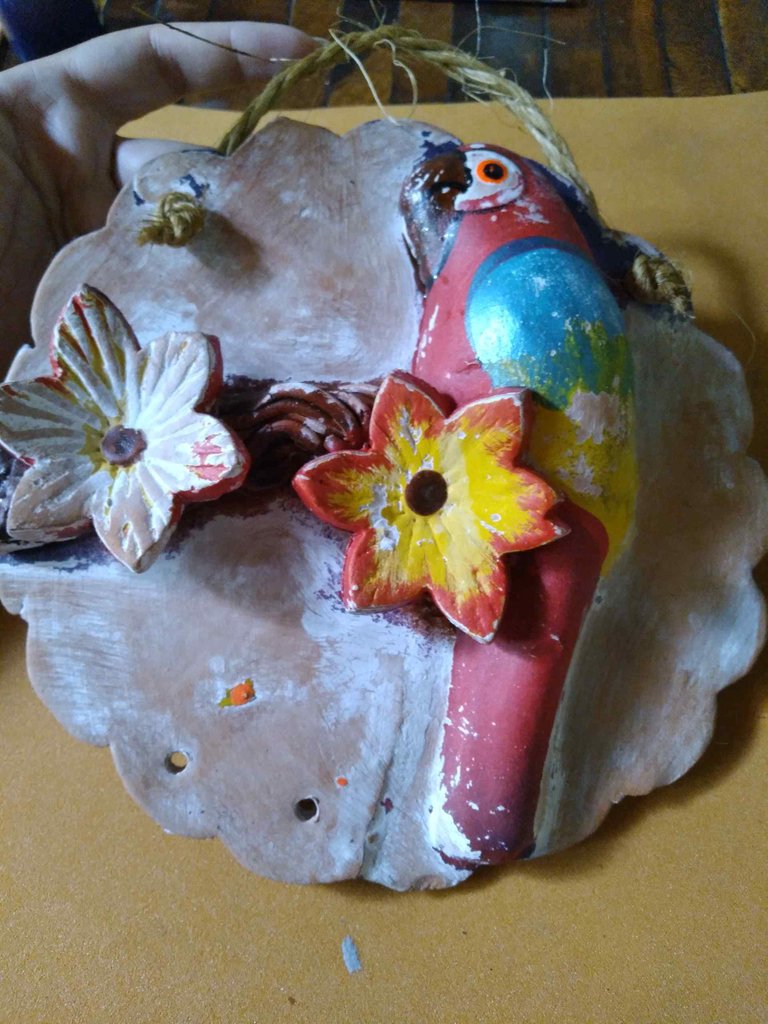 It is a wall key holder in the shape of a Macaw and flowers, first it was very colorful and quite beautiful, it was a gift that my sister gave me a couple of years ago, she acquired it on a trip to a city where they sell this type of handicrafts, one day I decided to keep it because it had deteriorated so much that it no longer looked as beautiful as the beginning, recently when checking some boxes in my house I realized that it was still there, taking into account the sentimental value I am going to proceed to its recovery and utility in my home again.
---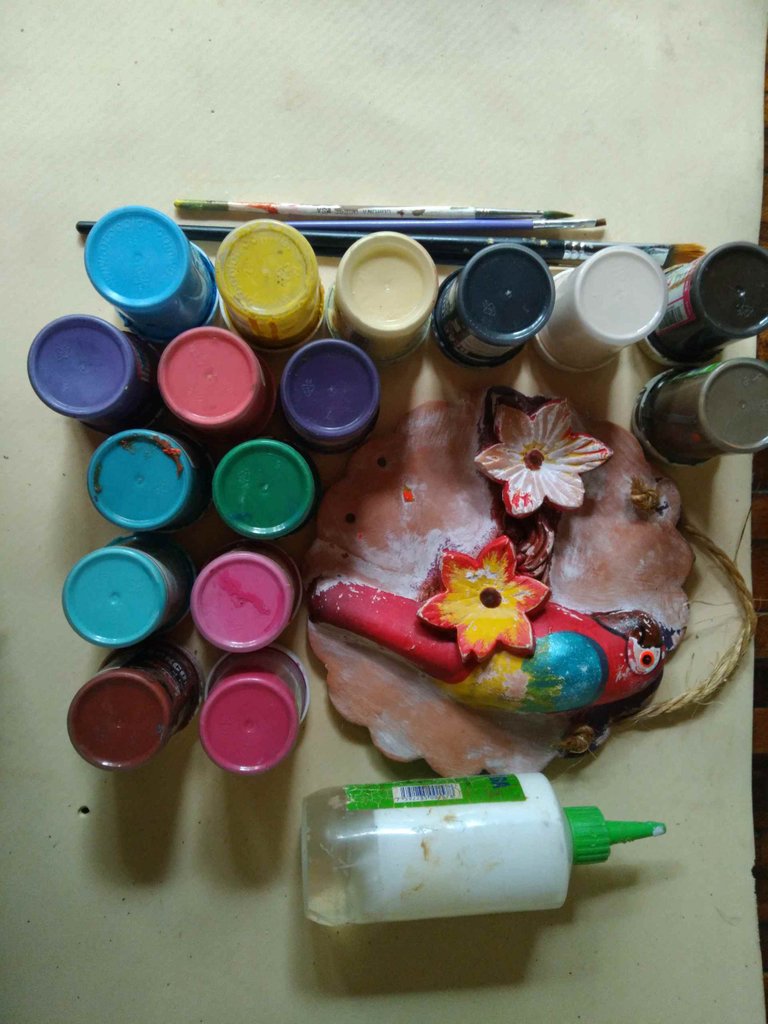 [Materiales | Materials]
Para darle vida al adorno necesitaremos:
Pinturas al frío en varios colores.
pega.
Pinceles.
Escarcha
Ganchos de colgar llaves.
Creatividad.
To give life to the ornament we will need:
cold paint varios.
Job.
Brushes.
Frost.
Key Hooks.
Creativity.
---
Procedimiento a realizar:
Procedure to be performed:
---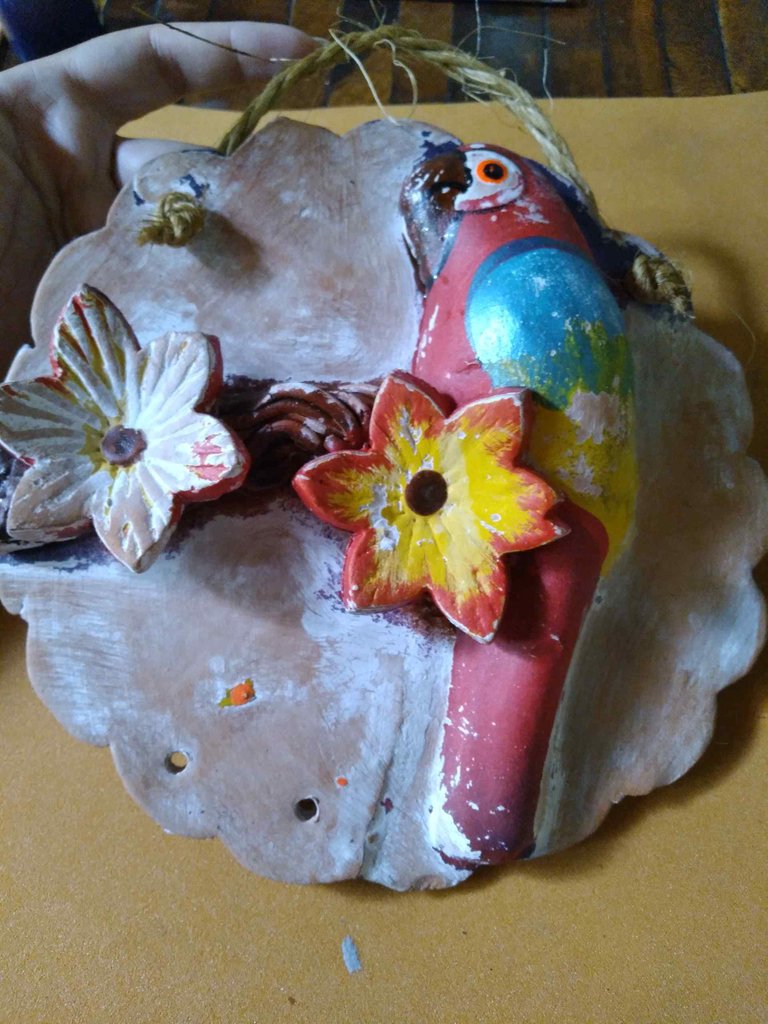 Primero, debemos lavar y dejar secar el adorno durante el tiempo necesario, no se debe sentir humedad al momento de pintar, quitamos las posibles texturas que le haya quedado de la pintura anterior para no crear nueva porosidad en la restauración.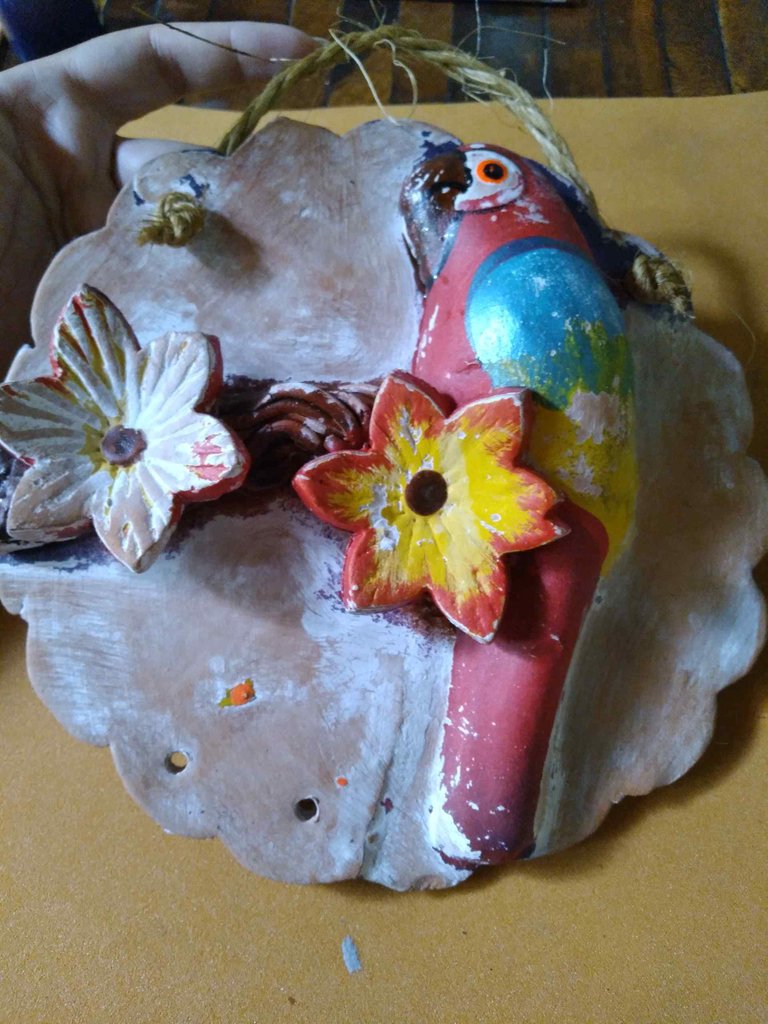 we must wash and let the ornament dry for the necessary time, it should not feel humidity when painting, we remove the possible textures that may have been left from the previous painting so as not to create new porosity in the restoration.
---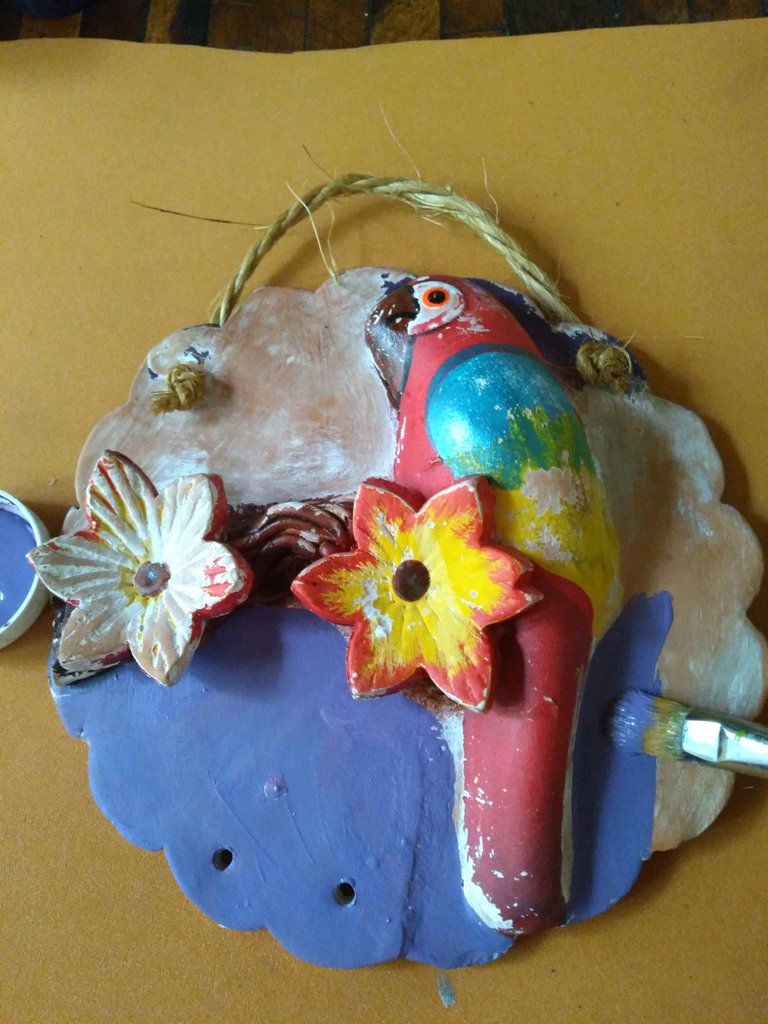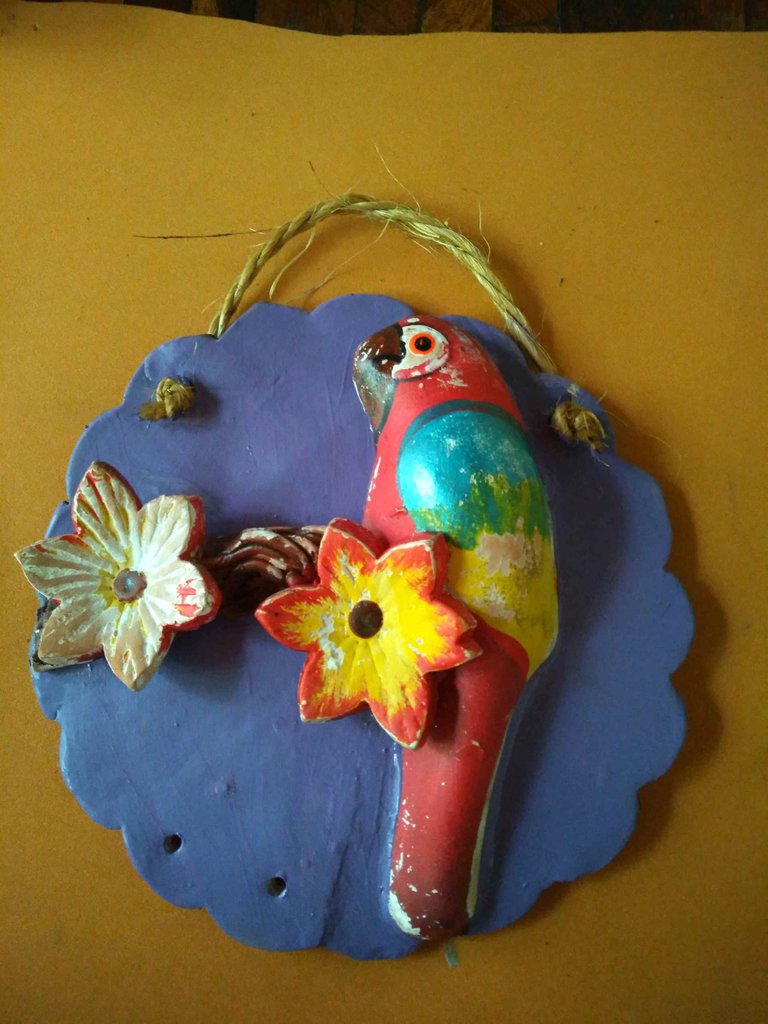 Seguidamente, seleccionamos el color que será la base del diseño, en este caso un morado claro, lo aplicamos con la ayuda de un pincel grueso, en las zonas que sean difíciles de alcanzar utilizaremos un Pincel de menor grosor.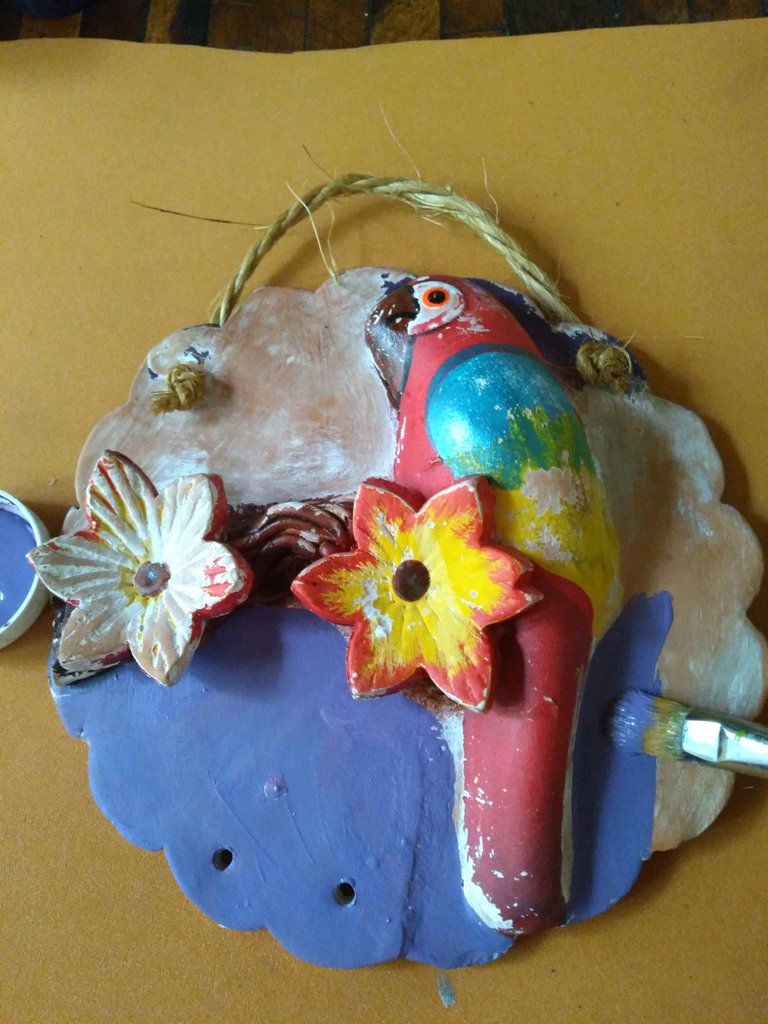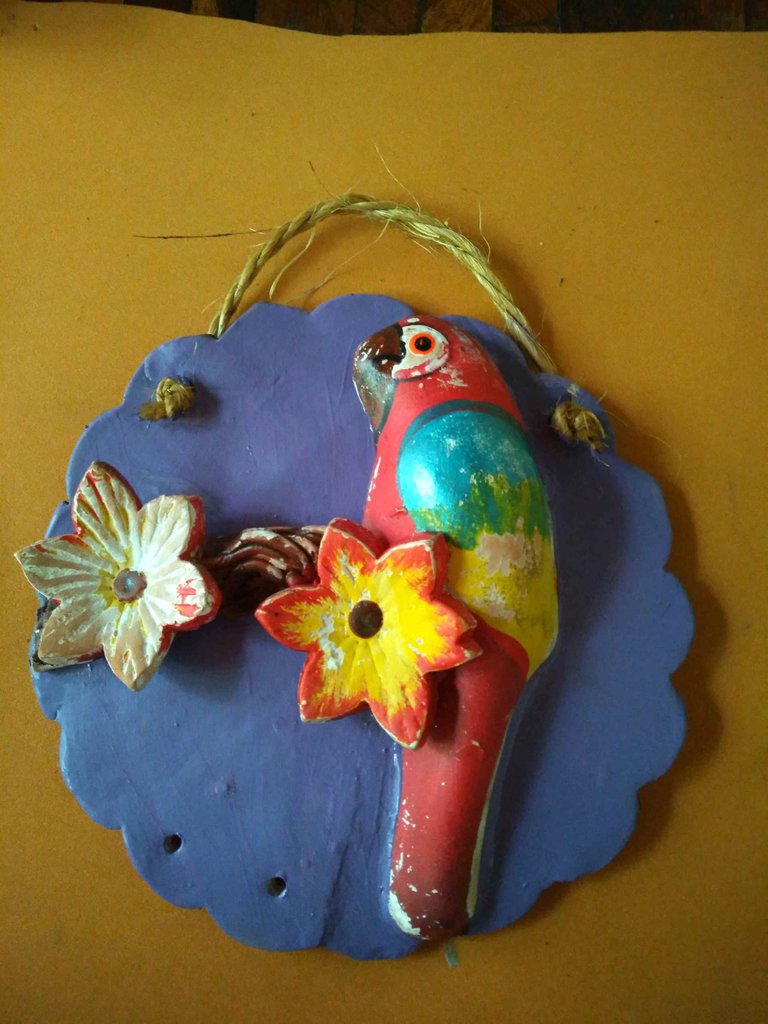 Next, we select the color that will be the base of the design, in this case a light purple, we apply it with the help of a thick brush, in the areas that are difficult to reach we will use a brush of less thickness.
---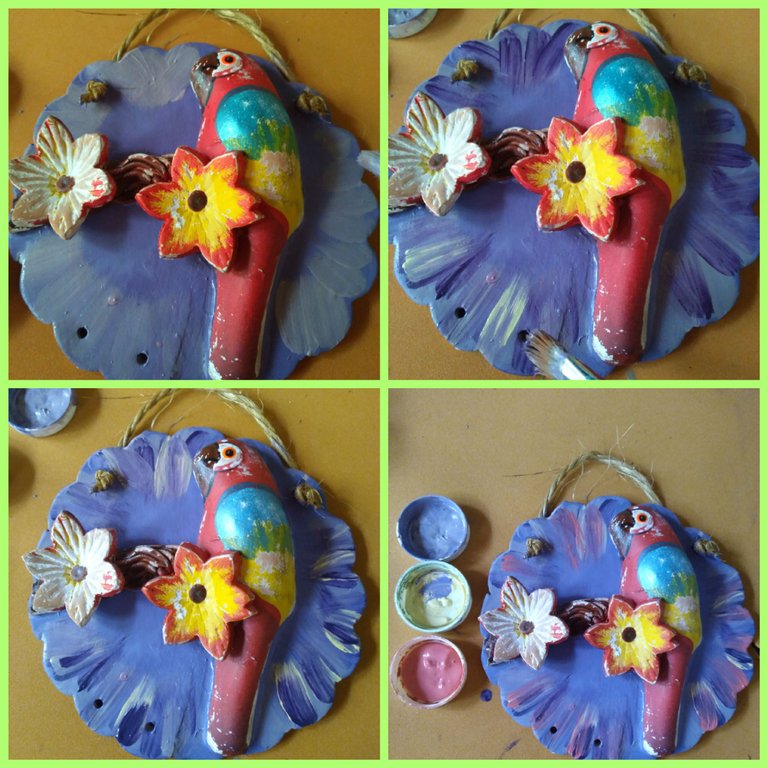 Damos continuidad con algunos detalles, seleccionaremos pintura color claro, morado oscuro, rosada, azul donde haremos pequeños parches en todo el borde del portallaves, si deseas bajar la intensidad de algún color solo debemos agregar un poco de pintura clara, en este caso yo use la que tenía el color hueso disponible.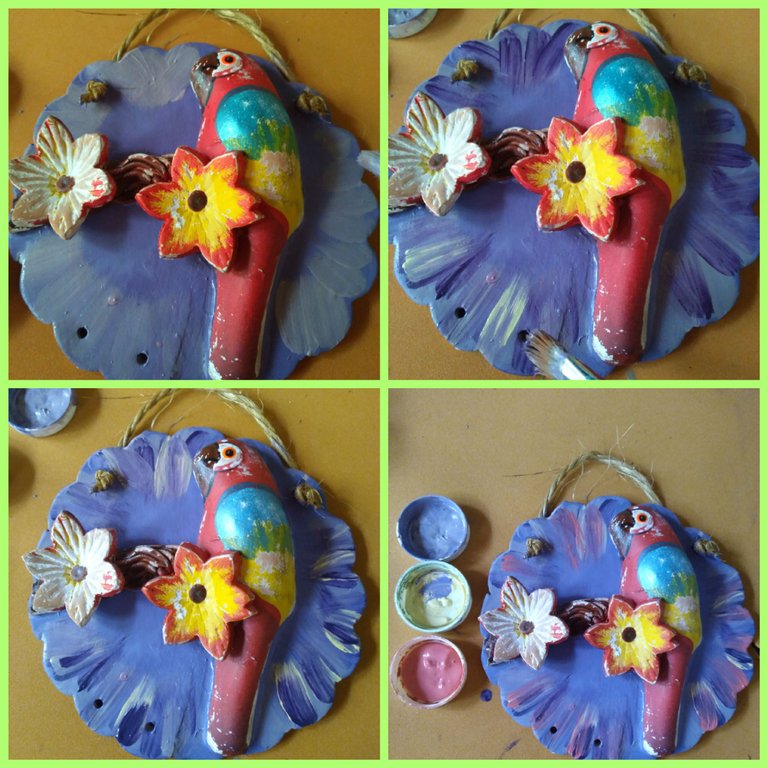 We give continuity with some details, we will select light color paint, dark purple, pink, blue where we will make small patches around the edge of the key holder, if you want to lower the intensity of any color we just have to add a little light paint, in this case I use the one with the bone color available.
---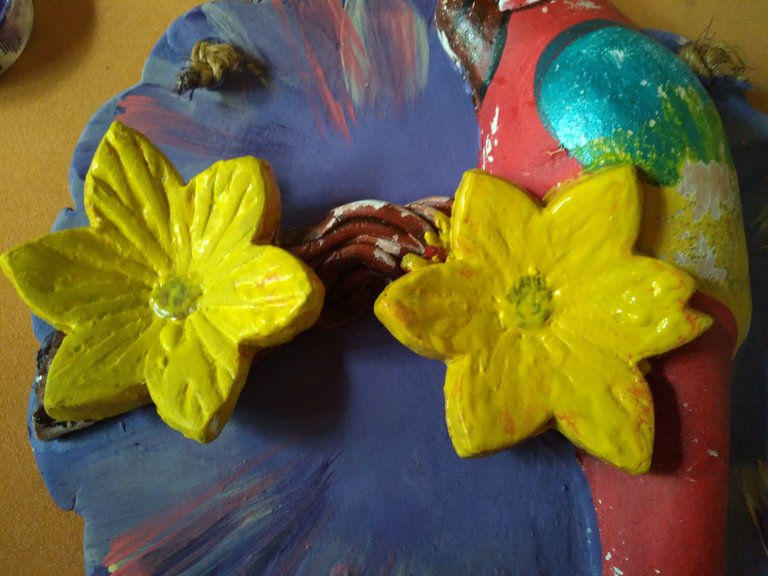 Luego, pintamos de color amarillo las flores, aplicando 2 veces el mismo Procedimiento ya que es necesario cubrir todas las imperfecciones de esta área, el color usado es bastante radiante.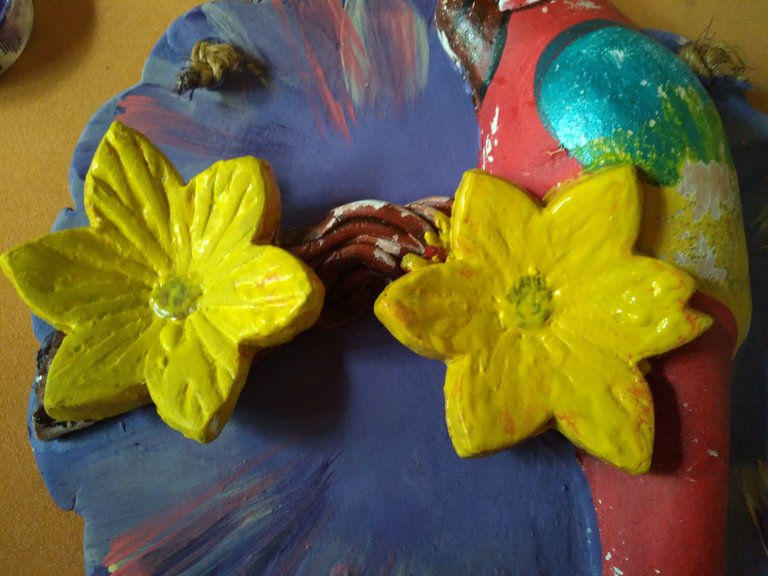 Then, we paint the flowers yellow, applying the same Procedure twice since it is necessary to cover all the imperfections in this area, the color used is quite radiant.
---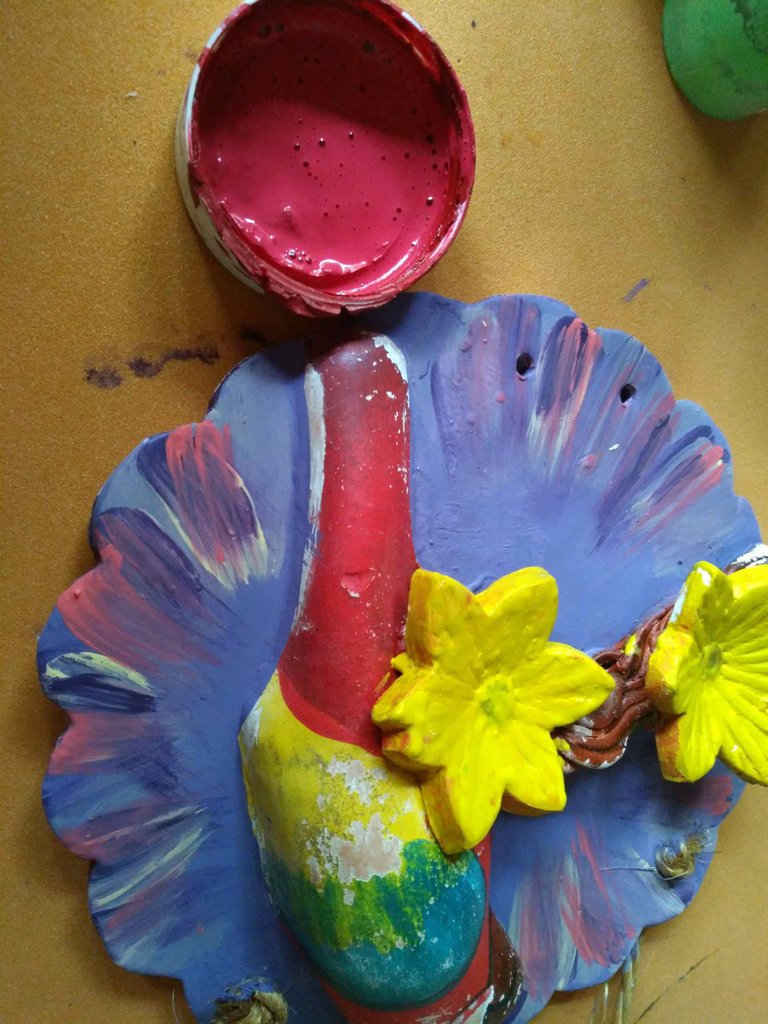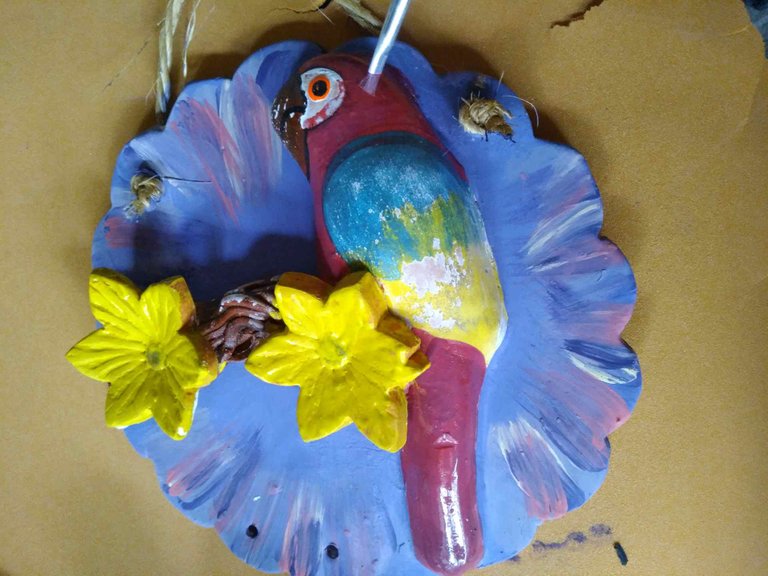 Ahora, nos toca darle un mágico color a nuestra hermosa ave, utilizando rojo (se veía extraño) en su base inicial, no fue necesario cambiar el color porque efectivamente es el adecuado, poco a poco con la ayuda de un pincel fino sin manchar lo que ya hemos pintado con anticipación.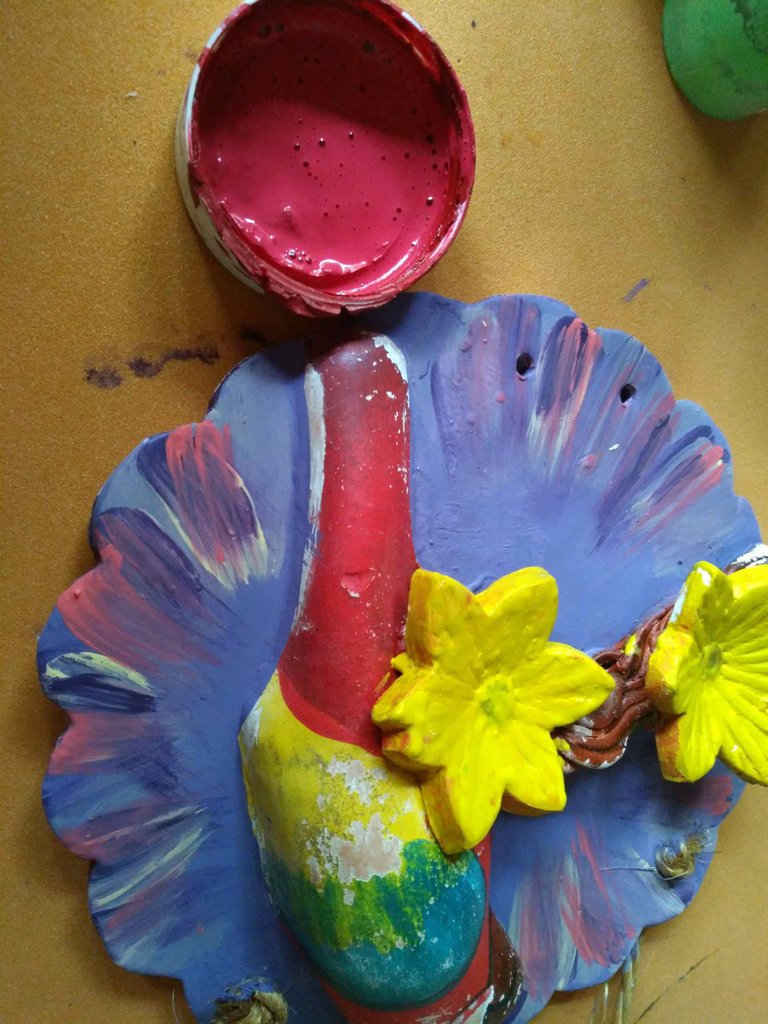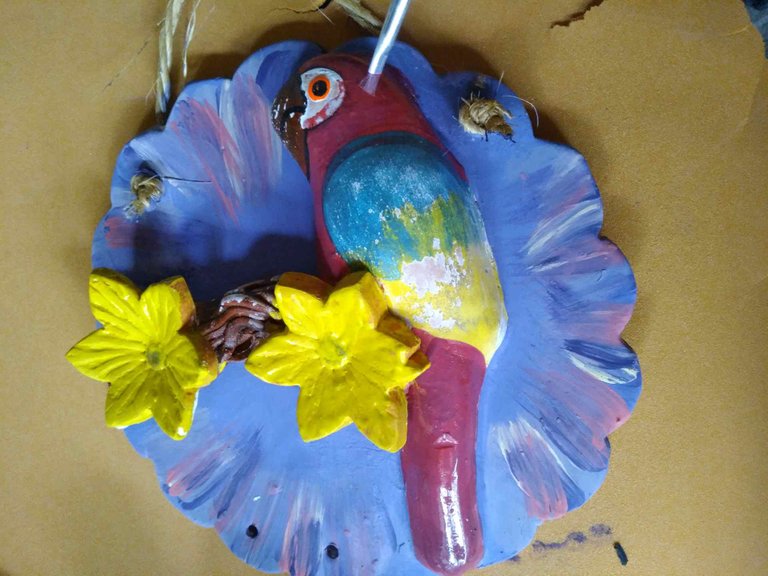 Now, we have to give our beautiful bird a magical color, using red (it looked strange) in its initial base, it was not necessary to change the color because it is indeed the right one, little by little with the help of a fine brush without staining it. that we have already painted in advance.
---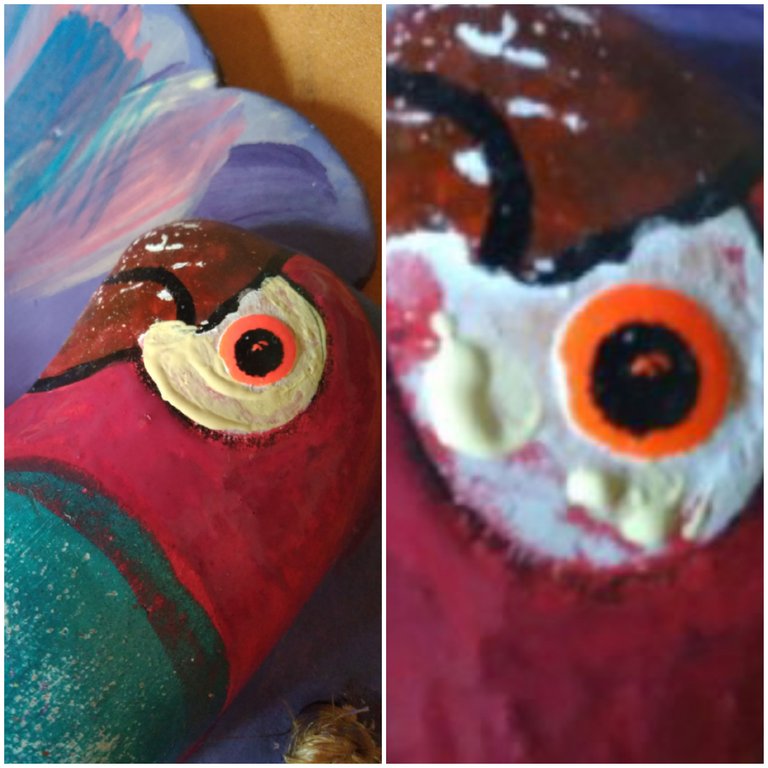 Para el ojo de la Guacamaya, utilicé pintura clara con mucho cuidado de no manchar el resto porque me gustó cómo se veía ese color allí y no tengo para retocarlo tal cual, de igual manera lo hacemos con el pico usando color marrón, procedemos a delinear con negro.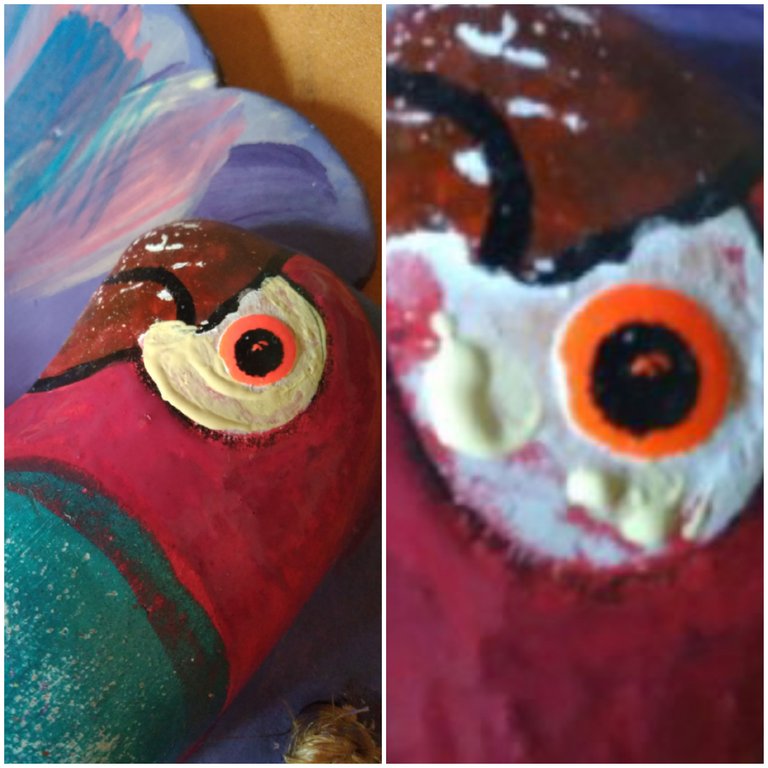 For the Macaw's eye, I used light paint very carefully not to stain the rest because I liked how that color looked there and I don't have to retouch it as it is, in the same way we do it with the beak using brown color, we proceed to delineate with black.
---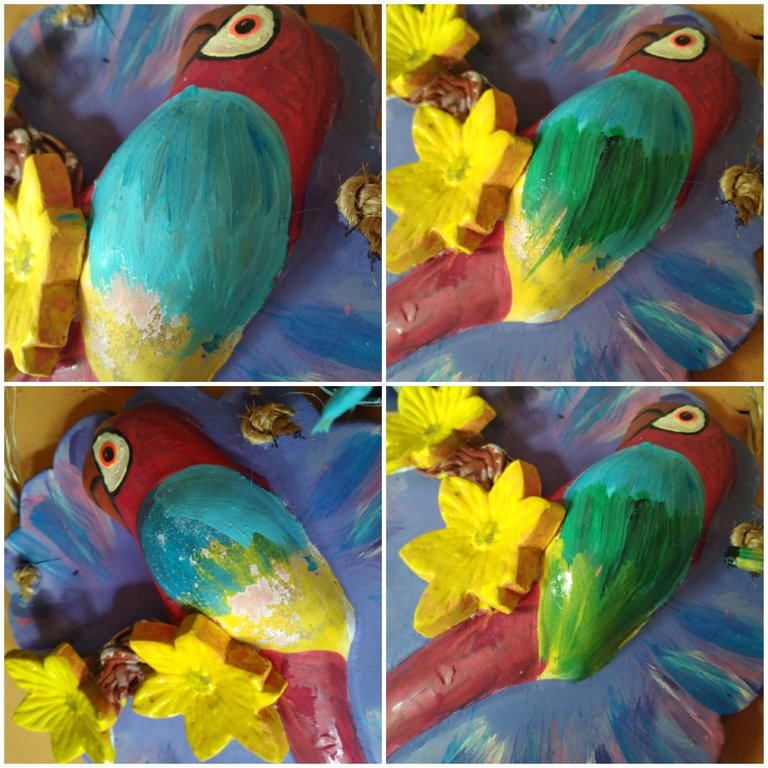 Para las alas, seleccioné 3 colores principales: azul, verde y amarillo la cual apliqué a toques para dejar la ilusión del plumaje, sin embargo hice reflejos en negro y blanco.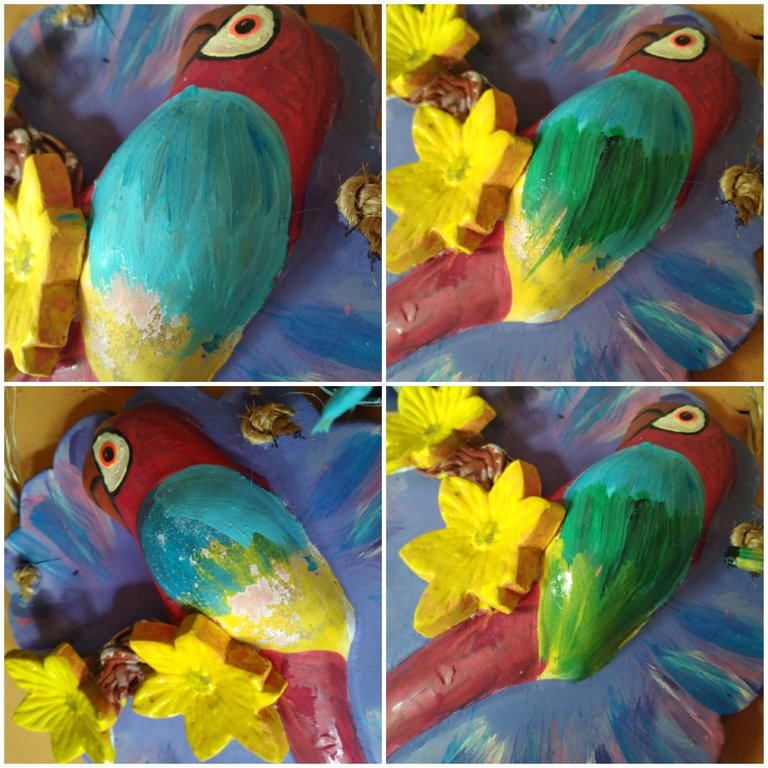 For the wings, I selected 3 main colors: blue, green and yellow which I applied with touches to leave the illusion of plumage, however I made reflections in black and white.
---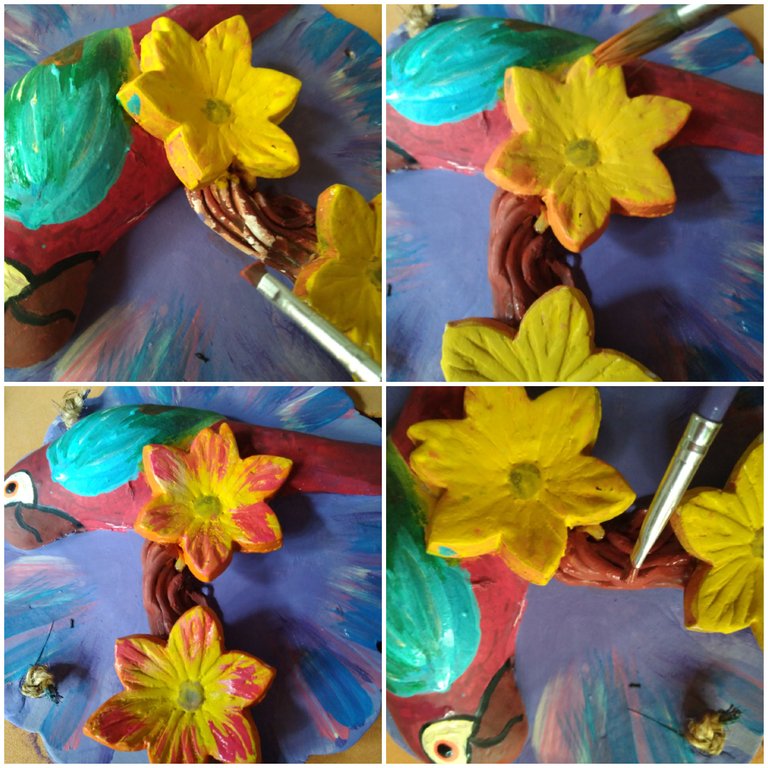 Pintamos las delgadas ramas que sostienen a las flores, acto seguido, damos reflejos en color naranja a cada flor.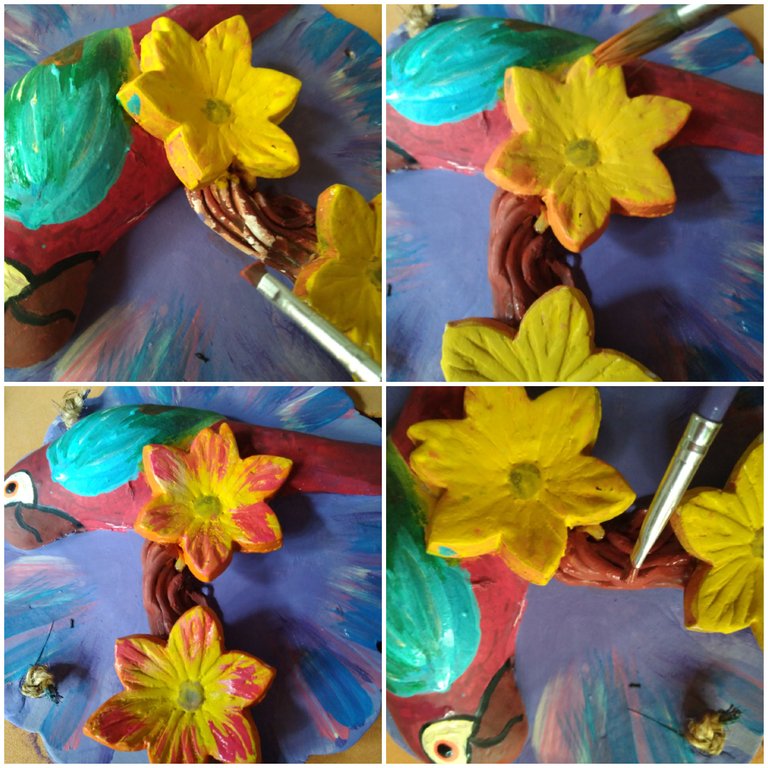 We paint the thin branches that support the flowers, then we give each flower orange reflections.
---
Damos algunos detalles con pintura en relación a las hojas, borde de la artesanía y mi nombre. Dejamos secar el tiempo necesario y aplicamos pega y escarcha para dar mayor brillo. Colocamos los alambres dónde colgarán las llaves.
We give some details with paint in relation to the leaves, edge of the craft and my name. Let it dry for the necessary time and apply glue and frost to give it more shine. We place the wires where the keys will hang.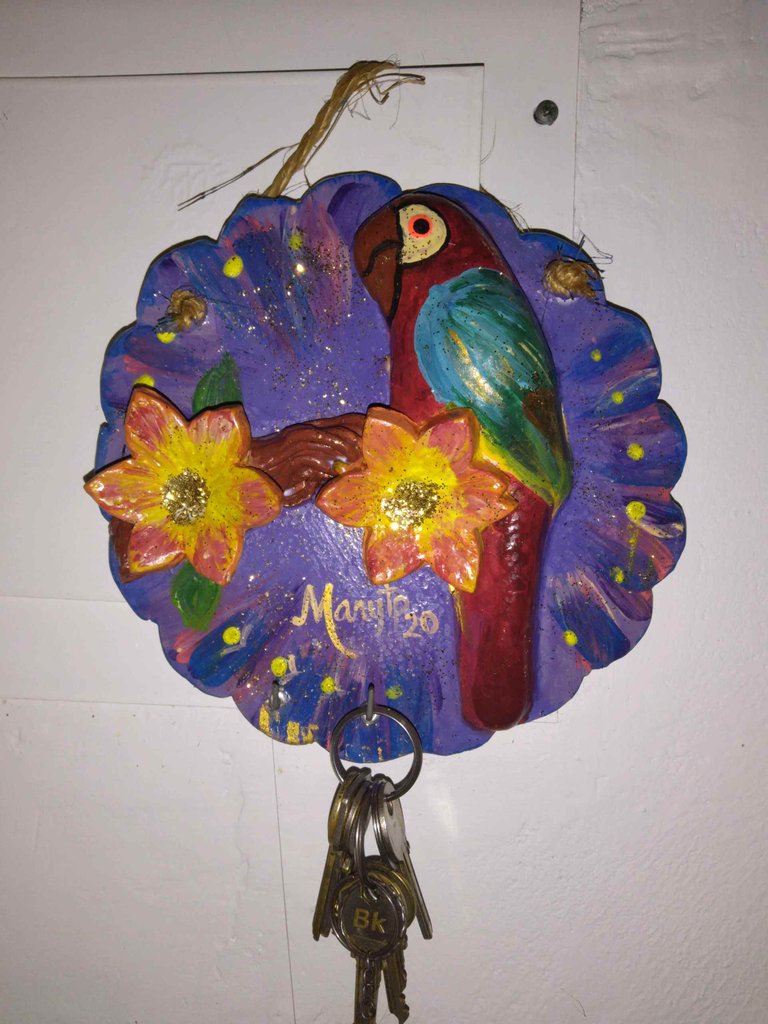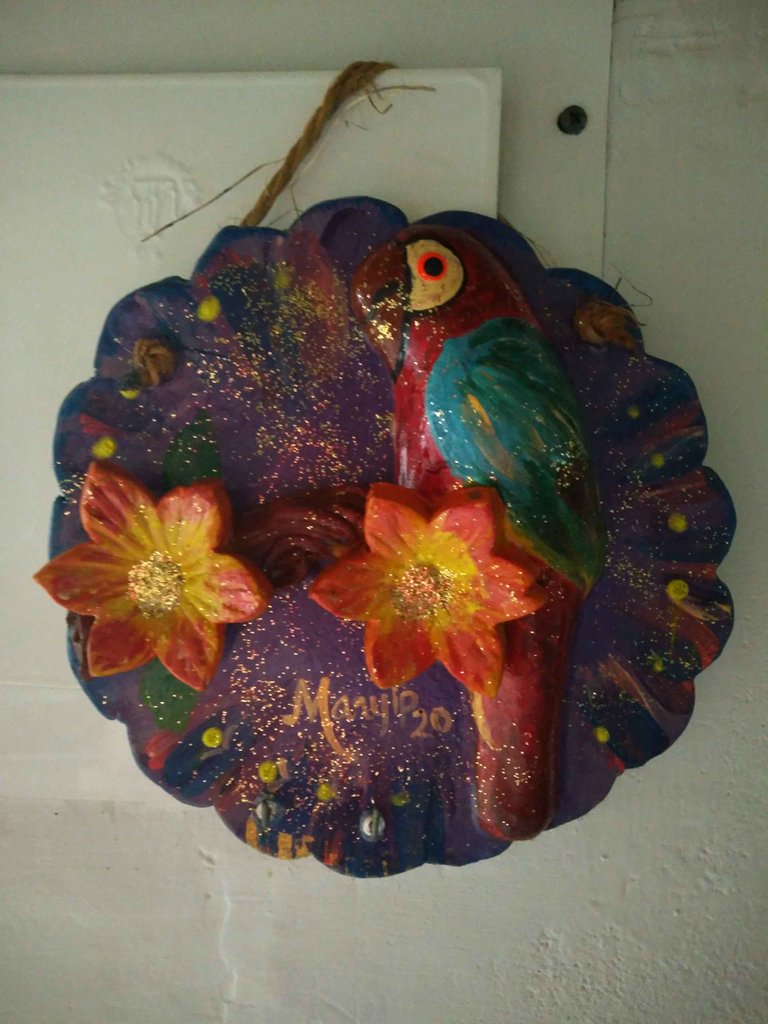 Estos sencillos pasos harán que tus adornos luzcan muchísimo mejor, serán un objeto decorativo de mayor utilidad y muy hermoso que están en tu hogar visibles para todos. Estoy muy contenta por estar con ustedes y que sean parte de mi pequeño espacio creativo.
These simple steps will make your ornaments look much better, they will be a more useful and very beautiful decorative object that are visible to everyone in your home. I am very happy to be with you and that you are part of my little creative space.
---

Gracias por visitar mi espacio creativo🖌️🎨🖍️🧵, espero verte pronto!🧐.
Thank you for visiting my creative space🖌️🎨🖍️ , I hope to see you soon! 🧐
---