Cheers to this beautiful #Build-It Community, where we can show what we personally create.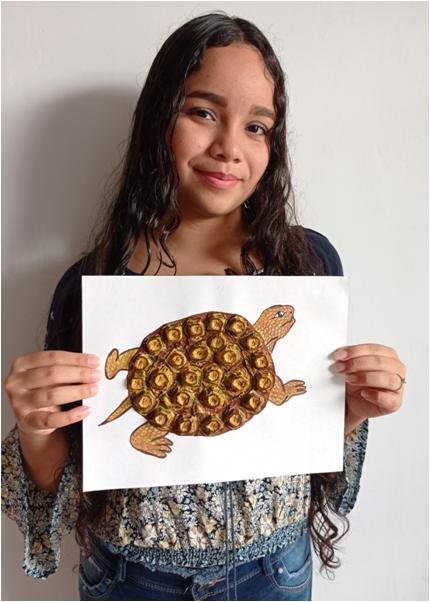 Today I want to show you my drawing of a turtle with an egg carton, you wonder why an egg carton, is that I wanted to continue with my creative drawings.
Although the shell is almost smooth, it seemed like a good idea to highlight your plates with parts of the egg carton, I assure you I had a lot of fun and tried to do it with great dedication to present this creation to you.
These are the materials you use:
Crayon pencil
White cardboard
Markers: Yellow, Green, Black and Brown.
Colors: Yellow, Green, Black and Brown.
1/2 carton of eggs.
Job
Step-by-step procedure and photos:

Draw the turtle with the pencil on the cardboard, try to draw the plates of the turtle's shell to have a reference of the egg carton cutouts you needed.

Then prepare the half egg carton, cut out the holes in the carton front and back. I organized them to validate that I had the necessary quantity for all the plates of my turtle.
I immediately started gluing the egg carton cutouts on top of the drawing, just as you can see.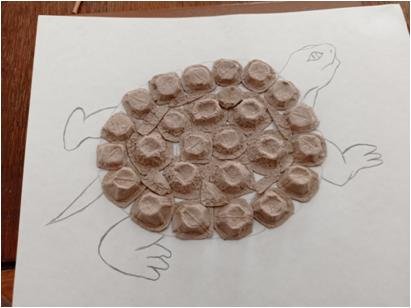 When you have the entire turtle shell covered with the egg carton cutouts, take the brown marker and draw the edge of the turtle's body and place brown color between the spaces at the egg carton bases.

Then take the green color and apply it very gently to the turtle's body.

In the same way, apply the yellow color on the body. Take the brown color to make the body that scaly look that is seen in all turtles, and finally gently place the brown color, all this to achieve a nuanced color. Leaving the eye for last.


Now continue applying marker and colors on top of the egg carton that here forms the shell of the turtle.



Finally, put the black color on the body and draw the eye of the turtle to get the result that a cute turtle with an egg carton expected.