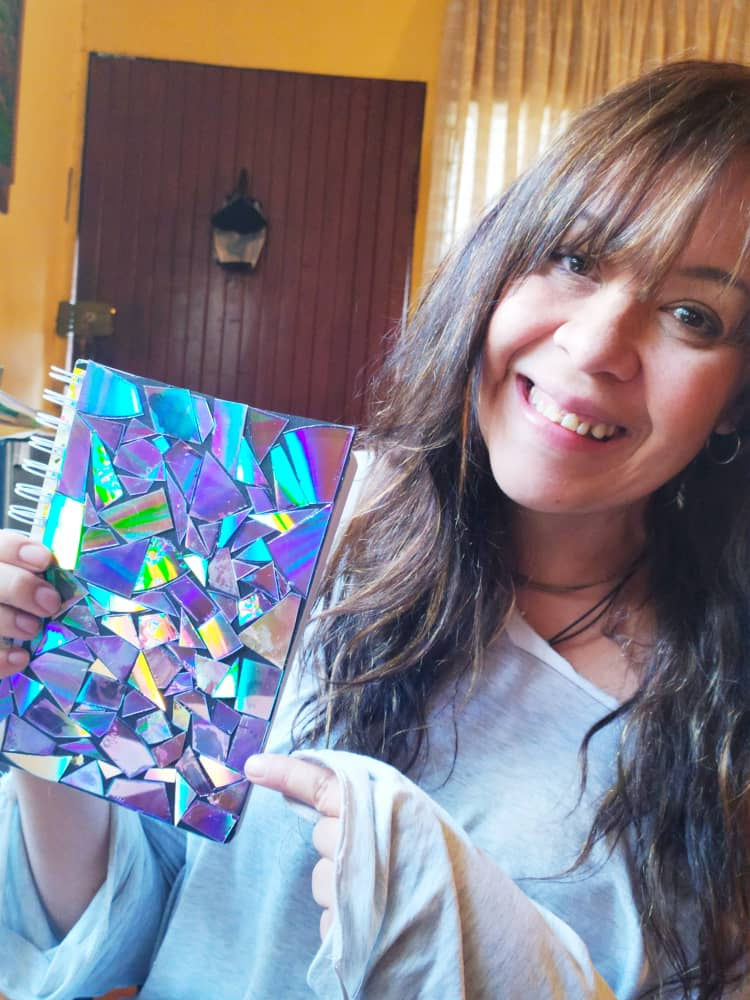 Hola querida comunidad #build-it! En esta oportunidad quiero compartir con ustedes, una manera de forrar los cuadernos con material que tenemos en nuestra casa.
¡Si! ¡Se trata de reutilizar tus CDs! ¿Recuerdas que hace algunos días, hicimos un portalapices con CDs?
Y es que, son tantas las maneras de darles utilidad a esos CDs que ya están rayados, que ya no escuchas porque la música está fuera de moda, o de películas porque con Netflix, eso de ver películas en Blue Ray ya quedó obsoleto.
Hello dear #build-it community! This time I want to share with you, a way to cover notebooks with material that we have at home.
Yes, it's all about reusing your CDs! Remember that a few days ago, we made a pencil holder with CDs?
And the thing is, there are so many ways to give utility to those CDs that are already scratched, that you no longer listen to because music is out of fashion, or movies because with Netflix, watching movies on Blue Ray is already obsolete.
---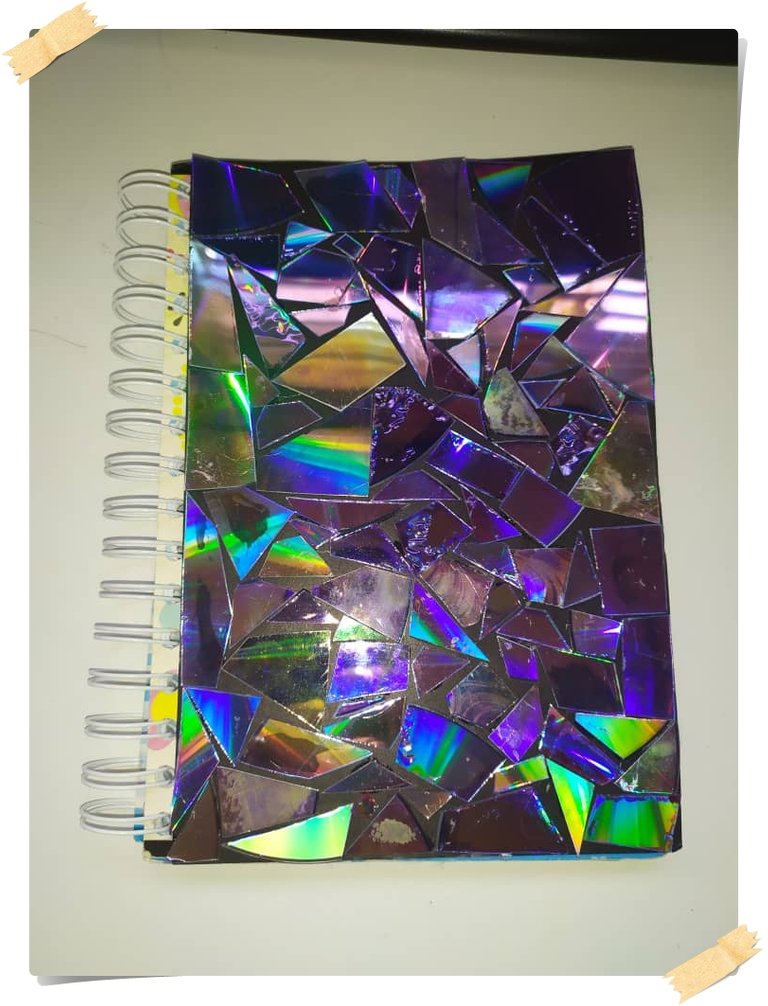 Today I wanted to give a different touch to my notebook. The one where you write everything so you don't forget it: from recipes, to-do's, poems, drawings, bills to pay, and then transfer everything to the computer, to the corresponding file for each one.
Hoy quise darle un toque distinto a mi cuaderno de anotaciones. Ese donde escribes de todo para no olvidarlo: desde recetas de cocina, pendientes por hacer, hasta poemas, dibujos, cuentas por pagar, para luego pasar todo a la computadora, al archivo correspondiente para cada uno.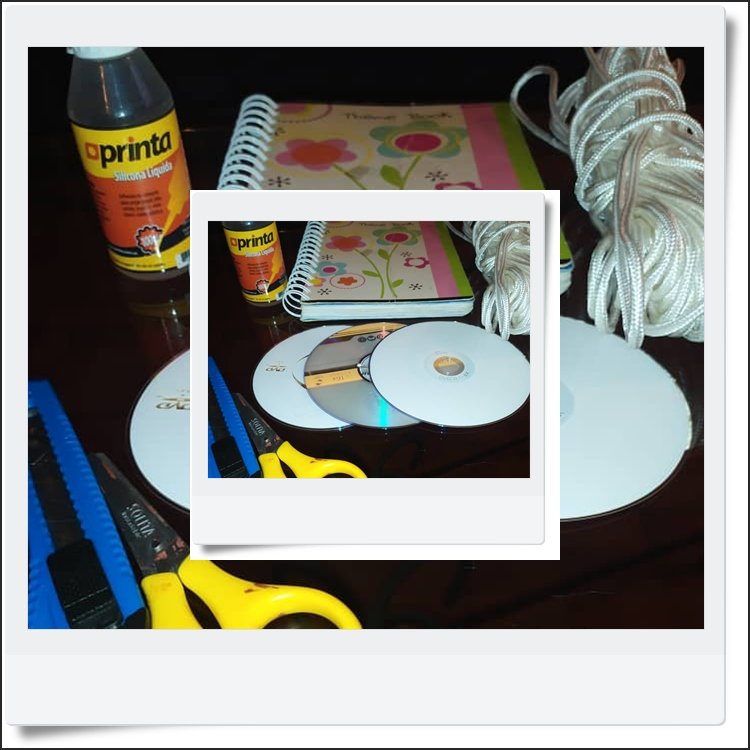 Mira qué se necesita:
Silicón líquido
Tijeras
Tres o cuatro CDs, (dependiendo del tamaño del cuaderno)
Cortador exacto
Cartulina negra
Cinta para el borde (si quieres darle un toque final)
See what you need:
Liquid silicone
Scissors
Three or four CDs, (depending on the size of the notebook)
Exact cutter
Black cardboard
Tape for the border (if you want to give it a final touch)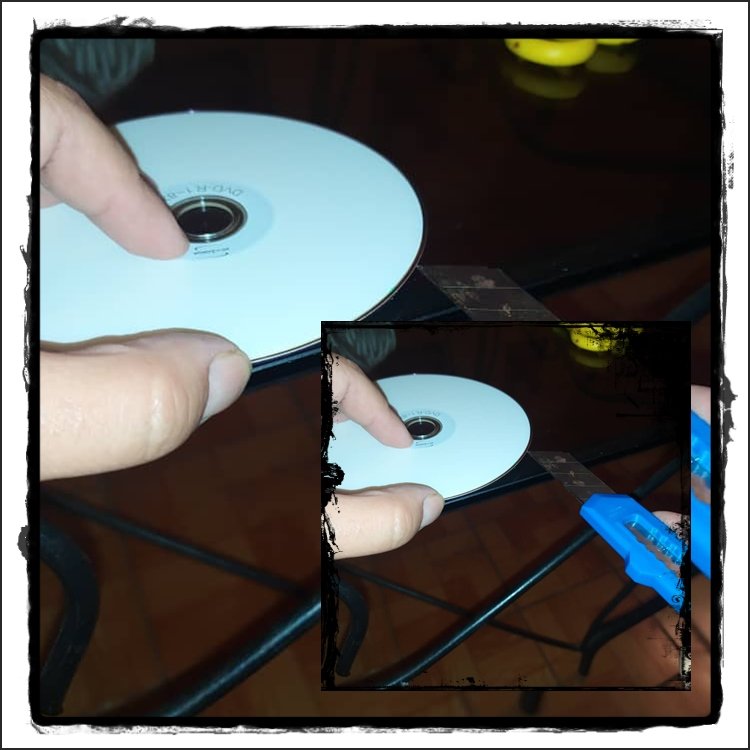 The first thing we are going to do is to peel off the shiny side of our CD covers. I do this because, the time I made the pencil holder, I cut them without peeling them off and first of all, the CDs are quite hard and I had a hard time cutting them and secondly, the shiny part tends to wrinkle.
The best tool for this is the exacto cutter.
Lo primero que vamos a hacer es despegar la carátula de nuestros CDs, de la parte brillante. Esto lo hago porque, la vez que hice el portalápices, los corté sin despegarlas y en primer lugar, los CDs son bastante duros y me costó mucho cortarlos y en segundo lugar, la parte brillante, tiende a arrugarse.
La herramienta más indicada para esto, es el cortador exacto.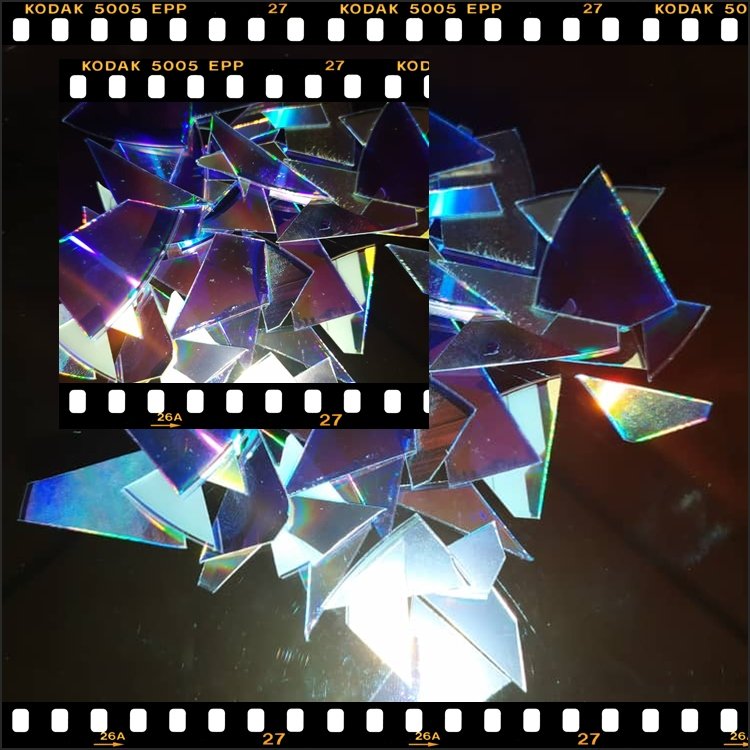 After peeling off both sides, we will cut them with the scissors, in different shapes and sizes.
Then, we will measure the dimensions of the notebook, to cut the cardboard of the same size and glue it with the liquid silicone, as we will see in this image:
Después de despegar ambas caras, los cortaremos con la tijera, de distintas maneras y tamaños.
Luego, mediremos las dimensiones del cuaderno, para cortar la cartulina del mismo tamaño y la pegaremos con el silicón líquido, como veremos en esta imagen: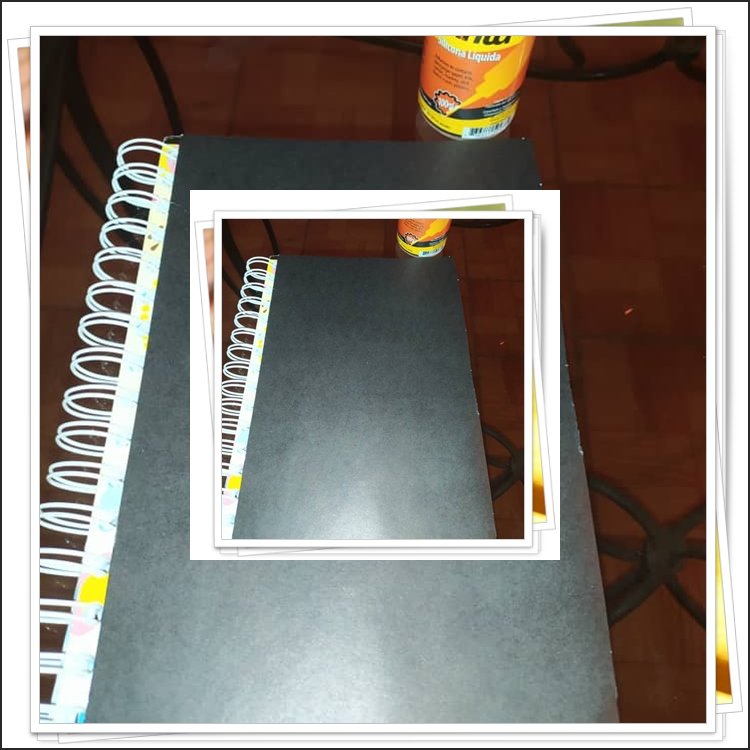 Once the cardboard has dried, we are going to glue with silicone piece by piece of the CD cuts, placing them as you prefer, as we can see in this collage:
Una vez se haya secado la cartulina, vamos a pegar con silicón pedacito por pedacito de los cortes del CD, poniéndolos como prefieras, como podremos ver en este collage: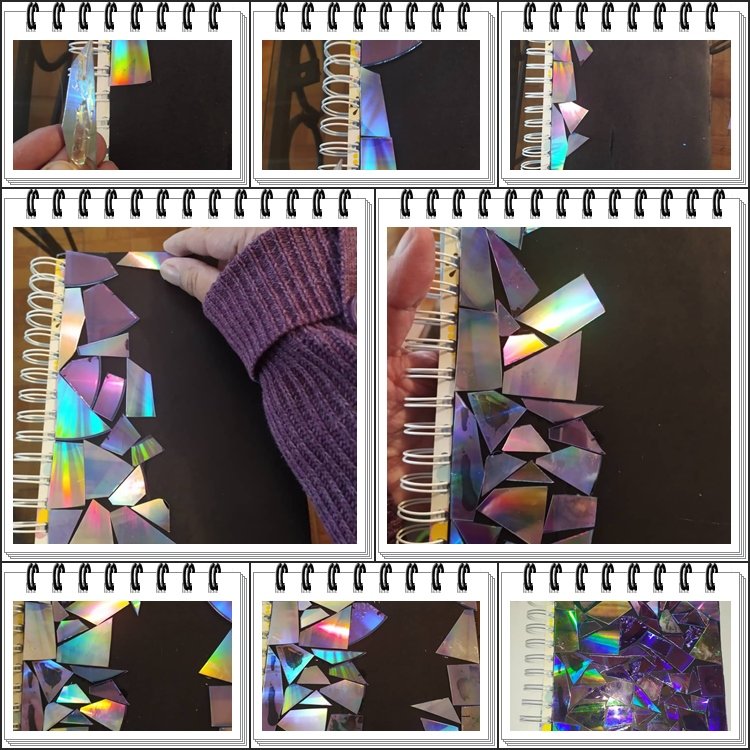 Por último, le colocamos la cinta blanca alrededor. Aunque luego de haberlo hecho, confieso que me parece que se ve espantoso y por eso no puse esta foto como imagen principal. Pero todo es cuestión de gustos y estilos. Mi estilo, definitivamente no es este.
Finally, we place the white ribbon around it. Although after having done it, I confess that I think it looks awful and that's why I didn't put this picture as the main image. But it's all a matter of taste and style. My style is definitely not this one.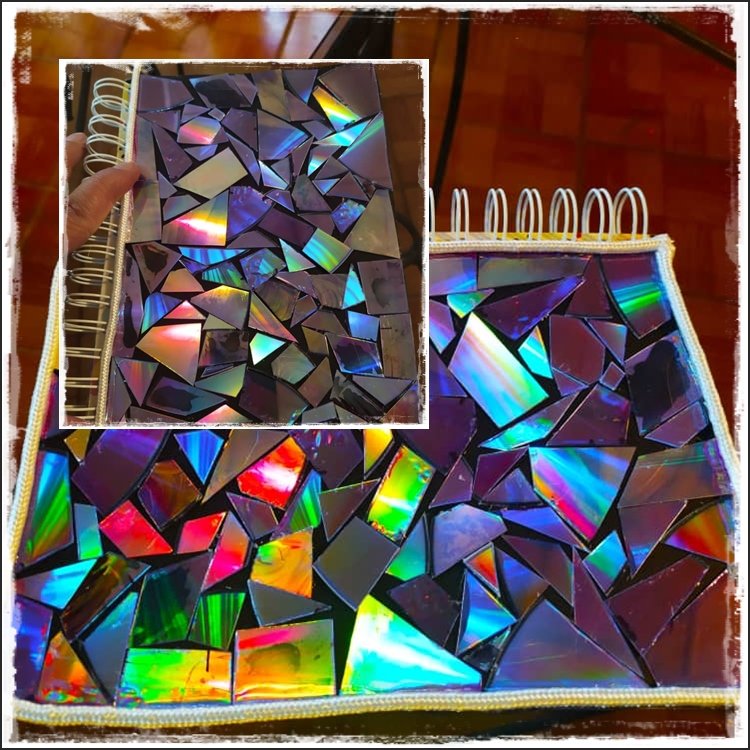 Honestamente, me gusta más sin esa cinta. Quizás es porque no supe cómo darle un bonito acabado. Es la primera vez que trabajo con cintas y se me despegaba a cada rato. Estaba perdiendo la paciencia.
¿Y a ti, cómo te gusta más?
Honestly, I like it better without that ribbon. Maybe it's because I didn't know how to give it a nice finish. It's the first time I've worked with tape and it kept coming off. I was losing my patience.
And how do you like it better?