Beautiful recycled reindeer
Hermoso reno reciclado

That such reader friends today I continue my work of crafts making a nice cardboard reindeer with several materials that I will be giving you to know, it is very simple to make stay and you will see how a cardboard and several pieces of other materials become a beautiful Christmas decoration.
Que tal amigos lectores hoy continuo mi trabajo de manualidades realizando un lindo reno en cartón con varios materiales que les estaré dando a conocer, es muy simple de hacer quédate y verás como un cartón y varios trozos de otros materiales se convierten en un hermoso adorno de navidad.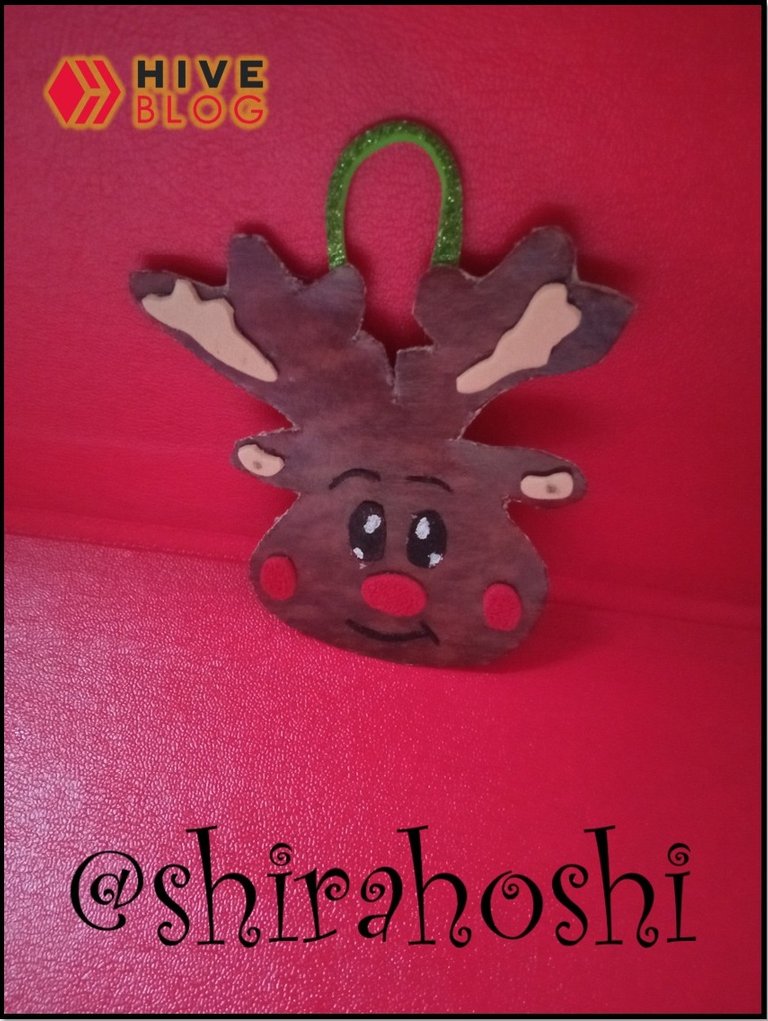 How you will notice in my posts I love Christmas and invent things for my little tree or to hang from my garlands, this date is to be in family harmony and wait for the birth of the baby Jesus. This Christmas is very different from many others as we are in a worldwide pandemic and many of us are far away and unfortunately we cannot travel to be with our loved ones, but God is in control of everything that happens and we are living through this soon peace and happiness will come to every country that is now going through this terrible situation. What remains is to thank God for allowing us to still breathe and continue the battle because many of us know that today many people have died because of this evil virus. Let's be grateful for the life we have and live happily, let's help our neighbors in what we can since we are on Christmas Eve.
Cómo se fijarán en mis post me encanta la navidad e inventar cosas para mí arbolito o para colgar de mis guirnaldas, esta fecha es para estar en armonía familiar y esperar el nacimiento del niño Jesús. Esta navidad es muy diferentes a muchas ya que nos encontramos en una pandemia a nivel mundial y muchos nos encontramos lejos y lamentablemente no podemos viajar para estar al lado de nuestros seres queridos, pero Dios tiene el control de cada cosas que pasa y por algo estamos viviendo esto, pronto llegará la paz y la felicidad a cada país que ahora se encuentra atravesando está terrible situación. Nos queda es darle gracias a Dios por permitirnos aún respirar y continuar la batalla porque muchos sabemos que hoy en día muchas personas han fallecido a causa de este malvado virus. Seamos agradecidos por la vida que tenemos y vivamos felices, brindemos ayuda al prójimo en lo que podamos ya que nos encontramos en víspera de la navidad.

The materials I used to make this tender reindeer were a cardboard folder I had without use, pieces of foami, black leather, silicone, scissors, concealer.
Los materiales que utilice para realizar este tierno reno fueron una carpeta de cartón que tenía sin uso, trozos de foami, cuerina negra, silicón, tijera, corrector.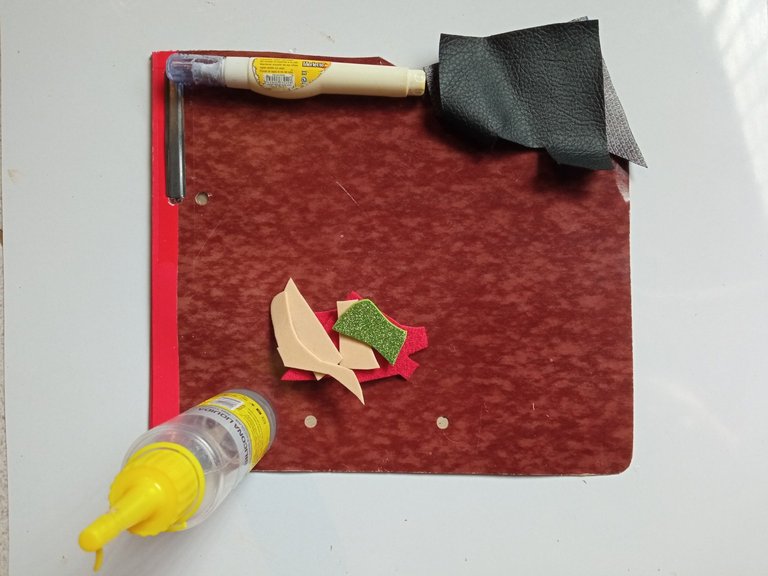 First I took out the mold of what I wanted to do on a blank sheet of paper, in this case a reindeer, then I took the mold and passed it to the cardboard and I took out my pieces for the decoration, then after cutting out the pieces I put silicone as you can see in the pictures all over the edge and I glued the two molds of the reindeer so they are strong, I also take the leather and take out the eyes and with the corrector I make the white points looking more tender and cool the Christmas decoration, with the foami I take out the nose and cheeks cutting and pasting and with the leather I also make the eyebrows and mouth and to finish the face of this decoration I cut out the foami from the ears and antlers. I will leave you some photos where you will be able to appreciate every detail and the evolution of this Christmas reindeer.
Primeramente saque el molde de lo que quería hacer en una hoja en blanco, en este caso un reno , luego agarre el molde y lo pase al cartón y saqué mis piezas para el adorno, seguidamente después de recortadas le colocó silicón como apreciarán en las fotos por toda la orilla y pego los dos moldes del reno para que queden fuerte, así mismo agarro la cuerina y saco los ojos y con el corrector le hago los puntos blancos viéndose más tierno y cool el adorno navideño, con el foami saco la nariz y las mejillas recortando y pegando y con la cuerina también hago las cejas y boca ya para finalizar la cara de este adorno recortó del foami parte de las orejas y cornamenta. Les dejaré unas fotos donde podrán apreciar cada detalle y la evolución de este reno navideño.






I hope this post is useful and pleasing to each reader, I want you @shirahoshi enjoy Christmas with conscience and keeping the sanitary measures. Strong hugs in the distance.

Espero que esté post sea de utilidad y agrado para cada lector, los quiere @shirahoshi disfrutemos la navidad con conciencia y guardando las medidas sanitarias. Fuerte abrazos en la distancia.





The photographs are my own and were taken by me with a Redmi 9 and were edited in powerpoint.

Las fotografías son de mi autoría y fueron tomadas por mí con un Redmi 9 y se editaron en powerpoint.


The Step by Step Gif was made by me in AdobePhotoshop CC2014.

El Gif de Paso a Paso fue realizado por mi en AdobePhotoshop CC2014.


The image of HIVE used on the cover (initial image) was taken from here:

La imagen de HIVE usada en la portada (imagen inicial) fue tomada de acá:


Source--Fuente