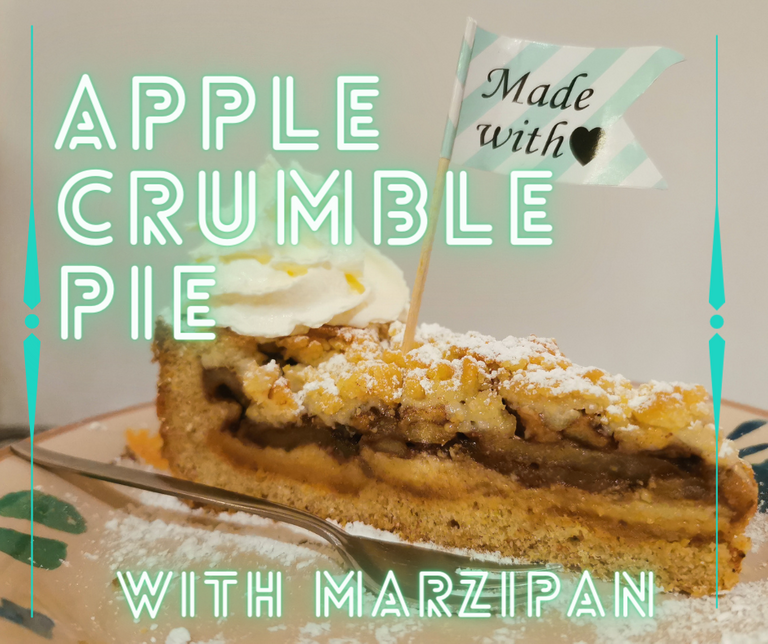 ---
NOT AN APPLE PIE FAN UNTIL VERY RECENTLY
I have to admit something first, and that's the fact that I've always (yes, even as a child!) disliked apple-pie or anything that's made with apple (like apple sauce). The weird thing is, that I always loved eating apples without them being used in any recipe. Weird? Yes, definitely weird, I know. For some reason, this was one of the things that I haven't re-tried during my adulthood and therefore I've always kept thinking that I disliked these things. Until we went to IKEA a few weeks ago, and we usually eat something there, including a dessert. We don't eat these often at home, but when we're there we do. Usually, I pick the same cake/pie but this time I was drawn to the apple crumble pie. I decided it was time to try it and see if I still felt the same way. I didn't! I loved it! So this was a good time to also buy a special baking tray as we were at the right place anyway.
---
MY DAUGHTER COULDN'T WAIT
She kept asking when we'd bake an apple pie, so I told my daughter that we'd bake an apple crumble pie this weekend. I bought 6 apples plus some other missing ingredients on Friday, only to find out in the evening that this apple sort (Gala) was mentioned as not suitable for apple pie. At first, I thought I should buy new ones but that was going to be difficult during the weekend (most fruit and veggies are leftovers and will be refilled on Monday) so I decided to just give it a try anyway. Today I will share the recipe I've used and the end result, of course.
---
INGREDIENTS
Preparation time about 40 minutes + 70 minutes baking time. The ingredients you need are:
THE DOUGH:
250 grams self-raising flour
150 grams cold butter (cut into small parts)
100 grams of sugar
1/2 teaspoon salt
1 teaspoon gingerbread spices
1 egg (without the egg yolk)
THE FILLING:
5 big sweet apples
2 teaspoons cinnamon
1 teaspoon gingerbread spices
30-40 grams of sugar
2 tablespoons of custard powder
1 package of marzipan (you can add this to your liking of course)
FOR THE CRUMBS:
130 grams of flour
80 grams of butter
80 grams of sugar
a pinch of salt
OTHER SUPPLIES:
baking paper
baking tray 26 cm
butter to grease the baking tray
2 tablespoons bread crumbs
powdered sugar
---
PREPARATION
Combine all the ingredients for the dough and knead it into a nice dough ball, this can of course be done by hand or with a food processor, whatever you prefer.
Let the dough rest for 30 minutes in the refrigerator.
In the meantime, you can peel the apples and cut them into cubes or slices. Add the sugar, custard powder, cinnamon, and gingerbread spices and make sure it's mixed well.
Place a piece of baking paper on the bottom of the baking tray and grease the edges with butter. First, cover the bottom of the baking tray with dough and after that, the edges.
Cover the bottom with bread crumbs before you add the marzipan layer.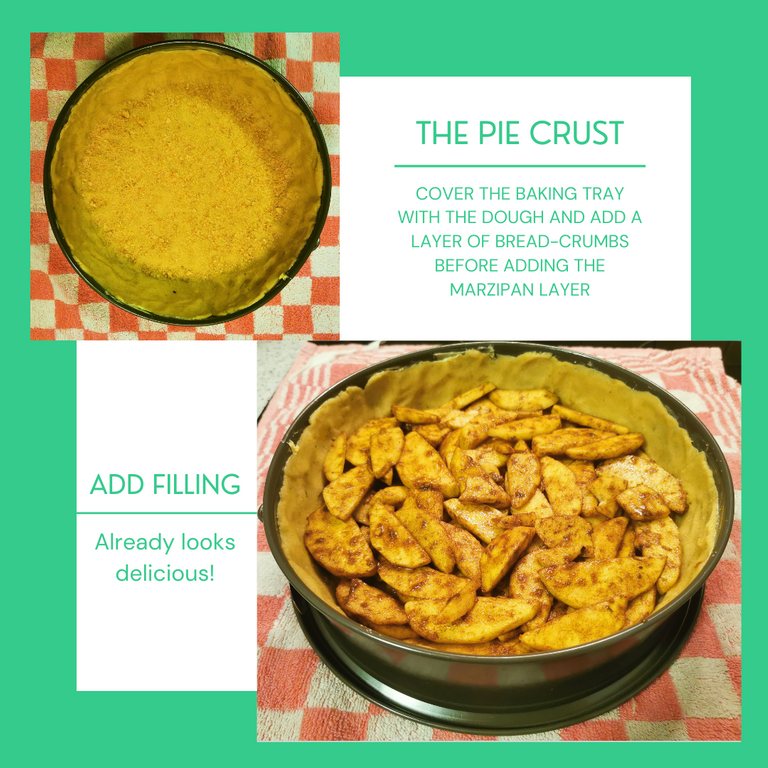 Time to add the filling! As you can see above, I've added the filling until about a cm below the edge. I thought this would be enough, and after this step, I've pushed the dough on the edges down to the level of the apples. This way I created a thicker crust. You can also choose to cover the baking tray side only half, but we prefer a thicker pie crust it's nice and crunchy. So that depends on your personal taste.
The last step before putting it in the oven is to create the crumble dough from the flour, sugar, butter, and salt. I have to admit, that I added a little flower (which I didn't measure, so, therefore, I didn't write a higher amount of flour in the ingredients. I will see how it turns out next time and if needed adjust the amount a bit here. It's possible that I should have stopped kneading the dough sooner or that I just needed more flour, I never made a crumble dough before, so I'm not sure. But then again, it's not a biggie to add a bit of flour while kneading, right?
Once the dough is crumbly enough, start to spread it over the apple filling and once it's covered completely, you can bake the apple pie in the oven at 160 degrees Celcius for 70 minutes. It's possible that due to the oven your pie is ready in 60 minutes or needs a little longer. Our previous oven always took a bit longer to prepare things than the recipe mentioned, in this case, 70 minutes was perfect for this pie.
THE END RESULT
I was quite excited when the house started to smell like a delicious pie! I honestly couldn't wait until it cooled down because I read that it's important to let it cool first. Hard to wait until that moment if you're that curious. After all, it was my first apple crumble pie ever, and I was eager to find out if it was any good.
In the evening, we decided we wanted to taste a small part each, so we took it as dessert, I added some powdered sugar on top and a "made with love" flag that I found in a store recently, to take a picture of the end result.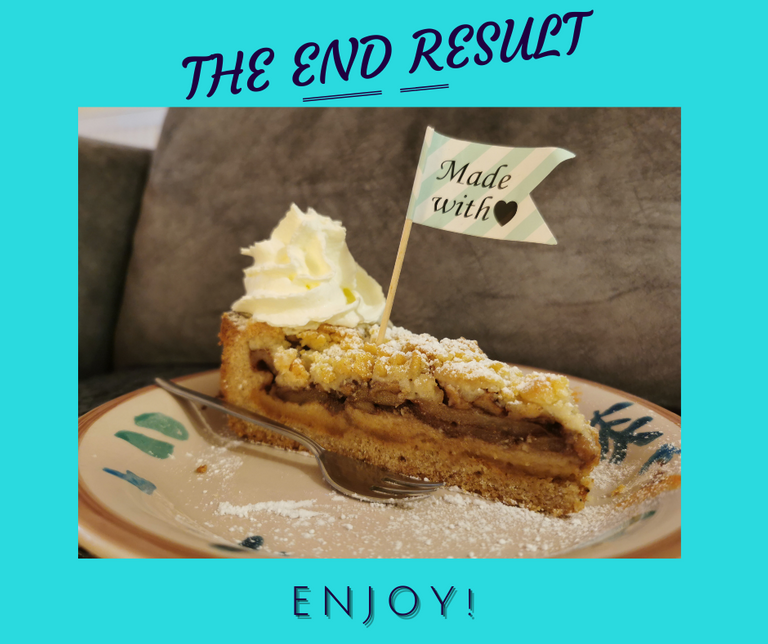 Thanks for stopping by!