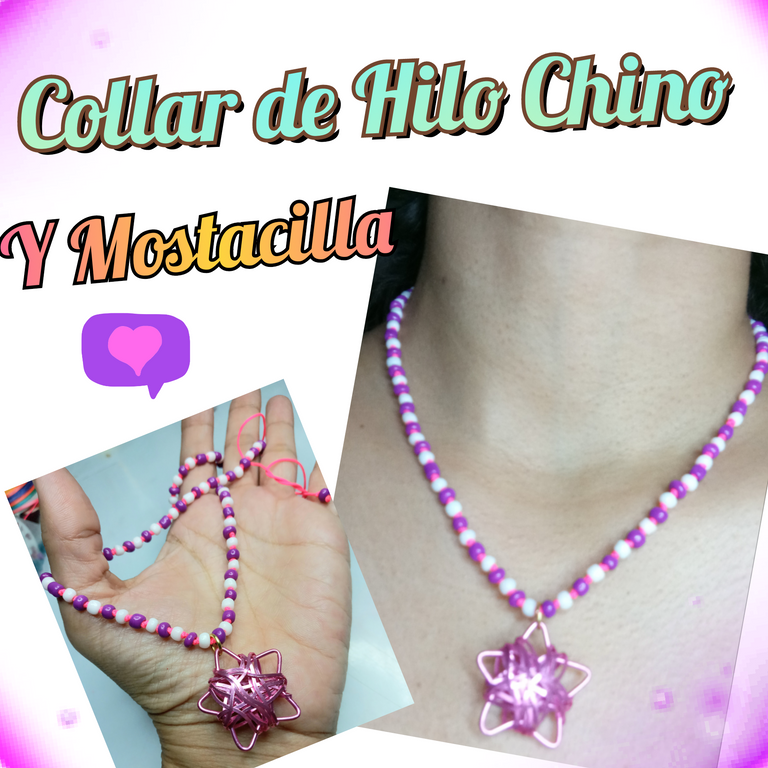 Un saludo queridos creativos!!!
hoy quiero enseñarles a realizar un collar sencillo de Hilo chino y de mostacillas, un paso a paso sencillo de realizar ideal para cualquier edad, porque hasta los niños pequeños pueden realizarlo.
Greetings dear creative!
Today I want to teach you how to make a simple necklace of Chinese thread and beads, a simple step by step to make ideal for any age, because even small children can make it.
---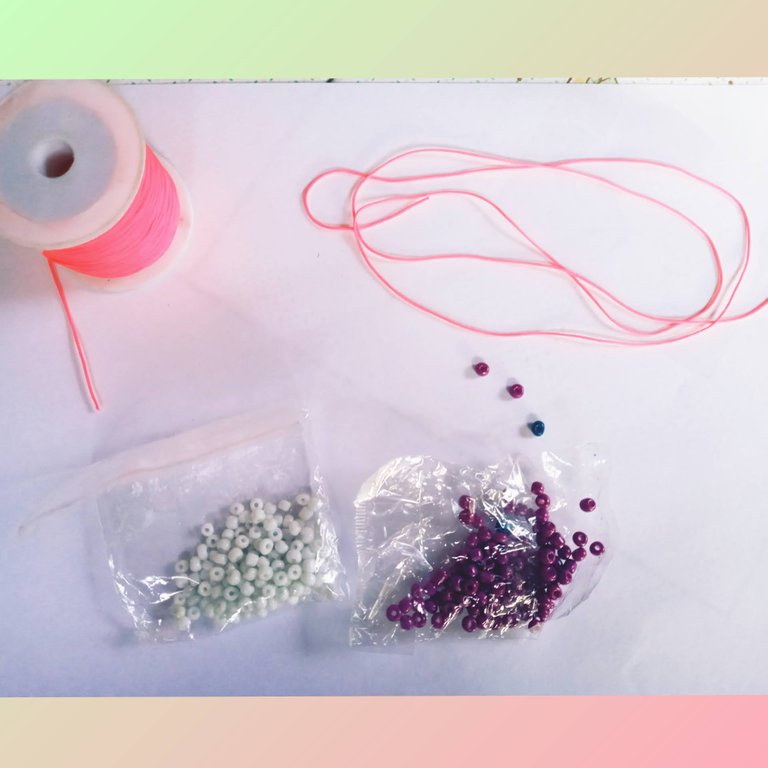 Materiales:
Hilo chino metro y medio
Mostacillas.
Dije
Aro para dije.
Yesquero
Tijera
Materials:
Chinese thread, 1.5 meters
Mustards.
I said
Ring for pendant.
Yesquero
Scissors
---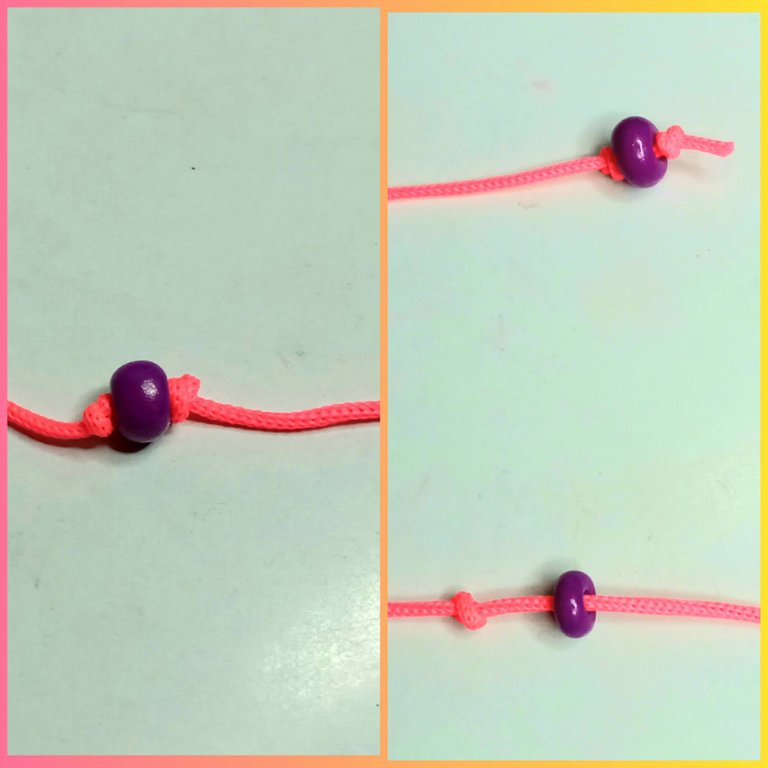 Paso 1:
Lo primero que vamos a hacer es hacer una pequeño nudo casi a la punta de nuestro hilo chino e introducimos una mostacilla y cerramos al final con otro nudo (un nudo a cada lado de la mostacilla) esto para presionarla y que sirva de decoración en la punta.
Step 1:
The first thing we will do is make a small knot almost to the tip of our Chinese thread and introduce a mustard and close at the end with another knot (a knot on each side of the mustard) this to press it and serve as decoration at the tip.
---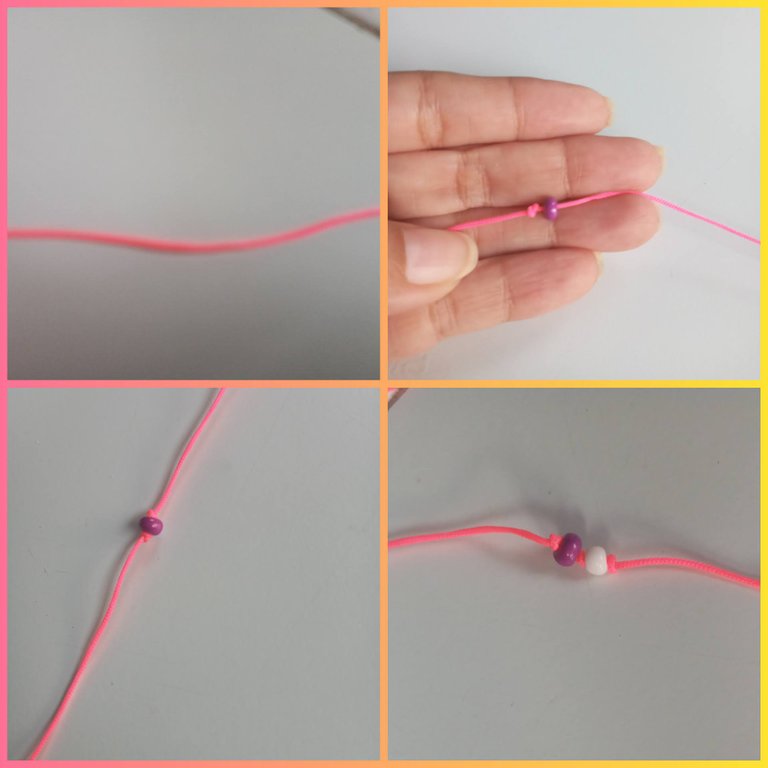 Paso 2:
Ahora dejamos aproximadmente dos dedos hacia abajo y hacemos un nudo, insertamos una mostacilla y hacemos otro nudo, este es el procedimiento hasta obtener el largo deseado. (Nudo, mostacilla, nudo mostacilla, nudo).
Step 2:
Now we leave approximately two fingers down and make a knot, insert a mustard and make another knot, this is the procedure until we get the desired length. (Knot, mustard, mustard knot, knot).
---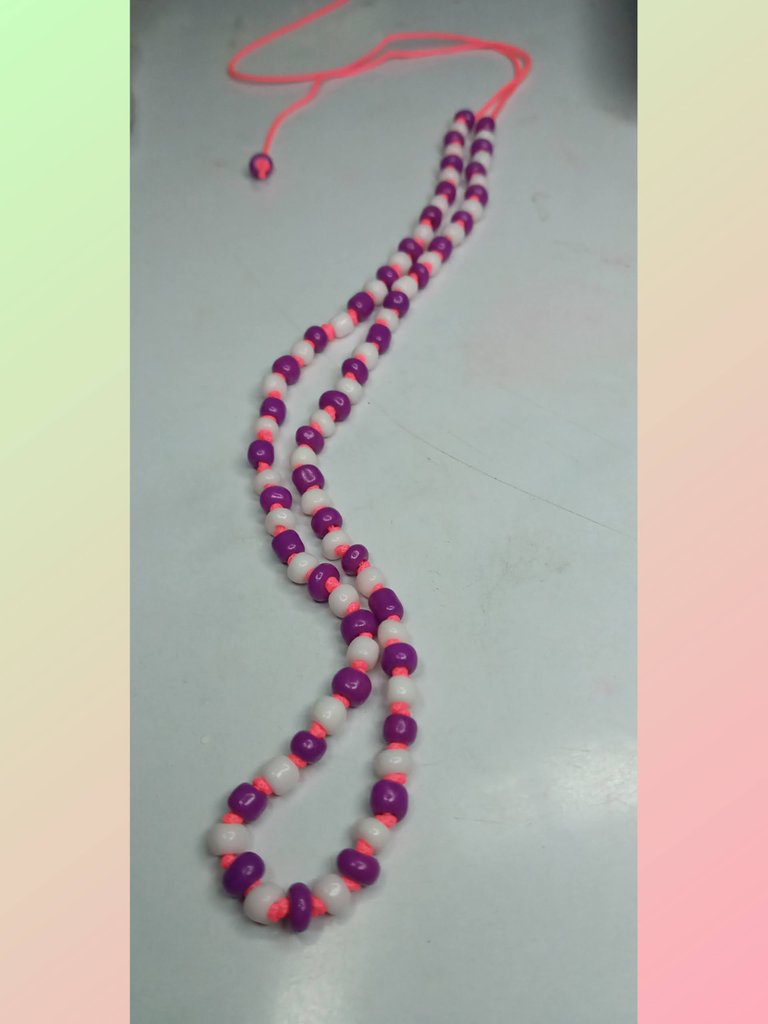 Paso 3:
Al obtener el largo deseado vamos a dejar 4 dedos hacia arriba y repetimos el paso 1, donde cerramos nuestro hilo con una mostacilla.
Step 3:
When we get the desired length we will leave 4 fingers up and repeat step 1, where we close our thread with a mustard.
---
Paso 4:
ahora colocamos nuestros hilos de arriba uno hacia el lado del otro en (X), tomamos un hilo aparte de 10cm o menos y vamos a realizar el nudo corredizo, esto es tomamos un extremo y lo colocamos en forma de C y vamos a enrollar hacia atrás dando unas 6 vueltas y al final metemos la punta sobrante por el orificio que nos queda y halamos, quedándonos 2 extremos en las puntas.
Step 4:
now we place our top threads one to the side of the other in (X), we take a thread apart of 10cm or less and we will make the slipknot, this is we take one end and place it in a C shape and we will wrap it backwards giving about 6 turns and at the end we put the remaining end through the hole we have left and pull, staying 2 ends in the ends.
---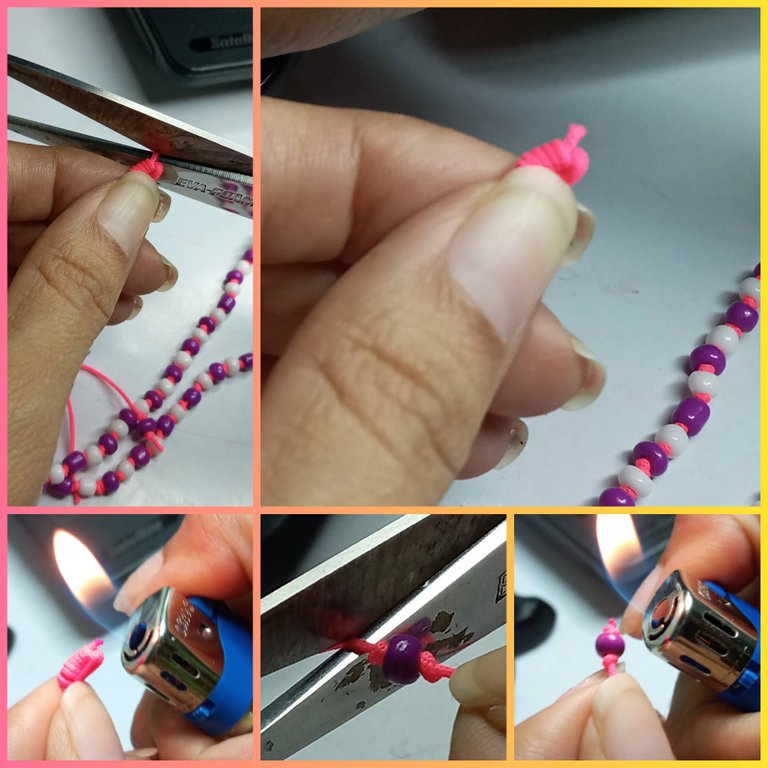 Paso 5:
Ahora los extremos sobrantes los cortamos con una tijera dejando una pequeña punta y quemamos con el yesquero, sin que se nos pegue del hilo de abajo.
Y cortamos también nuestras puntas principales y quemamos.
Step 5:
Now the remaining ends are cut with a scissors leaving a small tip and burn with the tinder, without the bottom thread sticking to us.
And we also cut our main points and burn.
---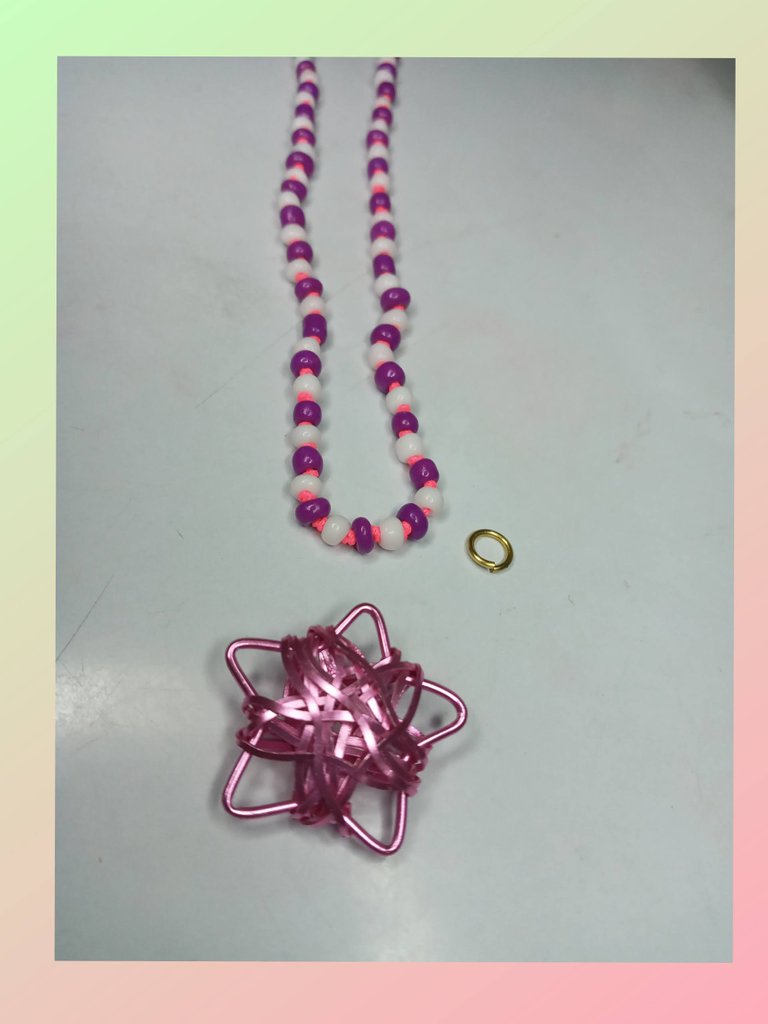 Paso 6:
Con nuestro aro y dije lo colocamos en el medio de nuestro collar, el dije es a gusto de cada uno, en este caso coloque esta estrella que combina con el collar.
Step 6:
With our ring and pendant we place it in the middle of our necklace, the pendant is to your liking, in this case place this star that matches the necklace.
---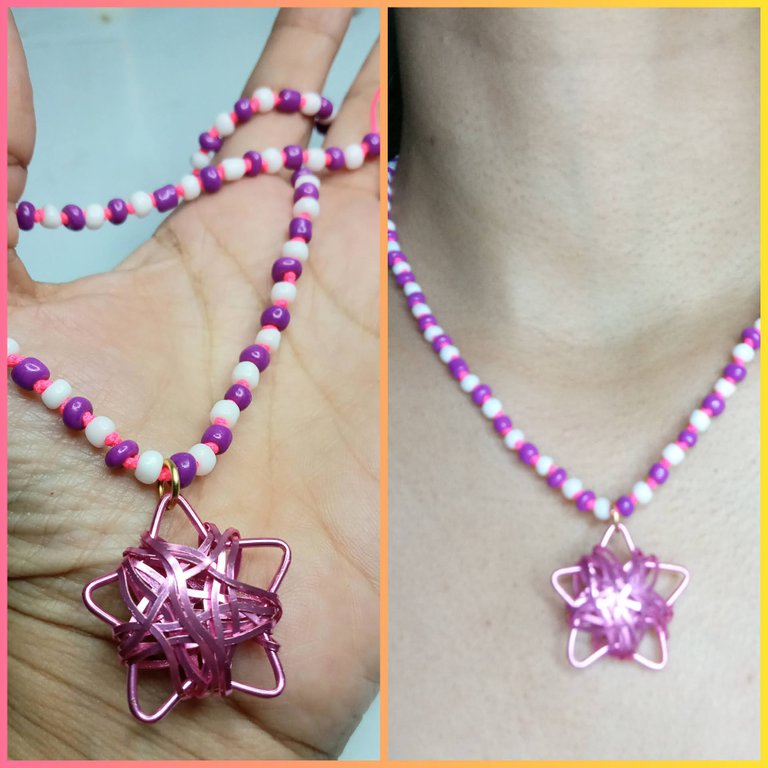 Resultado:
Así queda nuestro Hermoso collar, fácil y sencillo de realizar, con pocos y económicos materiales.😃
Result:
This is how our beautiful necklace looks, easy and simple to make, with few and economical materials. 😃
---
Gracias por leer mi post, nos vemos en uno próximo, bendiciones 💛💙❤️
Thanks for reading my post, see you in a next one, blessings 💛💙❤️
---