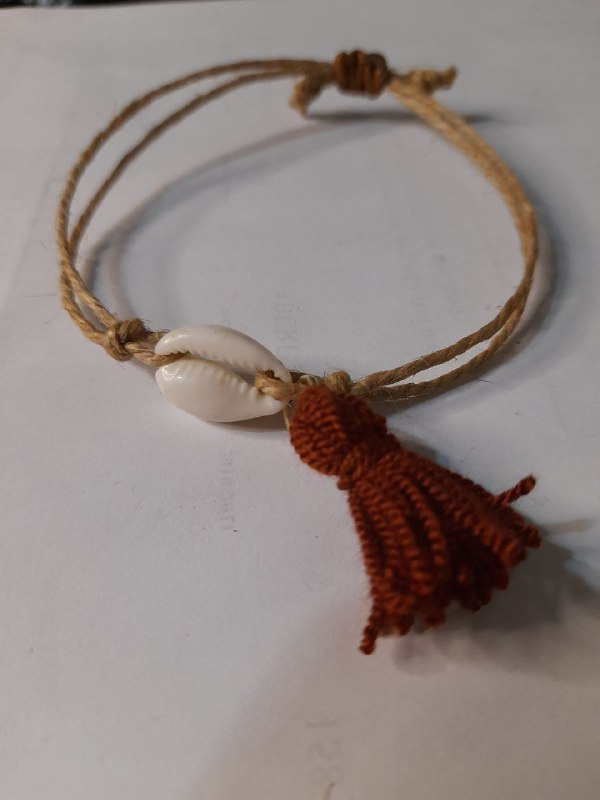 English
Friends of the beehive!
I am here once again to share with you a new costume jewelry project, as I shared with you in other occasions it is one of my great passions and these days I started a new collection in natural tones and with seeds, mother-of-pearl among other elements that are found in the environment and that well worked make part of beautiful original handmade accessories.
Since this is one of the particularities of the pieces of jewelry that each one has a portion of the artisan who puts his heart in each of the elements worked, in this sense, I will show you how to make a simple, ethnic and natural bracelet.
Materials
60 cm of natural jute cord.
1 snail for costume jewelry
1 ring of 18 gauge wire
10 cm of caramel colored snakeskin.
Scissors
Flat tip tweezers.
Crochet thread
Tinder
Procedure
Step 1
Take the crochet thread and make 30 turns on the base of the tinder, at the end of the 30 turns cut the thread and remove the small skein of the tinder, with a small piece of thread tie in the center of the skein, then with another piece of thread tie about a cm below to form the tassel, once it is tied, cut the bottom to make the tassel, cut to match all the edges of the tassel.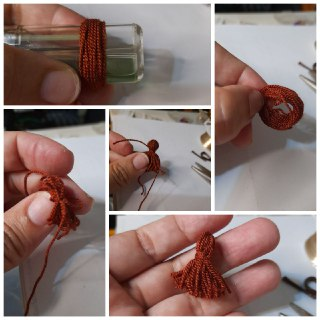 Step 2
Now proceed to make the bracelet, for this I will cut the jute in two sections of 30 cm each.
Step 3
Insert a section of jute through a hole in the snail and tie a round knot.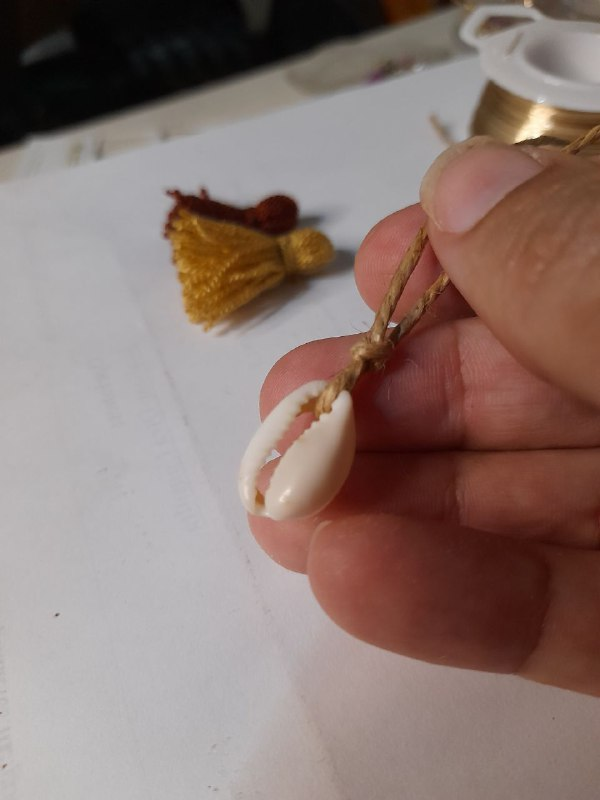 Step 4
Proceed in the same way on the other side of the snail.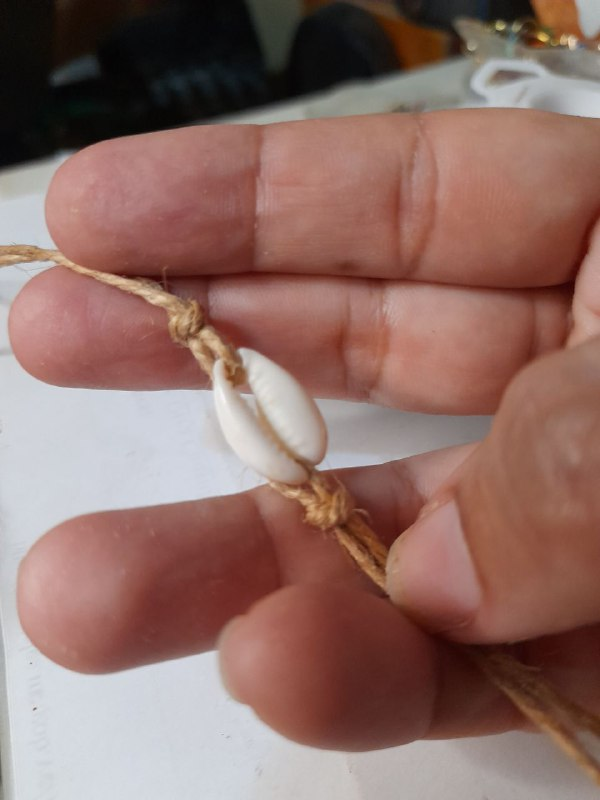 Step 5
Next, attach a wire ring to the tassel, using the flat-nosed pliers.
Step 6
Place the tassel on the bracelet.
Place the tassel on the bracelet near the snail, making sure to close the ring tightly with the tweezers.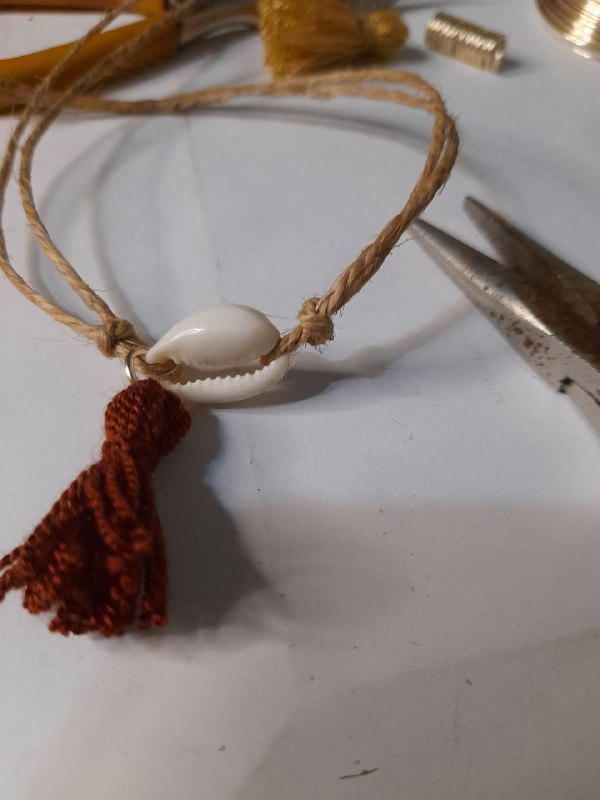 Step 7
With the 10 cm of snakeskin cord, make a flat macrame knot to make the adjustable bracelet, it is worth noting that these measurements are for a bracelet for a lady with a small or thin wrist.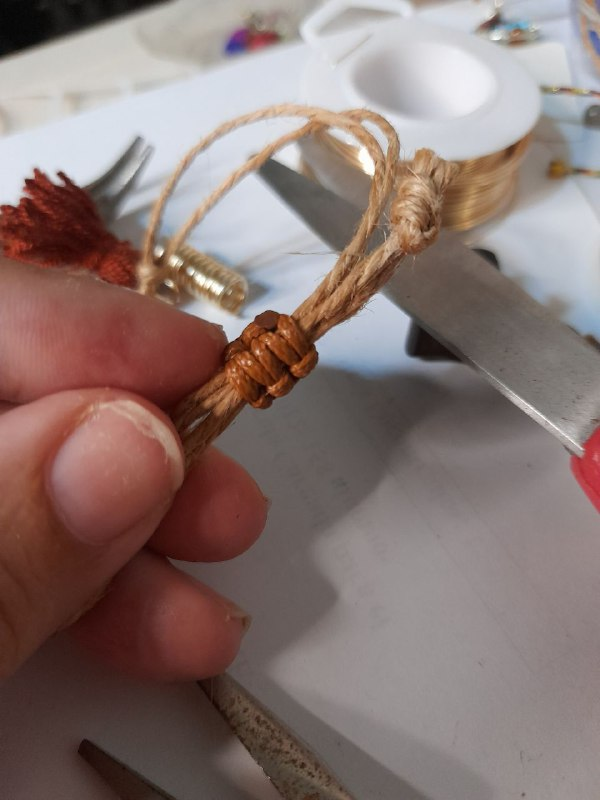 Once finished this is how the snail bracelet looks like.
I hope you liked it.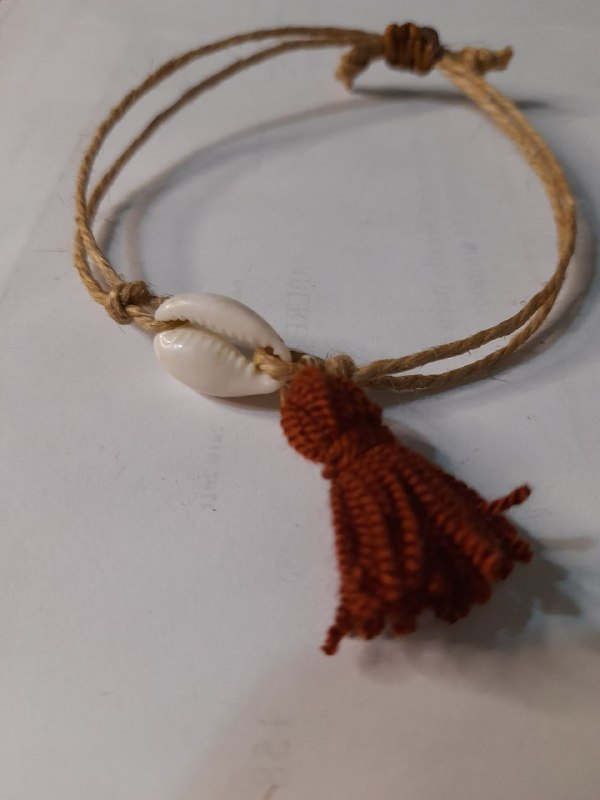 Thanks for reading me!
Photos by @hetyg
Translated with www.DeepL.com/Translator (free version)
---
Español
Amigos de la colmena!
Estoy una vez por aquí, para compartirles un nuevo proyecto de bisutería, como les compartido en otras ocasiones es una de mis grandes pasiones y por estos días inicie una nueva colección en tonos naturales y con semillas, nácar entre otros elementos que se consiguen en el ambiente y que bien trabajados hacen parte de hermosos accesorios originales hechos a mano.
Ya que esta es una de las particularidades de las piezas de bisutería que cada una tiene una porción del artesano que pone su corazón en cada uno de los elementos trabajados, en tal sentido, les mostrare como hacer una pulsera sencilla, étnica y natural.
Materiales
60 cm de cordón de yute natural
1 caracol para bisutería
1 argolla de alambre cal 18
10 cm de piel de serpiente color caramelo.
Tijera
Pinza de punta plano.
Hilo de crochet
Yesquero
Procedimiento
Paso 1
Tomar el hilo de crochet y dar 30 vueltas sobre la base del yesquero, al terminar la 30 vueltas cortar el hilo y sacar la pequeña madeja del yesquero, con un trozo de hilo pequeño atar en el centro de la madeja, posteriormente con otro trozo de hilo amarrar un cm aproximadamente mas abajo para formar la borla, una vez que esta atado, cortar la parte inferior para hacer la borla, cortar para emparejar todos los borde de la borla.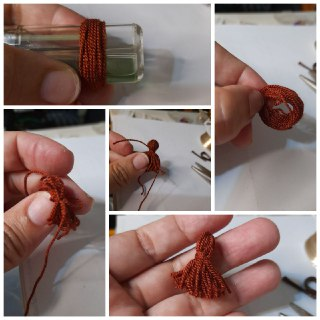 Paso 2
Ahora procedo hacer la pulsera, para ello cortare el yute en dos secciones de 30 cm cada una.
Paso 3
Introducir una sección de yute por un orificio del caracol y realizar un nudo redondo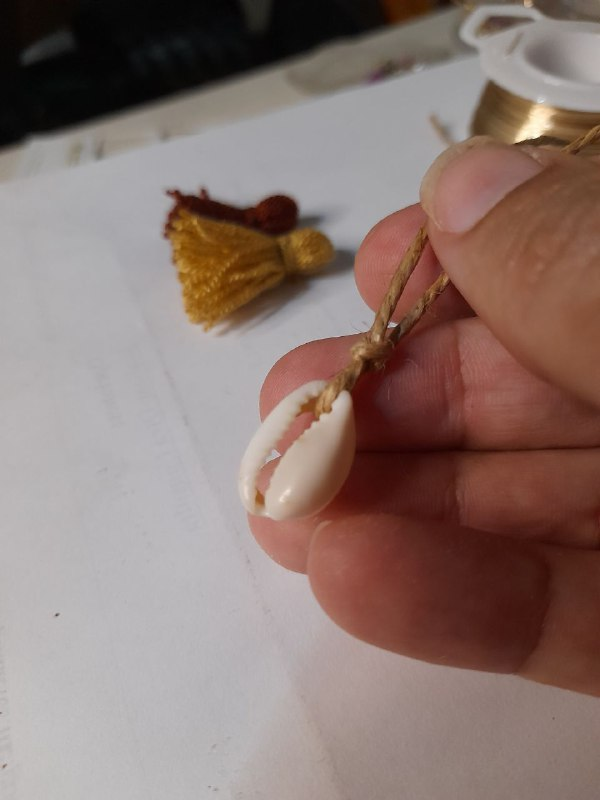 Paso 4
Proceder de igual manera del otro lado del caracol.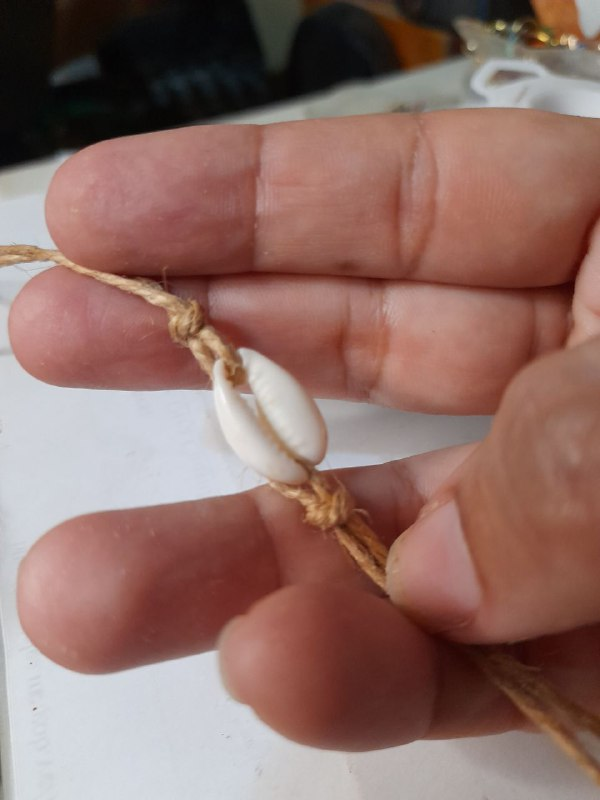 Paso 5
Lo siguiente será colocar una argolla de alambre a la borla, con ayuda de las pinzas de punta plano.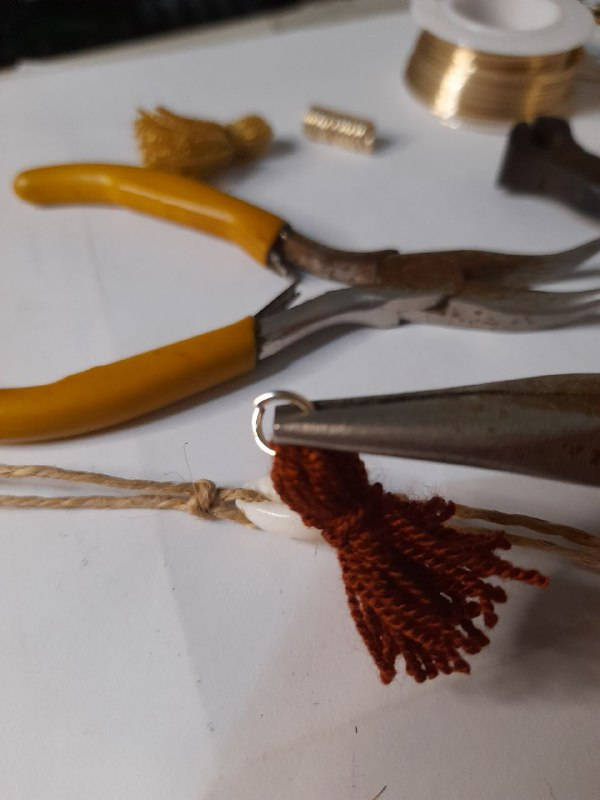 Paso 6
Colocar la borla en la pulsera cerca del caracol, asegurarse de cerrar bien la argolla con ayuda de las pinzas.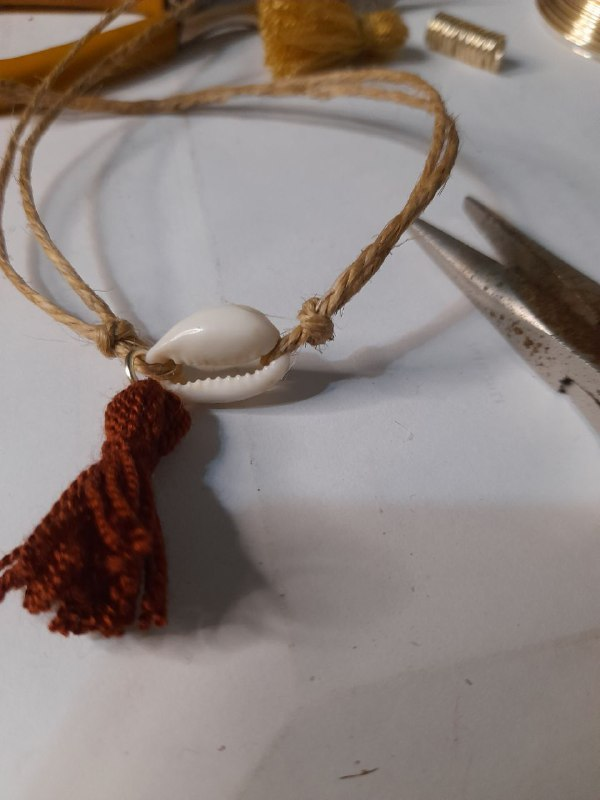 Paso 7
Con los 10 cm de cordón piel de serpiente, hacer un nudo plano de macrame para hacer la pulsera ajustable, vale la pena destacar que estas medidas es para una pulsera de dama con una muñeca pequeña o delgada.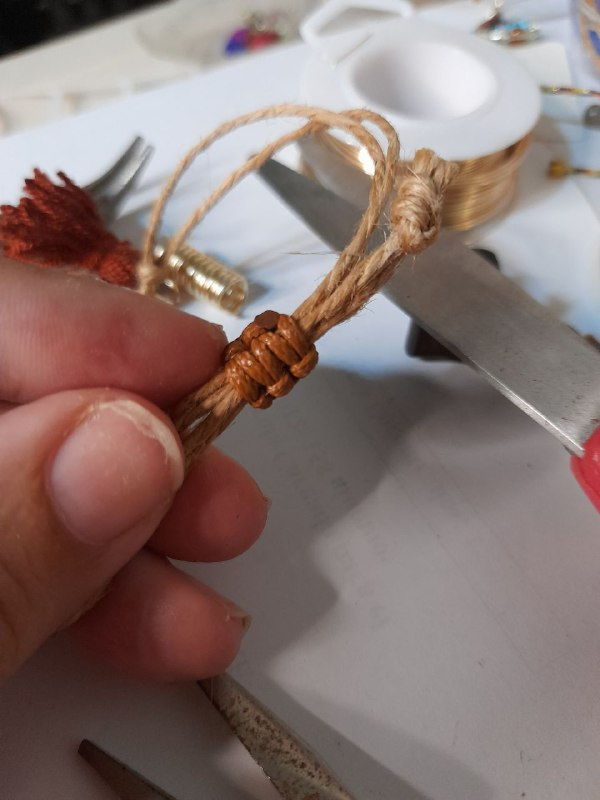 Una vez terminada así es como luce la pulsera de caracol.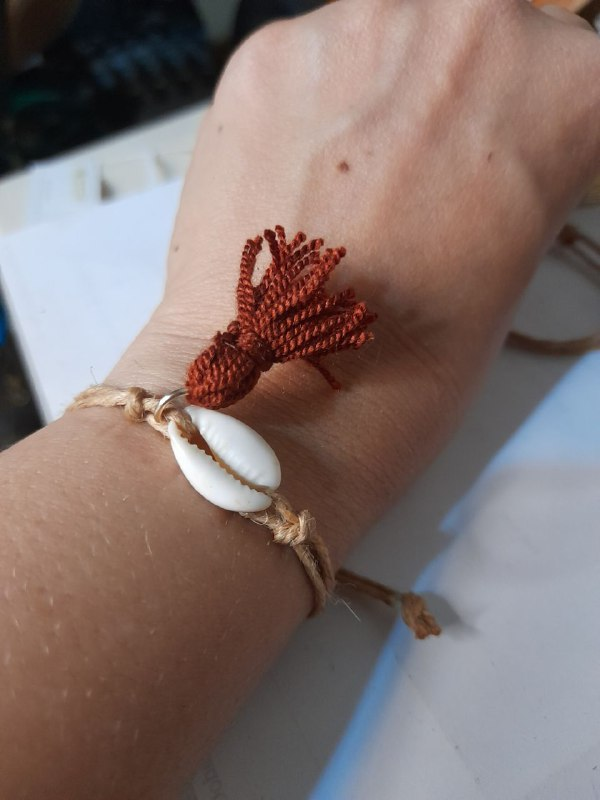 Espero les haya gustado.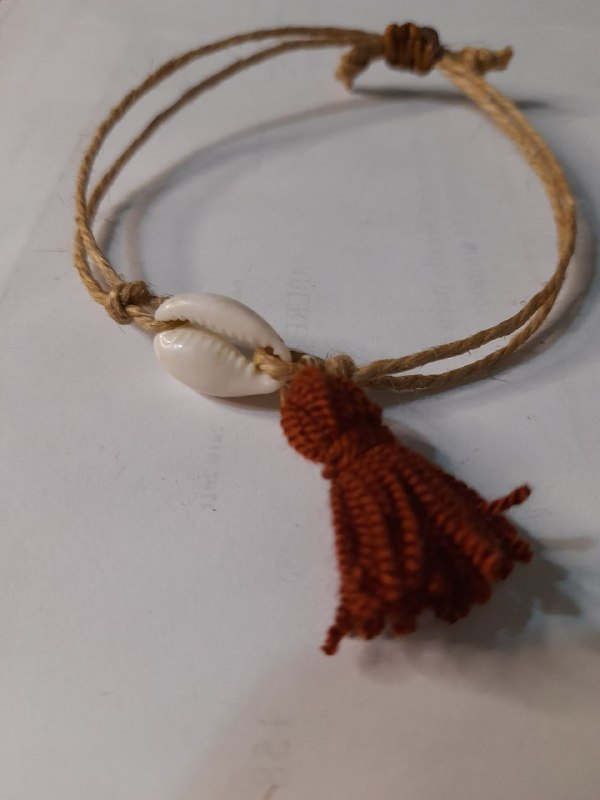 Gracias por leerme!
Fotos de @hetyg