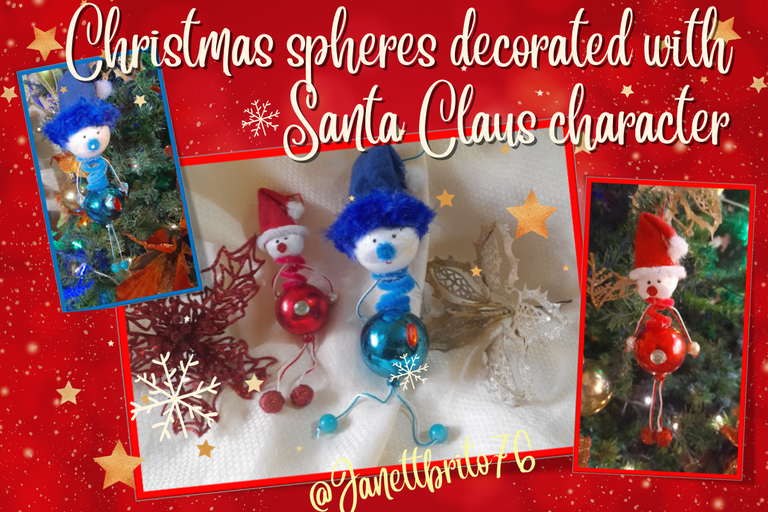 🎁Happy December To all the friends of #HIVE 🎄!
Happy and Blessed evening, to all the crafters and creators of beauties of this wonderful 🎁 #HiveDiy 🎁 Community.
Tonight dear crafty friends I want to show you the step by step how to make some cute santas with some Christmas spheres and anime spheres. These creative decorated spheres are ideal to give a special touch to our Christmas tree, you can also hang them in any space in your home, in our windows or simply we can use them to set our car by placing them in the rearview mirror, best of all is that we can make the color we like. These beautiful decorated spheres are quick and inexpensive to make, follow me and I will teach you how to make them. Friends to work with love and affection. Let's get to work!

¡🎁Feliz Diciembre Para todos los amigos del #HIVE 🎄!
Feliz y Bendecida noche, a todos los artesanos y creadores de bellezas de esta maravillosa Comunidad de 🎁 #HiveDiy 🎁.
En esta noche apreciados amigos y amigas artesanas les quiero mostrar el paso a paso de como elaborar unos lindos santas con unas esferas navideñas y unas esferas de anime. Estas creativas esferas decoradas son ideales para darle un toque especial a nuestro árbol de navidad, también las puedes colgar en cualquier espacio de tu hogar, en nuestras ventanas o simplemente las podemos utilizar para ambientar nuestro auto colocandolas en el retrovisor, lo mejor de todo es que las podemos realizar del color que nos guste . Estas hermosas esferas decoradas son rápidas y económicas de realizar, Sígueme y te enseñare como elaborarlas. Amigas a trabajar con mucho cariño y amor. !Manos a la obras!.



Red and blue Christmas spheres
Anime sphere
Felt (blue, red and white)
Pipe cleaner (red, blue and white)
Blue, red and white beads
Nylon (white, blue and red)
Strip of blue nibs
Scissors
Paints (black and white)
Hot silicon

Esferas de navidad roja y azul
Esfera de anime
Fieltro (azul, rojo y blanco)
Limpia pipas (rojo, azul y blanco)
Cuentas azules , rojas y blancas
Nylon (blanco, azul y rojo)
Tira de Plumillas azules
Tijera
Pinturas (negra y Blanca)
Silicon caliente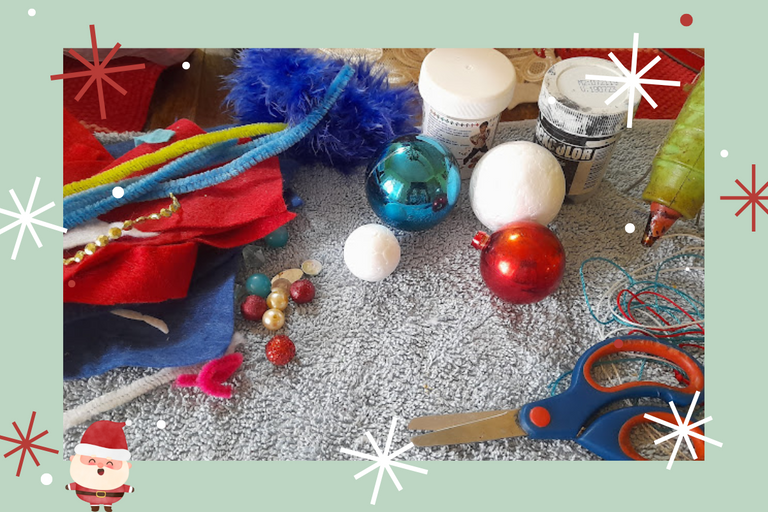 1: We start making our first santa, for it we take the largest anime sphere and measure the outline with the blue felt and then cut to form the hat, then proceed to glue the hat to the anime sphere, as you can see.

1: Comenzamos realizando nuestro primer santa, para el tomamos la esfera de anime mas grande y le medimos el contorno con el fieltro azul y luego cortamos para formar el gorro, seguidamente procedemos a pegar el gorro a la esfera de anime, como pueden observar.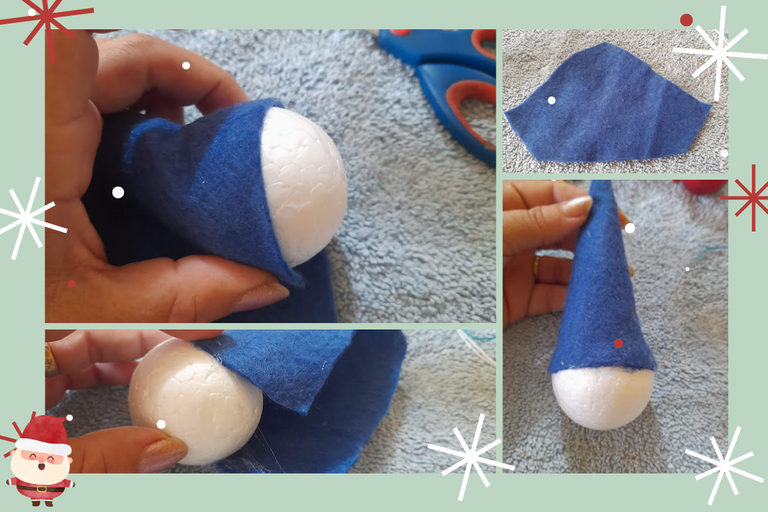 2:Now we take the strip of blue feathers and glue it around the edge of our hat and with a little bit of wadding we make a small ball and glue it on the tip of the hat, then we bend the tip of the hat a little bit and glue it on the side of the hat.

2: Ahora tomamos la tira de plumillas azules y la pegamos por el borde de nuestro gorro y con un poco de guata realizamos una pequeña bolita y la pegamos en la punta del gorrito, luego doblamos un poco la punta del gorro y la pegamos a un lado de el.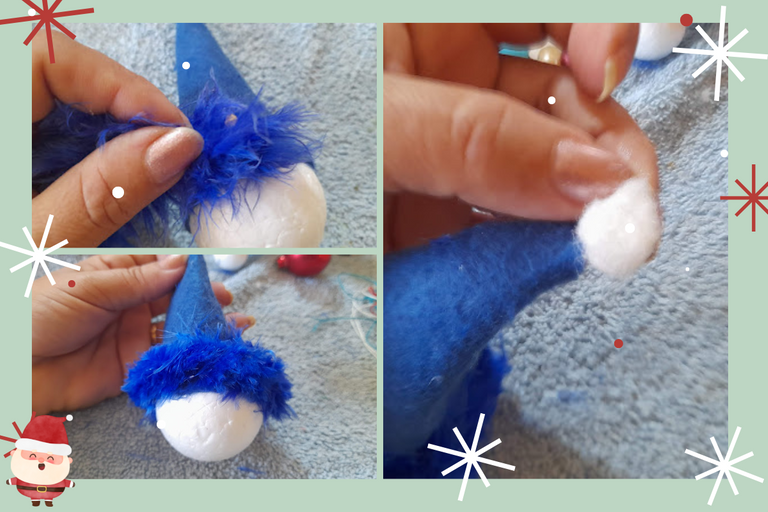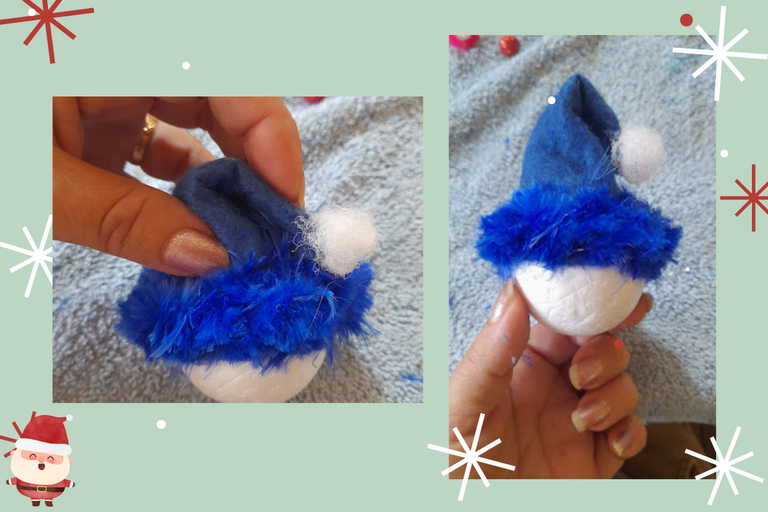 3: To make the nose, we take some blue pipe cleaner and roll it into a little ball, then with the white felt we make some small whiskers, then we glue them to the face of our Santa. Then with the help of a toothpick and the black and white paint we make the little eyes, then we take a red pencil and draw a mouth and to give a little color to his cheeks we put some pink powder.

3: Para realizar la nariz, tomamos un poco de limpia pipas azul y la enrollamos formando un pelotita, luego con el fieltro blanco realizamos unos pequeños bigotes,después los pegamos a la carita de nuestro santa. Seguidamente con la ayuda de un palillo y la pintura negra y blanca le realizamos los ojitos, luego tomamos un lapicero rojo y le dibujamos una boca y para darle un poco de color a sus mejillas le colocamos polvo rosado.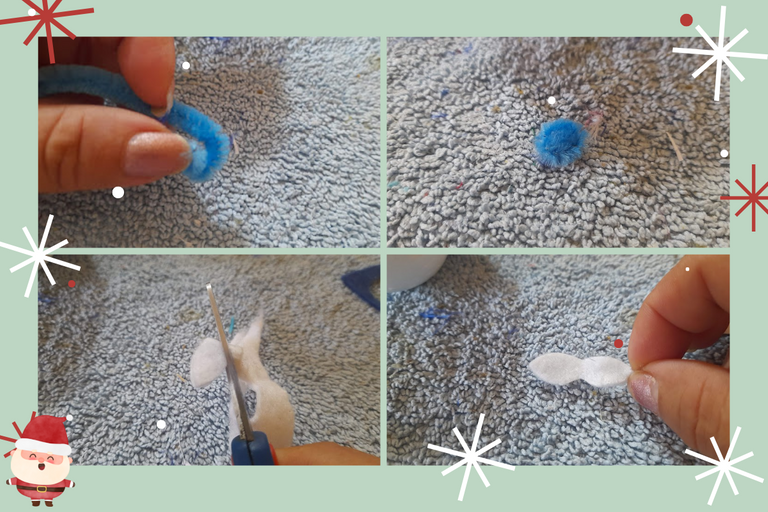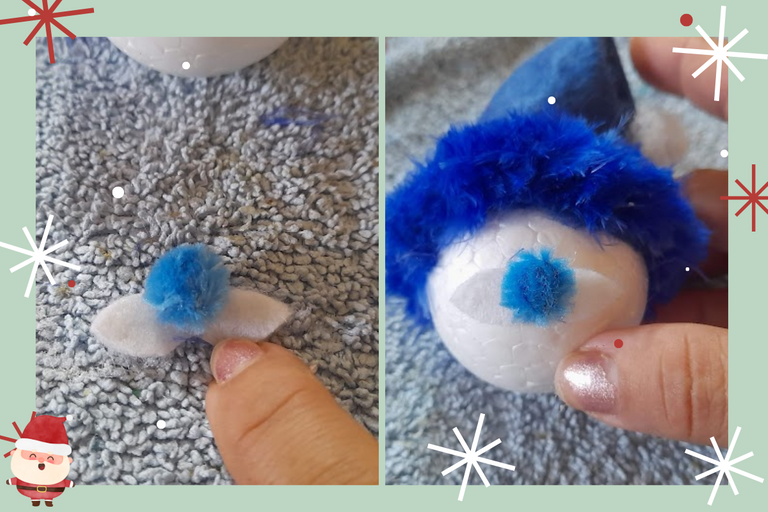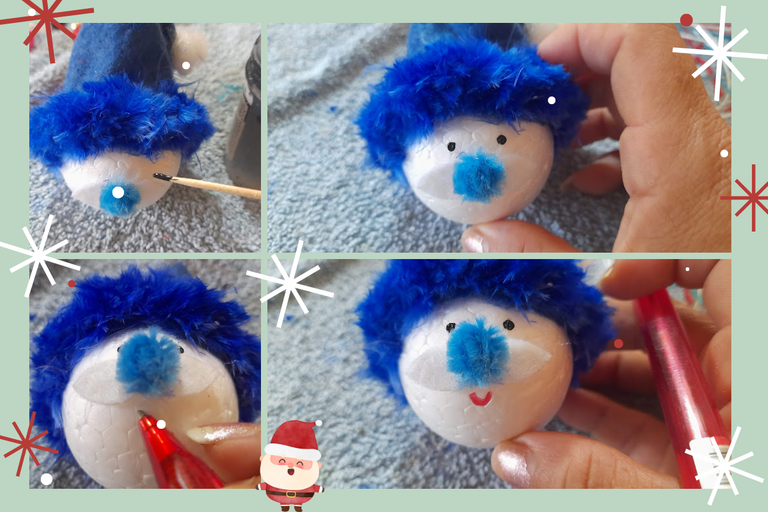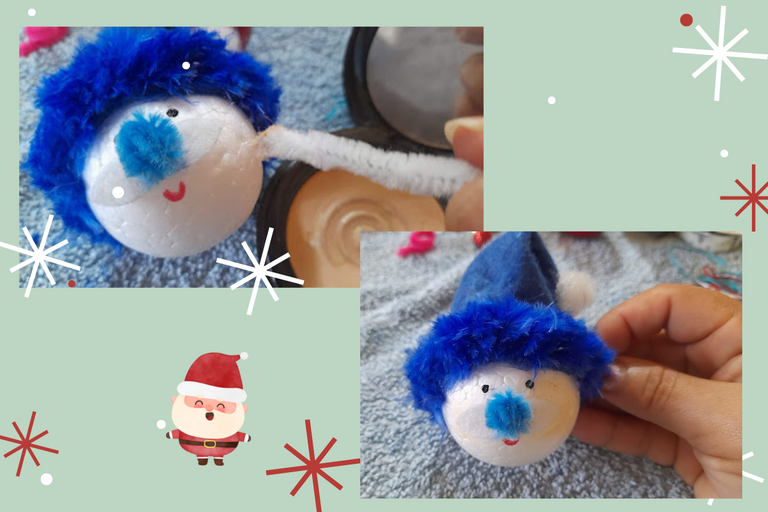 4: Then to make the neck, we take the blue pipe cleaner and with the help of a marker we give it the shape of a spiral, as you can see in the pictures. Then we proceed to glue it to the center of our Christmas sphere and then we glue the other end of the spiral to the head of our Santa.

4: Luego para la elaboración del cuello, tomamos el limpia pipas azul y con la ayuda de un marcador le damos forma de un espirar, como pueden ver en las imágenes. Seguidamente procedemos a pegarlo al centro de nuestra esfera navideña y luego la otra punta del espirar la pegamos a la cabeza de nuestro santa.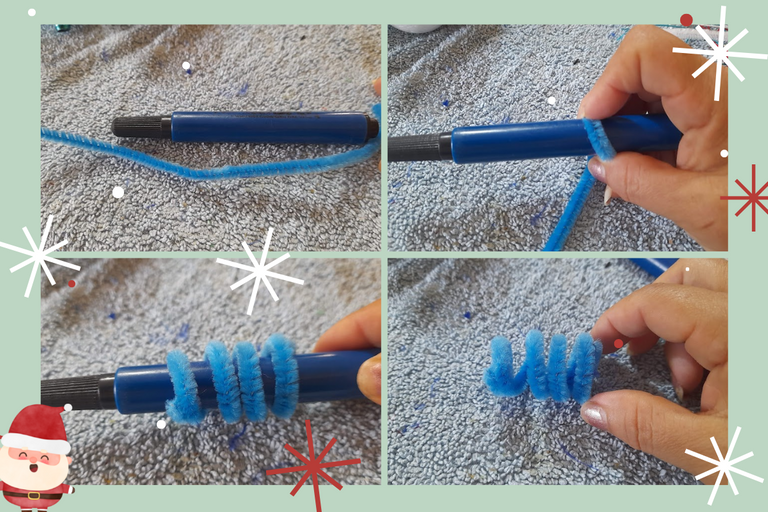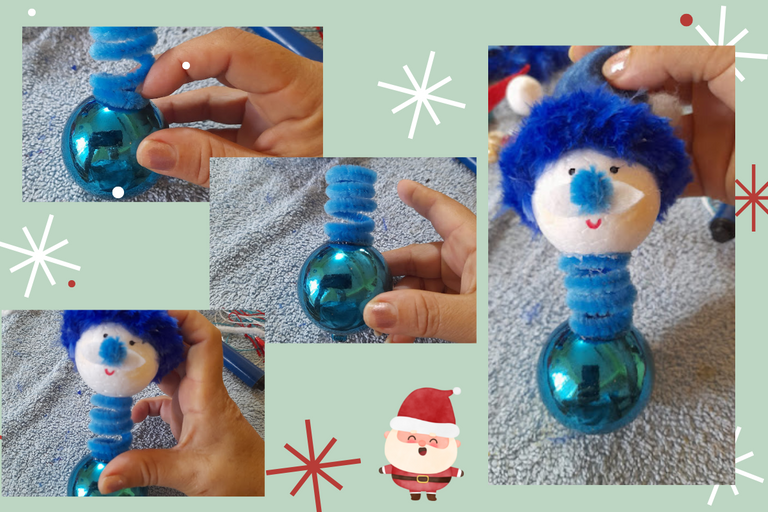 5: To make the arms and legs we cut four strips of blue nylon and four white nylon strips of 12 centimeters each, then we join them two by two forming four pieces, we place a blue bead on each piece.
Now, we continue gluing them at the bottom of our sphere to form the legs and the other two pieces we glue them under the head to form the arms and to decorate it a little we place a small red diamond in the center of the sphere. Ready!

5: Para la elaboración de los brazos y piernas cortamos cuatro tiras de nylon azul y cuatro blanca de 12 centímetros cada una, luego las unimos de dos en dos formando cuatro piezas, colocamos en cada pieza una cuenta azul.
Ahora, Continuamos pegándolas en la parte inferior de nuestra esfera para formar las piernas y las otras dos piezas las pegamos debajo de la cabeza para formar sus brazos y para decorarla un poco le colocamos un pequeño diamante rojo en el centro de la esfera. Listo!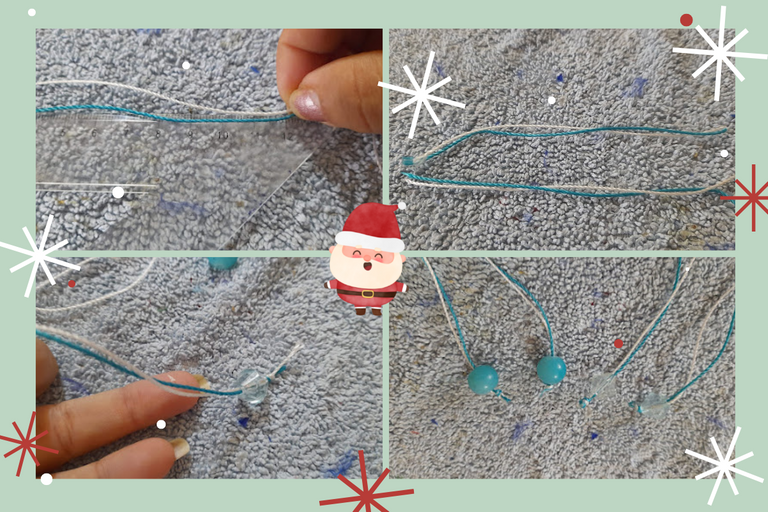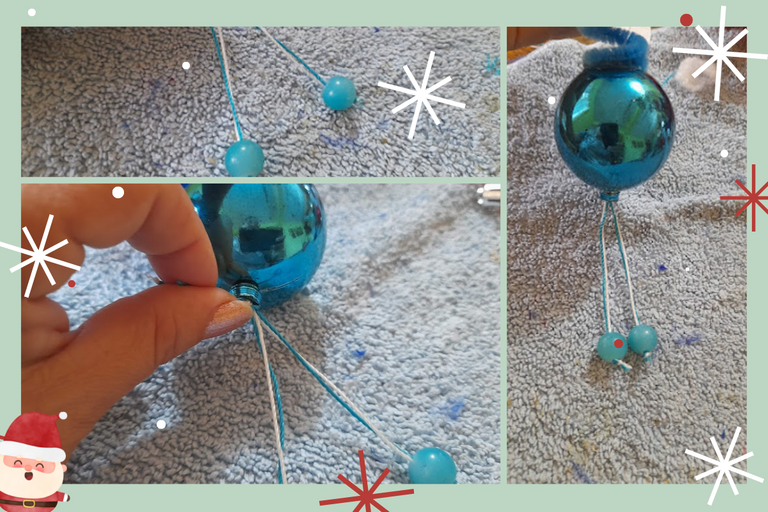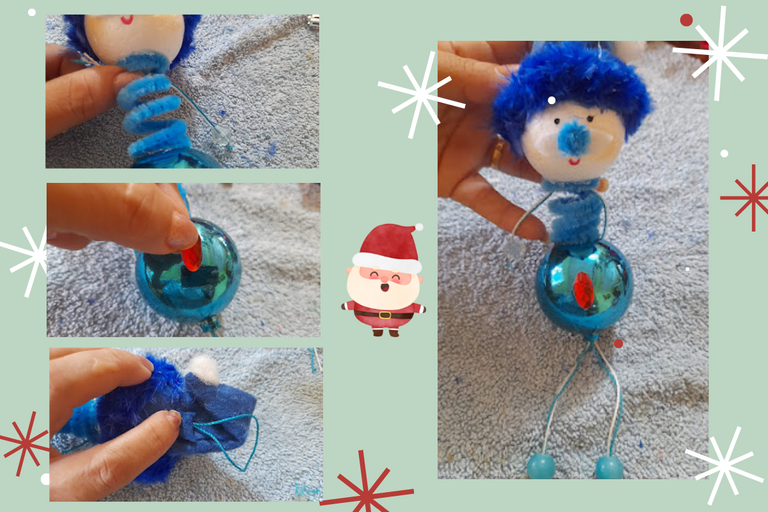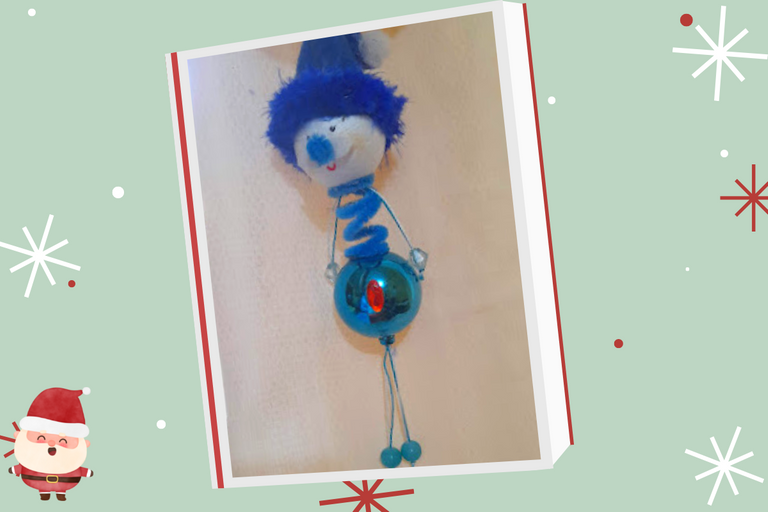 6: To make our second santa, we take the small sphere and measure its outline with the red felt and form his hat, then we repeat the previous steps to form our red santa.

6: Para la elaboración de nuestro segundo santa, tomamos la esfera pequeña y medimos su contorno con el fieltro rojo y formamos su gorro,luego repetimos los pasos anteriores para formar nuestro santa rojo.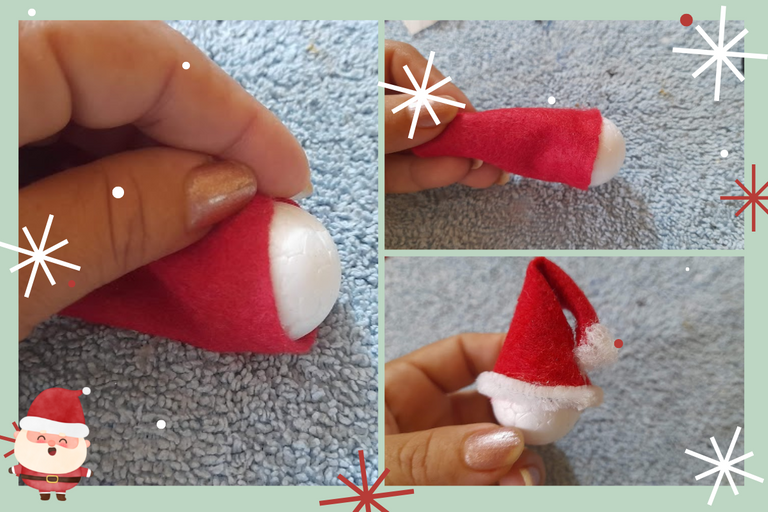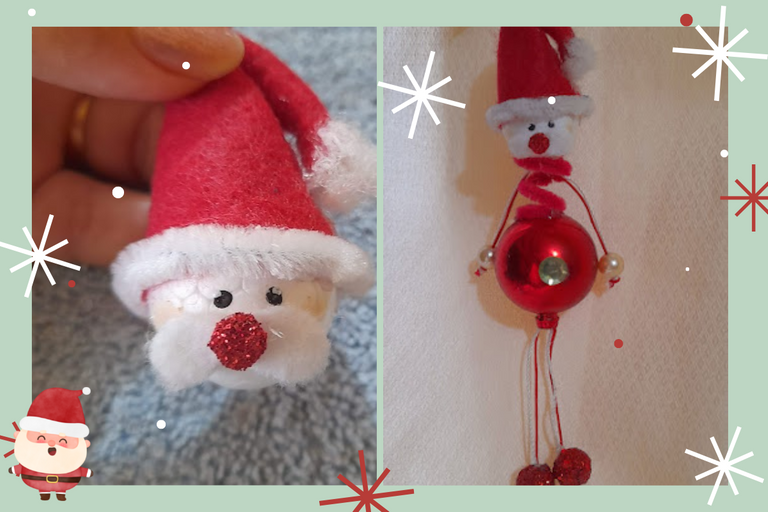 Well my dear craft friends, this is the final result of my cute Christmas spheres decorated with Santa Claus character, which are ideal for hanging on the Christmas tree or in the rearview mirror of our car. I hope you liked my project today and I encourage you to create something as original as these santas. !
See you next time!

Bueno mis apreciadas amigas artesanas este es el resultado final de mis Lindas esferas navideñas decoradas con personaje de Santa Claus, las cuales son ideales para colgar en el árbol de navidad o en el retrovisor de nuestro auto. Espero les haya gustado mi proyecto de hoy y se animen a crear algo tan original como estos santas. !
¡Hasta una próxima publicación!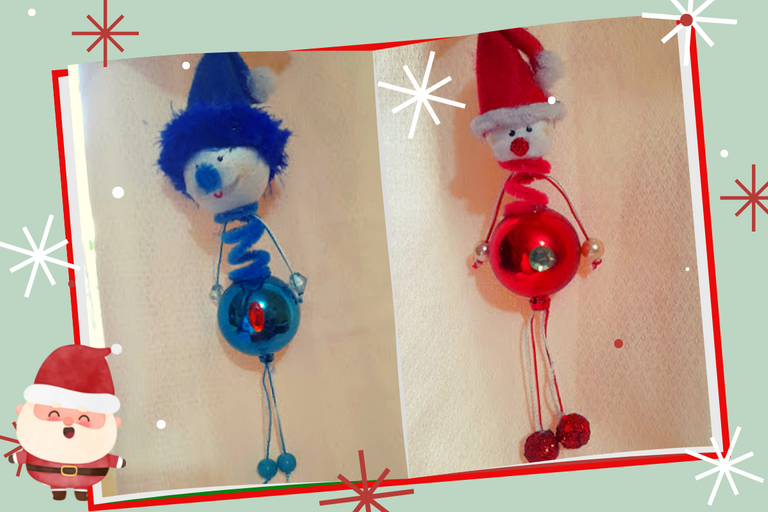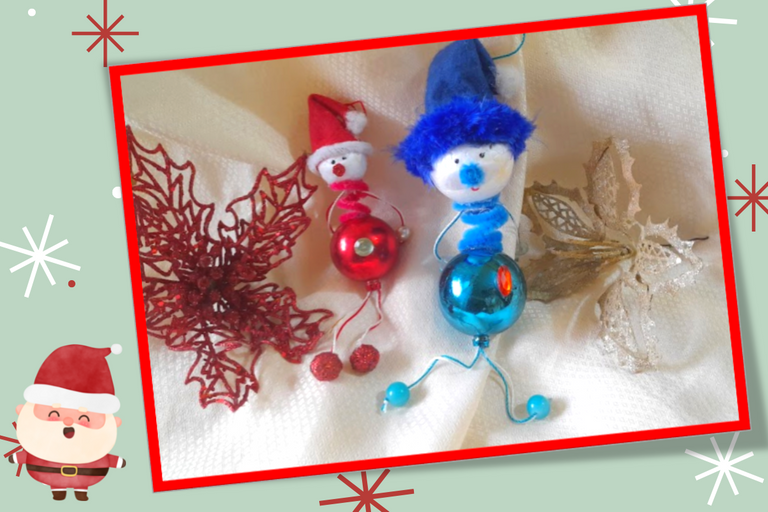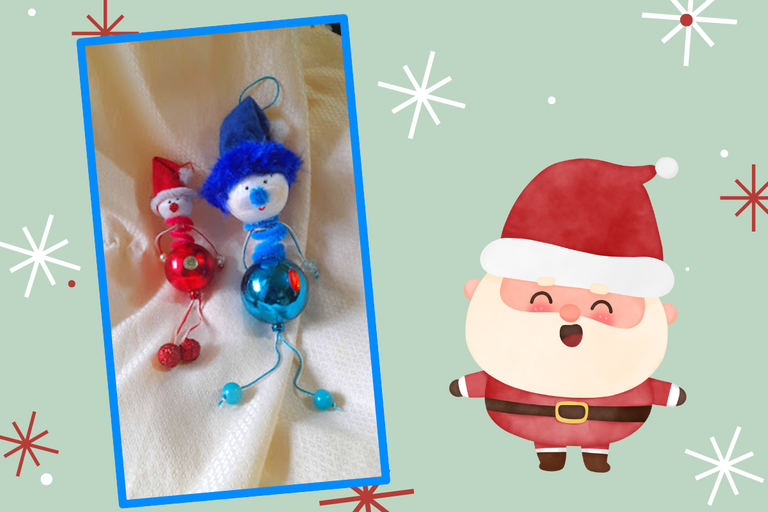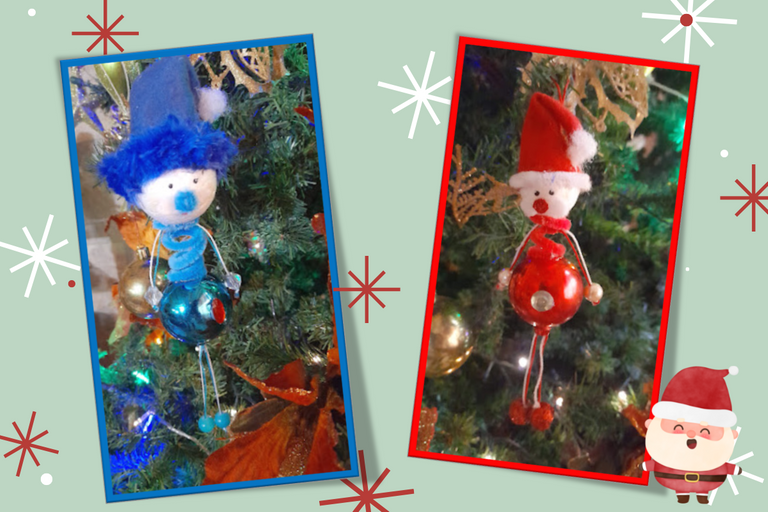 Portada y plantillas elaboradas en canva
Fuente Separador
Imagen referencial


---
---


---

---

The photographs were taken with a Samsung A12 smartphone, the text was translated into English with the Deepl translator.link
The banner was designed on canvas link



Las fotografías fueron tomadas con un teléfono inteligente Samsung A12, el texto fue traducido al ingles con el traductor Deepl.link
El banner fue diseñado en canvas link
---
---