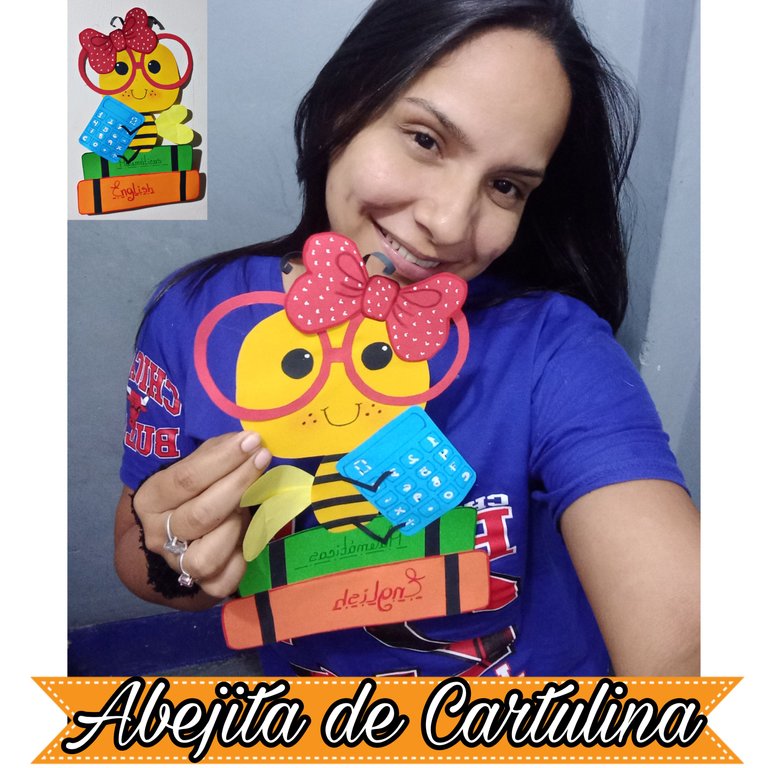 Hola queridos amigos artesanos, espero estén pasando un grandioso día 🙏 hoy les traigo un nuevo proyecto en cartulina, se trata de una Adorable Abejita Intelectual, ideal para decorar el área escolar o los cuadernos. Espero les guste.
Hello dear crafty friends, I hope you are having a great day 🙏 today I bring you a new project in cardboard, this is an Adorable Little Intellectual Bee, ideal for decorating the school area or notebooks. I hope you like it.

MATERIALES:
Cartulina amarilla oscura y clara, anaranjada, verde, roja, azul y negra.
Patrones de la abejita, lazo, lentes y calculadora.
Cola blanca escolar.
Corrector blanco.
Marcador negro, rojo, verde y azul.
Sombras.
Lápiz.
Tijeras.
Regla.
MATERIALS:
- Dark yellow and light yellow, orange, green, red, blue and black cardstock.
- Patterns of the little bee, bow, glasses and calculator.
- White school glue.
- White concealer.
- Black, red, green and blue marker.
- Shades.
- Pencil.
- Scissors.
- Ruler.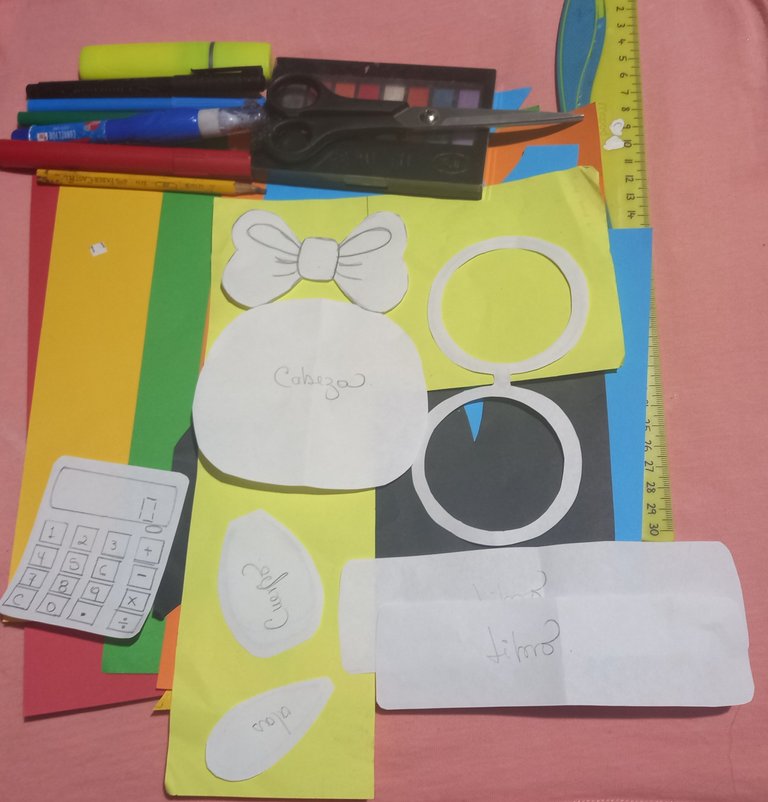 PROCEDIMIENTO
PROCEDURE
Comenzaremos marcando los patrones sobre la cartulina que hayamos escogido para cada pieza y recortamos.
We will start by marking the patterns on the cardboard we have chosen for each piece and cut them out.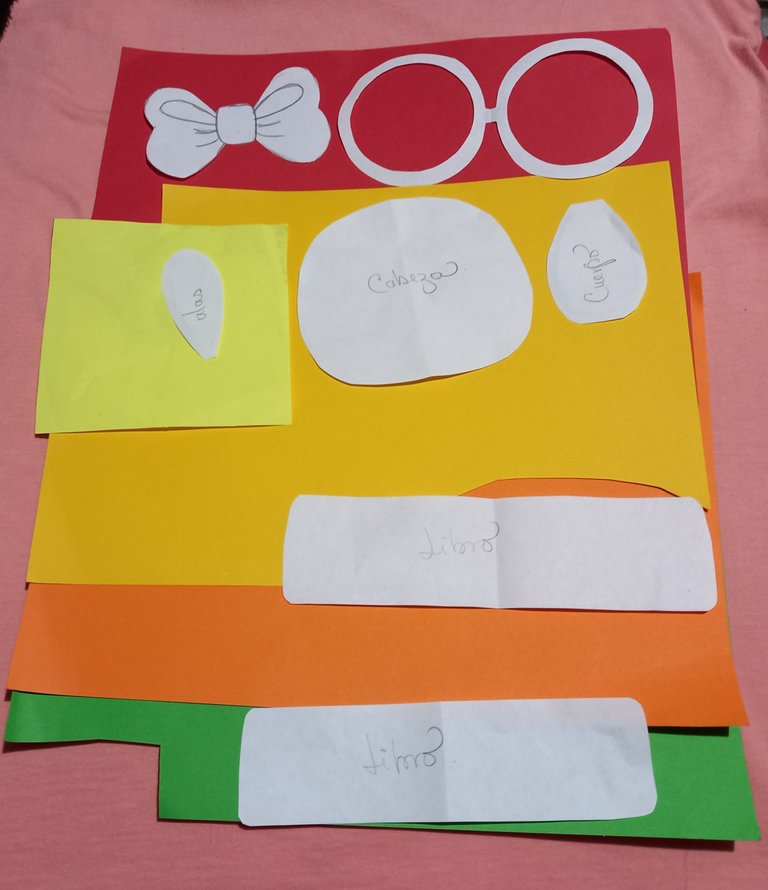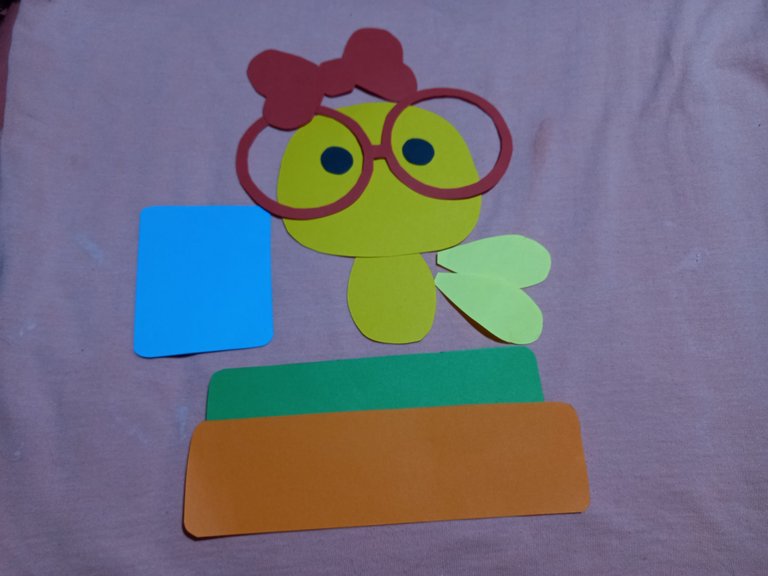 Después fijamos los lentes en la cabecita de la abejita y Seguidamente pegamos los ojos hechos de cartulina negra, además le agregamos un brillito con corrector blanco en estos, enseguida pintamos con marcador negro la boca.
Then we fix the glasses on the little bee's head and then we glue the eyes made of black cardboard, we also add a little glitter with white concealer on them, then we paint with black marker the mouth.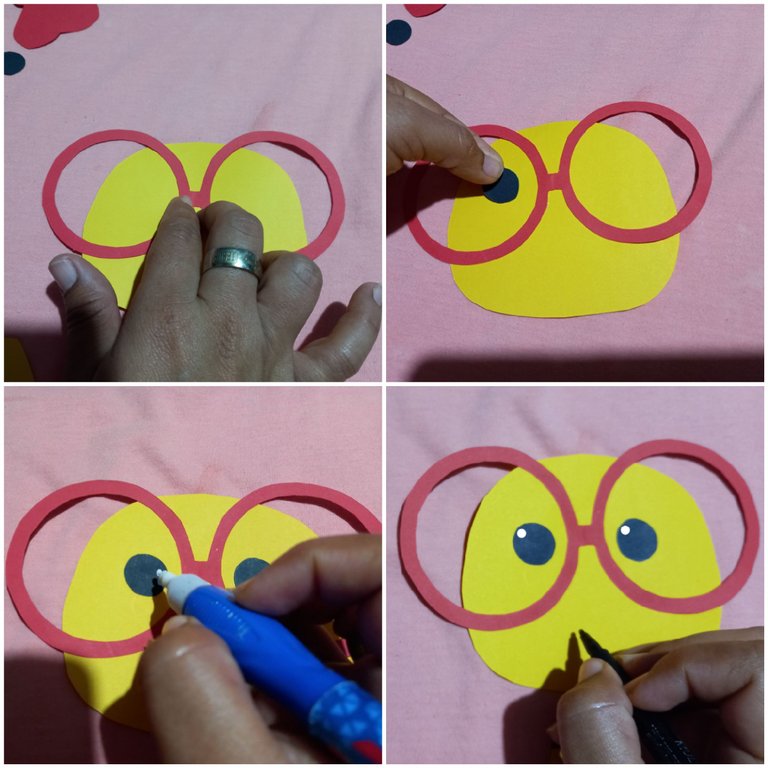 Luego recortamos cuatro tiras de cartulina negra y la fijamos en el cuerpo de la abejita para simular las franjas y fijamos éste debajo de la cabeza de la abejita.
Then we cut out four strips of black cardboard and attach it to the body of the bee to simulate the stripes and attach it under the head of the bee.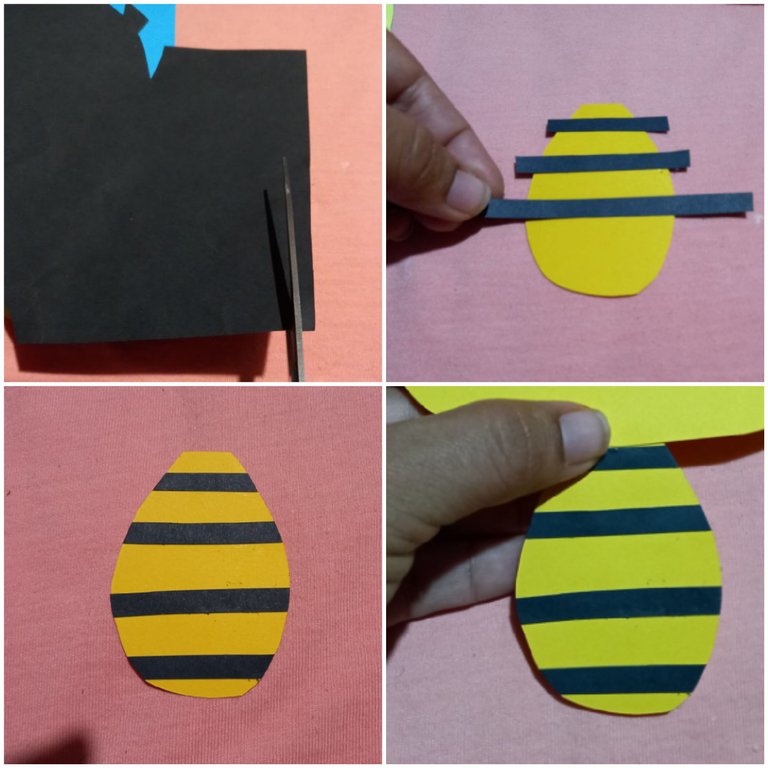 Posteriormente pegamos las alas de la abejita y las antenitas, también agregamos un poco de rubor en las mejillas.
Then we glue the wings of the little bee and the antennae, we also add a little blush on the cheeks.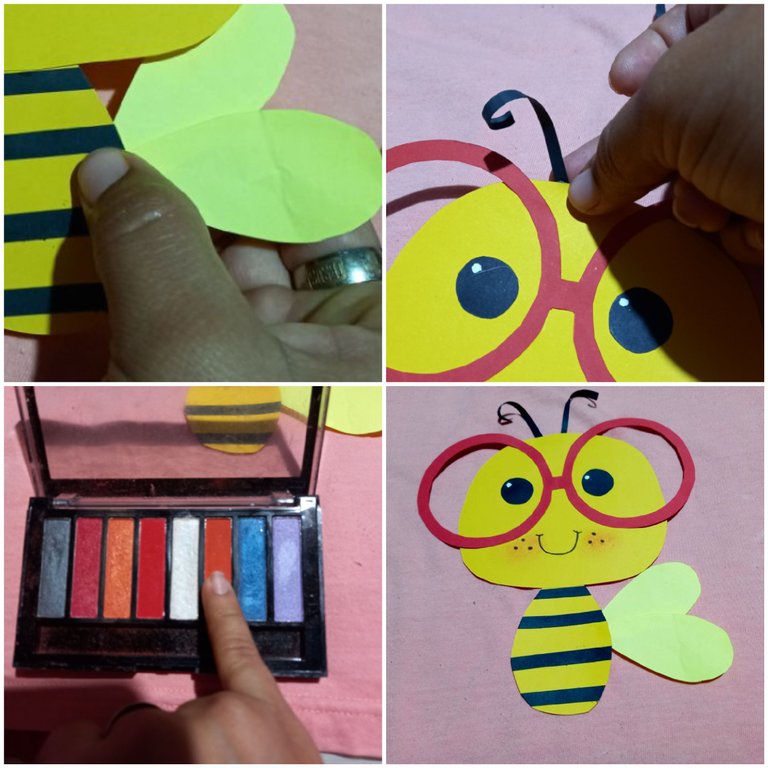 Recortaremos cuatro tiras del alto de los libros y fijamos una en cada extremos de estos, además marcaremos sus bordes y escribiremos el nombre de la materia de estudio .
We will cut four strips of the height of the books and fix one at each end of the books, we will also mark their edges and write the name of the subject of study.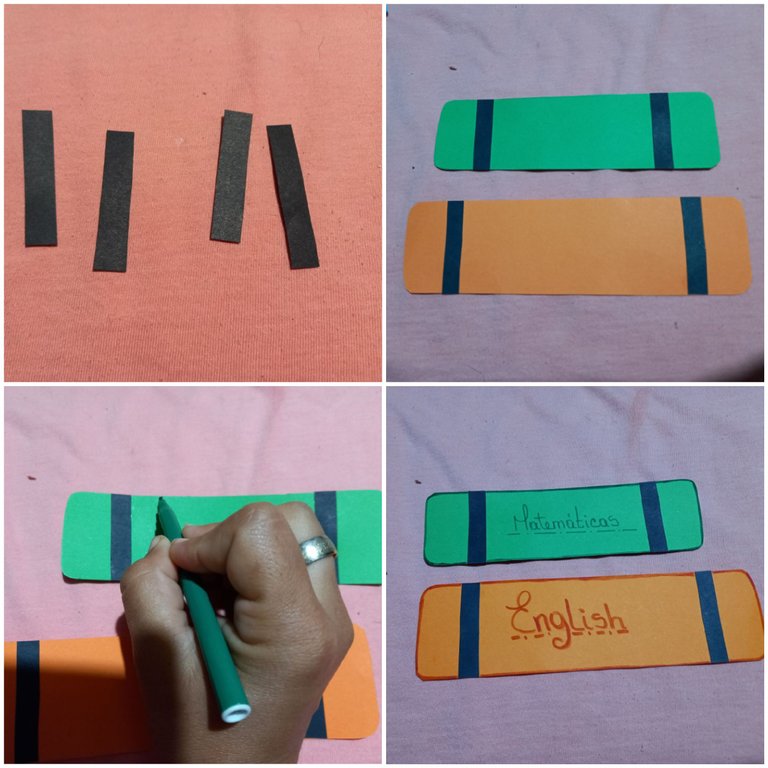 Pegamos sobre los libros 📚 la abejita.
We glue on the books 📚 the little bee.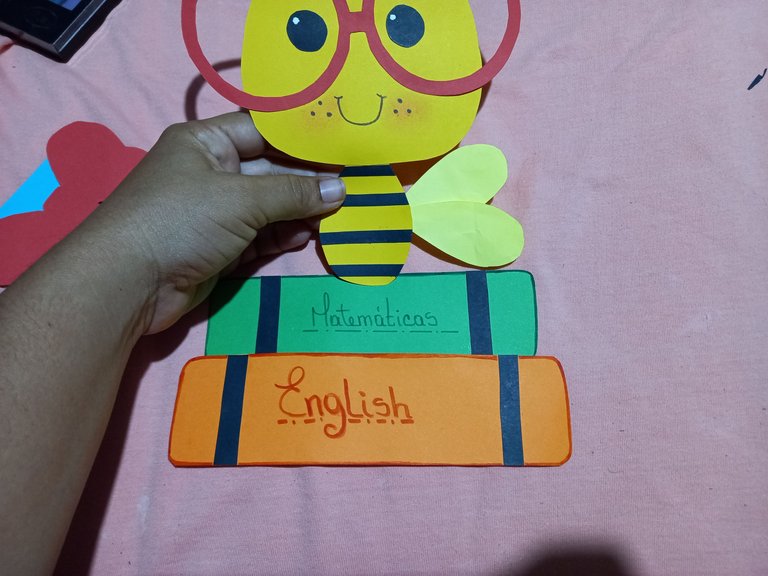 Hacemos las patitas como una " L " y fijamos una sobre la parte inferior del cuerpo.
We make the legs like an "L" and fix one of them on the lower part of the body.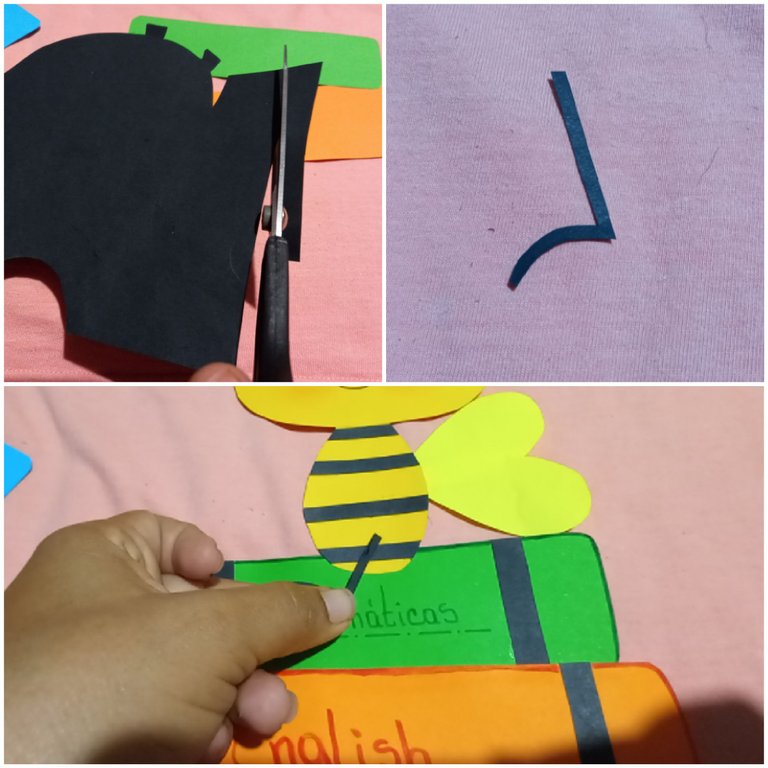 Luego pintamos con la ayuda de una regla los cuadros de la calculadora utilizando marcador azul y corrector blanco, cuando esté terminada, la fijamos entre los libros y el cuerpo y montamos la otra patita sobre el cuerpo y la calculadora.
Then we paint with the help of a ruler the squares of the calculator using blue marker and white corrector, when it is finished, we fix it between the books and the body and we mount the other leg on the body and the calculator.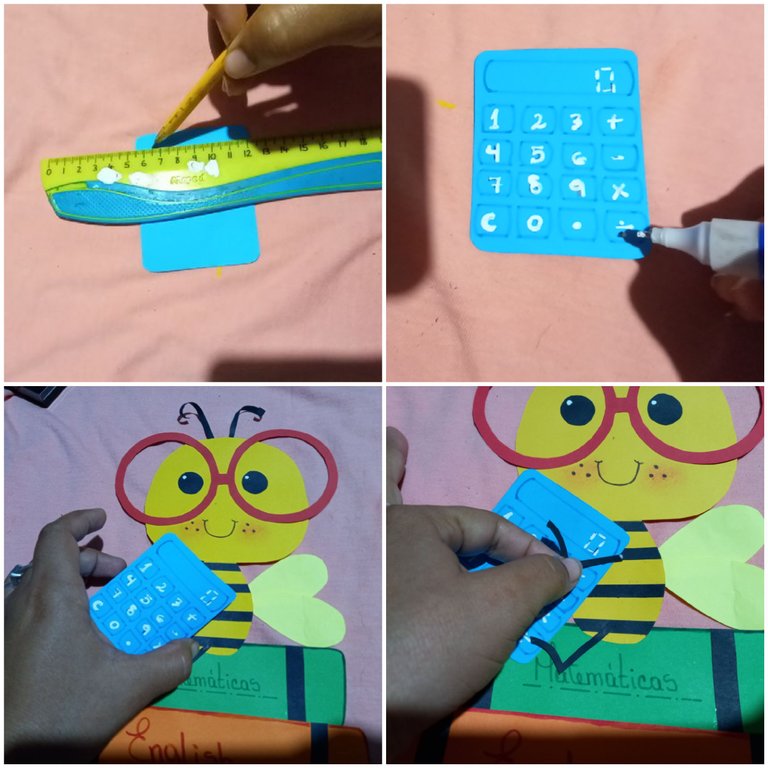 Finalizamos pintando los detalles del lazo y lo fijamos en la parte de arriba de la cabeza del lado que más te guste.
We finish by painting the details of the bow and attach it to the top of the head on the side you like best.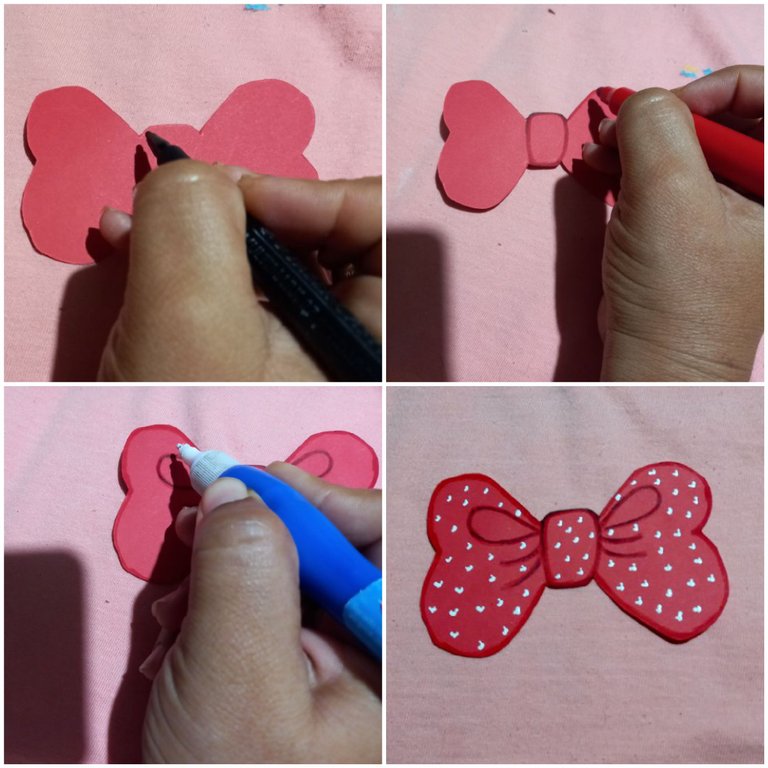 RESULTADO FINAL
FINAL RESULT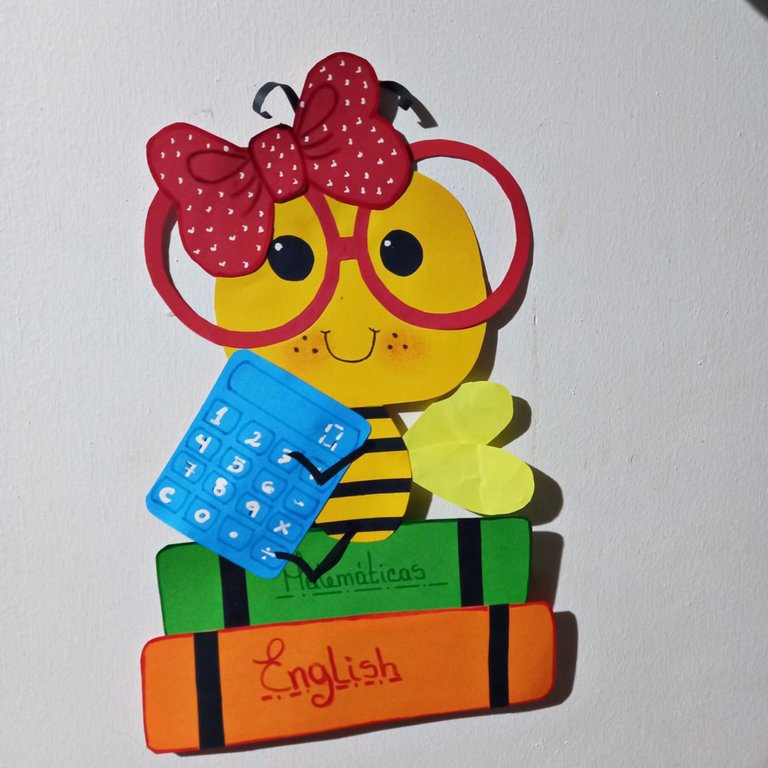 Espero que éste material haya sido de su agrado queridos amigos. Gracias por visitar.
I hope this material has been to your liking dear friends. Thank you for visiting.
DIOS LOS BENDIGA MUCHO
GOD BLESS YOU ALL