Feliz y bendecido día! Deseo de corazón estén super bien, llenos de magia, salud, abundancia y por sobre todo muchas energías positivas para crecer, aprender y seguir brillando cada día mas, como saben me encantan las manualidades y me encanta aprender siempre cosas nuevas, en estos días estoy aprendiendo a realizar zarcillos con una nueva técnica para bordar mostacillas, yo estoy realizando las formas mas sencillas para aprender y así ir paso a paso avanzando, de esta manera juntos vamos a ir aprendiendo... Ademas de esto le estoy agregando un poco de Soutache uniendo 2 técnicas que me encantan.
Happy and blessed day! I wish from the heart that they are super good, full of magic, health, abundance and above all many positive energies to grow, learn and continue to shine more every day, as you know I love crafts and I always love learning new things, these days I am learning to make earrings with a new technique to embroider beads, I am making the simplest ways to learn and thus go step by step advancing, in this way together we will learn ... Besides this I am adding a little Soutache joining 2 techniques that I love.
Este zarcillo mediano lo deje muy simple, muy básico de manera que lo puedas utilizar en cualquier ocasión, aunque si te gustan mas elaborados puedes agregar flecos con las mismas mostacillas, en el próximo tutorial te lo estaré explicando. esta siempre sera la base! Me ayudare con una secuencia de imágenes para que sea mas fácil entender el proceso
This medium tendril makes it very simple, very basic so that you can use it on any occasion, although if you like more elaborate you can add fringes with the same beads, in the next tutorial you will I will be explaining. this will always be the base! I will help me with a sequence of images so that it is easier to understand the process

| Materiales | Materials |
| --- | --- |
| Base para Zarcillo triangular | Base for triangular tendril |
| Base o pin para zarcillo plano | Base or pin for flat tendril |
| Mostacillas transparentes o de su gusto | Transparent beads or your taste |
| Mostacillas rojas o de su Gusto | Red seed beads or your taste |
| Aguja | Needle |
| Hilo Nailon | Nylon thread |
| Tijera | Scissor |
| Encendedor | lighter |
| Silicon Liquido | Liquid silicone |
| Tela POP | POP fabric |
| Cuero o Tela Gruesa | Leather or Thick Fabric |
| Animo, Paciencia y Mucho amor por aprender | Courage, patience and a lot of love for learning |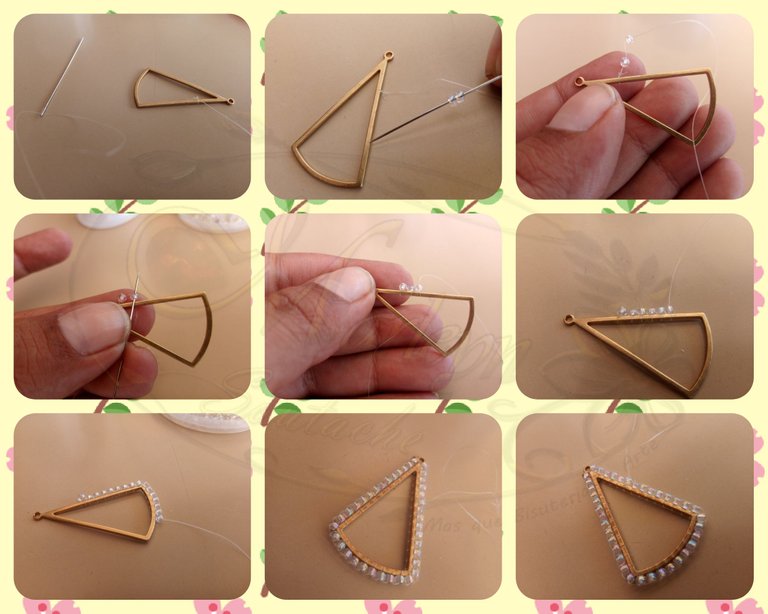 PASO 1: Con animo y Amor por lo que hacemos vamos a comenzar con esta belleza de arete, antes que todo recuerda que este es solo una idea deja volar tu imaginación, cambia lo que no te guste y crea en base a tu personalidad...Ensarta el nailon en la aguja, y el otro extremo lo vamos a amarrar a la base triangular que tenemos, en la aguja vamos a introducir 2 mostacillas en la aguja como te muestro en las imágenes,(estas pueden ayudar a guiarte si no me entiendes)lleva las mostacillas al filo del triangulo, introduce la aguja por adentro del triangulo y al sacarla por el otro lado meterla en la ultima mostacilla y sube, a partir de la segunda vez que lo hacemos solo vamos a introducir una mostacilla en la aguja... realiza este proceso por todo el triangulo hasta bordarlo completamente, este es un proceso lento y lleva tiempo solo debes hacerlo con calma y mucha paciencia!
STEP 1: With encouragement and love for what we do we are going to start with this earring beauty, first of all remember that this is just an idea let your imagination fly, change what you don't Like it and create based on your personality ... Thread the nylon on the needle, and the other end we will tie to the triangular base that we have, on the needle we will introduce 2 beads on the needle as I show you in the images (These can help guide you if you do not understand me) take the beads to the edge of the triangle, insert the needle inside the triangle and when removing it from the other side, put it in the last bead and go up, from the second time you do it. we are just going to introduce a bead into the needle ... carry out this process throughout the triangle until it is completely embroidered, this is a slow process and it takes time, you just have to do it calmly and with a lot of patience!



PASO 2: En el paso anterior aprendiste a realizar el bordado con ayuda de la base de metal, esta vez lo haremos de la misma forma lo único diferente es que vas a agarrar las piedras del nailon, es decir, introducir una mostacilla en la aguja, pasar la aguja por el nailon que quedo arriba entre cada mostacillas de la primera linea y ahora subir la aguja nuevamente por la mostacilla que acabas de introducir... Realiza este mismo proceso por toda la pieza para así terminar la segunda linea. Se vera como te muestro en la ultima imagen!
STEP 2: In the previous step you learned to make the embroidery with the help of the metal base, this time we will do it in the same way the only thing different is that you are going to grab the nylon stones , that is, insert a bead into the needle, pass the needle through the nylon that is at the top between each bead on the first line and now raise the needle again through the bead that you just inserted ... Carry out this same process throughout the entire piece to finish the second line. It will look like I show you in the last image!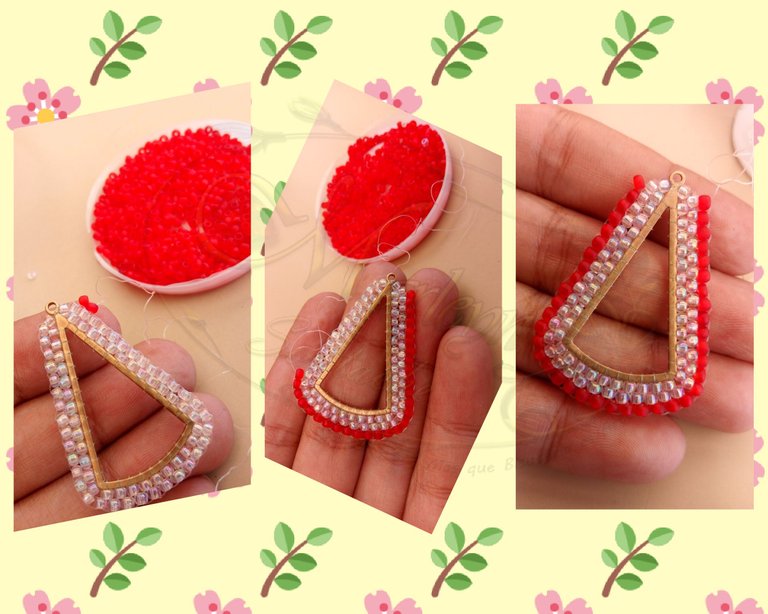 PASO 3: Vamos a realizar exactamente el mismo proceso de la segunda linea, esta vez cambiamos el color de la mostacilla para darle ese toque distintivo que nos encanta a toda mujer! antes de cortar el nailon realiza un amarre lo mas fuerte que puedas en la parte de arriba del zarcillo.
STEP 3: We are going to carry out exactly the same process of the second line, this time we change the color of the bead to give it that distinctive touch that every woman loves! Before cutting the nylon, tie as tightly as you can on the top of the tendril.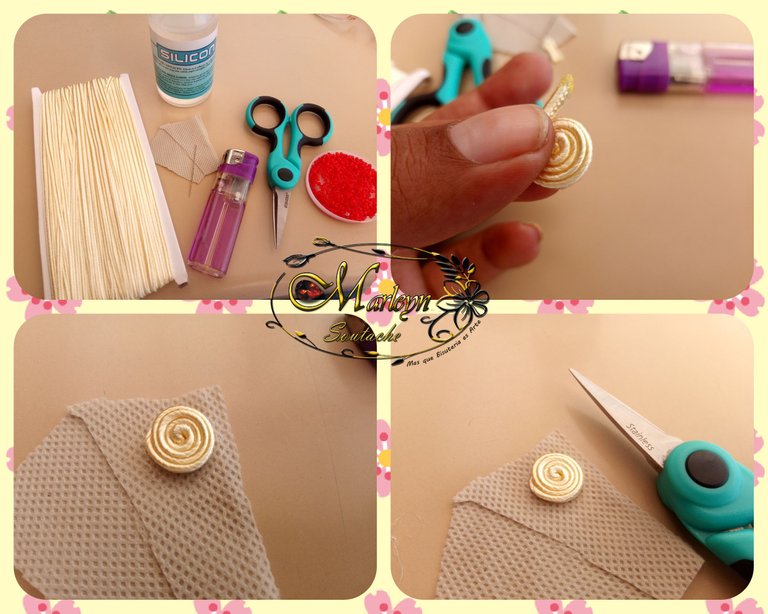 PASO 4: Como tenemos nuestra pieza de abajo lista, bordada y hermosa vamos a realizar la parte de arriba, toma el hilo de soutache y corta aproximadamente 10 centímetros de largo, con el encendedor quema las puntas, y ahora procede a realizar un circulo ocultando las puntas hacia abajo, en la tela POP coloca silicon liquido y allí pegaremos nuestro circulo, dejarlo secar y corta la tela sobrante.
STEP 4: As we have our bottom piece ready, embroidered and beautiful, we are going to make the top part, take the soutache thread and cut approximately 10 centimeters long, with the lighter burn the tips, and now proceed to make a circle hiding the tips down, in the POP fabric place liquid silicone and there we will glue our circle, let it dry and cut the excess fabric.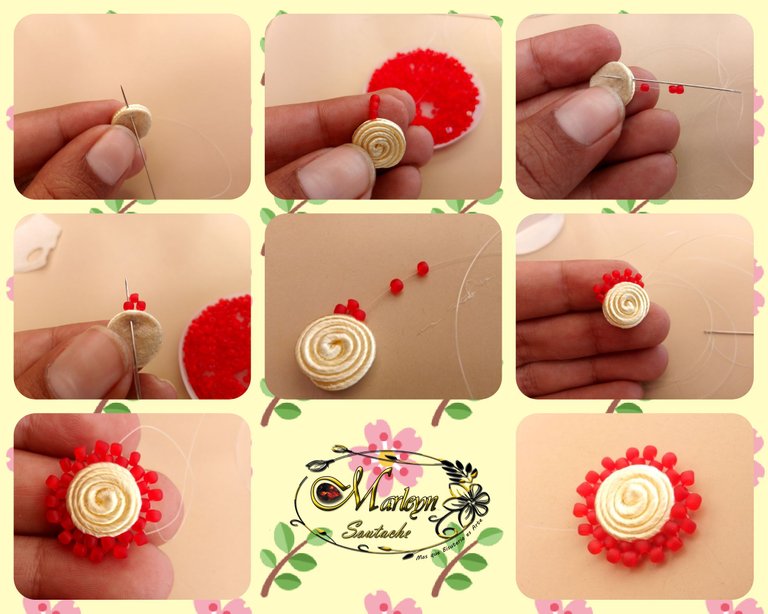 PASO 5: Cuando nuestro circulo se seque vamos a cocer por la orilla unas mostacillas, ensarta una aguja y le realizamos un pequeño nudo en la punta del hilo, con cuidado introducirla en nuestro circulo si te fijas el hilo de soutache tiene como una canal central intenta que la aguja salga por allí de manera te quede siempre todo en el centro, coloca en la aguja 3 mostacillas y vuelve a introducir la aguja esta vez hacia abajo, se vera como te muestro en la imagen 4, ahora nuevamente sube la aguja que entre por la tercera mostacilla y esta vez solo introducimos 2 mostacillas en la aguja y volvemos a introducir el hilo hacia abajo y así sucesivamente hasta haber bordado todo el circulo de mostacillas.
STEP 5: When our circle dries we are going to sew some beads on the edge, thread a needle and make a small knot on the end of the thread, carefully insert it into our circle if you want fixed the soutache thread has a central channel like a central channel, try to get the needle out there so that everything is always in the center, put 3 beads on the needle and reinsert the needle this time down, it will look like I show you in Image 4, now the needle that enters through the third bead goes up again and this time we only introduce 2 beads into the needle and reinsert the thread downwards and so on until we have embroidered the entire bead circle.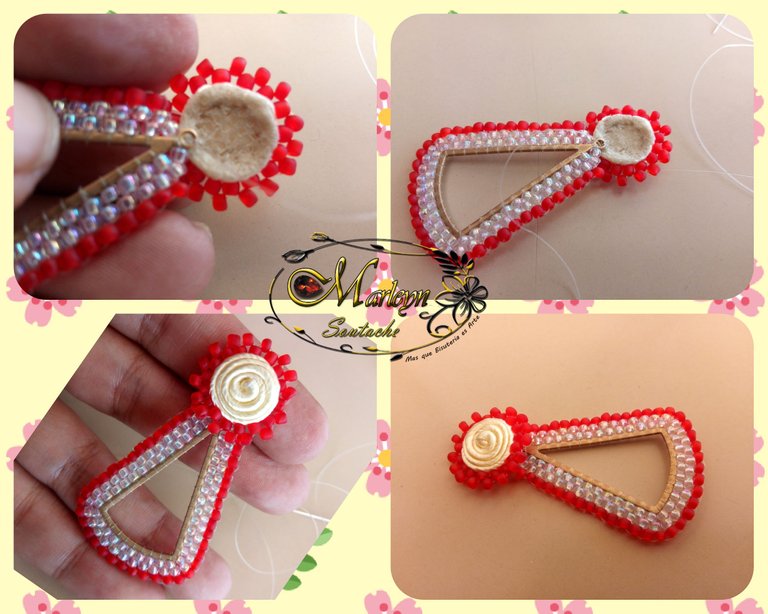 PASO 6: Para terminar vamos a coser nuestro circulo a la pieza que ya realizamos, luego coloca una gota de silicon liquido y pegar el pin de zarcillo, al estar seco vuelve a colocar silicon liquido y pegar un pedacito de cuero o tela gruesa, con cuidado cortar el cuero sobrante y de esta manera nuestro zarcillo esta terminado... Ante todo deseo de corazón que todo sea de tu agrado.
STEP 6: To finish we are going to sew our circle to the piece that we already made, then place a drop of liquid silicone and stick the tendril pin, when it is dry, place liquid silicone again and paste a piece of leather or thick fabric, carefully cut the excess leather and in this way our earring is finished ... First of all, I heartily wish that everything is to your liking.
Inténtalo estoy segura que te quedare excelente y si no es así sigue intentando, que así se aprende! Deseo de corazón estés bien, estés lleno de mucha salud, abundancia y prosperidad! Sigue creciendo, sigue brillando, que nada nunca apague tu Luz 🙏😁

Try it I'm sure it will be excellent and if not, keep trying, that's how you learn! I heartily wish you are well, you are full of much health, abundance and prosperity! Keep growing, keep shining, may nothing ever turn off your Light 🙏😁
Si tienes una duda escríbeme un comentario, estaré feliz de ayudarte con cualquier detalle, Espero que mis diseños les gusten tanto como a mí me gusta, aprendan con placer ...!

Nunca olvides que el Poder es Querer y si quieres Puedes...
Eres Luz eres Energía, TU PUEDES ... Que el universo infinito Conspire para que todo siempre sea mejor ... Se les quiere ...

Venezuela FE
Somos Seres Abundantes! Qué las energías del universo vibren en sintonía con las de cada uno de nosotros en armonía! Cuidemos nuestras palabras, acciones y pensamientos!
If you have a question, write me a comment, I will be happy to help you with any details, I hope you like my designs as much as I like, learn with pleasure ...!

Never forget that Power is Wanting and if you want you can ...
You are Light, you are Energy, YOU CAN ... May the infinite universe Conspire so that everything is always better ... They are loved ...

Venezuela FAITH
We are Abundant Beings! May the energies of the universe vibrate in tune with those of each of us in harmony! Let's take care of our words, actions and thoughts!

Autoría del texto y todas las imágenes: @Marleyn , La edición de las imágenes las realicé yo misma, Por favor no Utilices mis fotos sin mi autorización, edites ni re-publiques mi material ¿Deseas ponerte en contacto conmigo? Escríbeme:
Correo electronico: Marleynl123@gmail.con
Discord #Marleyn#7821
Twitter: @marleynleal1
Imstagran: @MarleynSoutache
YouTube: https://youtube.com/c/marleynlealramos
Facebook: @marleynsoutache
Authorship of the text and all the images: @Marleyn, I did the editing of the images myself, Please do not use my photos without my authorization, edit or republish my material Do you want to contact me? Write me:
Email: Marleynl123@gmail.con
Discord #Marleyn#7821
Twitter: @marleynleal1
Imstagran: @MarleynSoutache
YouTube: https://youtube.com/c/marleynlealramos
Facebook: @marleynsoutache

Mi trabajo es mi pasión y cuando tu trabajo es tu pasión nada es imposible / My work is my passion and when your work is your passion nothing is impossible