IN ENGLISH:
A cordial greeting to all the artists, designers, crafters of
Hive Diy especially to our friend and community leader, @equipodelta and the entire team of moderators that accompanies her. Today it occurred to me to make a sunflower with its stem and leaves with the palm membrane, I have always insisted on making this palm tree material known, because it is easy to obtain, many things can be done with it, well I already lost the account of the work I have done with this material.
Paintings such as landscapes, flowering plants, etc., when made with natural materials, make environments a cozy and relaxing place that provide us with peace and tranquility, I have a painting of natural flowers in the corridor of my country house, the which I did two years ago with dried flowers and when I lie down in the hammock and look at it, it gives me peace of mind, good friends, with this tutorial you will be able to make your sunflowers, even roses.
EN ESPAÑOL:
Un cordial saludo a todos los artistas, diseñadores, crafteros de
Hive Diy en especial a nuestra amiga y líder de la comunidad, @equipodelta y a todo el equipo de moderadores que la acompaña. Hoy se me ocurrió hacer con la membrana de palmera, un girasol con su tallo y hojas, yo siempre he insistido en dar a conocer este material de palmeras, porque es fácil de conseguir, con el se pueden hacer muchas cosas, bueno ya perdí la cuenta de los trabajos que he realizado con este material.
Los cuadros como paisajes, plantas con flores etc, cuando son elaborados con materiales naturales hacen de los ambientes un lugar acogedor y relajante que nos proporcionan la paz y tranquilidad, yo tengo en el corredor de mi casa de campo un cuadro de flores naturales, el cual hice hace dos años con flores secas y cuando me acuesto en la hamaca y lo miro, me transmite tranquilidad, bueno amigos, con este tutorial ustedes podrán elaborar sus girasoles, incluso hasta rosas.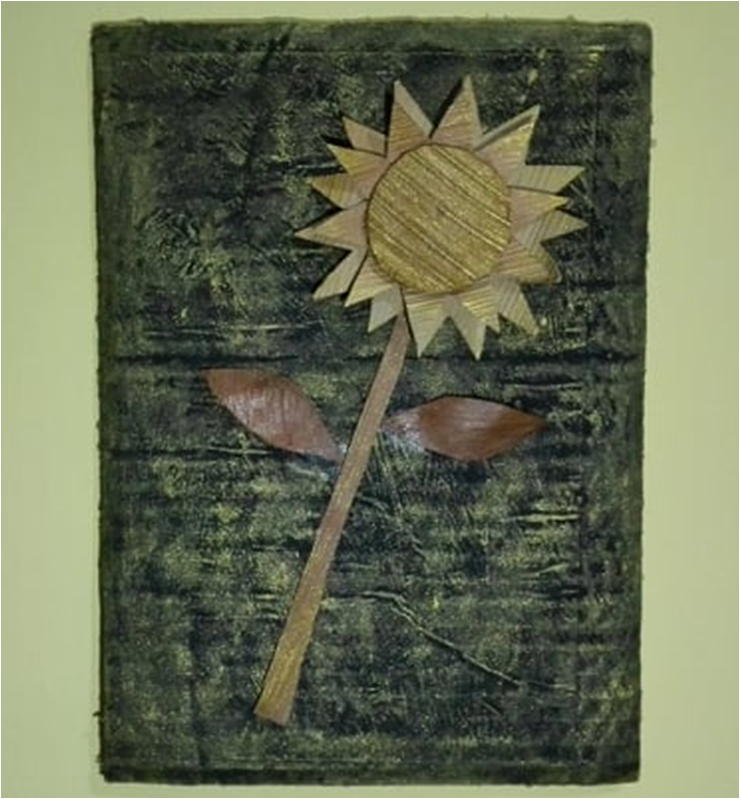 Beautiful Sunflower made with the membrane of palm trees // Bello Girasol elaborado con la membrana de palmeras
| Yes friends, today I want to show you a beautiful sunflower flower made with the material of palm trees, this material is what holds the leaf of the main stem, when it is dry it is hard, so it is necessary to soak it so that it softens so that it is manageable. | Si amigos, hoy quiero mostrarles una bella flor de girasol elaborada con el material de palmeras, este material es el que sujeta la hoja del tallo principal, cuando esta seco es duro, por lo que es necesario remojarlo para que se ablande para que sea manejable. |
| --- | --- |
| Materials: | Materiales: |
| --- | --- |
| - Box cardboard for the base of the painting | - Cartón de caja para la base del cuadro |
| - Palm membrane | - Membrana de palmera |
| - White glue | - Pega blanca |
| - Black and gold paint | - Pintura color negro y dorado |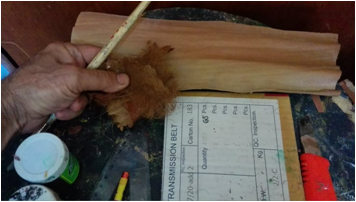 | Process: | Proceso: |
| --- | --- |
| Step-1: I am going to start with the preparation of the base of the painting, for this I am going to cut a piece of cardboard of: 22 centimeters high and 16 centimeters wide, after this, I am going to paint it black : | Paso-1: Voy a comenzar con la preparación de la base del cuadro, para esto voy a cortar un pedazo de cartón de: 22 centímetros de alto y 16 centímetros de ancho, después de esto, , lo voy a pintar de color negro: |
| --- | - |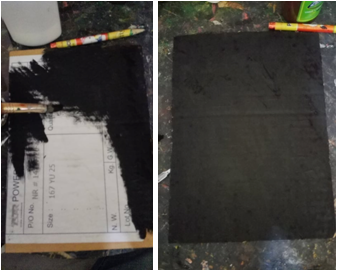 | Step-2: After the paint has dried, now I will give it a few touches with the golden reflection paint, this paint is shiny, which combined with black, is ideal for aging surfaces: | Paso-2: Después del secado de la pintura, ahora le daré unos toques con la pintura dorada de reflejos, esta pintura es brillante, la cual combinada con el negro, es ideal para envejecer las superficies: |
| --- | --- |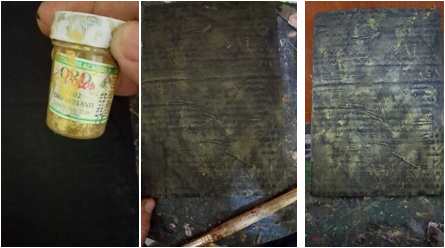 | Step-3: Now I am going to make the templates of the two rows of sunflower petals, so I am going to make the drawing on paper, this work consists of making two circumferences, one 5 millimeters less than the other, and then cutting it out : | Paso-3: Ahora haré las plantillas de las dos filas de pétalos del girasol, así que voy a realizar el dibujo sobre un papel, este trabajo consiste en hacer dos circunferencias una 5 milímetros menos que la otra, para después recortarlo: |
| --- | --- |

| Step-4: The next thing will be to place the templates on the palm membrane, as I said at the beginning, to work with this material it is necessary to soak it so that it softens, so we can easily cut with scissors: | Paso-4: Lo siguiente será colocar las plantillas sobre la membrana de palmera, como les decía al comienzo, para poder trabajar con este material es necesario ponerlo a remojar para que quede blando, así lo podemos cortar fácilmente con la tijera: |
| --- | --- |

| Step-5: The sunflower flower has an area in the center where the seeds are formed, which is known as a floral disc, I am going to do this with the fiber of the palm tree, I am going to place this material inside a round lid, I am going to put white glue on it and I am going to press it so that it acquires a round shape and at the same time the material is compacted, after drying it I remove it from the lid: | Paso-5: La flor de girasol lleva en el centro un área donde se forman las semillas, lo que se conoce como disco floral, esto lo voy a elaborar con la fibra de la palmera, este material lo voy a colocar dentro de una tapa redonda, le voy a poner pega blanca y le hago presión para que adquiera la forma redonda y a la vez se compacte el material, luego del secado lo retiro de la tapa: |
| --- | --- |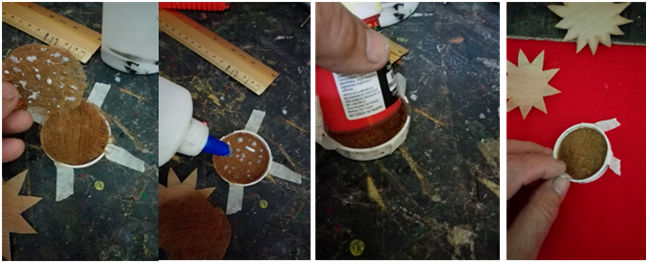 | Step-6: Now I am going to make the stem of the branch and its two leaves, I made these pieces from the same material as the palm tree: | Paso-6: Ahora voy a elaborar el tallo de la rama y sus dos hojas, estas piezas la hice del mismo material de la palmera, las voy a poner en el centro de la base del cuadro: |
| --- | --- |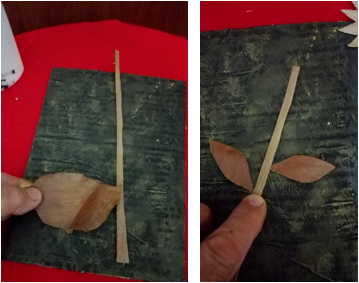 | Step-7: I am going to place the floral disc in the center of the row that has the smallest circle of petals: | Paso-7: Voy a colocar el disco floral en el centro de la fila que posee el circulo de pétalos mas pequeño: |
| --- | --- |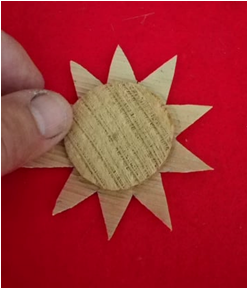 | Step-8: Now I will join the two rows of petals to form the flower: | Paso-8: Ahora uniré las dos filas de pétalos para formar la flor: |
| --- | --- |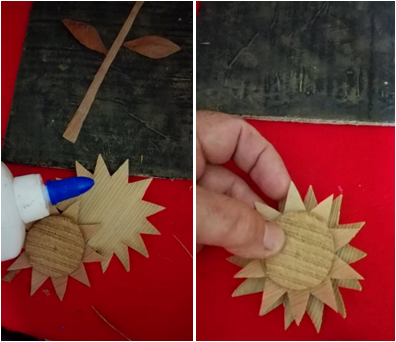 | Step-9: I am going to give the sunflower flower a few touches with gold paint: | Paso-9: A la flor de girasol le voy a dar unos toques con pintura dorada: |
| --- | --- |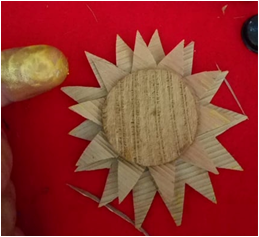 | Step-10: Now to finish, I am going to place the sunflower flower on the base of the painting, at the tip of the branch: | Paso-11: Ahora para terminar, voy a colocar la flor de girasol sobre la base del cuadro, en la punta de la rama: |
| --- | --- |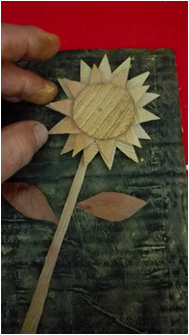 Well friends, after this interesting process, this is the result: // Bueno amigos, después de este interesante proceso, este es el resultado: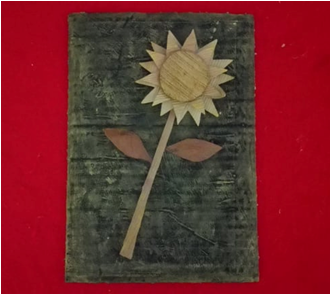 | After showing you the result, I hope you liked this idea, as you have seen, it is easy to do and the material is also easy to get, greetings. | Después de mostrarles el resultado, espero que les haya gustado esta idea, como han podido ver, es fácil de hacer y el material también es fácil de conseguir, saludos. |
| --- | --- |