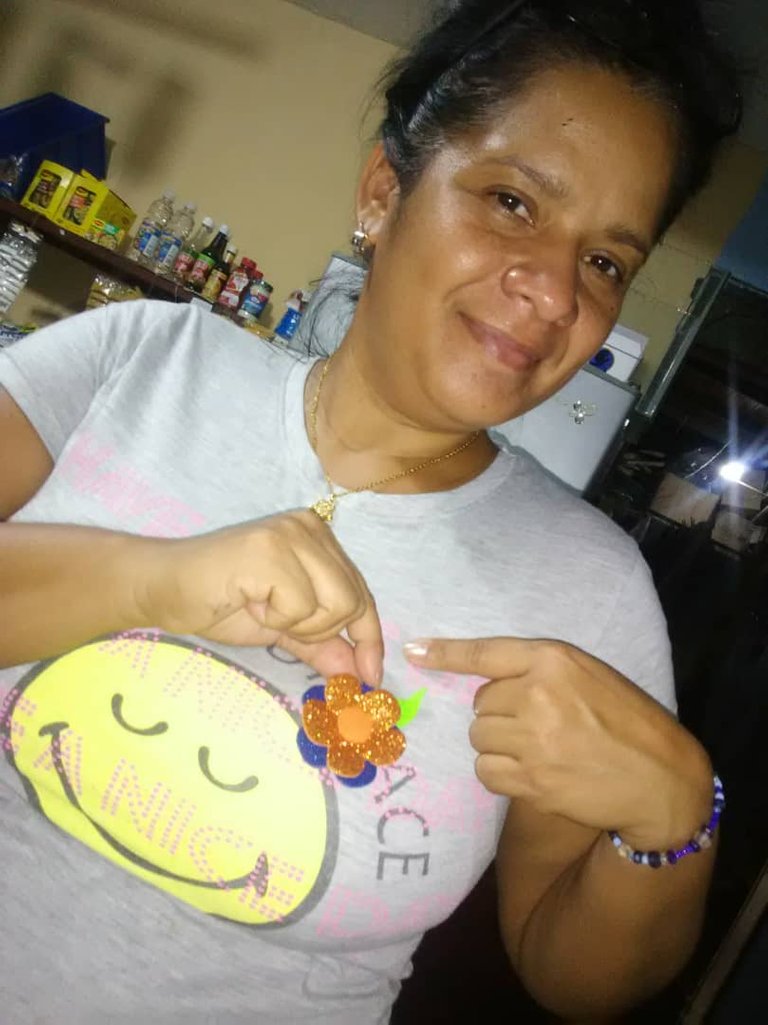 Hola amigos de Hive, reciban un cordial saludo, el siguiente trabajo es dedicado a todas las madres en las que cada año se les regala un día para agazajarlas y conmemorarlas, aunque para muchos el día de las madres es todos los días, rendirle homenaje a un ser que vela y cuida de sus hijos desde el momento de la concepción es de gran importancia porque nos permite a nosotros como hijos reconocer el trabajo tan valioso que diariamente realizan como mujer, madre y esposa. Como docente me relaciono con madres que participan en el proceso de enseñanza y aprendizaje de sus hijos por tal motivo le reconozco el trabajo mediante un pequeño detalle que humildemente realicé con mucho cariño.
Hello friends of Hive, receive a warm greeting, the following work is dedicated to all mothers in which every year they are given a day to celebrate and commemorate them, although for many mothers' day is every day, pay tribute to a being who watches and cares for their children from the moment of conception is of great importance because it allows us as children to recognize the valuable work they do daily as a woman, mother and wife. As a teacher I relate to mothers who participate in the process of teaching and learning of their children for that reason I recognize their work through a small detail that I humbly made with much affection.
Los materiales que utilice fueron: barritas de silicon, tijera, papel. lápiz, palillo de altura, alfileros, plancha de ropa y foami de color azul, amarillo, naranja y verde, es necesario recordar que el foami es un material no renovable y que de alguna manera no ayuda a la conservacion del ambiente, esta vez lo utilice por que soy una mujer practica, pero es importante que en algunas ocasiones se tomen en cuenta materiales que el ecosistema pueda descomponer facilmente.
The materials that I used were: silicon sticks, scissors, paper, pencil, height sticks, pins, clothes iron and foami of blue, yellow, orange and green color, it is necessary to remember that the foami is a nonrenewable material and that somehow it does not help to the conservation of the environment, this time I used it because I am a practical woman, but it is important that in some occasions materials that the ecosystem can decompose easily are taken into account.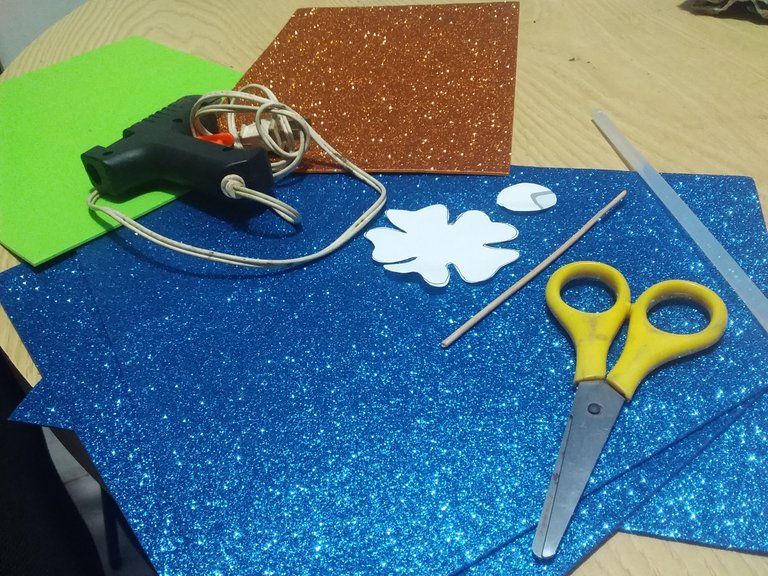 Se dibuja una flor en el papel, esto con el fin de tener un patron para realizar las flores, se recorta y con el palillo de altura se marca utilizando el patron la florecita en el foami azul y naranja, se dibuja y recorta tantas veces se quiera, particularmente como tengo una matricula grande marca lo suficiente para que no me quede nadie por fuera, todas deben recibir su flor.
A flower is drawn on the paper, this in order to have a pattern to make the flowers, cut it out and with the toothpick height is marked using the pattern the little flower in the blue and orange foami, draw and cut as many times as you want, particularly as I have a large plate marks enough so that no one is left out, everyone should receive their flower.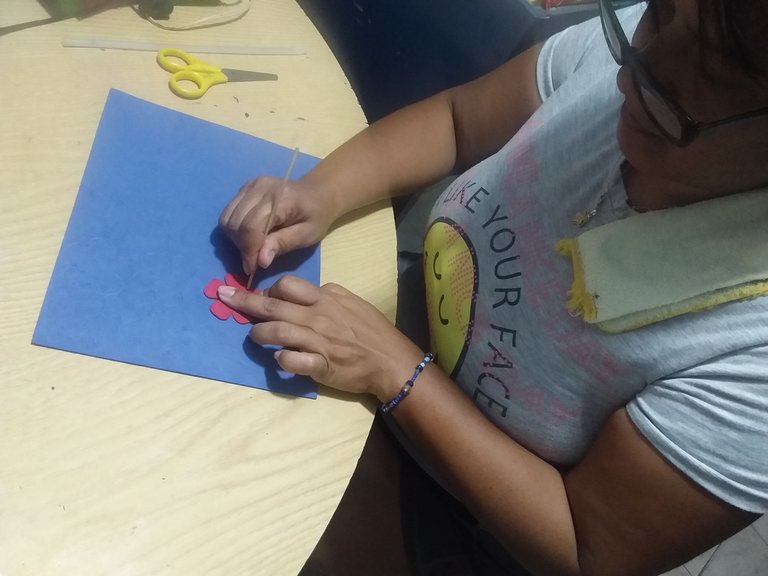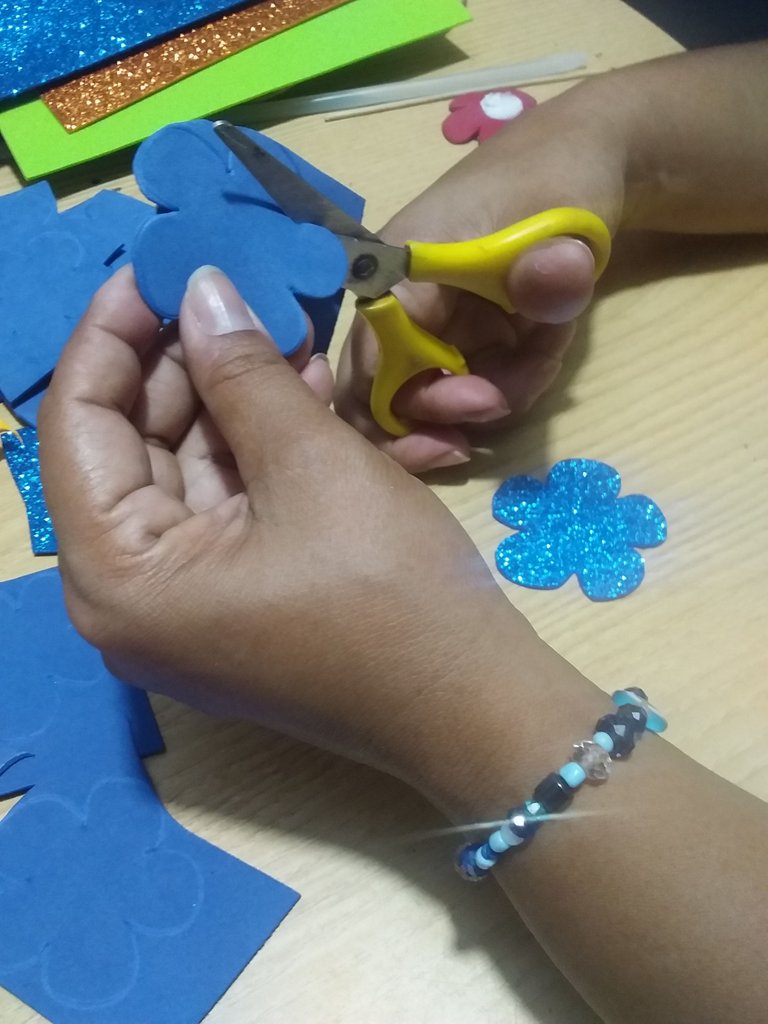 Se dibuja y recorta unas hojitas en el foami verde para darle el toque y con foami amarillo se obtendra el centro de la florecita.
Draw and cut out some leaves in the green foami to give it a touch and with yellow foami you will get the center of the flower.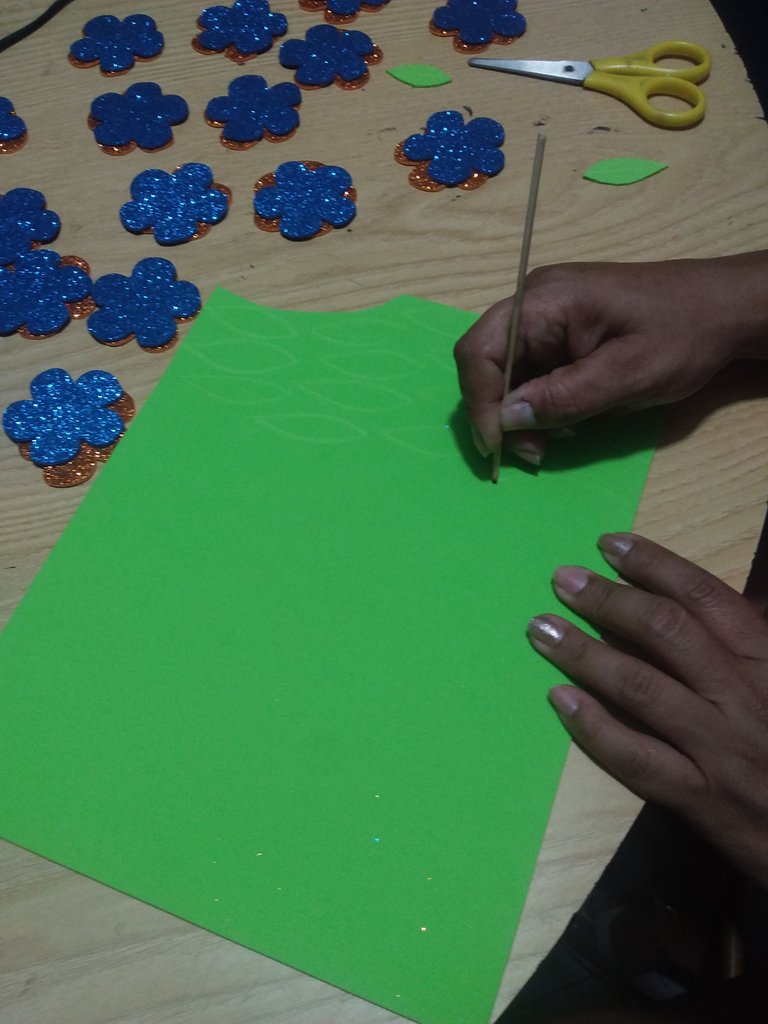 Utilizando una plancha de ropa se calentara el foami para que facilmente se le pueda dar forma, ya que al ponerle calor al meterial de goma que es el foami este de alguna manera se ablanda lo suficiente para que mis manos puedan darle la forma que yo deseo para que quede bonita.
Using a clothes iron, the foami will be heated so that it can be easily shaped, since by heating the rubber material that is the foami, it somehow softens enough so that my hands can give it the shape I want to make it beautiful.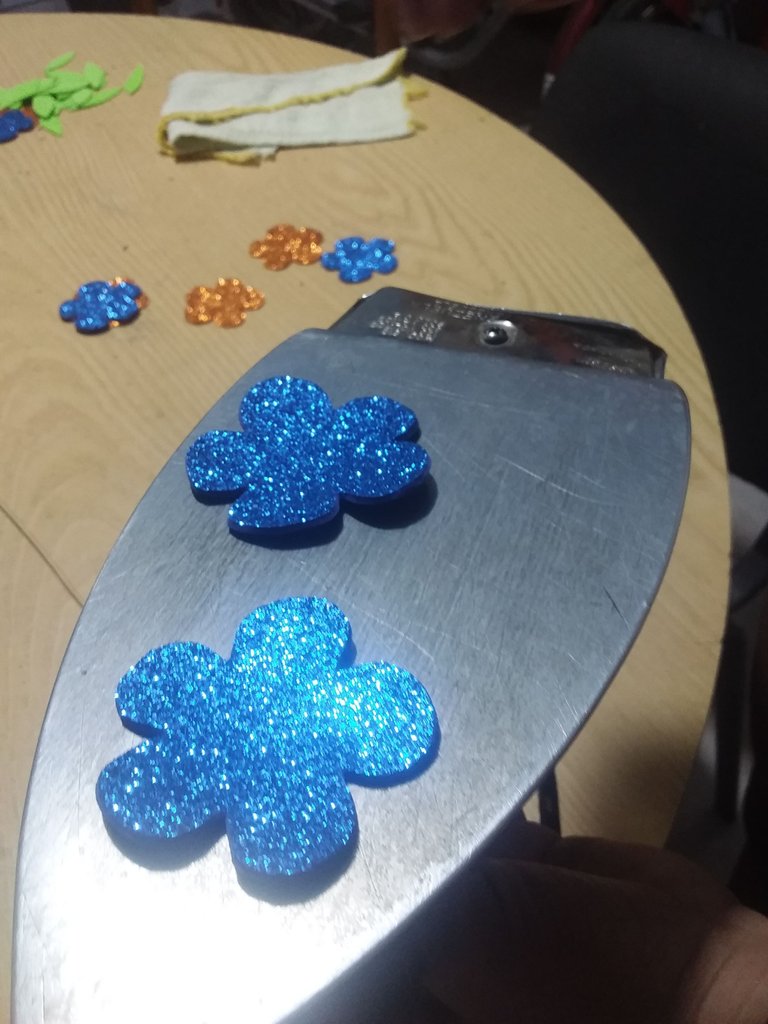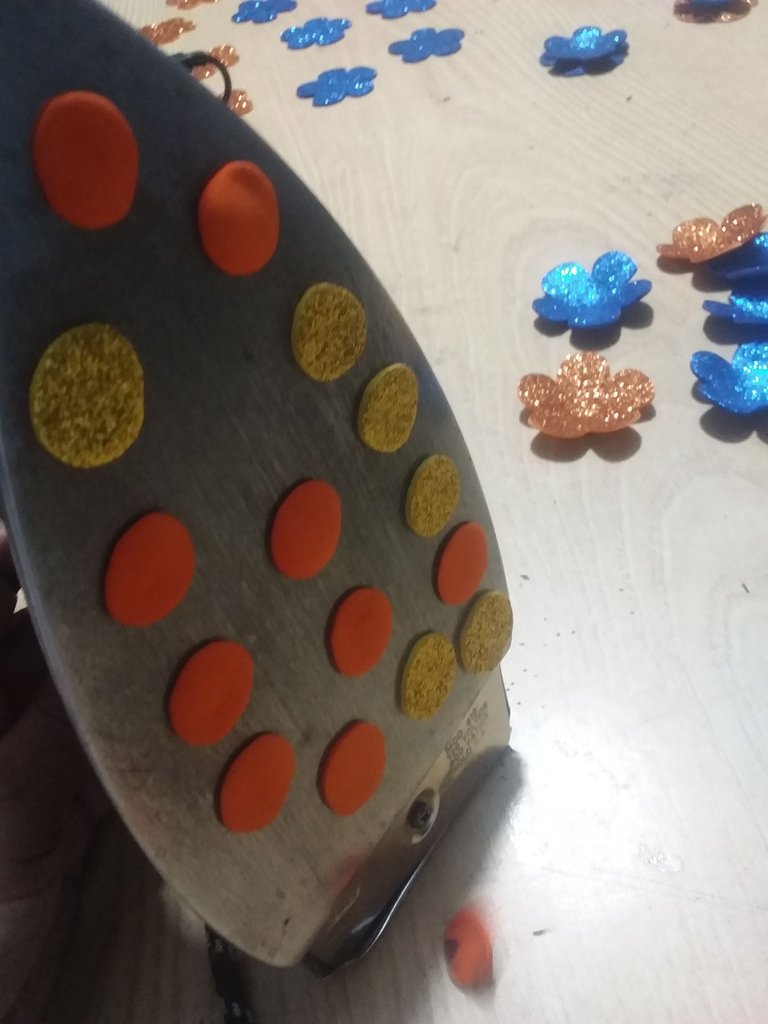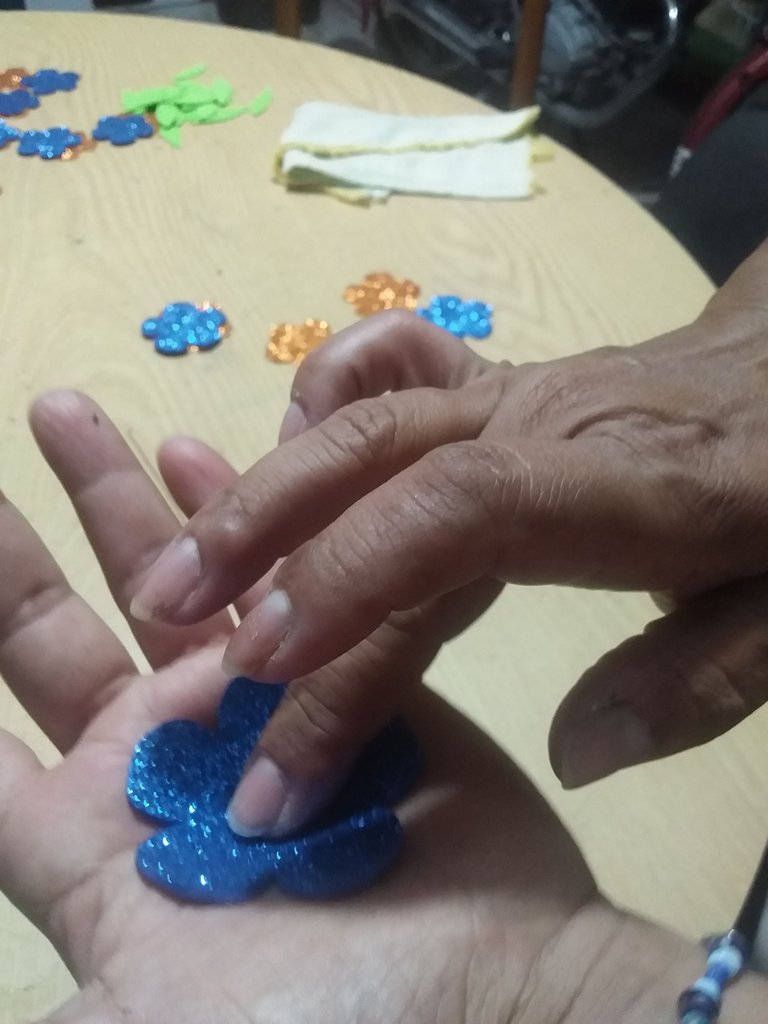 Seguidamente se unira utilizando silicon dos florecitas una azul y otra naranja, ubicandolas de tal forma que parezca una estrella, luego se le pega el centro y por ultimo la hojita. Para finalezar se le engancha un pequeño alfiler que permita el enganche a la blusa de las representantes.
Next, using silicone, attach two little flowers, one blue and the other orange, placing them in such a way that they look like a star, then glue the center and finally the little leaf. To finish, attach a small pin that allows the attachment to the blouse of the representatives.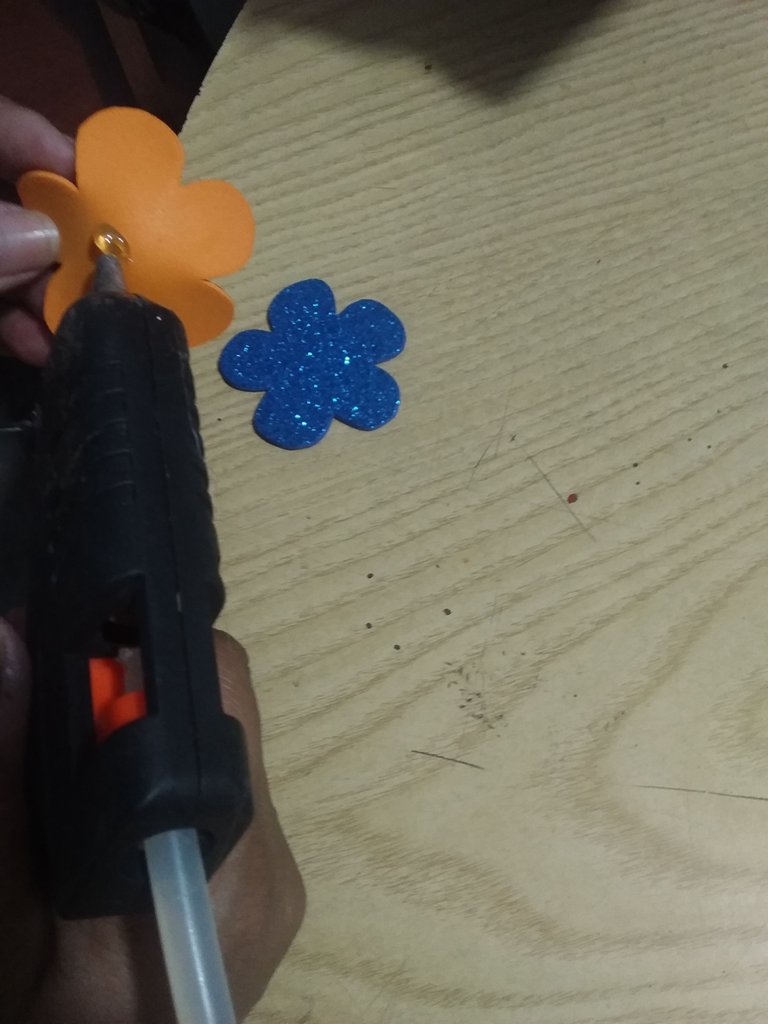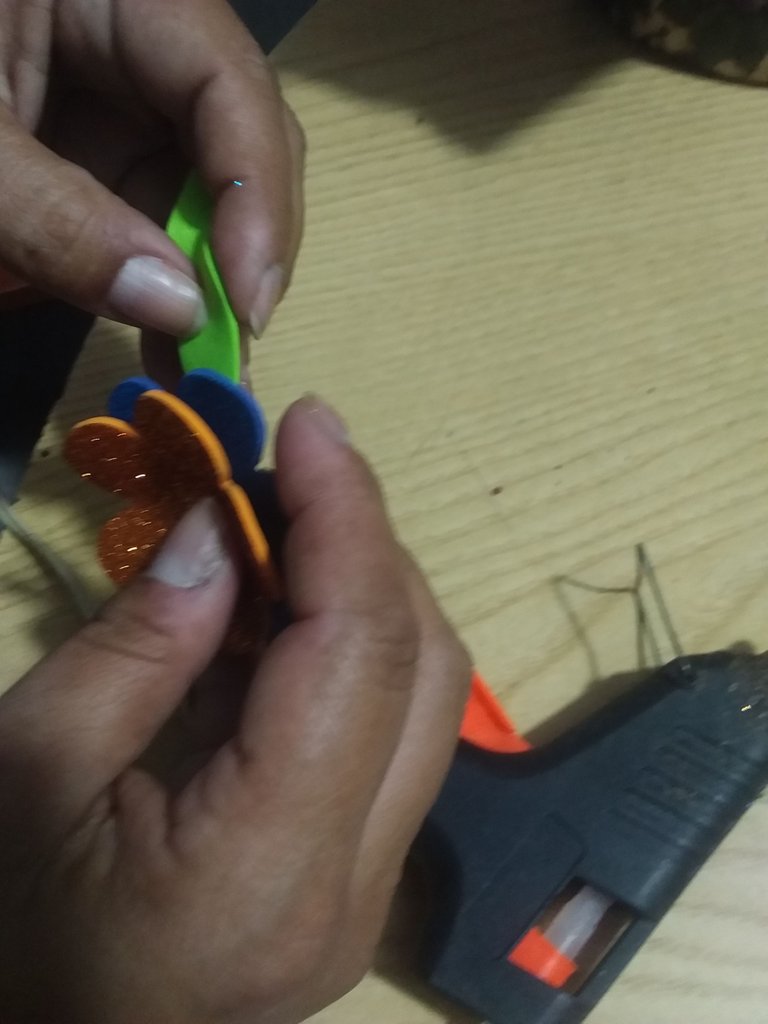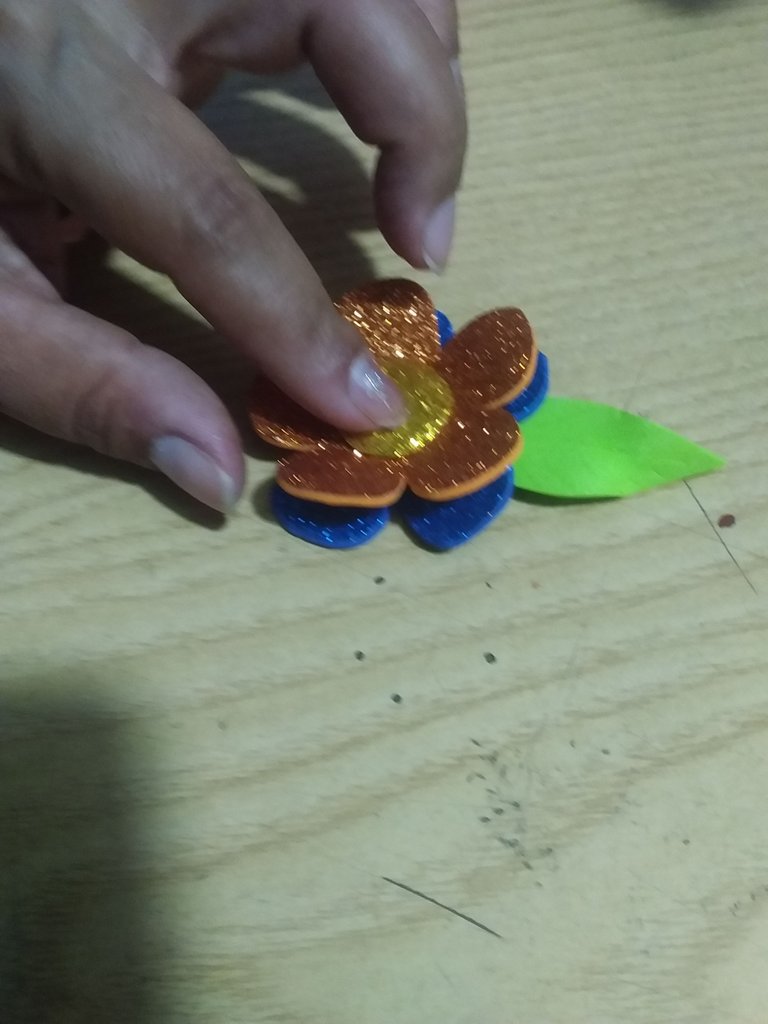 Las flores son el mejor datalle para una madre u mujer, la que diga lo contrario, miente, siempre una flor es bienvenida,y siendo el mes de mayo el mes de las flores, que mas idoneo que regalarles a todas las hermosas madres que me acompañan a la ardua tarea de enseñar a sus niños, las realice de diversos colores para hacerlas mas llamativas, me gusto el resultado final. Con un poco de sacrificio y mucho amor se termino este trabajo, solo espero que las madres lo valoren de igual manera.
Flowers are the best gift for a mother or woman, whoever says otherwise, is lying, a flower is always welcome, and being the month of May the month of flowers, what more suitable than to give to all the beautiful mothers who accompany me to the arduous task of teaching their children, I made them in different colors to make them more striking, I liked the end result. With a little sacrifice and a lot of love I finished this work, I only hope that the mothers value it in the same way.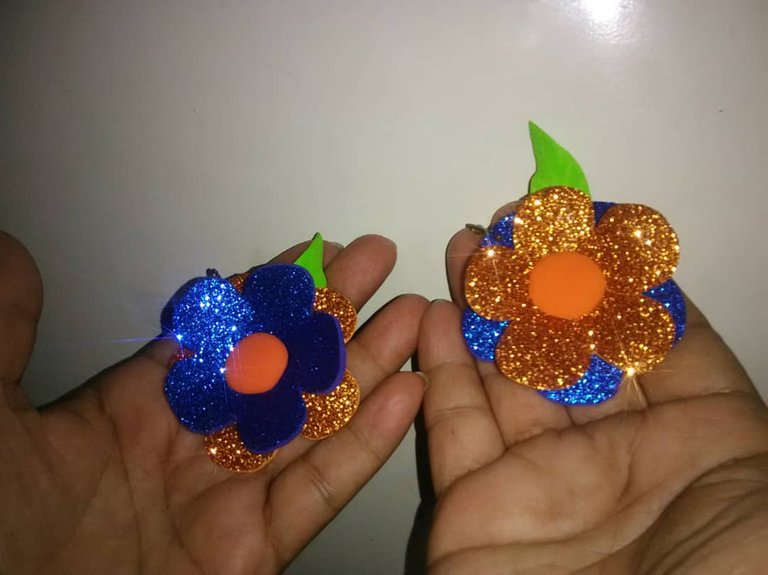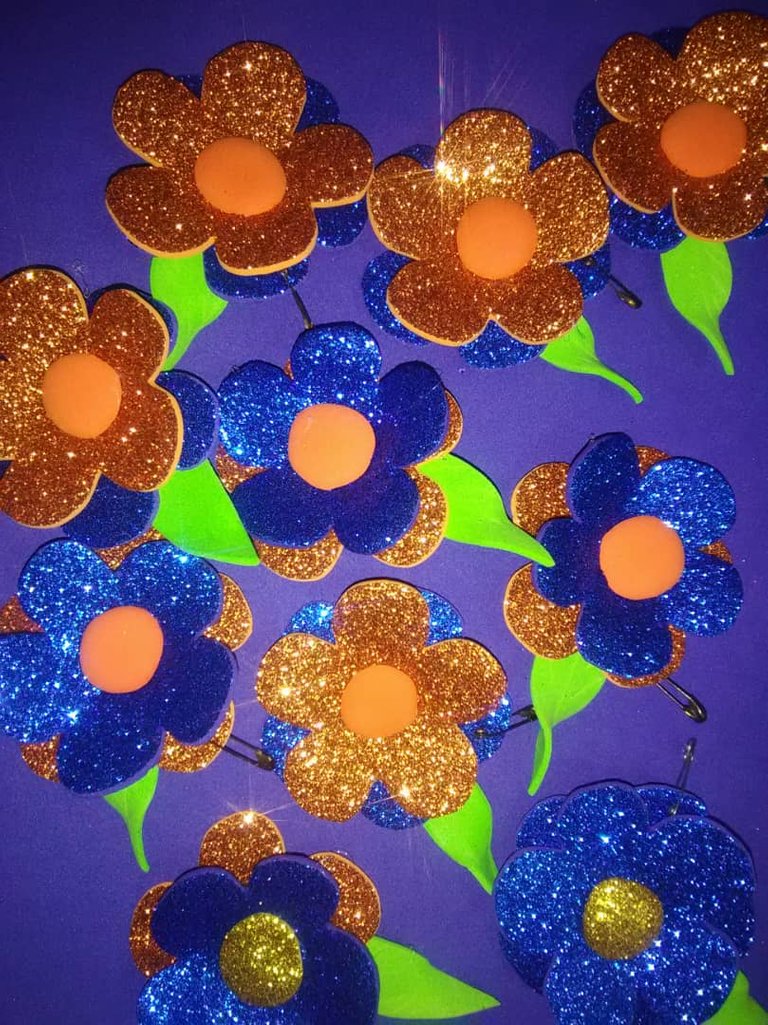 Como protagonista de esta historia, fui la primera en estrenar mi florecita, que aunque no sea madre, Dios me ha regalado la oportunidad de compartir con muchos niños durante toda mi carrera como docente.
As the protagonist of this story, I was the first to debut my little flower, and although I am not a mother, God has given me the opportunity to share with many children throughout my career as a teacher.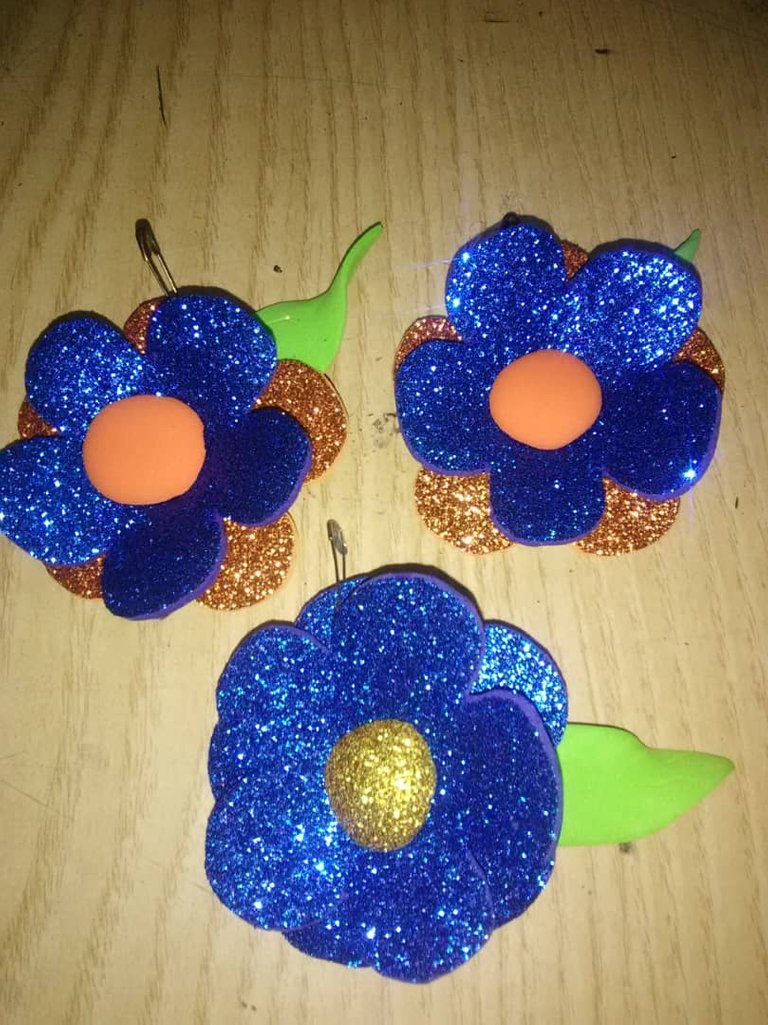 ---
Todas la imagenes son de mi autoria, tomadas con mi celular, texto traducido en DeepL.