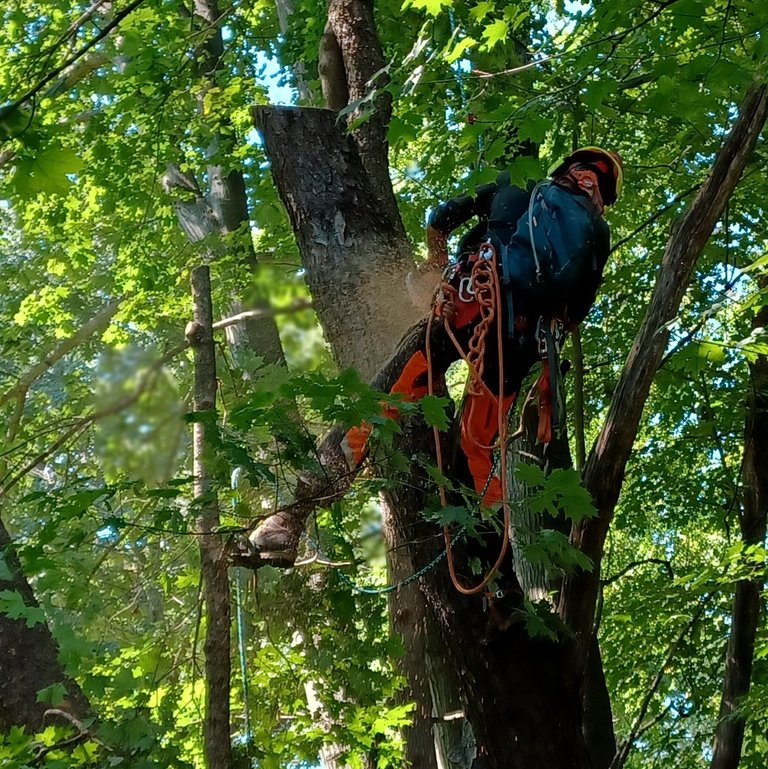 Climbing a tree with a chainsaw is a whole different experience!!!
---
Getting an Education and Getting Paid!
I am always looking to up my skill-set game, because you never know when something you know how to do can save your life, or someone else's. It'll always stay with you, and it'll never be wasted. When you learn something because you want to, you will embody the knowledge, and it will never be forgotten.
The beauty in all this is that if you do it right... you can get paid to learn that something new! That's what I've been doing lately. I had wanted to learn to cut trees down the proper way, because I started to fell larger trees that were slightly out of my comfort zone. To be on the safe side of things I decided to get out there and really learn how to do it before getting hurt.
The funny thing is that, shortly after making that decision with myself, the right mentor just showed up in my life! Life really is like that, when you pay attention. The arborist I'm working with now is the father of one of my kid's friends from school. I had told him I wanted to learn that work when I found out he did just that for a living. I offered my help, and a couple weeks later I got a call to get ready to learn!
Here I was learning from someone who is very passionate about his work, it was a pleasure, and I knew I was learning the right way. Though it was hard work in 98 degree weather and humid, I was happy to be building yet another skill-set! I didn't realize I would be doing this so quickly after thinking I needed it, but there it was.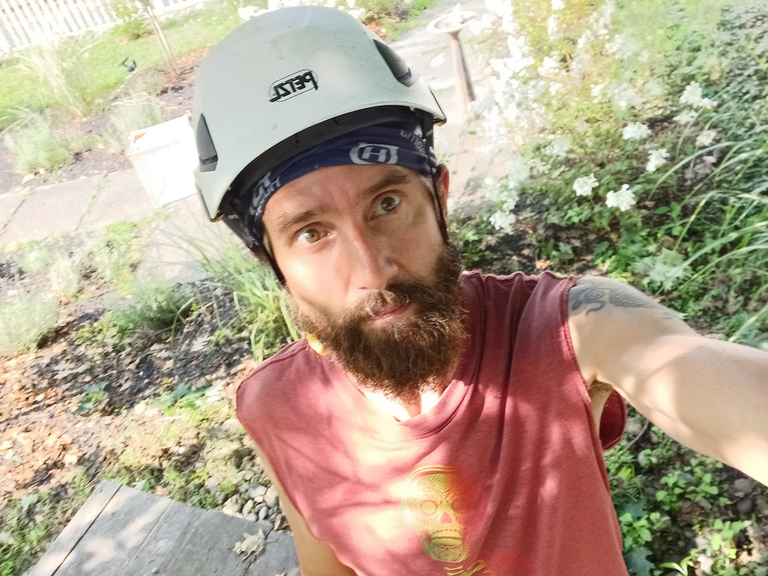 ---
The Grunt Work
I dragged a lot of branches to a pile, deep in the yard at the edge of the forest, but in two days I learned a few knots, cut a whole bunch of logs, and threw lines up in the trees!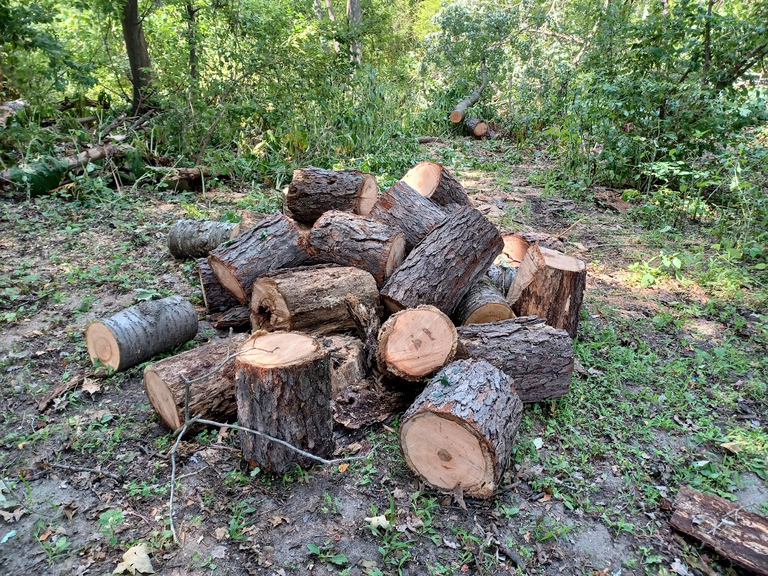 There ere a couple of piles like this one and eventually, to continue the clean up I cut up this pile into smaller logs too. The owner will split it all into wood burning stove size firewood.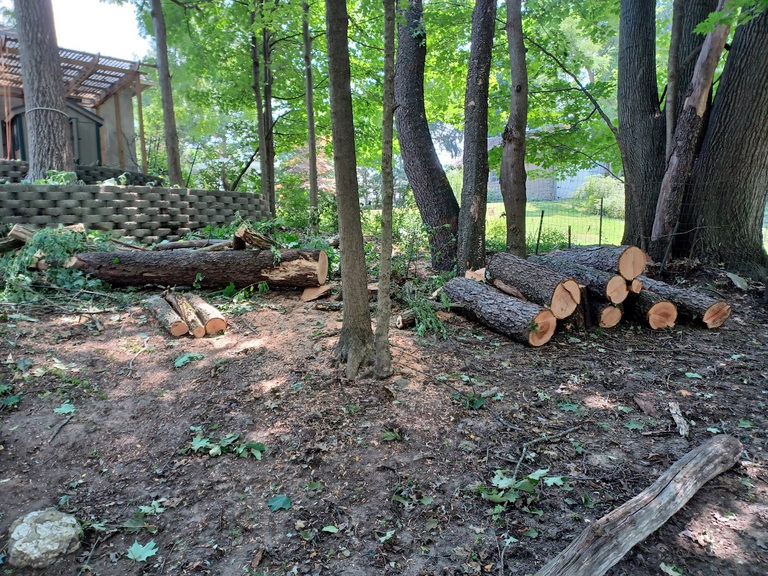 It's pretty incredible how much a slightly heavier saw than the one I own is so much more exhausting to use! After a dozen cuts or so I was pretty winded... Again, it also was humid, sunny, and 98 degrees out there!!! Maybe it also has something to do with it.
Obviously at the end of the job we had to clean everything up. We raked the grounds of anything we dropped from above, and fixed any dents in the ground that were made by larger falling logs.
The Fun Part of the Job
I practiced throwing a line up in the trees to pull up a climbing rope with.
There are a couple of tools we used that were fun. one is basically a slingshot on the end of a long pole. You put a weighted sac that is attached to the throw line into the cup, pull, aim and let it go!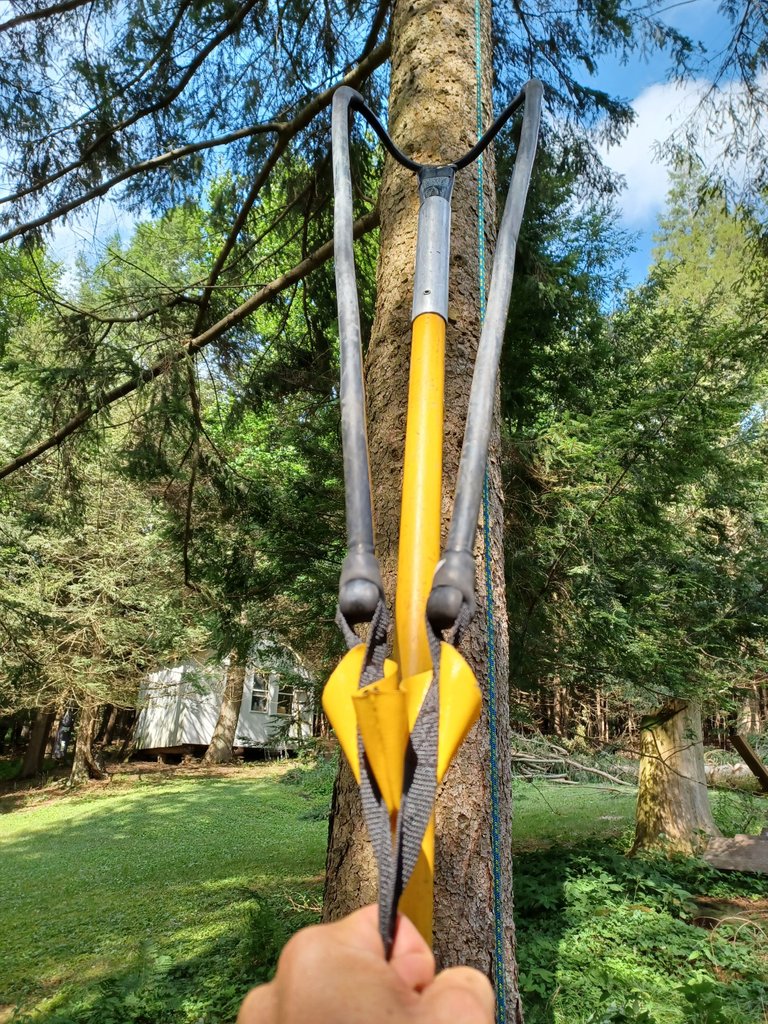 The other is using special knots in the throw line to make something to grip on to, so that we can throw with a lot of swing, and therefore send it up higher.
This is just the throw line: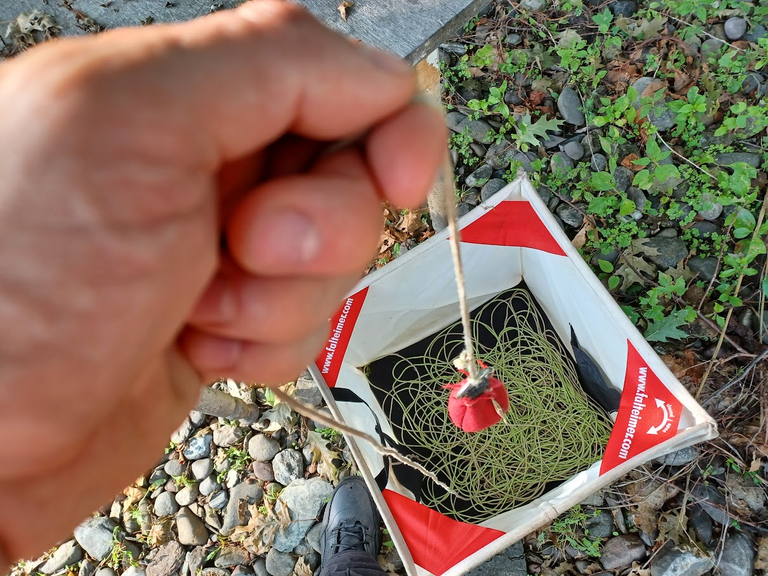 The white scare bucket you see there is made of cloth with a hard but flexible border. It's smart because it holds the string dressed properly so you it can be sent up without snagging on itself, and it folds up into this tiny little triangle that hold everything in place for the next time you need it.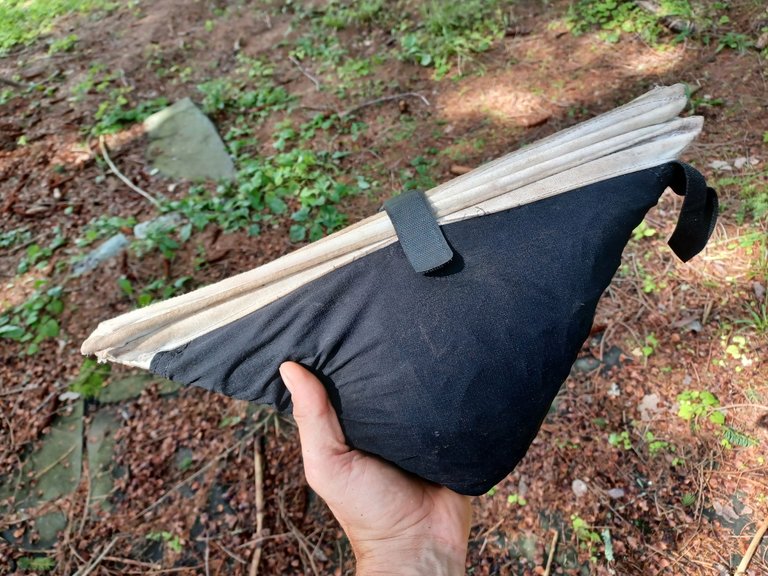 That weight on the end of the line really helps! You sling it up and it just goes. You'd be surprised how high you can send it. I practiced a small oak tree by hand and later I used the sling shot to go up up some 60 feet or so in a big black walnut tree.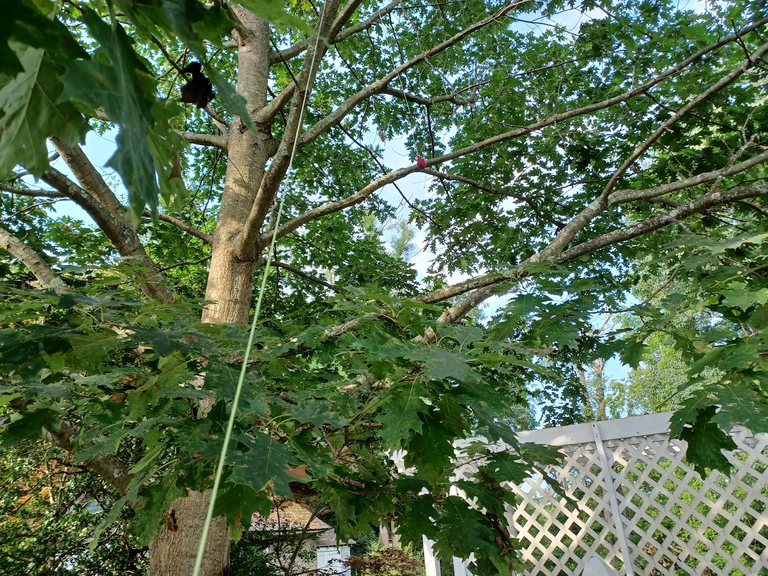 At the end of the two days we cleaned up all nice, and left the property with a bit more open space than it originally had. It's pretty cool how much of a difference trimming trees makes. You don't necessarily have to cut them down, if they're not dead and dangerous!
Here's a couple before and after pics: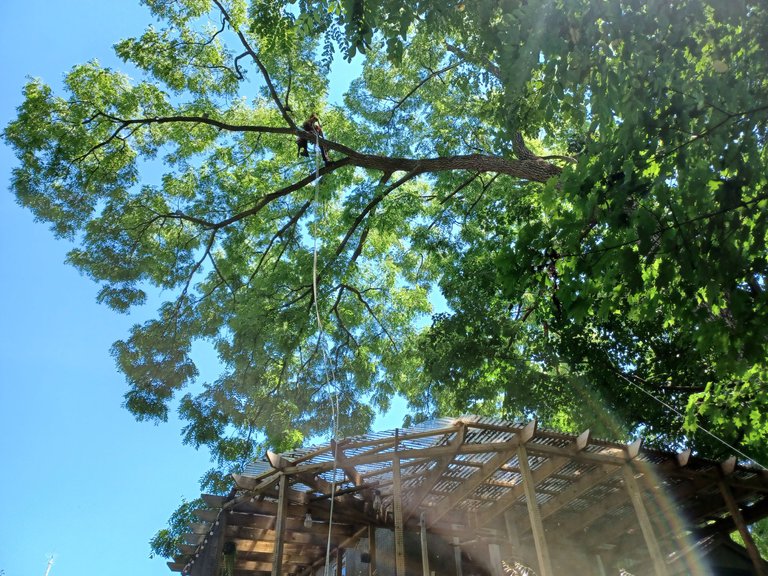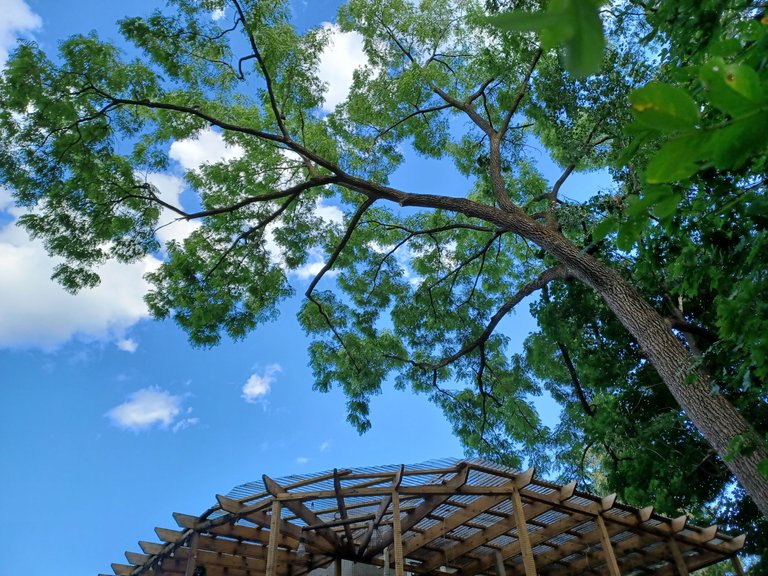 Final Thoughts
It's incredibly important to learn something you want to learn when you can.
I really like this tree work business right now. It's given me a lot more confidence in using a chainsaw, and a lot more respect for trees. It's really like a relationship, if you take care of them, by trimming the dead limbs, it will grow happier and still give you shade or whatever you like the trees for.
It's hard work, but it's it. You're outside getting your vitamin D, learning about physics, getting a work-out, and getting paid!!!
I love it!
---
AS ALWAYS... THANK YOU FOR LOOKING, AND DON'T FORGET YOU CAN SUPPORT ME WITHOUT MAKING A DENT IN YOUR WALLET
Simply use our referral links and we'll earn a little extra along the way:

| Hive | Presearch | Odysee | Minds | Hipcamp |
---
---
Find me on Social Media:
Insta: https://www.instagram.com/mugwortexpress/
LBRY: https://lbry.tv/$/invite/@MugwortExpress:5
Odysee: https://odysee.com/$/invite/@MugwortExpress:5
Minds: https://www.minds.com/register?referrer=NoMansLand
---
---
FINDING AND HELPING DECENTRALIZATION EVERYWHERE: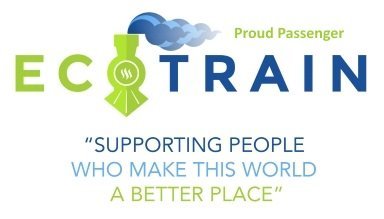 If you want to know what really is inside this Coconut, take a look at my Humans Of Steemit.
And don't forget… Dreams Come True!