The renovation building phase starts tomorrow, and we are still not ready for what is to come, but we are getting there. I have a vision of what it is going to look like, but unless we win the lottery (which we don't enter), we are going to have to compromise the hell out of it. We have also had to adjust some of the equipment we had originally planned on, but overall, it should come together quite nicely if the tradespeople do their job.
We don't have an architect, so I am planning it all in sketchup. There are no dimensions in there yet as we are yet to know the final precise inside measurements after the walls go in, but this is "around about" right.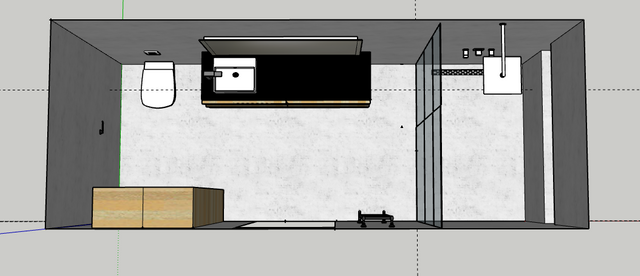 We have already bought the shower, channel drain, wall-mounted toilet and the heated towel rack was ordered last night. The tiles and the benchtop have also been ordered and thanks to my wife's workplace being a large conglomerate of businesses, we got a pretty decent discount on them. The shower door can only be ordered once we know precise measurements, so that will take some time.
The cupboards are going to come from IKEA, as not only are they cheap in comparison to other brands, they are annoyingly, very good quality for bathrooms and kitchens. We installed them in our last place and after 5+ years of living, they still looked and worked as new.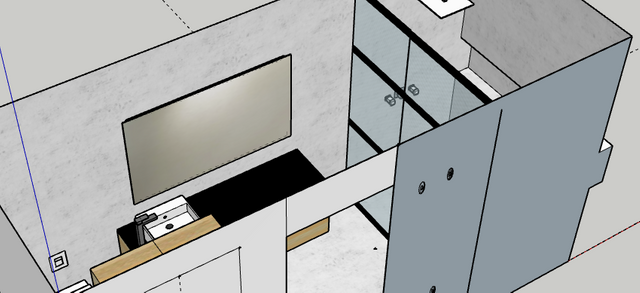 The largest costs by far aren't the fittings themselves, it is the labor costs for the tradespeople. I was saying the other day how ridiculously expensive a plumber was going to be based on the first quote, but thankfully, the next two quotes were both a full half the price, which brings the first person heavily into question. The plumber that is now set to do the work, even offered bits of advice and has made improvements to the plan so that the lines are cleaner.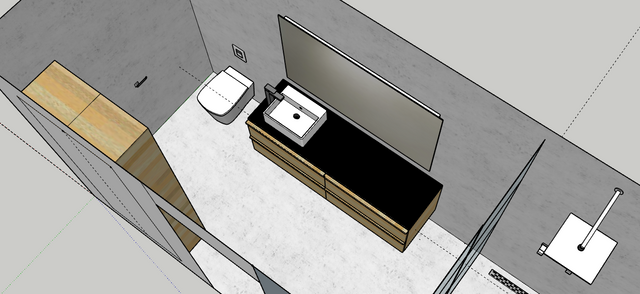 One of the challenges we are facing in regards to the design is how to hide electrical work and things like sockets. The electrician has helped us in this so far for things like our choosing the towel rack so that it is the right kind of wire positioning (we sent him our choices to make sure they complied), but we are still wondering what to do with the mirror.
The mirrors with lights in them are quite dodgy and far from good enough to do makeup, so spotlights in the ceiling are compulsory. However, we want to hide the outlets behind the mirror, so have to build a box to do so, as there seems to be no ready options in the size range we would need. Bathrooms are generally very small in Finland and the fittings often seem an afterthought - meaning they don't fit.
At our previous apartment, there was a full building pipe renovation done, meaning all bathrooms were ripped out and rebuilt from scratch. The company doing the work offered a range of options and we didn't take any of them and preferred to choose our own. Out of 80 apartments, we are the only ones to have done this - which annoyed the company, as they had one set of everything left over - as they assumed everyone would choose things like shower unit, sinks, cupboards and toilet from their selection.
The result was, they also had to return money to us as we were far below their allocation and they ended up sending people through our bathroom saying "we could have done this in all of them". While many here don't seem to think about anything other than "it is new" - the design of the wet spaces is very important for the look and feel of the home. The other apartments essentially had new, 1970s bathrooms installed.
Since we aren't looking to sell this house anytime soon (if ever), we are being a bit more bold with our design choices, rather than what we know will add market value for sale, which is generally "white". We have light-grey concrete tiles and after a fair amount of back and forth, we decided with the black highlights to give the softer wood an edge. We have also made sure that we have plenty of storage space as from a functional standpoint, a cluttered cupboard or bench doesn't make for a nice experience.
At the end of the day, as long as everything works, I will be happy enough, but I do really enjoy the planning and design consideration parts and working out what fits where and what will work for us as a family. This will be the bathroom upstairs and the main shower (there is one next to the sauna in the cold basement too) and guests won't often even see this as there is a toilet on the living area floor (still to be designed), so this is for us only. Since we are planning to stay here for a long time, I want us to be comfortable with it, as this is one of the most expensive parts of the home, twice that of what our kitchen will end up costing - when we finally have the money to do it.
The other thing that is cool is that I get to use Sketchup again, which I haven't for many years. I am even considering getting a year licence for it to cover the renovation period, so that I can plan the entire house. I am on a trial version at the moment. There are free ones available too, that I think I will test first though (it would be appreciated if those with experience with them left a comment and link to one they like).
Well, let's see what happens tomorrow morning once the contractors have seen the rough plans and then add in their comments. Hopefully, they understand what is going on well enough at this point that they can start filling in the gaps I need to complete the dimensions so that things line up. The tradies here are known for their care, nor their eye for design, so they have to have every tiny detail mapped out for them and be told over and over that if they are unsure - ask.
Now - what am I missing...
Taraz
[ Gen1: Hive ]