I've written a lot of articles about building great gaming PCs for 1080p gaming, but one thing that I haven't really touched on is how to build a great budget gaming PC for those looking to game at higher resolutions. While it's really tough to game at 4K decently, especially on a budget, 2K gaming is a little bit more reasonable. The biggest change from 1080p gaming to 2K gaming is the GPU. It can be tough to find really good deals on GPUs on the higher end, but I think I've found a great solution that doesn't sacrifice too much money for the sake of great 2K gaming performance.
Let's get into it!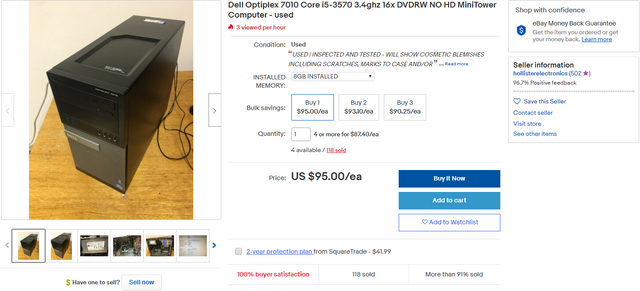 First up, we need a great PC to start with. An Optiplex 7010 MT is a great start for our build. You can pick this one up which comes with 8GB of RAM and a good i5-3570 for just $95 plus shipping. I personally recommend this seller because this is the listing that I actually bought my Optiplex 7010 MT from. You can certainly go for an Optiplex 7010 MT with an i7-3770, but you could expect to spend a lot more. For gaming at higher resolutions, it really will only use more of the GPU and not the CPU so we should do just fine with an i5 for this 2K gaming budget build. This particular build also comes with 8GB of RAM which is enough for modern gaming, but you could always add in an extra 8GB of RAM down the road if you wish for fairly cheap. For $95 plus shipping, this is a great start to our build. You can find this particular PC for sale here.
Next up, we need a great GPU for 2K gaming that'll work nicely with our build.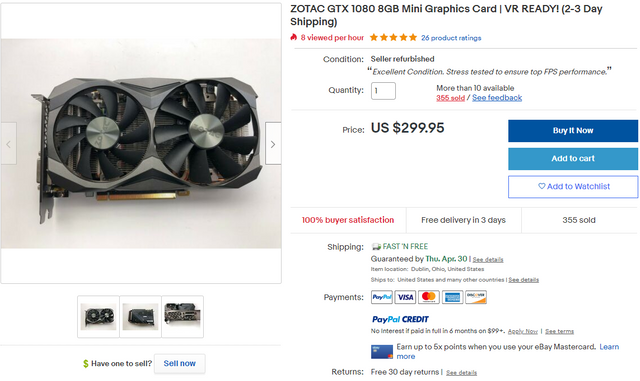 For this build, the GTX 1080 Mini was a no-brainer. With this GPU, you can run most games at high/ultra settings at 60fps at 2K. Futhermore, not only is this GTX 1080 Mini currently the cheapest GTX 1080 on eBay, but it's also a Mini which is only around 8.5 inches in length. That's perfect for our build because the maximum length that our GPU could be is 10 inches and at 8.5 inches long, you wouldn't even need to unplug the USB3 connector like I had to do for my personal budget build. It's a really sold 2K gaming GPU that could even work as an entry level 4K gaming GPU. Just a solid GPU all-around, it comes highly recommended for a build like this. At $300, you'd be hard pressed to find a better GPU for cheaper. You can find this particular listing here.
Next up, we need a PSU that's powerful enough to support our whole system.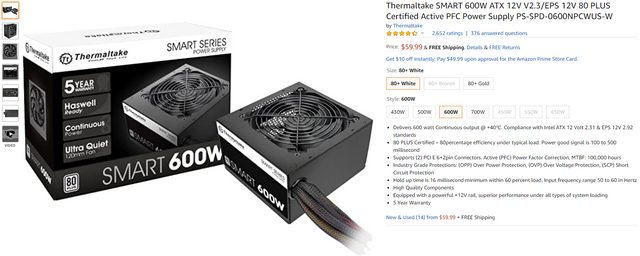 For this, I decided on the Thermaltake 600W PSU. Believe it or not, our entire system will only use around 500W at full load, but just to be on the safe side let's go with 600W for some extra headroom. It's nothing super fancy, but it'll work for our build without any issues. For $60, it's a solid choice. You can find this particular PSU here.
Another thing that our gaming PC will need is some storage so let's get some!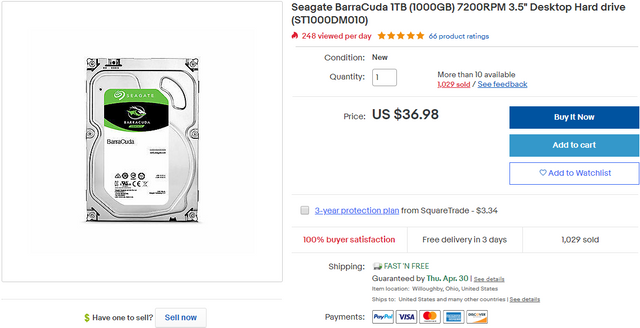 Here we have a 1TB HDD so we can have a lot of storage for newer games. For $37 for a Seagate BarraCuda 7200RPM HDD, it's a great choice. You can always add an SSD for a boot drive later on down the road if you wish. For now, this should be good enough for a 2K budget build. You can find this particular HDD here.
The very last thing we'll need is a low profile right angle SATA connector to connect our HDD to our PC.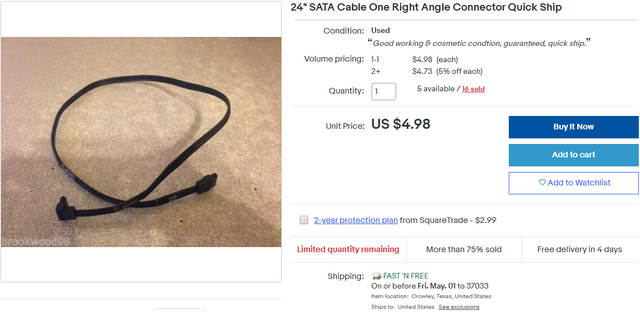 We need someway to connect our HDD to our PC and a cheap low profile right angle SATA connector will fit the bill perfectly. It doesn't need to be anything special, but we will need a low profile right angle SATA connector because our GPU MAY overlap our SATA connectors on our motherboard a bit. It's better to play it safe here especially since these go for around the same price as a normal SATA cable. You can find this particular one here.
Now you have everything that you need to build a bassass 2K gaming PC for just under $500. To be exact, everything here will cost you $497! If you don't believe that this thing is a 2K gaming beast, just look up benchmarks of the GTX 1080 running games at 2K. You'll be pleasantly surprised by it's performance!