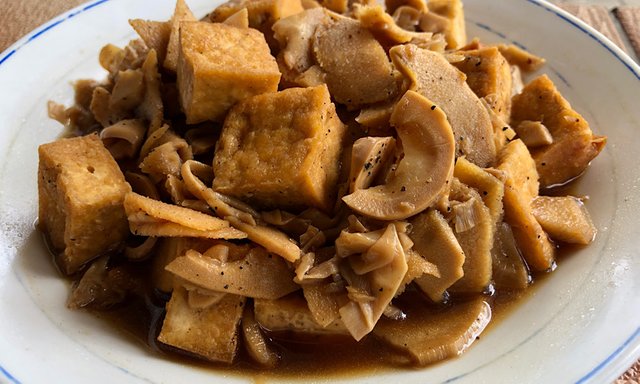 I want to share my ខ (Kha) recipe today. Kha Tumpeang (Khmer Bamboo Shoot Stew) is a tasty, sweet and spicy vegan recipe.
The simple ingredients but delicious food. You can try to do, it's very easy to make.

ខទំពាំង
Kha Tumpeang Recipe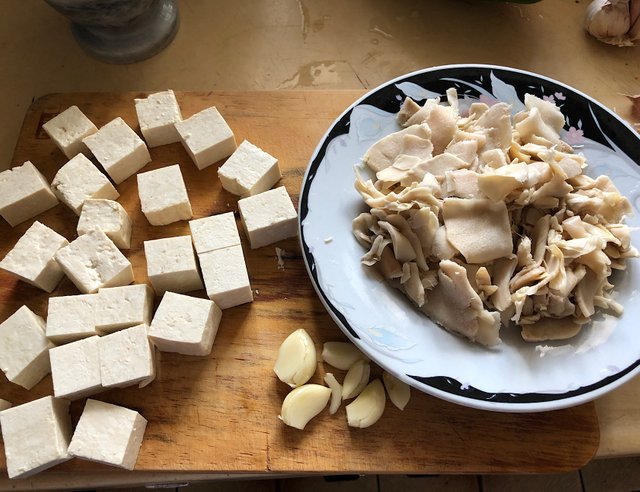 Ingredients
150 grams tofu
200 grams bamboo shoots
1/2 tsp salt or to taste
2 tbsp sugar or taste
1/2 tsp black pepper
1 tbsp soy sauce
5 cloves garlic
2 cups water
Step 1

Fry tofu.

Step 2

Crush garlic and black pepper.

Step 3

After crush.

Step 4

Heat pot put brown sugar stir it until brown or aromatic, open fires slow.

Step 5

Then put crushed garlic and pepper.

Step 6

Stir it until smell aromatic.

Step 7

Then put water, when boiling put bamboo shoots,salt, soy sauce and boil 10 minutes.

Step 8

After put tofu boiling little to taste, turn off stove.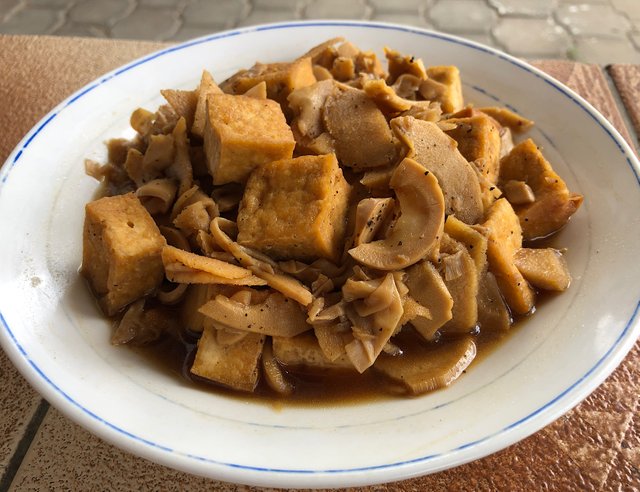 This the food my country make too sweet flavors, but I made it a little bit sweet.
Usually, they are make this dish with pork or pork legs with eggs a lot, but some time put tofu also.
We're like to put coconut water instead of water then delicious more also.

🙏 THANKS FOR READING 🙏
If you enjoyed this post, please upvote and reblog.