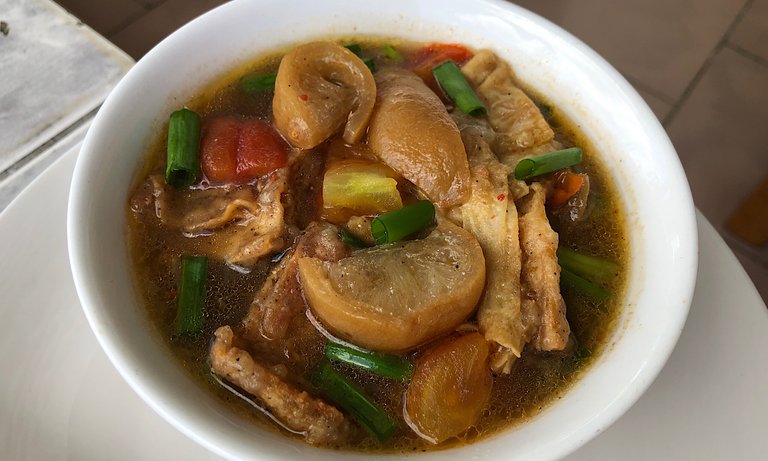 Hi everybody! This week's Plant-Based Cooking Challenge 👩‍🍳 Week #23 included beancurd skin, so I made sour soup from lime pickle with beancurd skin for lunch the other day. I love the taste of lime pickle.
My husband asked me to make lime pickle again because we run out, but the store has only lemons now. Normally the people in my country use all kinds of meat in this recipe. I use beancurd skin and sometimes tofu because our family eats vegan food always.

👩‍🍳 Lime Pickle Sour Soup With Beancurd Skin 🍲 Ital/Vegan Recipe 🔪
វិធីធ្វើស្ងោងាំង៉ូវពពុះសណ្ដែកបួស

Ingredients
100g beancurd skins
1 pickled lime or to taste
4 small tomatoes
1 green onion
4 cloves garlic
salt taste
1 tsp brown sugar or taste
1 tbsp soy sauce
1 tbsp mushroom-umami powder (optional)
3 cups of water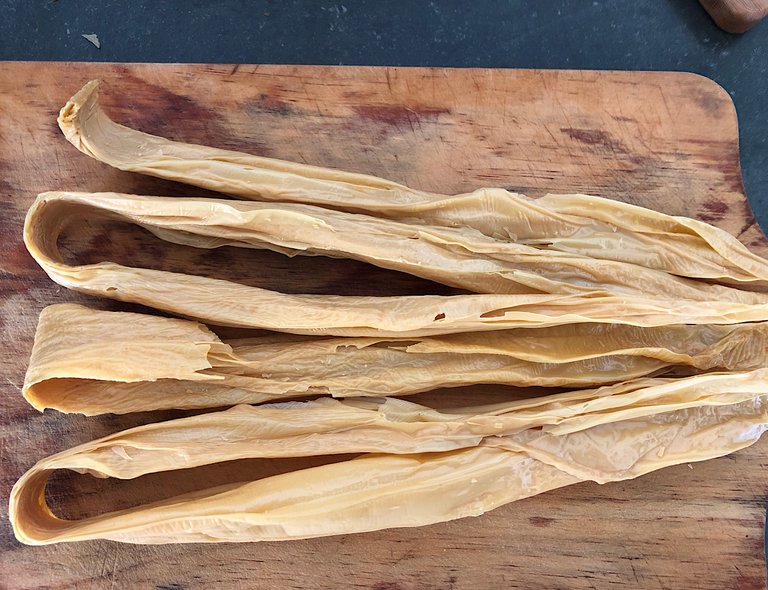 Soak beancurd skin in the water until soft and remove them.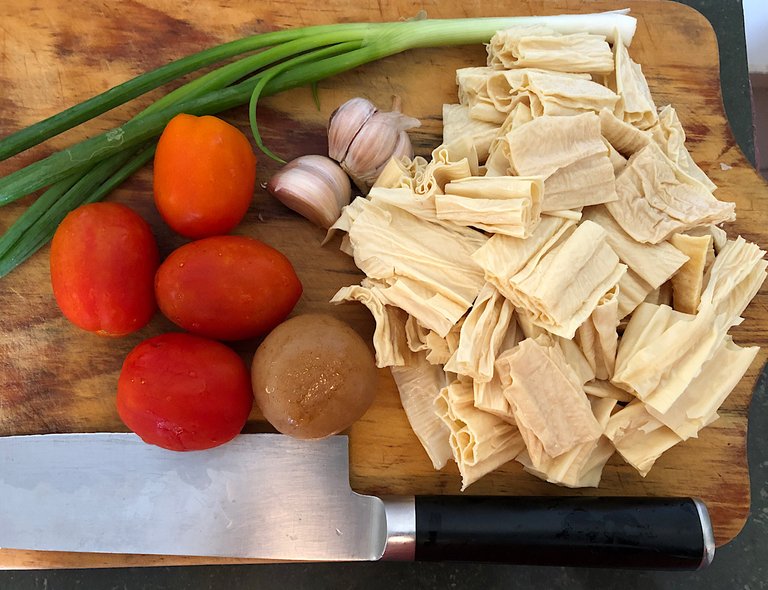 Cut beancurd skin like short.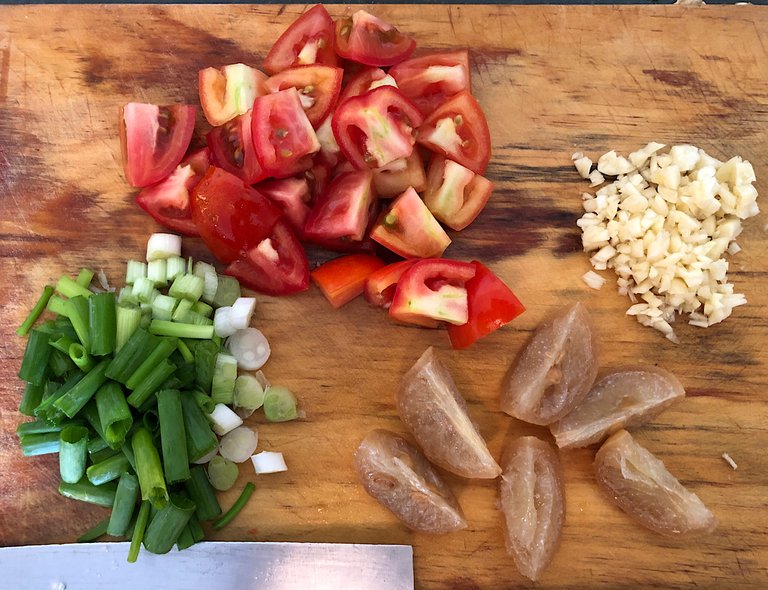 Chop garlic and cut tomatoes, green onions, pickled lime, and remove the seeds.
Put 1/2 tsp salt, 1/2 tsp pepper powder and 3 tbsp flour in a bowl and add beancurd skin, mix it all together and deep-fry them. Deep-fry garlic until brown and remove them from the oil, then keep for putting on the top.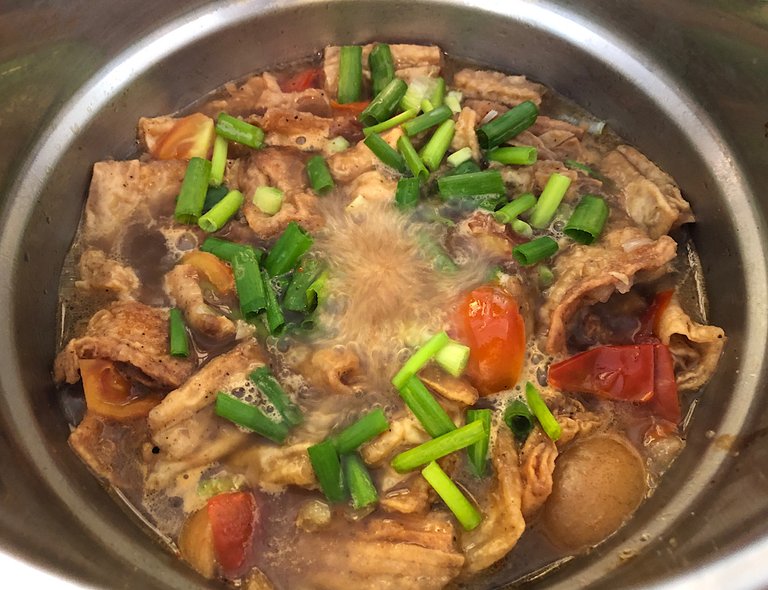 Boil water and put salt, sugar, soy sauce, and mushroom powder. Then add pickled lime, tomatoes, and beancurd skin, and boil it a few more minutes.
After taste it and add green onions, turn off the stove. Finally add fried garlic. Its smell and taste are good and this is delicious with rice.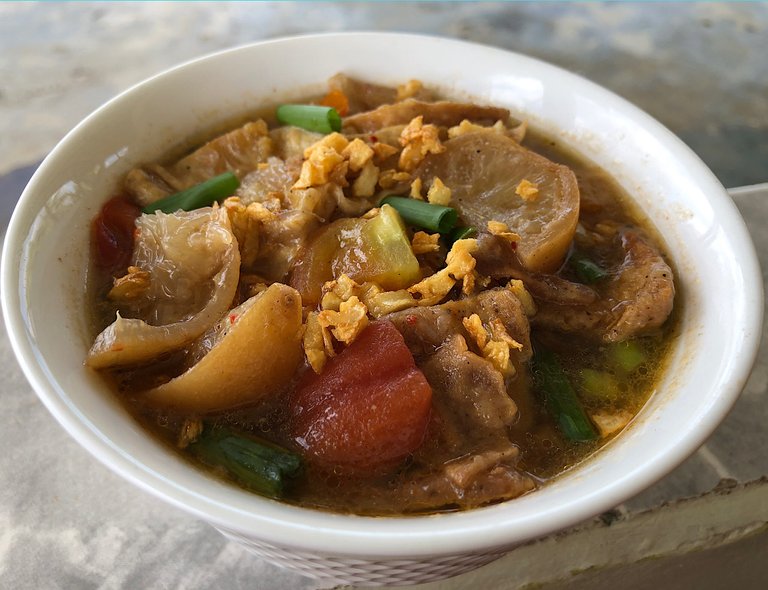 Thank you for reading and visiting my blog. Have a wonderful day everyone 🥰🤗.
CLICK HERE TO JOIN HIVE AND START EARNING CRYPTO LIKE US