It's common knowledge that I, the G-dog, loves building Lego. It is something I've loved for many years and now, as a fellow of fifty years old, get transported back to those days as a kid sifting through a pile of bricks creating something from my imagination on every occasion I build.
What some may not know however, is that my wife Faith loves it too...OK, not as much as me, but she likes the process of creation and we can often be found sitting on the floor building Lego together. It's relaxing, fun and a nice time to connect with each other.
To date Faith hasn't built a set; In her entire life! Yeah, I know, it's crazy. So, last weekend we rectified that travesty. Here is the result.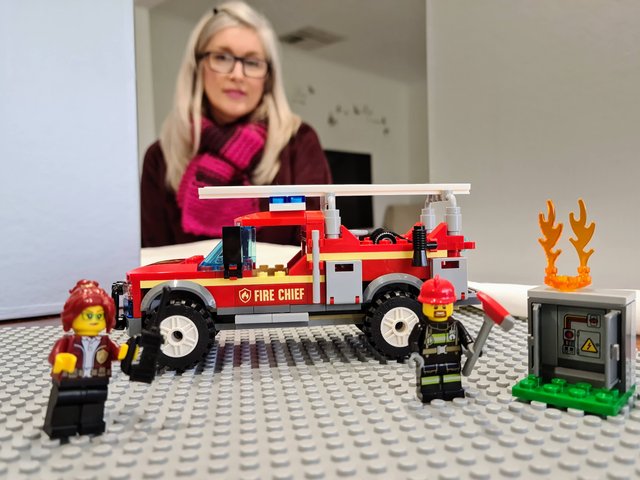 This is a set I purchased to add a few items to my Lego City collection which is just getting going. It's a cool little set that comes with the fire appliance (truck), detachable ladder and fire hose sled, which is not pictured above because I forgot to bring it out of the truck. (You can see it below though.)
The set includes two minifigures and a few accessories like an axe, walkie-talkie, coffee cup, megaphone, marker cones and electrical cabinet, which you can see on fire above.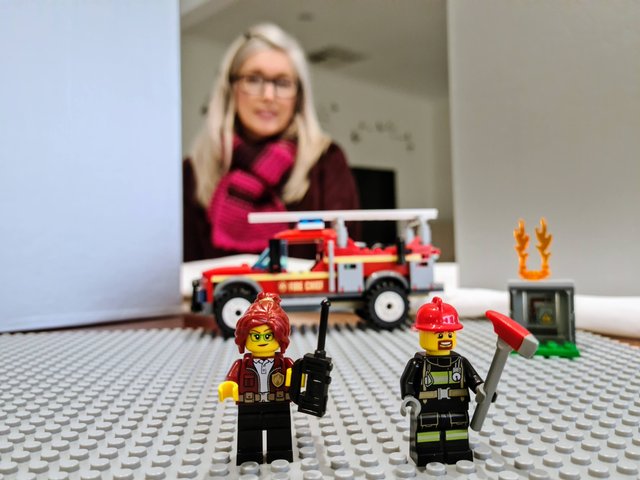 It was interesting watching Faith follow the instructions. I was building another set at the time and left her to her own devices, but was keeping a sneaky eye on her. She was so precise and articulate in following the instructions. She'd see what was required for each stage, gather the bricks, make sure they were correct and placed exactly where they needed to be...Then would look at it again, see how it was shaping up and move on to the next instruction. It was kind of funny to see the intensity and concentration on her face.
She really enjoyed the build though and we had fun building Lego together as always.
Below you can see a closer image of the truck and water sled. See the sprayer in the fireman's hand? That little blue thing represents the water and the spray-head actually shoots it off when a little tab is depressed. It's pretty cool and the sort of thing that would have given me hours of fun as a kid...OK, still does! 😃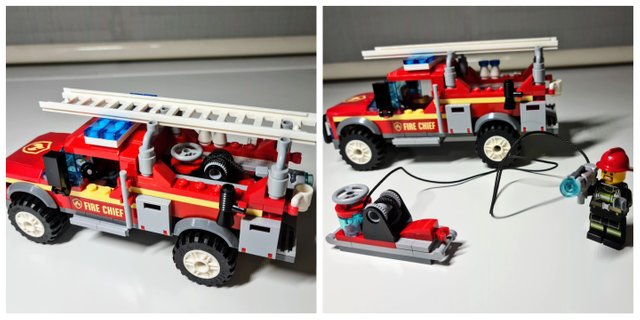 Faith is pretty keen to do another set and even mentioned doing some Lego Technic which is a little more technical in nature. To date she has not built any, mostly because it is so intricate and the smallest of mistakes often has big ramifications down the track. Building them together isn't really much of a thing though either - Too much scope for error. I've made mistakes and have had to undo hours and hours of work to set it straight - Part of the fun I guess,but annoying.
I've got a small Lego Technic set she could tackle though and this weekend might be when it happens. Of course I'll post about it. You can see the set below. A drag car 2-in-one set. It's cool because it is a pull-back set meaning it has a drive mechanism.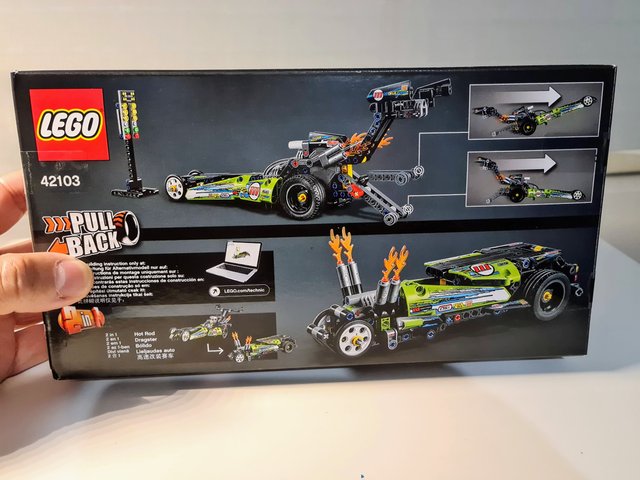 Faith and I have done many things over the thirty three years we have been together, and building Lego is just another in that long list. Spending time sifting through Lego bricks and coming up with all sorts of creations is not just about the Lego, it's about togetherness and gaining some distance from the troubles, concerns and worries of everyday life. Holding them at bay, even for a time, helps us deal with them a little better.
How about you? In what ways do you find a little arms length from the daily grind?
---
Design and create your ideal life, don't live it by default - Tomorrow isn't promised.
Be well
Discord: galenkp#9209
Join the Lego Community here.