Some of my earliest, and most enjoyable, childhood memories involve Lego. Back when I was a kid we had a large assortment of it; None was purchased new though, my parents had other financial priorities.
My older brother and I would pester our parents to scour the newspaper or second hand shops for Lego and we used our meagre pocket-money, supplemented by mum and dad's funds to buy what we could to add to our stash. It worked well, and whilst we didn't have sets to build, we found our creativity through building whatever our minds could think up using what Lego we collected.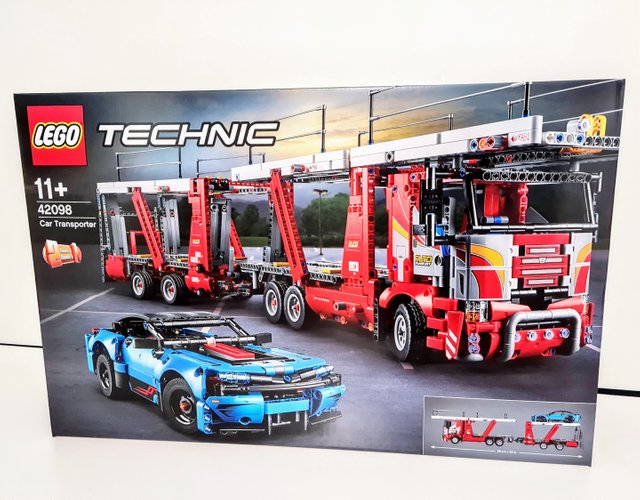 Over the years I gained new interests and hobbies, played sports and, of course, got older, so Lego took more of a back-seat role and by the time I met Faith, (my wife now), at the age of seventeen and a half I'd ceased building Lego altogether.
In the intervening years I've had many hobbies including racing go-karts, playing American football (ten years), guns, hunting and competition shooting, furniture restoration, camping and off-roading, writing (I wrote a book), gardening, hiking, kayaking, rogaining, playing music (I've played the piano since the age of four) and many other things as well. Some have crossed-over each other and some were done in isolation. You'll note Lego isn't there; However my love for it never went away.
Late last year I decided it was time for me to rekindle my love of Lego and I delved in with a few builds including the 2019 Landrover Defender, Mack Anthem and Extreme 4x4 builds, all Lego Technic. I also started to collect classic Lego, blocks that I could free-style with using only my creativity.
It wasn't long before I realised how much I loved Lego and how much I had missed it!
I'm fifty now, too old to be playing with Lego? Not on your life! Lego transcends age and can be as enthralling to a five year old as a fifty year old! One just needs an imagination, creativity and a child-at-heart ethos - That sums me up fairly well.
Since the virus started I've been building free-style only; I have been working from home on reduced salary since the beginning of March and it didn't seem responsible to buy new sets. Last week I decided to do so though as one of the department stores here had a big sale on toys - And I had a gift card courtesy of work to spend.
Here is one of the sets I bought.
This Car transporter and car is a two-in-one set meaning it can be built as two different things which appear below. I'm going to build it as the semi-transporter and blue race car you see in the below (top) image and then may tear it down at some stage and build the models in the lower image (below).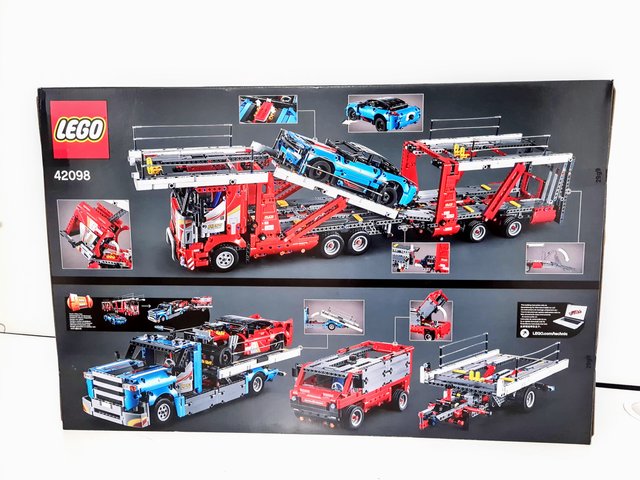 Some of the features are:
Car Transporter with two adjustable car decks and rear loading ramp.
Tilting driver's cabin
Detailed V6 engine including moving pistons.
Blue race car includes working steering and V8 piston engine.
It measures over 22cm (8 inches) high, 86cm (33 inches) long and, 13cm (5 inches) wide. (Not far off 1 metre long!)
Blue race car is 27cm long, 8cm high and 12cm wide.
I purchased this set for $149 which was a 44% saving on the recommended retail of $269. The delivery was $7.50 to my door so I ended up adding in another couple of smaller sets, which I will talk about later, for the same delivery charge to make it financially efficient.
I'm looking forward to starting this set although I'll be doing some free-styling with Faith first, probably tonight and Sunday.
I'm not a huge fan of building Lego Technic with other people; There simply too much scope for something to get missed or misplaced within the build which will only lead to disaster later when things don't fit.
I'm not sure if tragic Lego guy is an overly apt way to describe me - I'm not tragic. I love Lego though, and for those of you who have spent time building Lego for yourself, or with your children, you'll know how amazing and engaging it is.
Unfortunately for Faith and I we don't have children and so I have to take on the role of adult and child - A role I'm good at. 😂
Just before I go I want to talk briefly about the Lego Community.
I created it as a place to drop my own Lego builds, a file or sorts, but others have also used it which is totally cool, and encouraged. If you happen to have Lego, or want to post about Lego that's the place to do it. No pressure of course.
You may just like to take a look there though as there are a few doing some really cool and creative things with Lego and I think they'd appreciate your support. It seems stories are the flavour of the day and users are creating some cool ones, revolving around Lego, so go check it out and throw some support behind them.
Thanks for reading and engaging.
---
Design and create your ideal life, don't live it by default - Tomorrow isn't promised.
Be well
Discord: galenkp#9209
Join the Engagement League