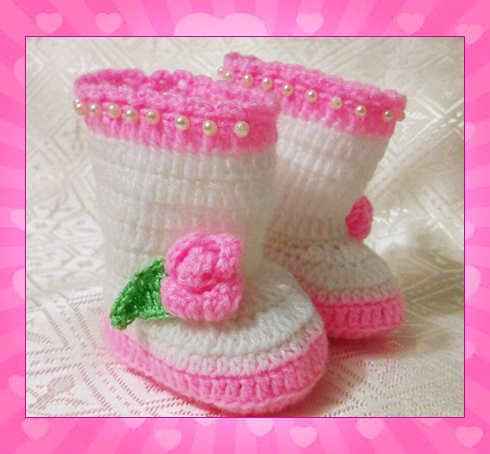 El vaso medio lleno
    Hola mis queridos amigos, después de 3 días sin el preciado internet hoy vuelvo como la matrix "Recargada". Hace algunos días escuché una frase que ya la había escuchado mucho, pero nunca le había prestado atención tal vez porque no me la había tomado para mí. La frase dice que "siempre hay que ver el vaso medio lleno" la persona que es optimista no se lamenta, ni siente que ha fracasado, más bien saca las lecciones en positivo que le haya dejado X circunstancia; en cambio una persona pesimista siempre va a ver el vaso vacío, siempre se va a lamentar y lleva el pesimismo donde quiera que vaya y donde quiera que habla.
    Si eres una de esas personas emprendedoras eres mucho más que el optimista, eres el que no se queda solo viendo el vaso sino que también vas por más agua. Yo quiero ser así, no importa las adversidades, los fracasos, los días malos, quiero ser de las que ve el vaso medio lleno, voy por más agua y disfruto la vida. Es mejor ver las fortalezas que tienes y seguir adelante con mucho orgullo.

Las botitas de María


    Hoy les vengo a traer un proyecto que me encanta, hace como dos años la vendí muchísimo, me imagino que motivado a las circunstancias que nos acongojaban acá en Venezuela la gente dejo de comprar pero ahora ya se está moviendo el mercado del tejido nuevamente. Por eso me han encargado estas botas para María, la nieta de una amiga.
Materiales que vamos a utilizar:
- Lana Araña bebé rosa y blanco
-Aguja de tejer en crochet # 2,5 mm
Pasito a pasito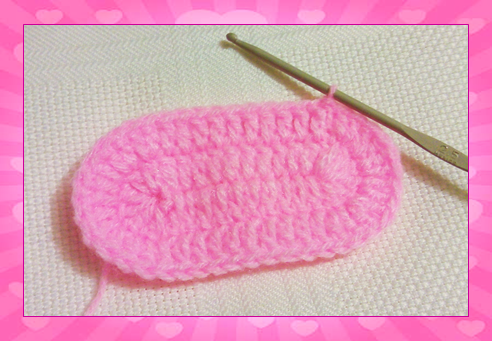 1ra v- Tejemos 12 + 3 cadenetas que equivalen a nuestro primer punto alto, de inmediato comenzamos la primera vuelta metiéndonos con un punto alto en la 5ta cadeneta, seguimos con punto alto para cada punto de base hasta llegar a la última donde vamos a tejer 6 puntos altos en el mismo lugar, continuamos la vuelta con puntos altos y en el otro extremo repetimos lo mismo que en el extremo anterior y cerramos la vuelta con unto raso.
2da v- Tejemos 3 cadenetas que equivalen siempre a nuestro primer punto alto, continuamos con punto alto hasta donde hicimos los 6 puntos altos de la vuelta anterior, en cada uno de ellos vamos a realizar un aumento de 2 puntos altos para un total de doce, continuamos con puntos altos y repetimos lo mismo en el otro extremo, cerramos con punto raso.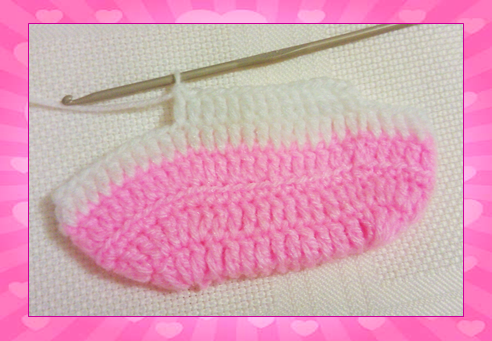 3ra v. Realizamos medios puntos en cada punto de base hasta llegar a los aumentos, cuando llegue al primer punto de aumento hacemos esta secuencia un aumento de puntos altos, en el que sigue un solo punto alto, nuevamente un aumento de puntos altos y así sucesivamente hasta terminar los aumentos de la vuelta anterior, proseguimos con medios puntos hasta el otro extremo, cuando lleguemos a donde iniciamos los aumentos hacemos un punto bajo en cada punto de base.
4ta v. Tejemos una vuelta de un punto alto en cada punto de base con la particularidad que lo ensartamos agarrando solo la hebra de atrás.
5ta v. Cambiamos el color de hilo si así lo prefieres y tejemos una vuelta de medios puntos en cada punto de base.
6ta v. Tejemos 3 cadenetas y un punto alto en cada punto de base, cuando lleguemos al punto número doce doblamos la suela a la mitad, así como se ve en la imagen y contamos 10 puntos de base de la vuelta anterior, tienes que doblar muy bien para que no haya error. Cuando ya estemos seguros comenzaremos hacer las disminuciones de puntos altos, en total deberías tener 10, con esto iras haciendo o formando la punta del zapato.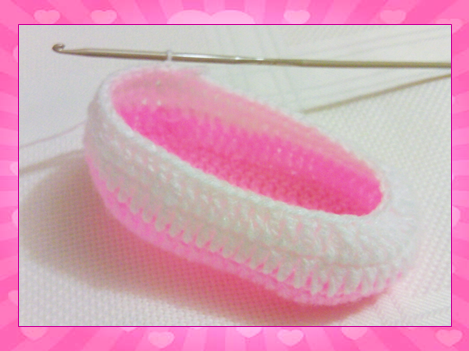 7ma v. Tejemos puntos bajos hasta llegar dos puntos de base antes de las disminuciones de la vuelta anterior. en esos dos puntos vamos a tejer una disminución tal cual como hicimos anteriormente, en total deberías tejer 7, continuamos con puntos bajos y cerramos esa vuelta con punto Razo.
8va v. Hacemos una vuelta total de puntos bajos en cada punto de base.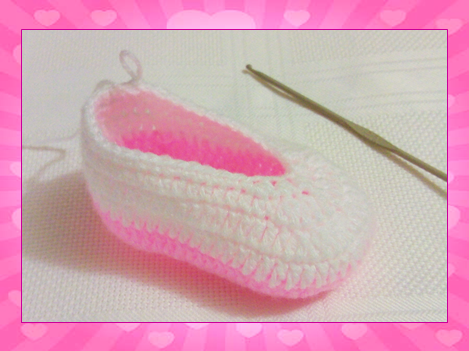 9na v. Tejemos un punto alto en cada punto de base.
10ma v. Realizamos puntos altos hasta llegar a la parte frontal donde hacemos un aumento de puntos altos y continuamos como veníamos.
11va y 12va v. tejemos puntos altos con la diferencia de que tejemos un aumento de puntos altos en la parte frontal del zapato y en la parte de atrás.
13va y 14va v. tejemos un punto alto en cada punto de base. Para finalizar tejemos 3 cadenetas y ensartamos con un punto bajo saltando un punto de la base. Repetimos el mismo proceso hasta terminar.

    A mí me gustan así de altas pero ustedes la pueden hacer al tamaño que gusten y también decorarlas como prefieran.
    Espero que este trabajo haya sido e su gusto, lo hice con mucho cariño para María y para todos los que visitan mi blog. Con esto les digo hasta pronto y los llevo siempre en mi mente y en mi corazón.
---
---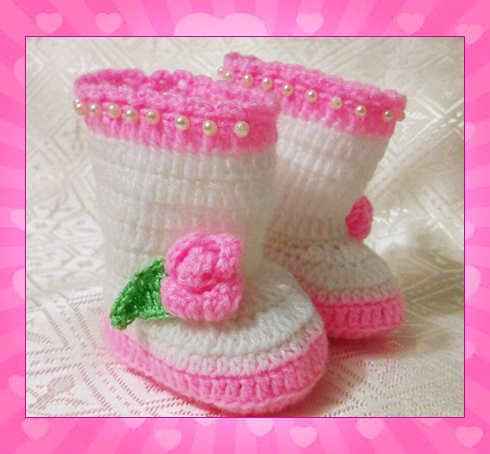 The glass half full
    Hello my dear friends, after 3 days without the precious internet today I return as the "Reloaded" matrix. Some days ago I heard a phrase that I had already heard a lot, but I had never paid attention to it maybe because I had not taken it for myself. The phrase says that "you should always see the glass half full". The person who is an optimist does not lament, nor does he feel that he has failed, rather he takes the lessons in positive that X circumstance has left him; on the other hand a pessimistic person will always see the glass empty, he will always lament and carry the pessimism wherever he goes and wherever he speaks.
    If you are one of those enterprising people you are much more than the optimist, you are the one who does not just look at the glass but also goes for more water. I want to be like that, no matter the adversities, the failures, the bad days, I want to be one of those who sees the glass half full, I go for more water and enjoy life. It is better to see the strengths you have and move forward with great pride.

Maria's booties


    Today I come to bring you a project that I love, about two years ago I sold it a lot, I imagine that motivated by the circumstances that afflicted us here in Venezuela people stopped buying but now the fabric market is moving again. That's why I was asked to make these boots for María, the granddaughter of a friend.
Materials we are going to use:
- Pink and white baby spider wool
-Crochette needle # 2.5 mm
Step by step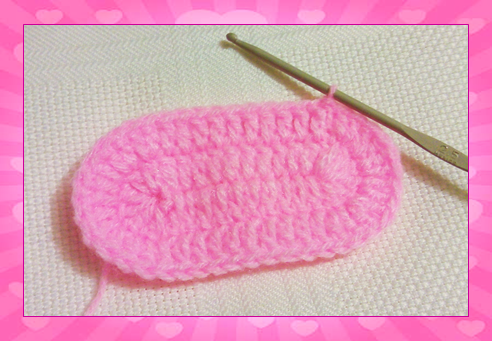 1st v- Weave 12 + 3 chains that are equivalent to our first high stitch, immediately we begin the first lap getting in with a high stitch in the 5th chain, we continue with high stitch for each base stitch until we reach the last one where we are going to weave 6 high stitches in the same place, we continue the lap with high stitches and in the other end we repeat the same as in the previous end and we close the lap with a low stitch.
2nd v- Weave 3 chains that are always equivalent to our first high stitch, continue with high stitch until we reach the 6 high stitches of the previous turn, in each one of them we are going to make an increase of 2 high stitches for a total of twelve, continue with high stitches and repeat the same at the other end, close with low stitch.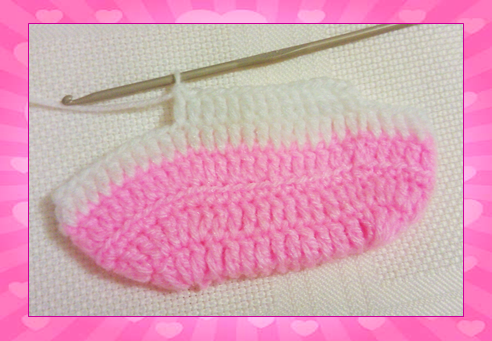 3rd v. We make half points in each base point until we reach the increases, when we reach the first point of increase we make this sequence a high point increase, in which follows a single high point, again a high point increase and so on until we finish the increases of the previous round, we continue with half points until the other end, when we reach where we started the increases we make a low point in each base point.
4th v. Let's weave a turn of a high point in each base point with the particularity that we thread it taking only the back thread.
5th v. Change the color of the thread if you prefer and weave a half-stitch on each base stitch.
6th v. Let's weave 3 chains and a high point in each base point, when we reach point number twelve we fold the sole in half, as seen in the picture and we count 10 base points from the previous turn, you have to fold very well so there is no mistake. When we are sure we will start making the high point decreases, in total you should have 10, with this you will be making or forming the tip of the shoe.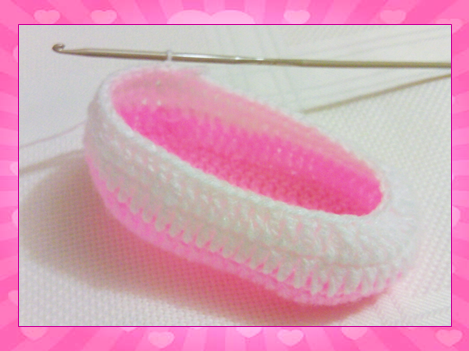 7th v. Let's weave low stitches until we reach two base stitches before the decreases of the previous lap. In those two stitches we will weave a decrease as we did before, in total you should weave 7, we continue with low stitches and close that lap with Razo stitch.
8th v. We make a total turn of low stitches on each base stitch.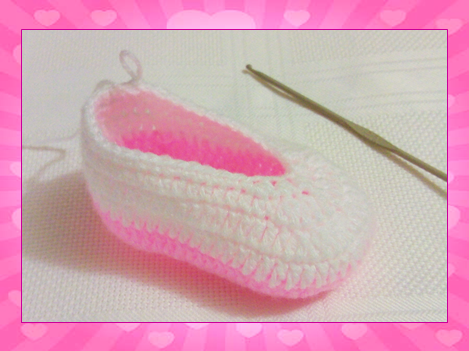 9th v. Let's weave a high point at each base point.
10th v. We make high points until we reach the front where we make an increase of high points and continue as we came.
11th and 12th v. We weave high stitches with the difference that we weave an increase of high stitches in the front of the shoe and in the back.
13th and 14th v. we weave a high stitch at each base point. To finish we weave 3 chains and thread with a low stitch jumping a stitch from the base. We repeat the same process until we finish.

    I like them this high but you can make them to any size you like and also decorate them as you prefer.
    I hope this work has been to your liking, I did it with a lot of love for Maria and for all those who visit my blog. With this I say see you soon and I always carry you in my mind and heart.
QUÉDATE EN CASA//Stay at home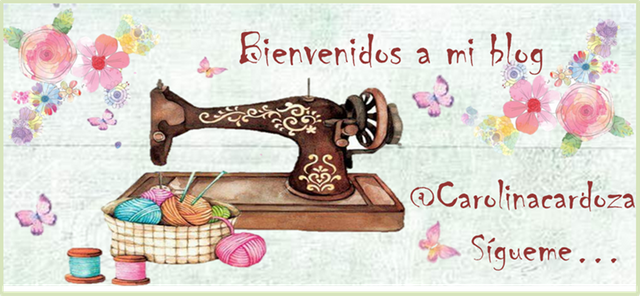 Imágenes tomadas con mi cámara celular Kronos-net