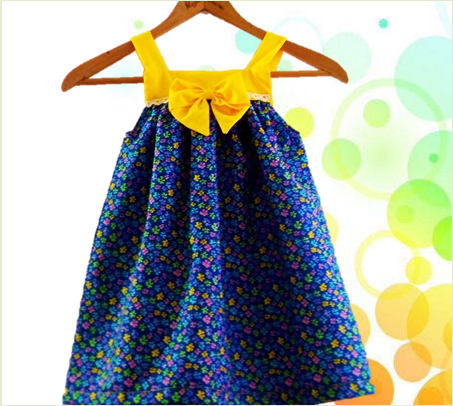 Hola mis amigos preciosos, un fuerte abrazo cargado de las mejores energías en este último día del mes de Julio del 2020.
    Que les parece si iniciamos el mes con la mente en positivo, pensando en sanación para nuestro hogar, familiares, amigos, nuestro país y el mundo entero; creo que es una de las cosas más urgente que necesita el mundo en este momento y a través de estas líneas quiero aprovechar de pedirles a todos que oremos mucho a Dios para que pronto pase este malestar que nos aqueja.
Y que les parece si para empezar este día con una sonrisa en su rostro los invito a visitar mi publicación y así encontraran este lindo vestido cargado de mucho color.

Materiales que vamos a utilizar: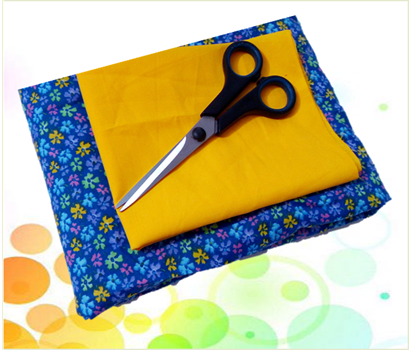 - Medio metro de tela de flores.
- Un cuarto de tela para combinar.
- Tijeras.
---
Pasito a pasito coseremos el vestidito
Les cuento que este vestido lo hice con una tela de falda campesina que me trajo una amiga, esa falda la hicieron para una presentación que hizo hace años su hija mayor en el colegio y más nunca la volvieron a usar. La tela aún estaba en buen estado y conservaba su color, así que decidimos reutilizarla y convertirla en un vestido para Fabiola, la hija más pequeña de mi amiga.

Lo primero que vamos hacer es cortar todos los parones, como es para una niña de 4 años lo hice grande para que le dure un buen tiempo.

En tela azul cortamos un cuadrado de 50 cm de ancho por 45 cm de largo. En tela amarilla cortamos dos rectángulos para los hombros de 17 cm de largo por 8 cm de ancho.

Para la parte del canesú o parte frontal, cortamos en tela amarilla 4 rectángulos de 6 x 20cm.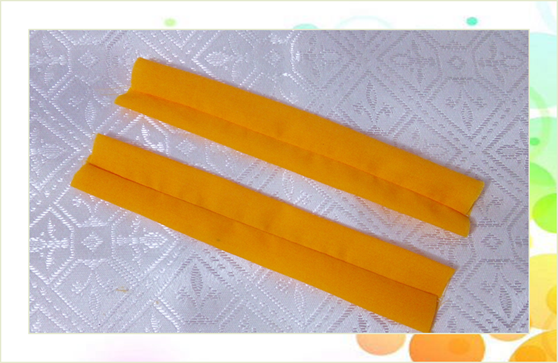 Elaboramos las tiras del hombro pasando costura a lo largo, volteamos y planchamos teniendo el detalle de que la costura quede en la mitad así no se verá cuando la coloquemos en el vestido.

Colocamos las piezas tal cual como vemos en las imágenes, las tiras del hombro las colocamos dejando un centímetro en la orilla que es por donde vamos a pasar costura.

Quitamos los sobrantes de tela en las esquinas y hacemos unos piquetes para luego voltear, planchamos y listo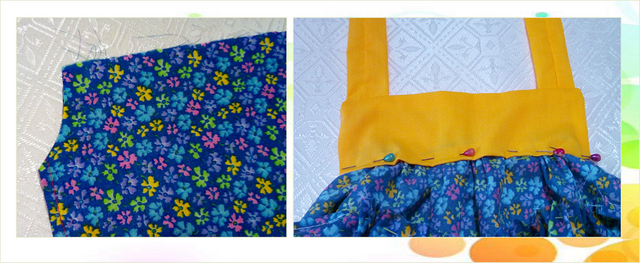 En la tela azul cortamos una sisa de 2 x 5 cm hacia abajo, luego cosemos en ambos lados de la tela y pasamos zigzag.

Pasamos una costura de medio cm en la sisa o si gustas puedes colocar sesgo para combinar.

En la parte de abajo hacemos un ruedo de dos cm o más según el alto que escogiste para tu vestido.

En la parte superior tomamos una aguja e hilo y pasamos unas puntadas largas para luego encoger hasta la medida del canesú, doblamos un centímetro de la tela amarilla hacia adentro y ahí acomodamos la tela azul hasta que tome la forma, fijamos con alfileres y luego con aguja e hilo para que no se mueva a la hora de pasar la máquina, distribuye muy bien los plises para que no queden montados y no se vea feo.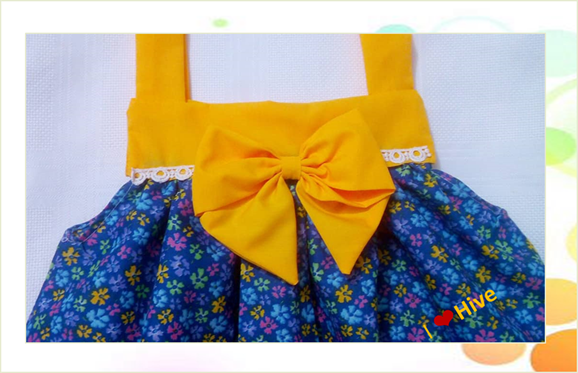 Debes estar muy pendiente del derecho o el revés de las tiras del hombro para colocar la tela azul, a mí me paso que lo había puesto al contrario. :)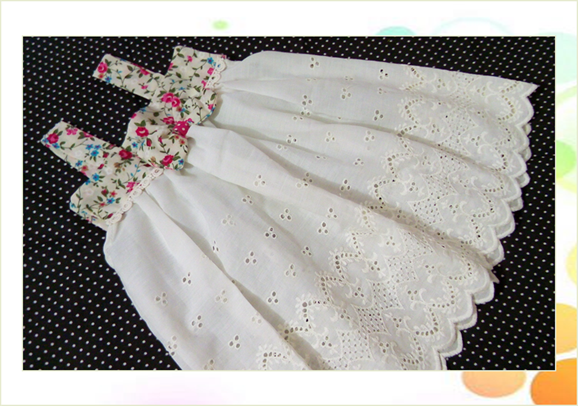 Como ven es algo muy sencillo de hacer, solo requiere de un poquito de "inventiva" como dice mi mamá. Este otro modelito que aquí les presento lo hice hace tiempo pero aun no consigo a quien regalárselo.
---
Les quiero dar las gracias por todo el apoyo que me brindan a diario, sin ustedes no somos nada, gracias por sus comentarios, sus votos y por seguirme. Les quiero desear un día lleno de provecho, felicidad y amor.
---
---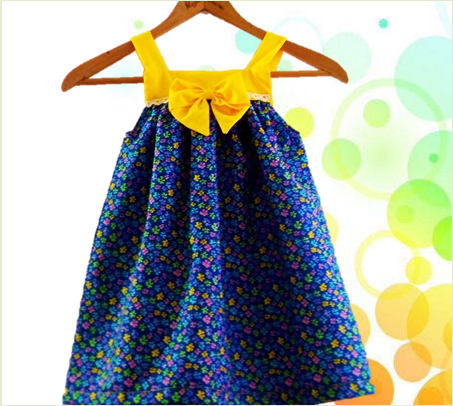 Hello my precious friends, a strong embrace charged with the best energies on this last day of July 2020.
What do you think if we start the month with a positive mind, thinking about healing for our home, family, friends, our country and the whole world; I think it is one of the most urgent things that the world needs at this time and through these lines I want to take advantage of asking everyone to pray a lot to God so that soon this discomfort that afflicts us will pass.
And how about, to start this day with a smile on your face, I invite you to visit my publication and you will find this beautiful dress loaded with lots of color.

Materials we're going to use: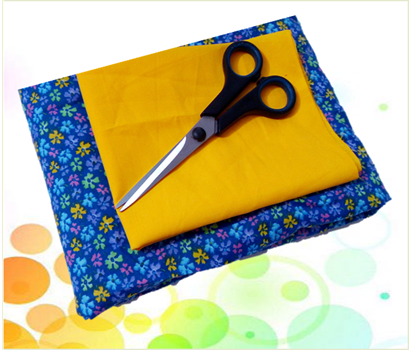 The following is a list of the most important issues that have been addressed by the company;                &nbsp                &nbsp                &nbsp
- Half a meter of flower cloth.
- A quarter of a fabric to match.
- Scissors.
---
Step by step we'll sew the dress
I tell you that I made this dress with a peasant skirt fabric that a friend brought me, that skirt was made for a presentation that her eldest daughter made years ago at school and they never used it again. The fabric was still in good condition and kept its color, so we decided to reuse it and turn it into a dress for Fabiola, my friend's youngest daughter.

The first thing we're going to do is cut all the stops, as it is for a 4 year old girl I made it big so that it will last a good while.

In blue cloth we cut a square of 50 cm wide by 45 cm long. In yellow fabric we cut two rectangles for the shoulders of 17 cm long by 8 cm wide.

For the yoke or front part, we cut in yellow fabric 4 rectangles of 6 x 20 cm.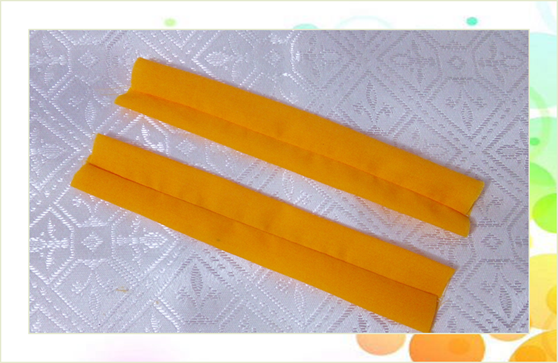 We make the shoulder straps by stitching them along, turn them over and iron them, making sure that the seam is in the middle so that it will not be seen when it is placed on the dress.

We place the pieces just as we see in the images, the shoulder strips we place them leaving one centimeter on the edge which is where we are going to sew.

We remove the excess fabric in the corners and make some pickets and then turn over, iron and that's it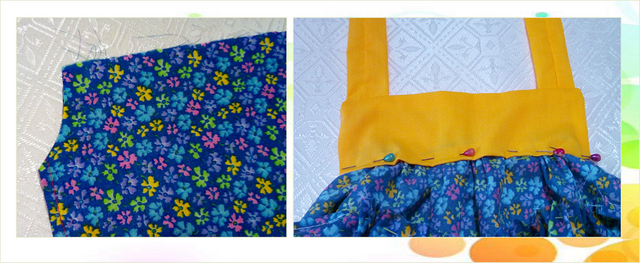 On the blue fabric we cut an armhole 2 x 5 cm down, then sew on both sides of the fabric and zigzag.

We pass a half cm seam in the armhole or if you like you can put a bias to combine.

At the bottom we make a hem of 2 cm or more depending on the height you chose for your dress.

At the top we take a needle and thread and pass a few long stitches and then shrink to the size of the yoke, we fold a centimeter of the yellow fabric inwards and there we place the blue fabric until it takes the shape, we fix it with pins and then with needle and thread so that it does not move when passing the machine, distribute the pleats very well so that they are not assembled and do not look ugly.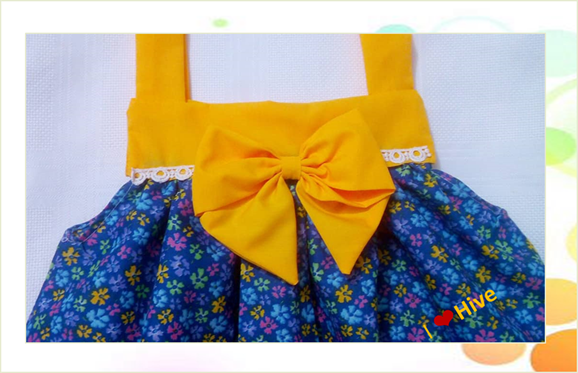 You have to be very attentive to the right or the back of the shoulder straps to place the blue cloth, I happened to have put it on the opposite. :)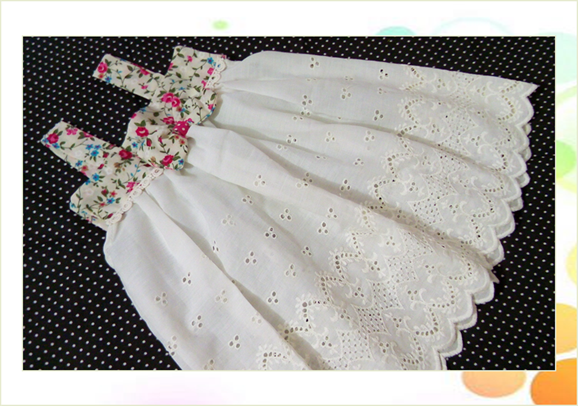 As you can see, it's a very simple thing to do, it just requires a little bit of "inventiveness" as my mom says. This other model I present here was made some time ago but I still can't find anyone to give it to.
---
I want to thank you for all the support you give me every day, without you we are nothing, thank you for your comments, your votes and for following me. I want to wish you a day full of profit, happiness and love.
QUÉDATE EN CASA//Stay at home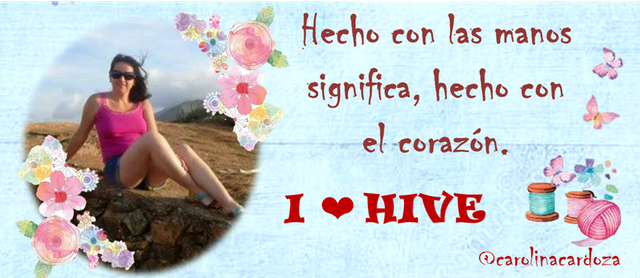 Imágenes tomadas con mi cámara celular Kronos-net