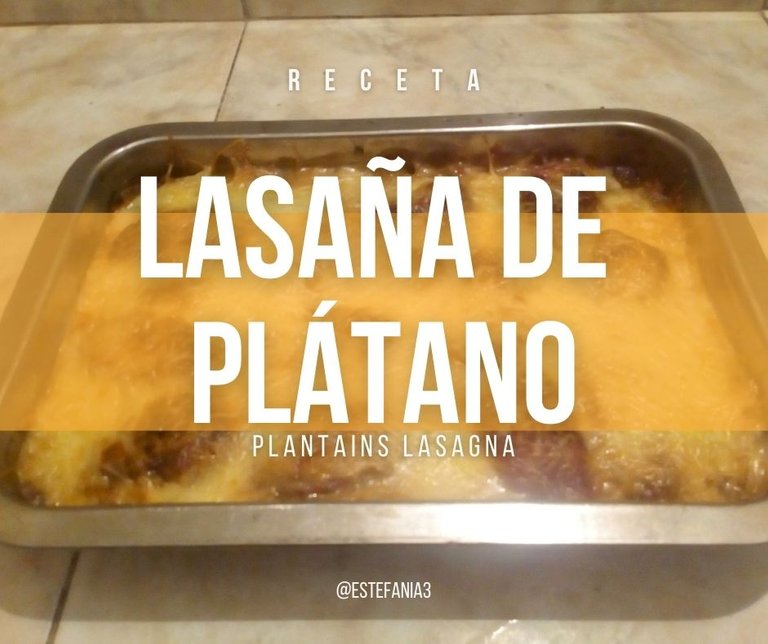 Siempre me gusta reinventarme en la cocina, sorprender a mi familia con una receta diferente para no caer en la rutina y aburrirlos. Sobre todo porque tengo un niño pequeño y quienes tienen uno saben que en ocasiones hay que hacer maromas para que ellos coman tranquilamente algo.
Tenía unos cuantos plátanos que se estaban madurando y se me ocurrió preparar una lasaña. Quedó deliciosa, aunque en cuanto a las medidas quedamos un poco cortos porque todos quedamos queriendo comer más 😂
¡Vamos con los ingredientes y la preparación de la receta!
I always like to reinvent myself in the kitchen, surprise my family with a different recipe so as not to fall into the routine and bore them. Especially because I have a small child and those who have one know that sometimes you have to do tricks so that they can eat something quietly.
I had a few bananas that were ripening and it occurred to me to make a lasagna. It was delicious, although in terms of measurements we were a little short because we all wanted to eat more 😂
Let's go with the ingredients and the preparation of the recipe!

I N G R E D I E N T E S || I N G R E D I E N T S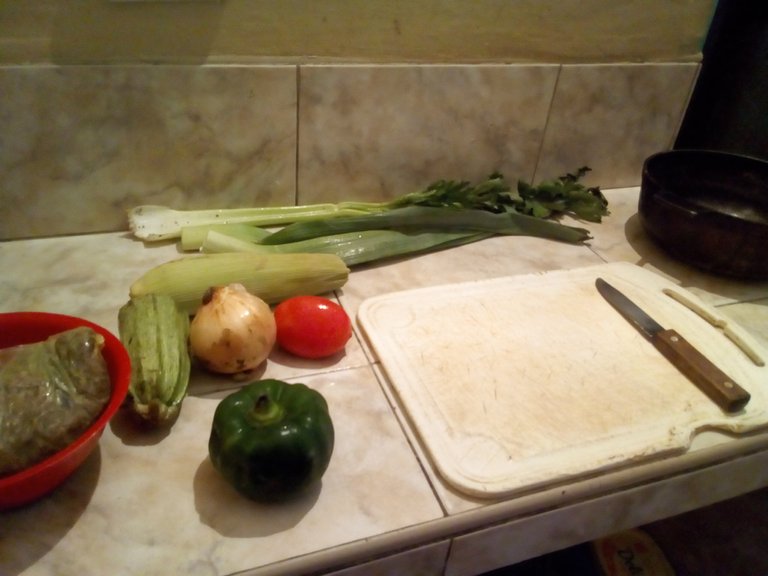 4 plátanos maduros
1 Cebolla mediana
1 tomate mediano
1/2 pimentón
1/2 calabacín
1 jojoto/maíz/elote
1 rama de celery
1 rama de ajoporro
1 rama de cebollín
200 gr de carne molida
1 taza de queso rallado
Condimentos
Ajo
Sal
Salsa de soya
Para la Salsa bechamel:
1 taza de leche líquida
1 cucharada de harina de trigo
1 cucharada de mantequilla
Sal
1 pizca de azúcar
4 platains
1 medium onion
1 medium tomato
1/2 bell pepper
1/2 zucchini
1 corn
1 branch of celery
1 branch of garlic porro
1 branch of chives
200 gr of ground beef
1 cup of grated cheese
Garlic
Seasonings
Salt
Soy sauce
For the bechamel sauce:
1 cup of liquid milk
1 tablespoon of wheat flour
1 tablespoon butter
Salt
1 pinch of sugar

P R E P A R A C I Ó N || M E T H O D
1.- Vamos a comenzar picando en cuadritos pequeños la cebolla, el cebollín, el ajoporro y el celery.
1.- We are going to start by dicing the onion, chives, garlic porro and celery into small squares.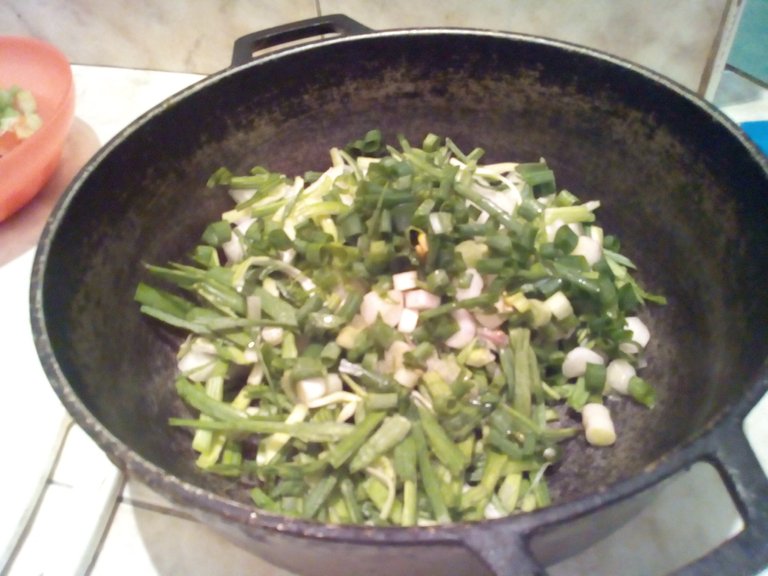 2.- Sofreímos con abundante aceite junto al ajo.
2.- Fry with plenty of oil with the garlic.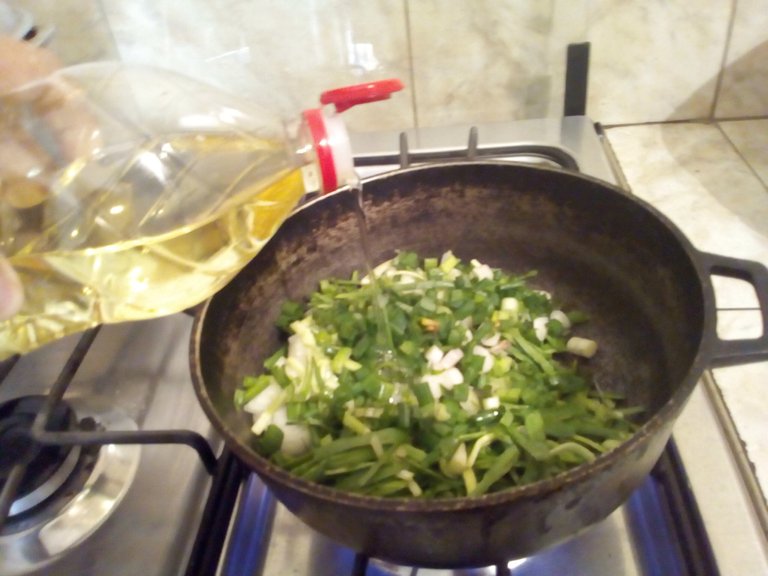 3.- Mientras tanto, cortamos el tomate, el pimentón y el calabacín en cuadros pequeños y los colocamos en una taza.
3.- Meanwhile, cut the tomato, bell pepper and zucchini into small squares and place them in a cup.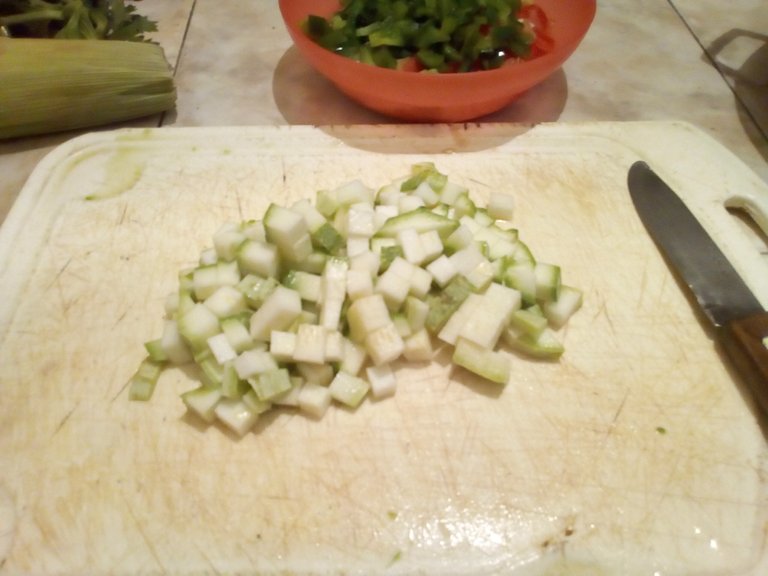 4.- Quitamos las hojas del jojoto(maíz) y lo vamos a desgranar con ayuda del cuchillo, lo colocamos reservamos junto al tomate y los demás ingredientes en la taza. Esto lo puedes sustituir perfectamente por una lata de maíz pequeña.
4.- We remove the leaves of the corn and we are going to shell it with the help of the knife, we place it and reserve it together with the tomato and the other ingredients in the cup. This you can perfectly substitute for a small can of corn.
5.- Una vez los vegetales se hayan sofrito, vamos a agregar la carne molida. Removemos bien para que quede en trozos pequeños con ayuda de una paleta de madera.
5.- Once the vegetables have been fried, we are going to add the ground meat. We stir well so that it remains in small pieces with the help of a wooden trowel.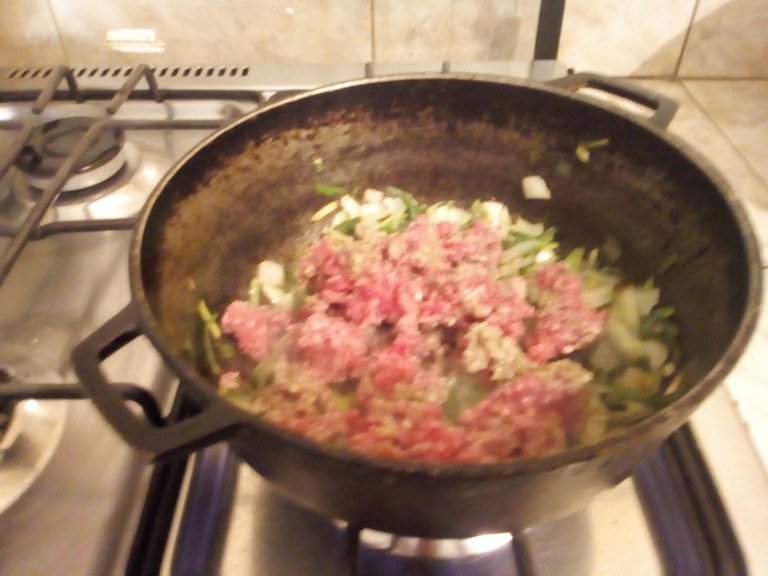 6.- Agregamos los vegetales que teníamos reservados en una taza y le colocamos media taza de agua para que comiencen a botar sus jugos.
6.- We add the vegetables that we had reserved in a cup and put half a cup of water in it so that they start to release their juices.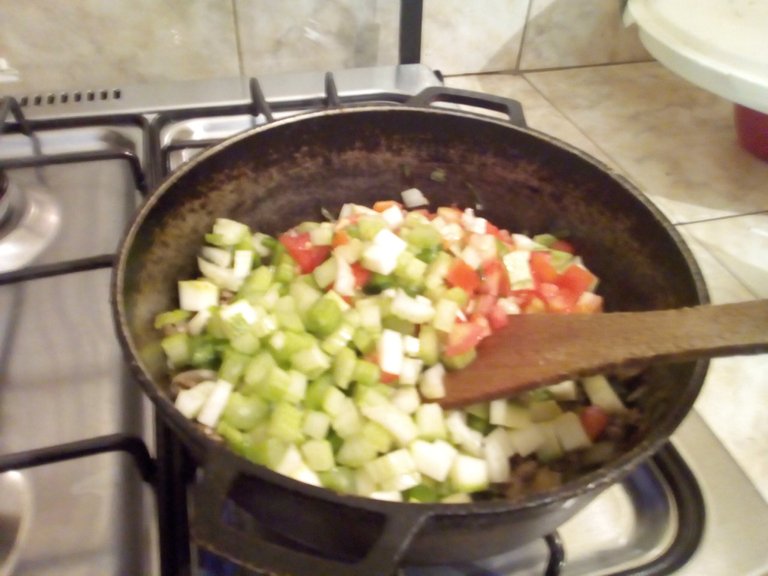 7.- Agregamos condimentos al gusto y cocinamos a fuego medio hasta ver que se hayan deshecho los cuadritos de tomate.
7.- Add seasonings to taste and cook over medium heat until you see that the tomato squares have melted.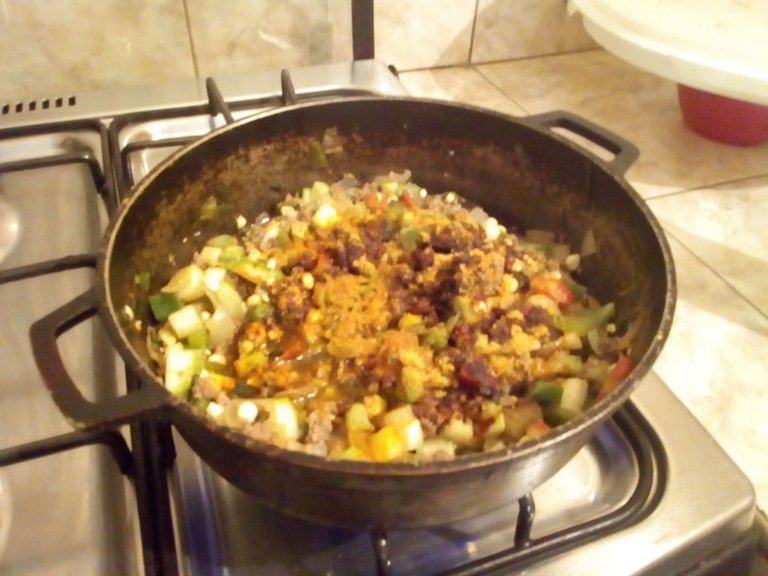 8.- Ahora vamos con los plátanos. Cortamos en tajadas y los freímos hasta que tomen un color dorado oscuro.
8.- Now we go with the bananas. We cut into slices and fry them until they turn a dark golden color.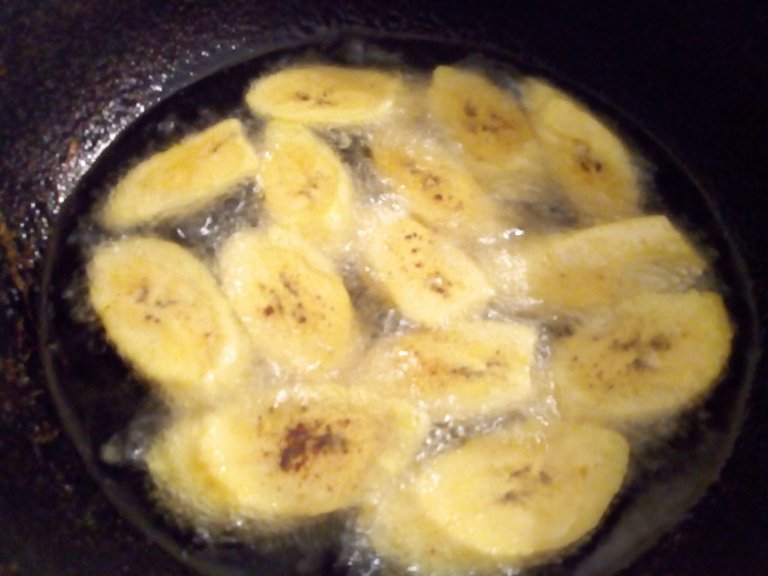 9.- Para la salsa bechamel, vamos a colocar todos los ingredientes en una olla y vamos a batir constantemente hasta que hierva. Sabrás que está lista cuando notes que ha espesado.
9.- For the bechamel sauce, we are going to place all the ingredients in a pot and we are going to beat constantly until it boils. You will know that it is ready when you notice that it has thickened.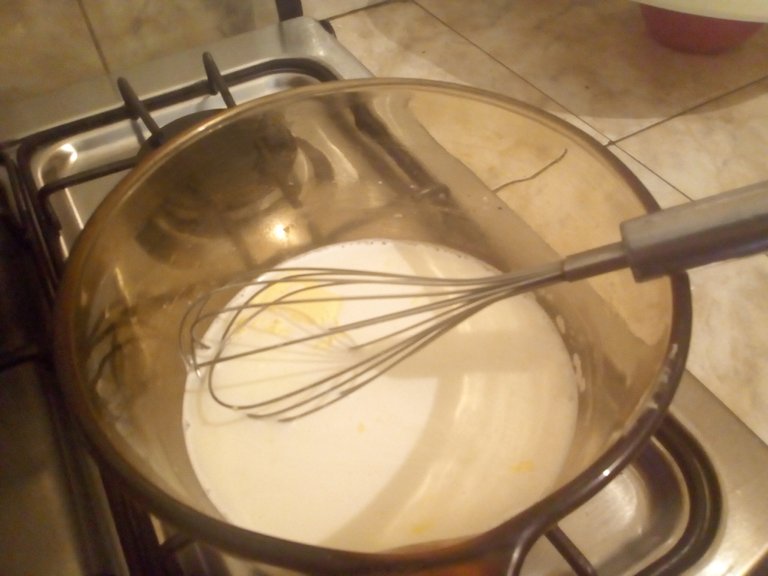 10.- Es momento de armar nuestra lasaña ❤️. Tomamos los plátanos fritos y los vamos a colocar de base en una bandeja de metal. No es necesario engrasar porque a estos ya les ha quedado aceite cuando se frieron. Con ayuda de un tenedor aplastamos hasta cubrir toda la base de la bandeja.
10.- It's time to put together our lasagna ❤️. We take the fried plantains and we are going to place them as a base on a metal tray. It is not necessary to grease because these have already had oil left when they were fried. With the help of a fork, mash until the entire base of the tray is covered.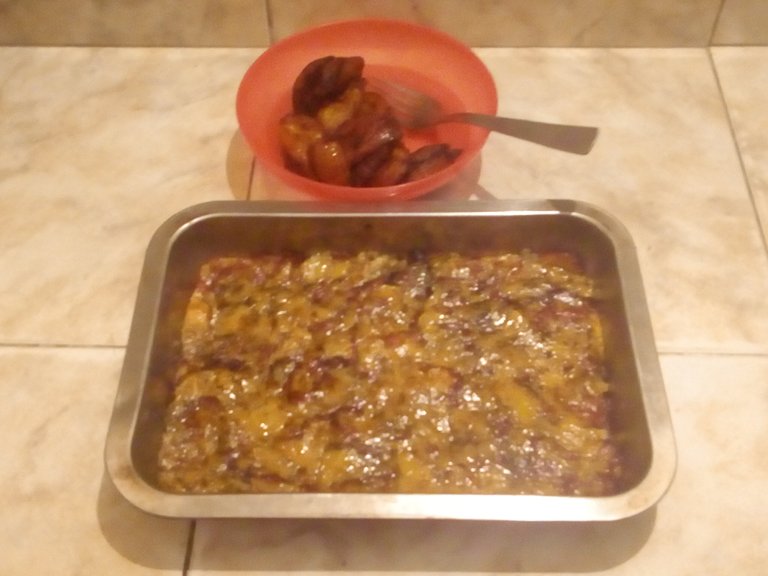 11.- Agregamos una capa de carne, echamos nuestra salsa bechamel, colocamos los plátanos que nos sobraron, bañamos con el resto de la salsa bechamel y esparcimos abundante queso en la superficie.
11.- Add a layer of meat, add our bechamel sauce, place the platains that we have left over, bathe with the rest of the bechamel sauce and sprinkle plenty of cheese on the surface.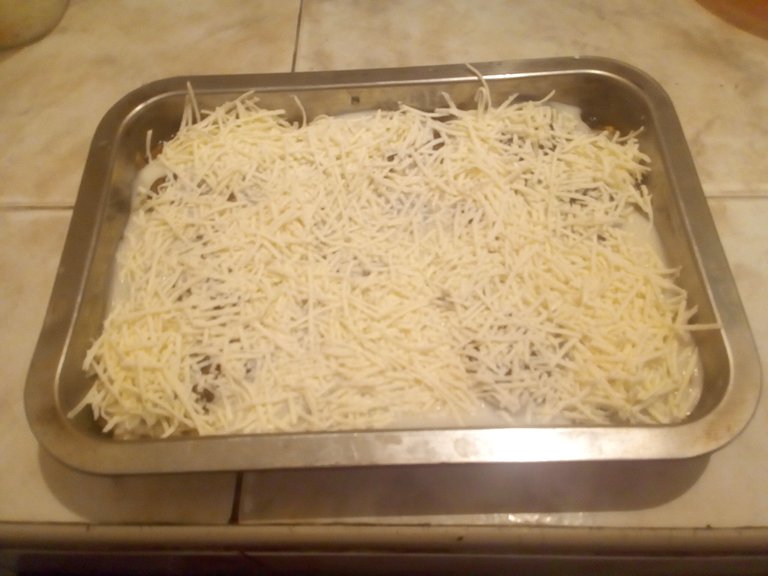 12.- Cocinamos unos 20 minutos a fuego medio tapado con papel aluminio o con una bandeja de igual tamaño como hice yo. Pasado este tiempo quitamos la tapa y cocinamos unos 10 minutos más para que el queso de la superficie pueda dorar.
12.- Cocinamos unos 20 minutos a fuego medio tapado con papel aluminio o con una bandeja de igual tamaño como hice yo. Pasado este tiempo quitamos la tapa y cocinamos unos 10 minutos más para que el queso de la superficie pueda dorar.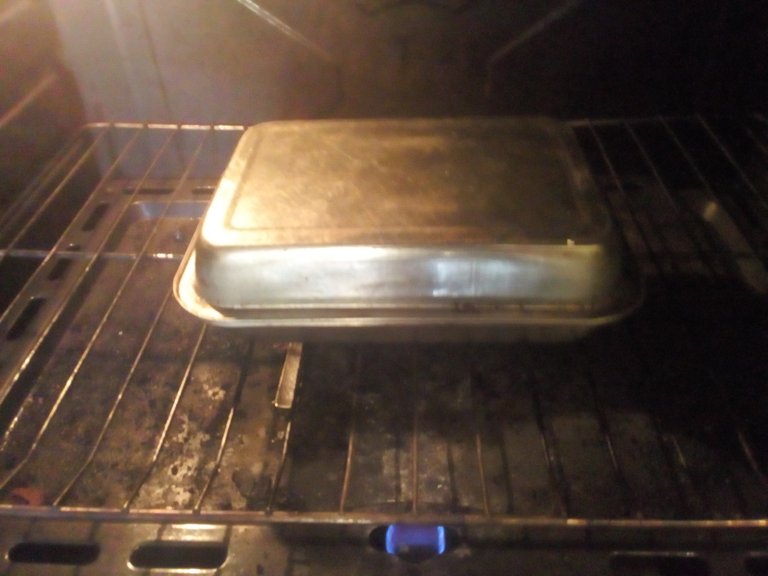 Quedó deliciosa y si como nosotros quieres disfrutar aún más lasaña, solo debes duplicar o triplicar los ingredientes que te he dejado en la lista. Como acompañante puedes servir un poco de arroz blanco y una rica ensalada de lechuga y tomate. 😊
It was delicious and if like us you want to enjoy lasagna even more, you just have to double or triple the ingredients that I have left you on the list. As a side you can serve a little white rice and a rich lettuce and tomato salad. 😊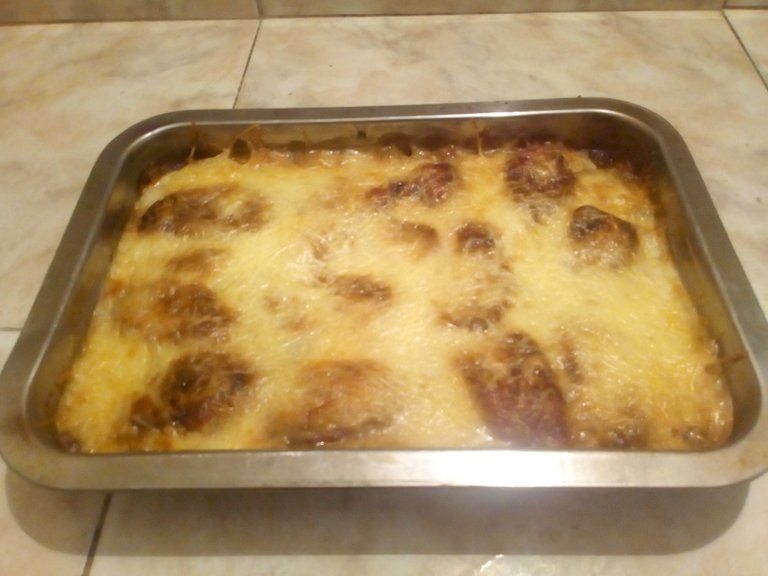 Bon appetit ♥! 😊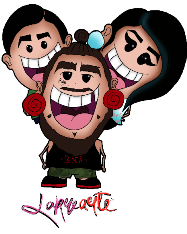 ¡Gracias por leer, comentar y votar mi contenido!

Espero haya sido de tu agrado y provecho.
Un gran abrazo a todos, y nos leemos en un próximo post
• Lakrearte en Hive •

Att: Estefania Garcia ♥

Imágenes y separadores de mi autoría
Portada editada en Canva