Some days the order of operations is not as important. Yesterday was one such day. I had planned on getting the roofing on the shed before building the desk but that did not happen though it was no problem. I had hoped to get a bunch of picking done but that will be for today. I did get an okay load of squash with a low 30s.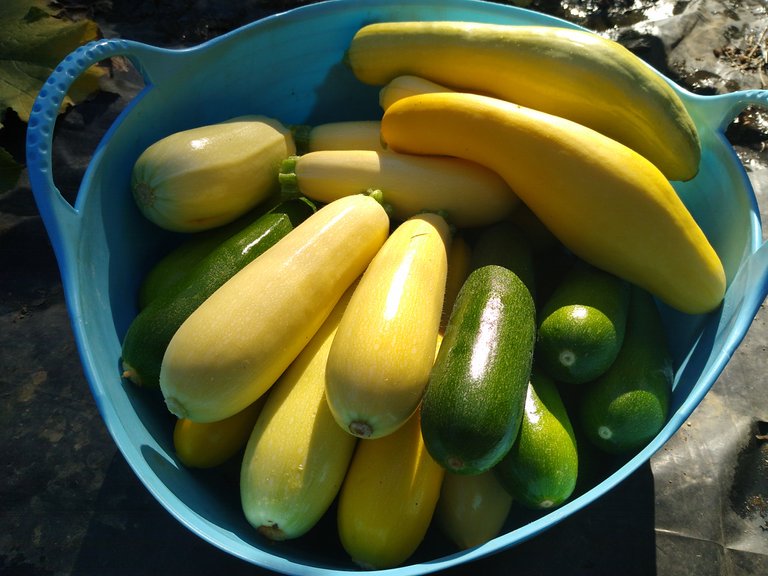 So my trailer tires are shit. I just about had one fully delam on the way home from town the other day. I was looking at the rims I have and the original trailer rims has one with a ding to the inner bead rim. I had been running a 15 and a 14 inch tire which probably accounted for the off wear on the bad one. I looked at the old Subaru and the 5 bolt pattern looked right, UNTIL I got a wheel off and saw that NO they were not the same size bolt pattern.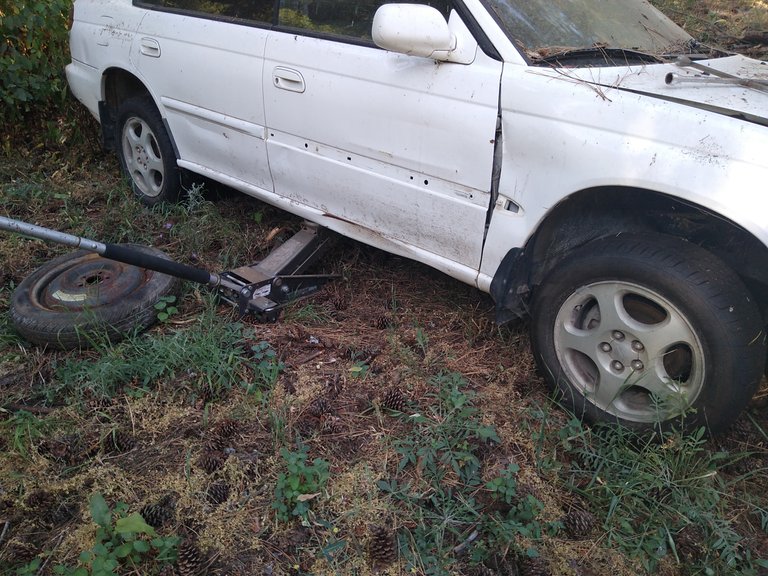 Then I realized I have a trailer, the boat trailer, that has the right sized bolt pattern. The tires ended up being 13 inch and the 15 and 14 inch ones from the other trailer are mushed into the wheel wells. But I am not going to tow the boat for quite a while as I still need to fix it up. So I have time to use the wheels on the trailer I use for hay and grain.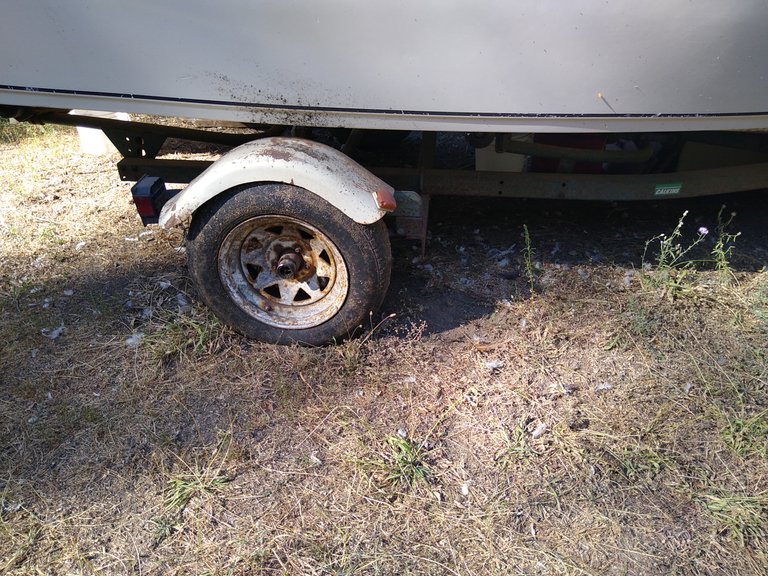 On the shed the first thing I had to do was install a 2x6 on the end, flush with the roof sheathing. The metal roofing is dimensioned such that 7 pieces wide is 21 feet and the structure is 20 feet wide. The 2x6 will account for half that extra foot on each end.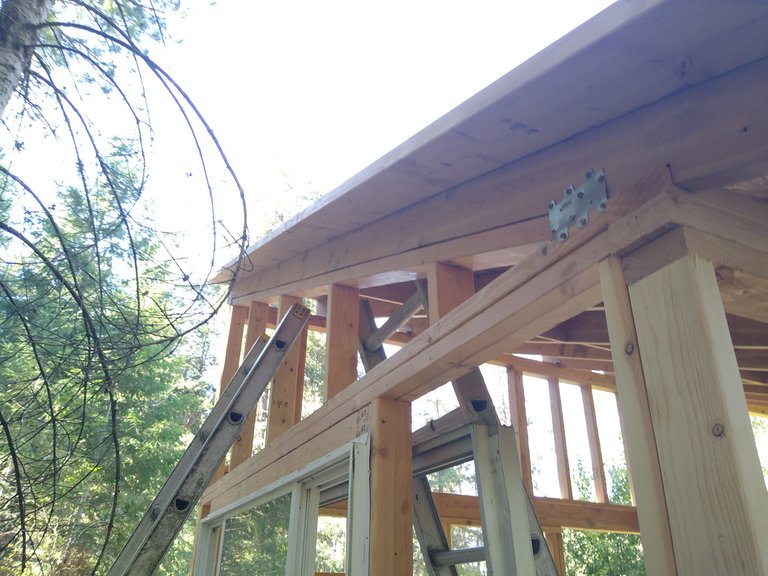 Our lucky clover shamrock bulbs have put off a couple little flowers.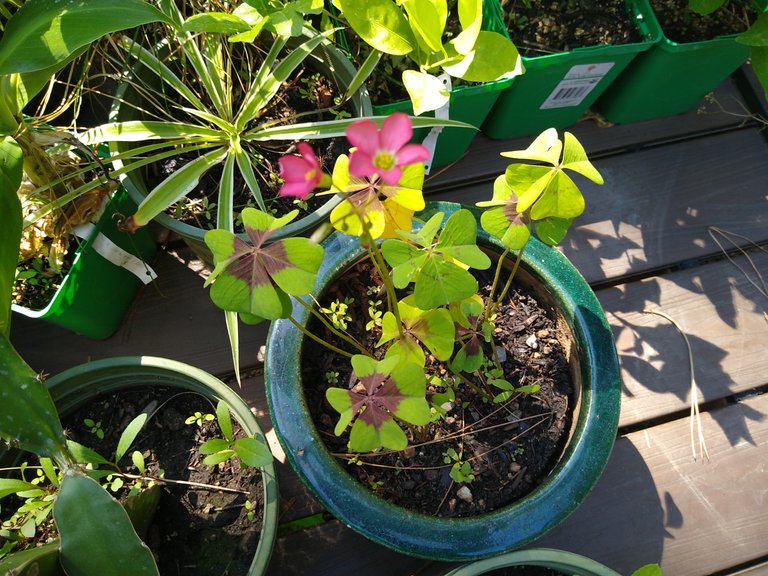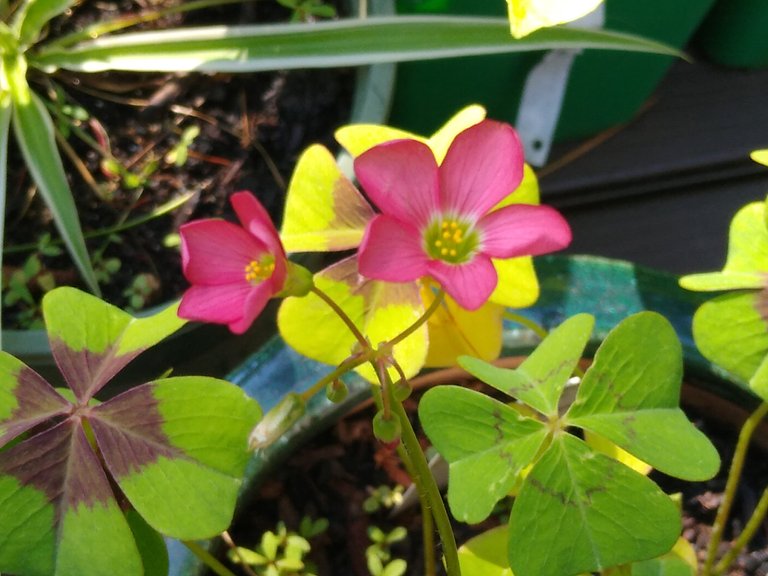 I saw a tweet from Make magazine that had this video from The Wood Whisperer about making a school desk for his kids. I had been thinking of this for us and this came about at just the right time.
In it he shows he very basic design and construction.
LINK TO PLANS on his site.
So I decided to make it my own and since I had a bunch of scraps from the kitchen center island build left over I used them. This meant 3/4 inch plywood instead of 1/2", a larger desk size of 18"x30", a back lip to the opening so things don't slide out the back, and 2 inch longer feet with a 45 degree cut on the toes.
This is how is how it came out.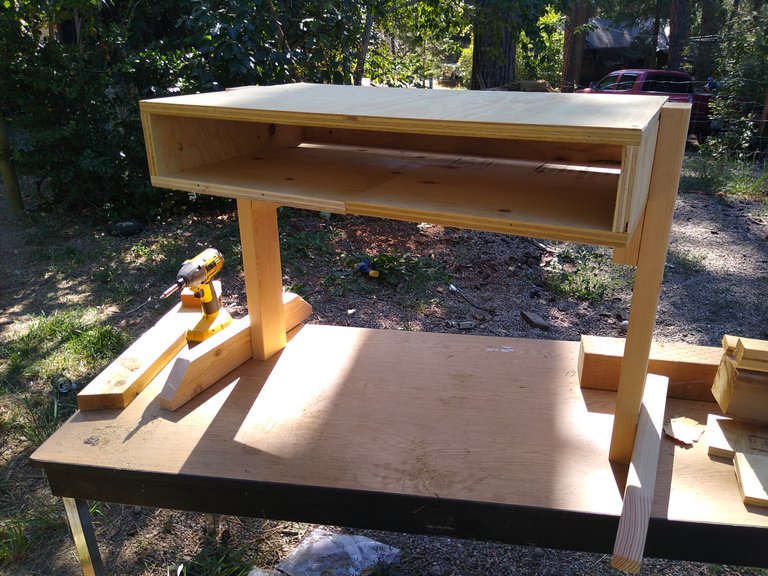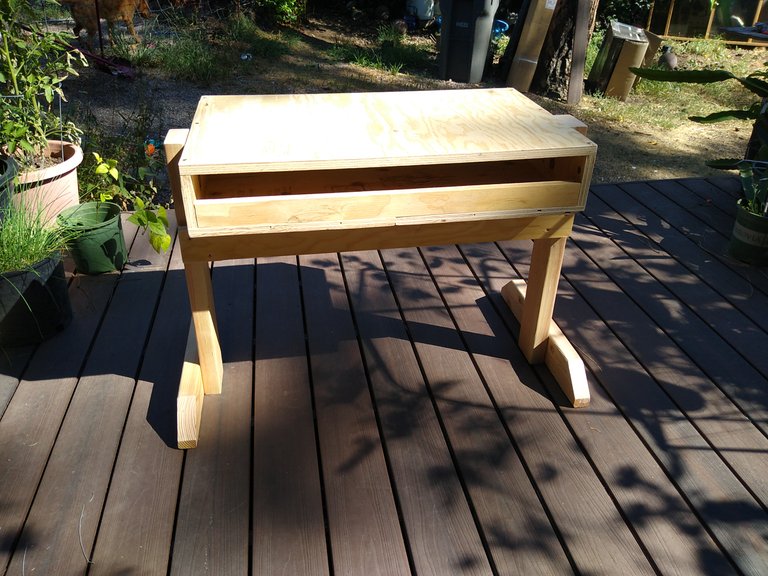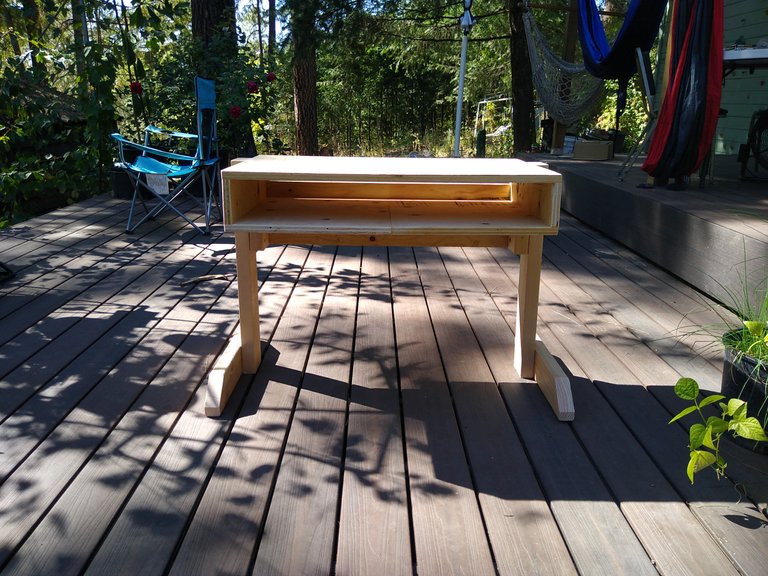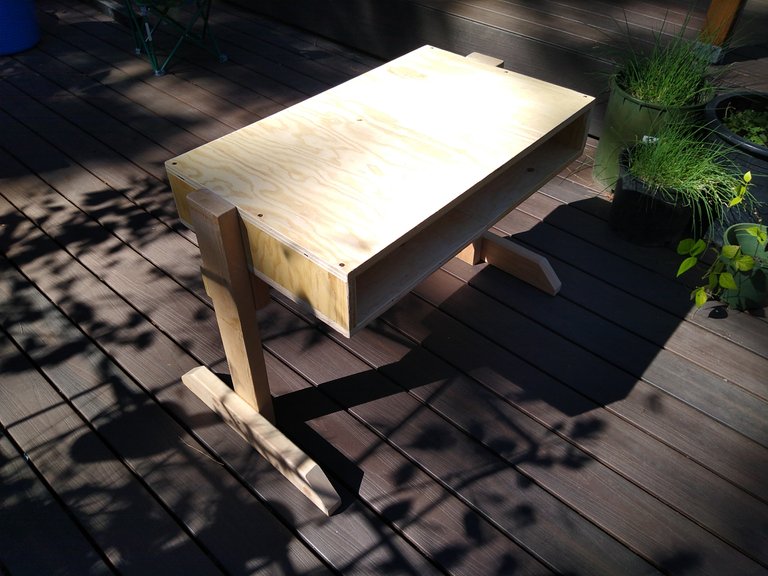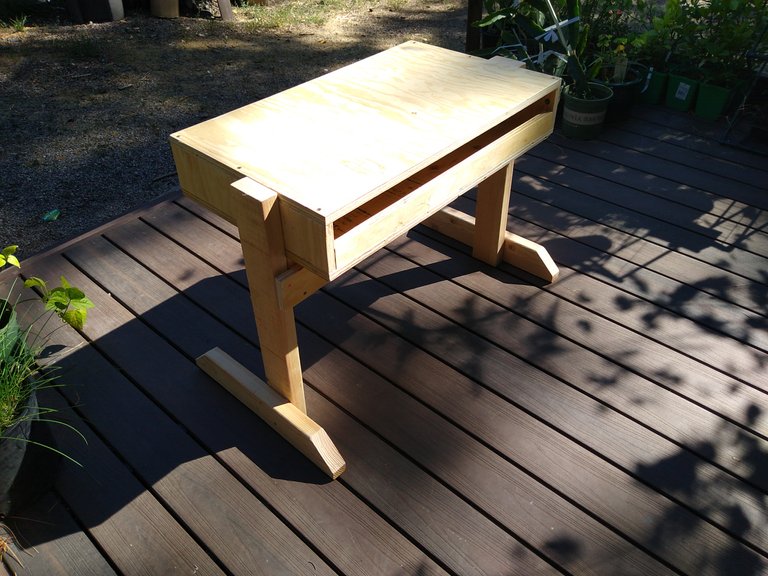 J is super stoked with it and was instantly seated at it trying it out.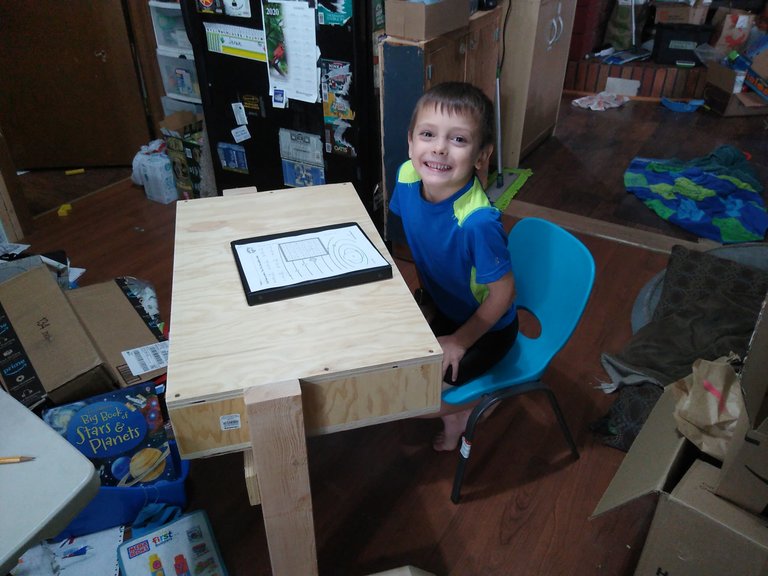 Then he pulled out the chromebook and both boys had enough room.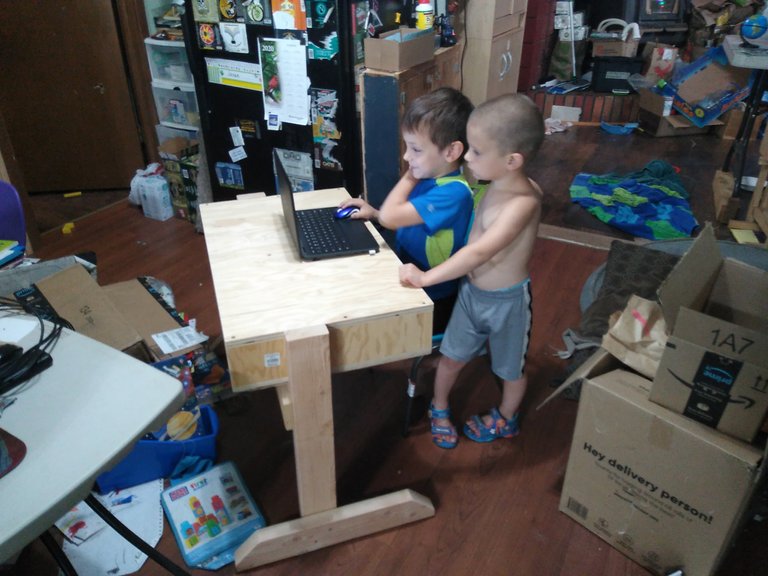 It is a bit heavy compared to using 1/2" plywood but it is also super sturdy and I have the option of raising or lowering he height of he desktop as needed. It seems a touch too high at the moment so I may be lowering it an inch.
Thanks to @themarkymarks post want to learn to program I have signed up a teacher account on Code Combat and J will be starting that today. Between learning to farm and learning to code I think he will have a super strong base for the future.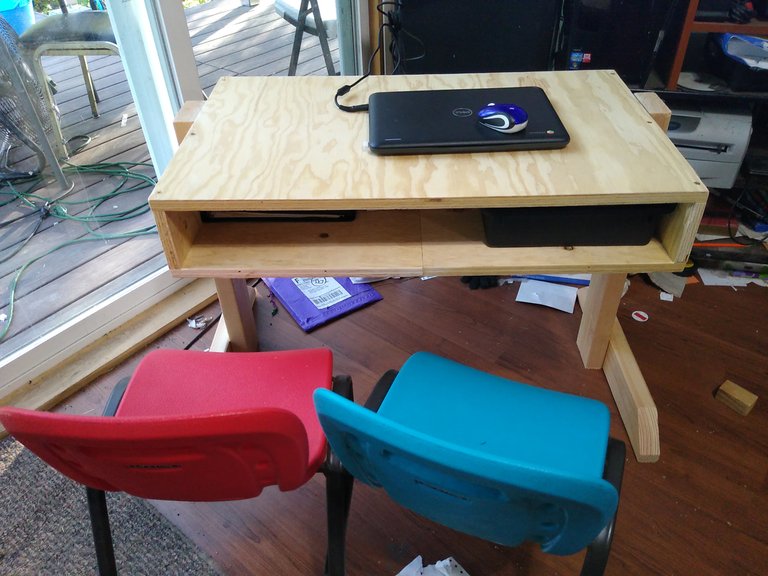 With everyone gone for the evening I headed back up to the shed. I was dinking around with the drip edging trying to figure it out and how best to install it. I found it was best to just get the roofing up and tacked down and then I will deal with the drip edge later.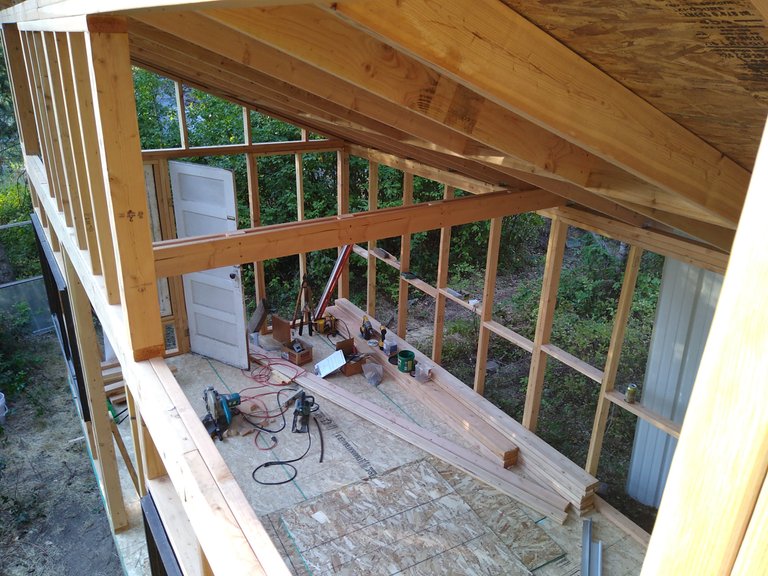 So as not to scratch my trucks paint with the metal roofing I chose to carry them up to the shed. It was about 200 feet between the stack and the shed. I carried 2 sheets at a time to make fewer trips.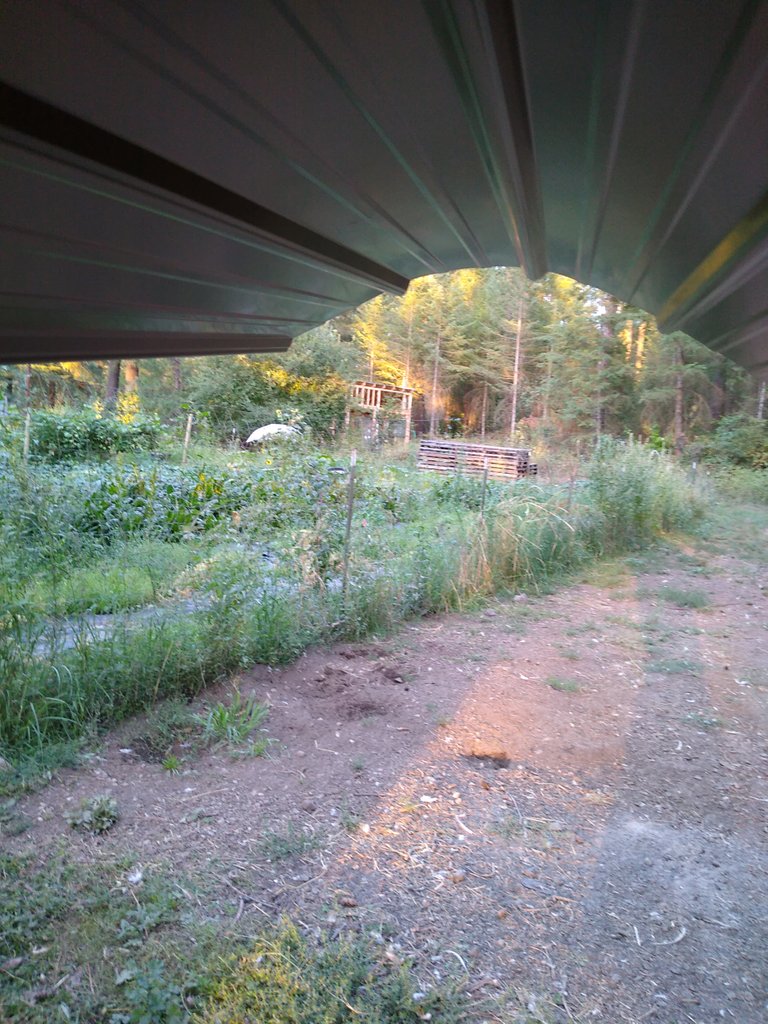 Super stoked to have the roofing on the shed. It is only on with 2 screws per sheet but they are up. This is one massive step for me and a point which allows me a moment of reprieve from the go go go. I am looking forward to the walls going up but am not in a rush now.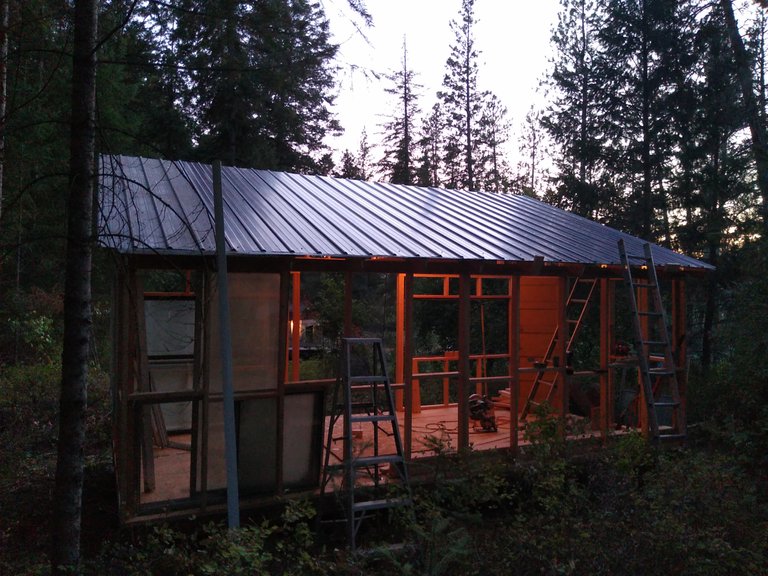 Today looks to be largely picking as the beans are in dire need again and I have to get the beets up and honey frames out of the hives. It is cooler in the mornings now and the light is coming up later and going away sooner so it feels like Fall is tip toeing in.

For more information about our farm:
Fleming Family Farm
FLEMING FAMILY FARM, LLC
Sustainable & Organic Methods | Heirloom Produce
All images are original works of Fleming Family Farm unless otherwise notated and credited.
If you find this post useful or entertaining, your support is greatly appreciated by upvoting, following, and sharing!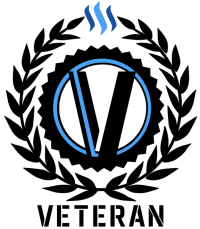 ---

---