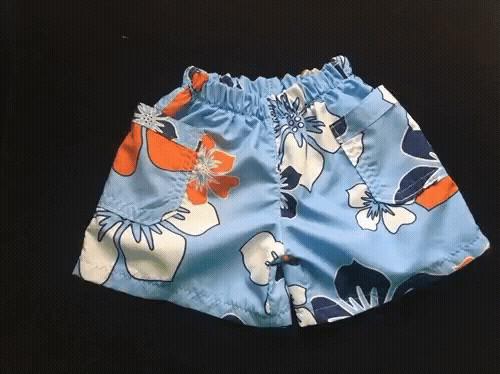 ---
---

---
---
Hola a todas mis lindas abejas 🐝 laboriosas de la colmena. Como siempre vengo con mis proyectos de costura y estas ganas tan enormes que tengo de irme a la playa 🏖️ me ha dado por confeccionar un lindo pantalón corto playero.
Me encanto el resultado, ya en una oportunidad había realizado dos para mis hijos pero no había tomado fotos, y como me quedo algo de tela decidí mejorar el patrón y hacer un sencillo tutorial.
Hello to all my cute, industrious bees 🐝 from the hive. As always I come with my sewing projects and this huge desire I have to go to the beach 🏖️ has given me to make a nice beach shorts.
I loved the result, on one occasion I had already made two for my children but I hadn't taken any photos, and as I had some fabric left over I decided to improve the pattern and make a simple tutorial.

---
Luego de seleccionar la tela y agrandar y modificar el patrón original: marque y corte la tela.
Dos delanteros y dos traseros.
After selecting the fabric and enlarging and modifying the original pattern: mark and cut the fabric.
Two front and two back.
---
---
Cuando ya tenemos las cuatro piezas cortados, las guardamos para dar paso a los bolsillos del pantalón corto. Yo en este paso le hice dos pero perfectamente se le puede colocar uno.
When we have the four pieces cut, we put them away to make way for the pockets of the shorts. In this step I made two but you can perfectly put one in.
---
---
Los bolsillos parecen complicados pero no lo son. Una vez que los cortemos con su respectiva pretina se procede a coser como lelos indico debajo 👇
The pockets look complicated but they're not. Once we cut them with their respective waistband we proceed to sew them as I indicate below 👇
---
---
Terminados los bolsillos procedemos al armado de las piezas. Para eso necesitaremos de la lógica (como dice mi abuela). Si no estamos seguros de como nos va quedando la pieza es mejor que nos ayudemos con alfileres y de esa manera vamos buscando la forma.
Once the pockets are finished, we proceed to the assembly of the pieces. For that we will need logic (as my grandmother says). If we are not sure how the piece is going to fit, it's better to help us with pins and that way we can find a way.
---
---
Armadas las piezas y colocados los bolsillos, solo nos queda tomar el ruedo y colocar la goma.
Once the pieces are assembled and the pockets are placed, all that remains is to take the wheel and place the rubber.
---
---
Un lindo pantalón playero ideal para cuando salgamos de la cuarentena😎
A nice beach pant ideal for when we get out of quarantine😎
---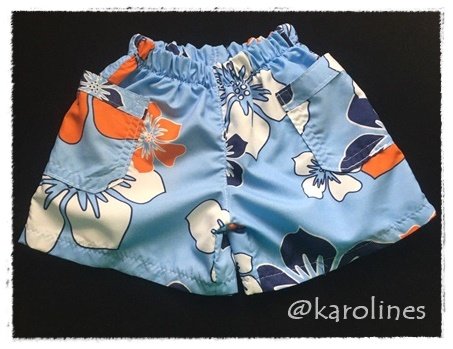 ---
---

---
---
Soporte fotográfico de mi autoría, editado en PhotoScape - Canva
Photographic support of my authorship, edited in PhotoScape - Canva