My greetings hive friends, I offer you this exquisite CEVICHE Shrimp with Vegetable Peruvian / Venezuelan Recipe; They will love to taste at any time of the day, including in meetings to share friendships; It is a traditional recipe in Peru, widely spread internationally for its special flavor I elaborated it with my Venezuelan inventiveness with shrimp produced in the Venezuelan Caribbean sea cooked, this Mediterranean dish mixes it with outstanding vegetables in flavor such as red green and yellow bell peppers with white purple onion and a must-have ingredient lemon juice and pepper salt, you will love to try it.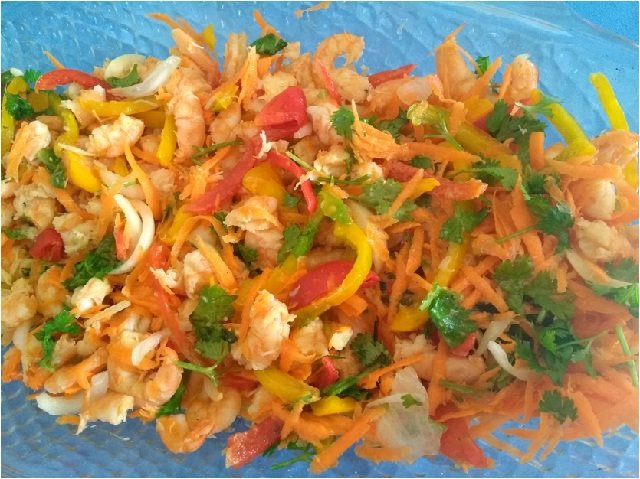 Mis saludos amigos de hive, le ofrezco esta exquisita Receta CEVICHE de Camarones con Vegetales Peruano/Venezolano; les encantara degustar a cualquier hora del día incluyendo en reuniones compartir de amistades; es una receta tradicional e Perú, muy difundido a nivel internacional por su especial sabor , yo la elabore con mi inventiva Venezolana con camarones producidos en mar Caribe Venezolano cocinados, este plato Mediterráneo lo mezcle con vegetales resaltantes en sabor como los pimentones rojo verde y amarillo con cebolla morada blanca y un ingrediente infaltable el jugo de limón y sal pimentado, le encantara probarlo.
Ingredients:
• 661.387 pounds of clean fresh shrimp.
• red, yellow and green paprika quantity one of each.
• 1 red onion.
• 1 white onion.
• 1 Carrot.
• Coriander branch.
• Salt and pepper necessary quantity
• Crushed garlic.
• 2 Ounces of aqua.
• 3 lemons and 1 orange.
• 3 ounces of sunflower oil.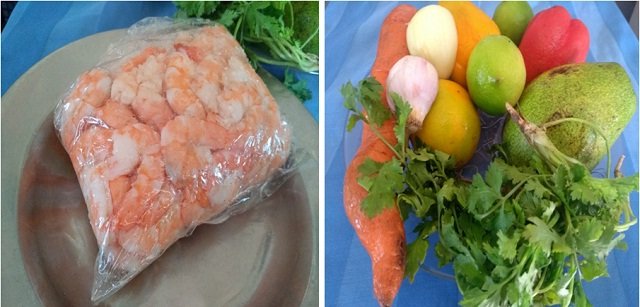 Ingredientes:
• 661.387 Libras de camarones fresco limpio.
• pimentón rojo, amarillo y verde cantidad uno de cada uno.
• 1 Cebolla morada.
• 1 Cebolla blanca.
• 1 Zanahoria
• Rama de cilantro.
• Sal y pimienta cantidad necesaria
• Ajo triturado.
• 2 Onzas de aqua.
• 3 Limones y 1 naranja.
• 3 Onzas de aceite de girasol.
Elaboration:
1. Place the shrimp in a container, rinse them and season them with salt and pepper, add a portion of lemon juice and marinate for 10 minutes.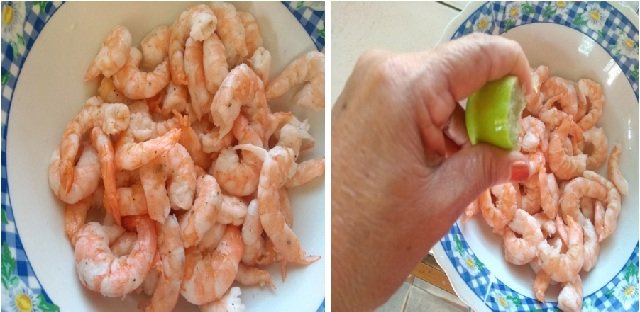 2. Pour oil into a frying pan and take it to the stove and when the oil warms up we add onion strips and crushed garlic we introduce the shrimp to saute them add 2 ounces of water to cook them approximately 10 minutes and remove from the heat to cool, pour the shrimp into a container where we will make the ceviche and cut them into pieces.
3. We proceed to rinse the vegetables and cut into julienne strips and add the vegetables and the lemon and orange juice to the cut shrimp mixed with the ceviche ingredients with your hands .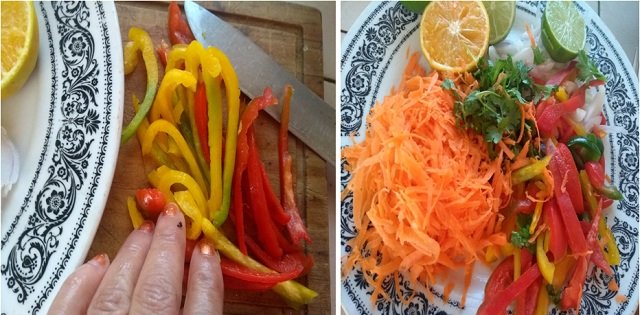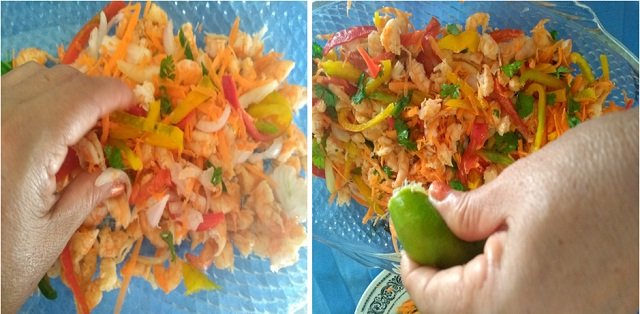 4. Add salt and pepper to the ceviche, try and stir with your hands, and add the oil ready for the preparation; if you want you can place avocado cut into pieces.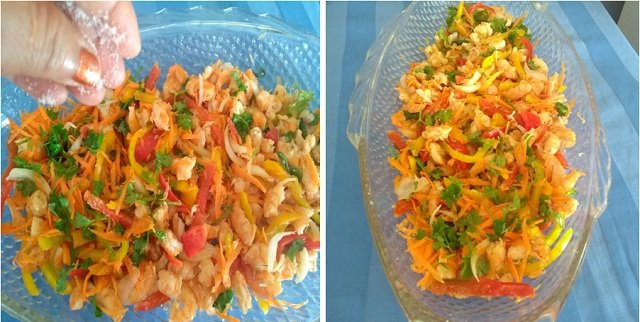 5.Ready we serve them and invite diners to taste this special delicious CEVICHE Shrimp with Peruvian / Venezuelan Vegetables.On this occasion I served a garnish in a wooden container of a fruit of cover.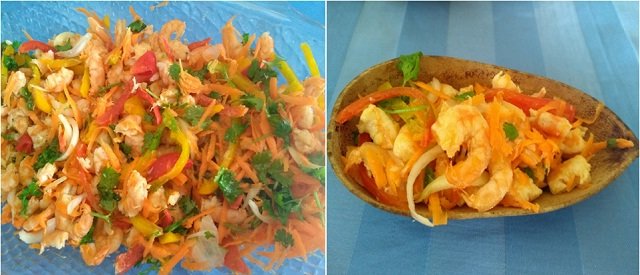 Preparacion:

1.Colocamos los camarones en un recipiente los enjuagamos y los sazonamos sal pimienta le añadimos una porción de jugo de limón los dejamos marinar por 10 minutos.
2.Vertemos en un sartén aceite y lo llevamos a la estufa y al calentarse el aceite añadimos tiras de cebolla y ajo triturado introducimos los camarones a saltearlos agregamos 2 onzas de agua para cocinarlos aproximadamente 10 minutos y retiramos del fuego para que se enfríen, vertemos los camarones en un recipiente donde elaboraremos el ceviche y los cortamos en trocitos.
3. Procedemos a enjuagar los vegetales y cortar en julianas y añadir a los camarones cortados los vegetales y e jugo de limón y de naranja mezclado con las manos los ingredientes del ceviche.
4. Añadimos al ceviche sal y pimienta probamos y removemos con las manos y añadimos aceite lista la preparación; si los desean puede colocar aguacate cortado en trozos.

5.Listo los servimos e invitamos a los comensales a degustar este especial sabor delicioso CEVICHE de Camarones con Vegetales Peruano/Venezolano en esta ocasión serví una guarnición en un envase de madera de un fruto de táparo.
took the pictures with Moto G5 Play mobile.
Tomé las fotografías con el móvil Moto G5
Original 100 content.
Contenido 100 original
Gracias y Buen Provecho.!
Thanks and Bon Appetit.!