Saludos apreciada comunidad de @GEMS.
Greetings dear @GEMS community.
A veces nos sobran retazos de fieltros y no sabemos qué hacer con ellos o sencillamente los desechamos. Hoy les quiero mostrar cómo podemos aprovechar esos pedacitos de fieltros decorando un espejo que tenía en casa y que se le había roto el marco.
Sometimes we have pieces of felt left over and we don't know what to do with them or we simply discard them. Today I want to show you how we can take advantage of those bits of felt by decorating a mirror that I had at home and that had broken its frame.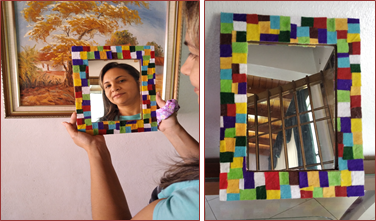 Materiales:
Espejo
Retazos de fieltro de varios colores
Cartón
Silicon
Tijeras
Materials:
Mirror
Pieces of felt of various colors
Paperboard
Silicon
Scissors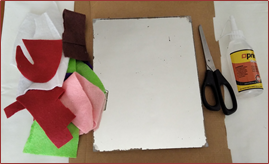 Procedimiento:
Paso 1:
En el cartón medí el tamaño del espejo añadiéndole 2 cm en cada lado al cartón.
Process:
Step 1:
In the cardboard I measured the size of the mirror adding 2 cm on each side to the cardboard.


Paso 2:
Recorté 2 piezas de cartón del mismo tamaño. Una para la parte delantera y otra para la parte trasera del espejo. Para el cartón que va en la parte delantera recorté el interior dejando 4 cm en cada lado de manera que me quedara en forma de marco.
Step 2:
I cut 2 pieces of cardboard of the same size. One for the front and one for the rear of the mirror. For the cardboard that goes in the front, I cut the interior leaving 4 cm on each side so that it remained in the form of a frame.


Paso 3:
Los retazos de fieltro más grande los fui pegando con el silicon en el cartón que va en la parte posterior del espejo.
Step 3:
I stuck the larger pieces of felt with the silicone on the cardboard that goes on the back of the mirror.


Paso 4:
En el cartón que servirá de marco, parte delantera del espejo recorté los fieltros en cuadros pequeños y con el silicon fui pegando cada uno alrededor del marco.
Step 4:
In the cardboard that will serve as a frame, front of the mirror I cut the felts into small squares and with the silicone I glued each one around the frame.


Paso 5:
Luego pegué en el cartón el espejo con el silicón y me aseguré que estuviera bien pegado. Coloqué silicón en el cartón alrededor del espejo y encima coloqué el marco decorado con los cuadros de fieltro.
Step 5:
Then I glued the mirror to the cardboard with the silicone and made sure it was well glued. I placed silicone in the cardboard around the mirror and on top I placed the frame decorated with the felt pictures.



De esta manera tenemos nuestro espejo listo. Es muy fácil y sencillo de decorar, no requiere mucho material, solo aquellos que en ocasiones desechamos.
In this way we have our mirror ready. It is very easy and simple to decorate, it does not require much material, only those that we sometimes discard.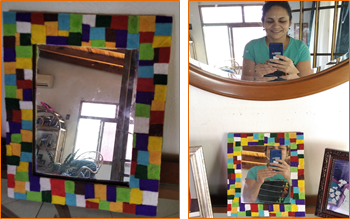 Así que si tienes un espejo en casa que no tiene marco no dudes en decorarlo como más te guste.
So if you have a mirror at home that does not have a frame, do not hesitate to decorate it as you like.