Saludos amigos de #hive, hoy quiero mostrarles cómo hacer una regla muy bonita con forma de jirafa, es decorativa e ideal para que nuestros niños la utilicen al realizar sus actividades escolares.
Greetings friends of #hive, today I want to show you how to make a very nice giraffe-shaped ruler, it is decorative and ideal for our children to use when doing their school activities.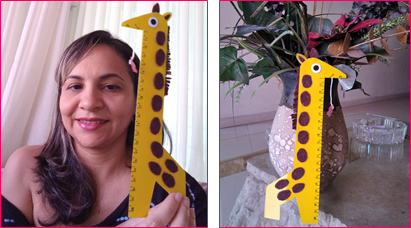 Los pasos para elaborar esta regla con forma de jirafa son sencillos y no requiere de mucho material.
The steps to make this giraffe-shaped ruler are simple and do not require much material.

Materiales:
1 Cartulina amarilla
1 Lámina de acetato amarillo
Acetato rosado y transparente
Lapicero de gel
Lápiz
Retazos de fieltro marrón y amarillo
Cartulina blanca
Hilo
Materials:

1 Yellow cardboard
1 Yellow acetate sheet
Pink acetate
Gel pen
Pencil
Pieces of brown and yellow felt
White cardboard
Thread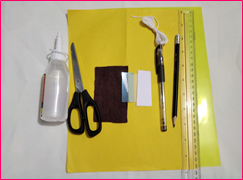 Paso 1:
Esta regla tendrá una medida de 20 cm. Para empezar a elaborarla doblé la cartulina por la mitad de manera que al dibujar y recortar la jirafa salieran dos figuras iguales.
Step 1:
This ruler will have a measure of 20 cm. To start making it, fold the cardboard in half so that when you draw and cut out the giraffe, two equal figures will come out.


Paso 2:
Una vez listo el dibujo recorté la figura de la jirafa. Luego en la lámina de acetato amarilla recorté las dos figuras de la jirafa.
Step 2:
Once the drawing was ready I cut out the figure of the giraffe. Then on the yellow acetate sheet I cut out the two figures of the giraffe.


Paso 3:
Una vez recortadas las figuras, empecé a elaborar las orejas, el pelaje, el ojo, la flor y las manchas de la jirafa. Estas piezas que forman parte de la jirafa son rápidas y fáciles de hacer.
Ojo: Recorté y pegué un círculo pequeño de cartulina blanca y otro círculo más pequeño en negro.
Orejas: Recorté dos pequeñas orejas una marrón y otra amarilla en la que pegué una más pequeña marrón.
Pelaje: Recorté una tira delgada de 5 cm de largo y 1 cm de ancho y con la tijera fui haciendo pequeños cortes en las orilla de uno de los lados del fieltro.
Manchas: Recorté nueve óvalos de fieltro marrón.
Flor: En el acetato rosado marqué y recorté la forma de una flor pequeña, luego con una aguja perforé un orificio por donde pasé el hilo.
Step 3:
Once the figures have been cut, I began to make the giraffe's ears, fur, eye, flower and spots. These pieces that are part of the giraffe are quick and easy to make.

Eye: I cut and pasted a small circle of white cardboard and another smaller circle in black.
Ears: I cut two small ears, one brown and one yellow, on which I glued a smaller brown one.
Fur: I cut a thin strip 5 cm long and 1 cm wide and with the scissors I made small cuts on the edge of one side of the felt.
Stains: I cut nine ovals out of brown felt.
Flower: In the pink acetate mark and cut out the shape of a small flower, then with a needle drill a hole through which the thread passes.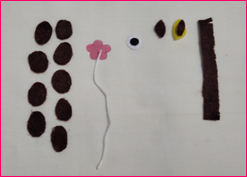 Paso 4:
En este paso con el silicón pegué las orejas, el pelaje y la flor como lo indica la figura.
Step 4:
In this step with the silicone I glued the ears, the fur and the flower as indicated in the figure.


Paso 5:
En la parte delantera de la jirafa con el lapicero de gel marqué los centímetros de la regla hasta 20 cm.
Step 5:
On the front of the giraffe, mark the centimeter of the ruler up to 20 cm with the gel pen.


Paso 6:
Luego pegué las dos figuras de la jirafa. Para darle más resistencia y durabilidad a la regla pegué las figuras de jirafa de acetato amarillo por ambos lados.
Step 6:
Then glue the two giraffe figures together. To give the ruler more resistance and durability, I glued the yellow acetate giraffe figures on both sides.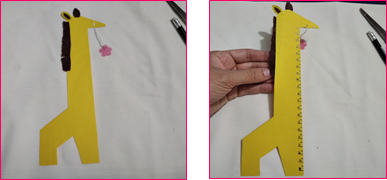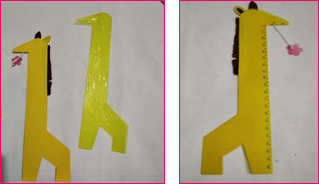 Paso 7:
Por último, pegué los fieltro ovalados que simulan las manchas de la jirafa y el ojo.
Step 7:
Finally I glued the oval felt that simulates the giraffe and eye spots.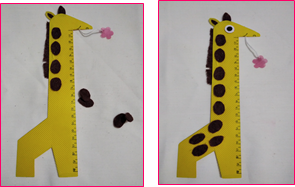 Ya tenemos nuestra regla con forma de jirafa lista.
We already have our giraffe-shaped ruler ready.