Hola feliz y bendecido nuevo día, que alegría un nuevo día un nuevo tutorial hoy les voy a explicar un corazón bordado yo estoy aprendiendo y a medida que voy practicando les voy enseñando para que así aprendamos juntos no se me ha echo nada fácil, para ser honesta e durado casi 3 días bordando aunque me a encantado es super entretenido y eso es muy bueno en estos días que debemos quedarnos en casa ayuda bastante a estar ocupado y calmados sin pensar tanto, Dios sabe el por que de cada situación debemos ser fuertes y apoyarnos unos a otros y la mejor manera es estar en casa. Cada día me repito esta frase "Nadie dijo que era fácil ser emprendedor" Si me has leído anteriormente sabe que esto mas que mi trabajo es lo que amo, es mi pasión y realmente me gusta hacerlo. Este corazón bordado me quedo un poco torcido ya veras! la practica hace el maestro.
Hello happy and blessed new day, what a joy a new day a new tutorial today I am going to explain an embroidered heart I am learning and as I am practicing I am teaching you so that we learn together not It has not been easy for me, to be honest I have lasted almost 3 days embroidering although I have loved it it is super entertaining and that is very good these days that we must stay home it helps a lot to be busy and calm without thinking so much, God knows the Because of each situation we must be strong and support each other and the best way is to be at home. Every day I repeat this phrase "No one said it was easy to be an entrepreneur" If you have read me before you know that this is what I love more than my job, it is my passion and I really like doing it. This embroidered heart is a bit crooked, you will see! practice is done by the teacher.
"El ingrediente más importante es levantarte y hacer algo. Así de simple. Muchas personas tienen ideas, pero solo algunas deciden hacer algo hoy. No mañana. No la siguiente semana. Sino hoy. El verdadero emprendedor actúa en lugar de soñar" - Nolan Bushnell, emprendedor.
"The most important ingredient is getting up and doing something. It's that simple. Many people have ideas, but only some decide to do something today. No tomorrow. Not the next week. But today. The true entrepreneur acts instead of dreaming "- Nolan Bushnell, entrepreneur.
Materiales:
Mostacilla y Mostacillon esto es pequeña y Grande
Aguja e Hilo
Tela fina o POP
Tela Gruesa
Tijera
Silicon Liquido
Base de Zarcillo
Materials:
Mostacilla and Mostacillon this is small and Big
Needle and thread
Fine fabric or POP
Thick Cloth
Scissors
Liquid silicone
Tendril Base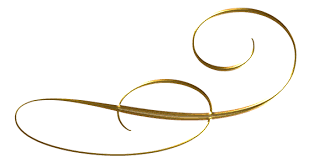 Debes tener en consideración, que este tipo de trabajo lleva tiempo, no te inquietes todo esta en la practica incluso a mi misma aun me quedan de lado paso a paso la intención es aprender algo nuevo y la mejor manera es llenarse de Amor, Paciencia y mucho animo para que veas que cada día queda mas bonito!
You must bear in mind that this type of work takes time, don't worry, everything is in practice, even myself, I still have side by step, the intention is to learn something new and the best way is fill with Love, Patience and much encouragement so that you see that each day is more beautiful!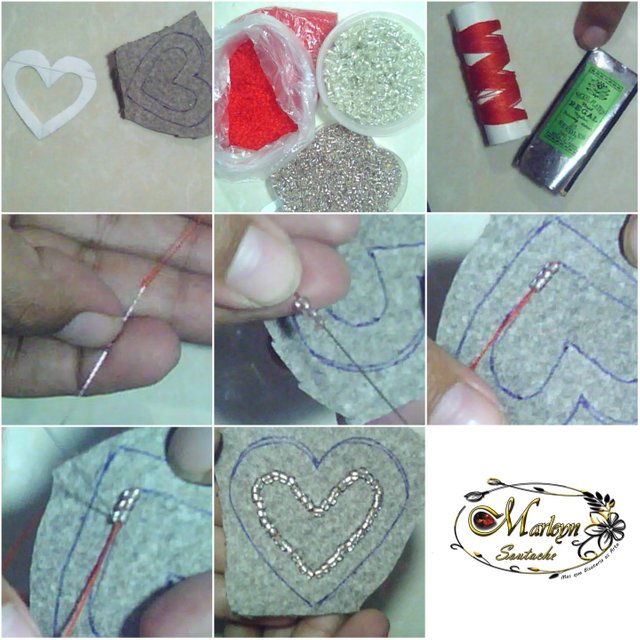 PASO 1 : Selecciona un modelo de corazón que te guste, si miras la primera imagen yo seleccione 2 uno grande que es el de afuera y uno 1 que es un centímetro mas pequeño de esta manera puedo jugar con los tamaños de las mostacillas y se ve mejor, bueno a mi gusto; selecciona 3 colores de mostacillas, y 1 color de mostacillon que es la mas grande ahora transfiere el dibujo de los corazones a una tela fina o POP, colocarle hilo a la aguja y le hacemos un nudo en la punta, ahora vamos a bordar la orilla del corazón pequeño introduce la aguja por la parte de abajo si es posible en la punta del corazón pequeño para sacarlo hacia arriba ahora vas a introducir 3 mostacillas, vuelve a meter la aguja justamente donde termina la ultima mostacilla y vas a regresar la aguja hacia arriba por la segunda mostacilla y volverás a introducir el hilo y la aguja por la tercera mostacilla, ahora otra vez desde el principio introduces 3 mostacillas y realizas nuevamente el proceso y así sucesivamente hasta terminar de bordar la orilla del corazón quedara como te muestro en la ultima imagen.
STEP 1: Select a heart model that you like, if you look at the first image I select 2 a large one that is the outside one and a 1 that is a smaller centimeter this way I can play with the sizes of the beads and it looks better, well to my liking; select 3 colors of beads, and 1 color of bead that is the largest, now transfer the drawing of the hearts to a fine fabric or POP, thread the needle and tie a knot at the end, now we are going to embroider the edge of the small heart introduce the needle through the bottom if possible in the tip of the small heart to take it out upwards now you are going to introduce 3 beads, put the needle back exactly where the last bead ends and you are going to return the needle up for the second bead and you will reintroduce the thread and the needle for the third bead, now again from the beginning you introduce 3 beads and do the process again and so on until you finish embroidering the edge of the heart it will remain as I show you in the last image.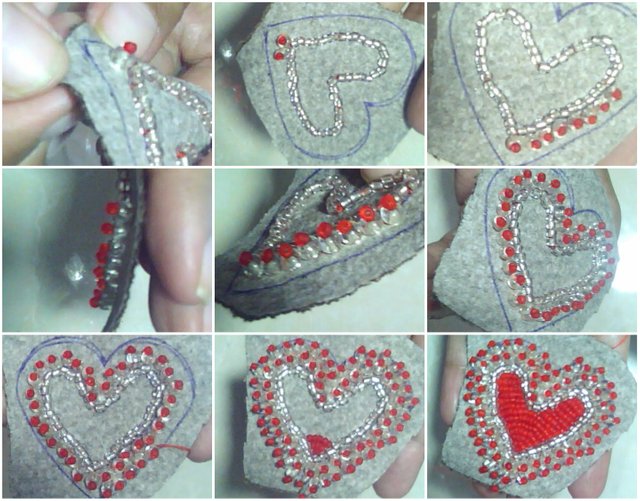 PASO 2: En el paso anterior bordaste la orilla de adentro en este paso vamos a bordar toda la orilla de afuera que seria el corazón mas grande, vas a introducir la aguja desde abajo en la punta de abajo ahora en la aguja coloca un mostacillon y una mostacilla pequeña, vas a devolver la aguja pasándola solo por el mostacillon dejando a un lado la mostacilla pequeña como te muestro en las 2 primeras imágenes realiza este mismo proceso por toda la orilla y al terminar vuelve a hacerlo por segunda vez para cubrir por completo el corazón grande, cuando lo termines, empezaremos a bordar el lado de adentro del corazón con las mostacillas pequeñas, comienza desde abajo y dependerá del tamaño la cantidad de mostacillas que vas a colocar de todas maneras tu ve verificando yo comencé con una mostacilla en la punta luego 3 y así sucesivamente en números impares todo dependerá del tamaño algunas mostacillas vienen todas igual tamaño otras son mas finitas; realiza el mismo proceso que utilizaste para bordar la orilla del corazón pequeño hasta que llegues a la parte superior del corazón.
STEP 2: In the previous step you embroidered the inside edge in this step we are going to embroider the entire outside edge which would be the largest heart, you are going to insert the needle from the bottom into the tip from below now on the needle place a mustard and a small mustard, you are going to return the needle by passing it only through the mustard, leaving aside the small mustard as I show you in the first 2 images carry out this same process all over the shore and when finished do it a second time to completely cover the large heart, when you are done, we will start embroidering the inside of the heart with the small beads, start from the bottom and the amount of beads you will place will depend on the size anyway you see verifying I started with a bead on the tip then 3 and so on in odd numbers everything will depend on the size some beads come all the same size others are finer; Perform the same process you used to embroider the edge of the small heart until you reach the top of the heart.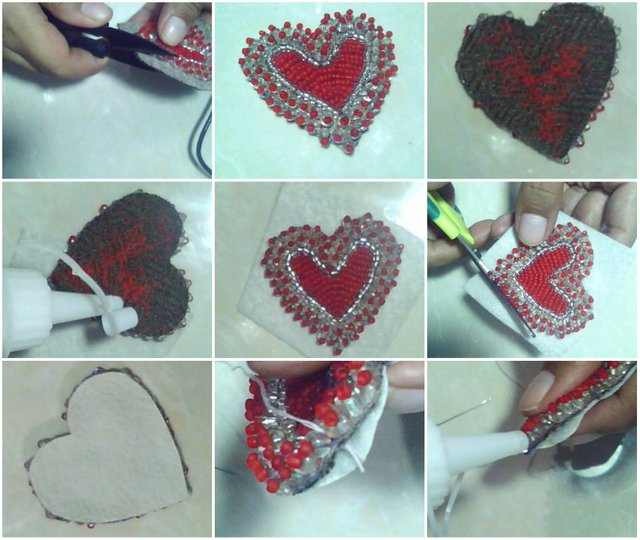 PASO 3: Con mucho cuidado de no cortar los hilos vas a cortar la orilla de la tela que nos ha sobrado, se le va a colocar silicon liquido por la parte de atrás y se pegara sobre una tela gruesa o cuero, después de pegar ejercer un poco de presión y cortar ahora el cuero o tela gruesa sobrante, ensarta la aguja con un hilo levanta un poco el cuero introduce la aguja de adentro hacia afuera, coloca un poco mas de silicon liquido y vuelve a cerrar.
STEP 3: With great care not to cut the threads, you are going to cut the edge of the fabric that is left over, liquid silicone will be placed on the back and it will be glued on a thick cloth or leather, after pasting apply a little pressure and now cut the excess leather or thick cloth, thread the needle with a thread, lift the leather a little, insert the needle from the inside out, put a little more liquid silicone and close again.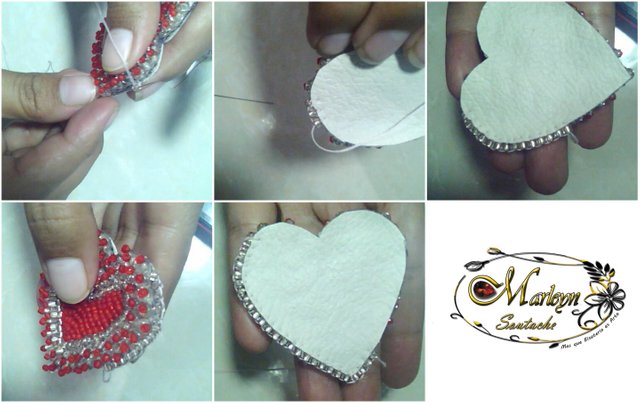 PASO 4: Ahora vamos a bordar la orilla eso le da un toque super original a nuestra pieza y un acabado muy elegante, ya tienes la aguja con el hilo que lo dejamos listo en el paso anterior introduce una mostacilla y vuelve a meter la aguja ahora por el lado de atrás el lado del cuero al sacarla mete la aguja por la mostacilla de abajo hacia arriba, vuelve a introducir una mostacilla en la aguja e introducirla de atrás hacia adelante al sacar el hilo lo vuelves a introducir esta vez por la mostacilla y así sucesivamente siempre que introduzcas la aguja debes ir dejando espacio de una mostacilla realiza este procedimiento hasta llegar al otro extremo realiza un amarre y trata de esconder el hilo entre las mostacillas.
STEP 4: Now we are going to embroider the edge that gives a super original touch to our piece and a very elegant finish, you already have the needle with the thread that we left ready in the previous step insert a bead and put the needle back through the back side the leather side when taking it out put the needle through the bead from the bottom up, put a bead in the needle again and insert it from back to front when pulling out the thread You introduce it again this time through the bead and so on, whenever you insert the needle, you must leave room for a bead, carry out this procedure until you reach the other end, make a tie and try to hide the thread between the beads.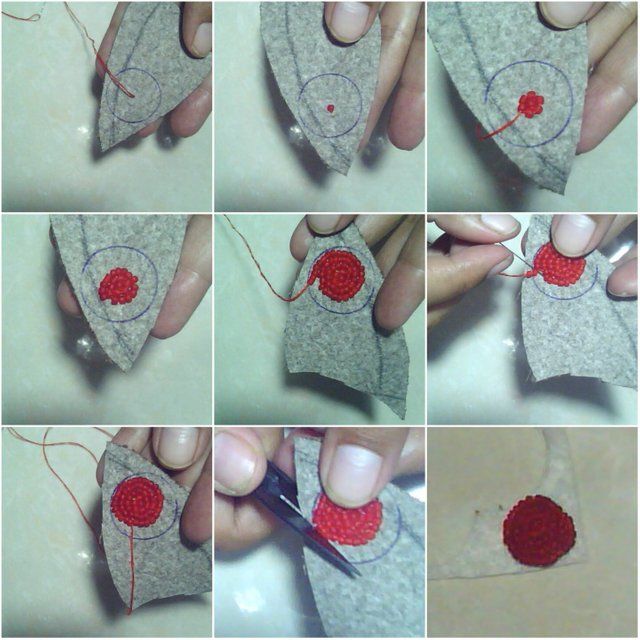 PASO 5: Esta parte del arete no me gusta como ha quedado así que me tengo de tarea aprender a realizar una que quede de mejor calidad, para este solo realice un circulo en un trozo de tela fino e introduce una sola mostacilla para que nos de el centro introduce la aguja y al sacarla introduce 3 mas y realizas el proceso que te esplique en los pasos anteriores y los vas a ir realizando y girando hasta formar el circulo del tamaño que te parezca conveniente para tu oreja, al terminar cortar la tela sobrante, colocar un poco de silicon liquido en la parte de atrás y pegarlo en un trozo de tela gruesa o cuero, antes de pegarlo introduce la base de zarcillo.
STEP 5: I do not like this part of the earring as it has turned out so I have the task of learning to make one that is of better quality, for this I only made a circle on a piece of cloth Fine and introduce a single bead so that the needle enters the center and when you remove it, introduce 3 more and carry out the process that explains you in the previous steps and you will be doing and turning until you form the circle of the size that seems convenient to you for your ear, when you finish cutting the excess fabric, put a little liquid silicone on the back and stick it on a piece of thick fabric or leather, before sticking it insert the tendril base.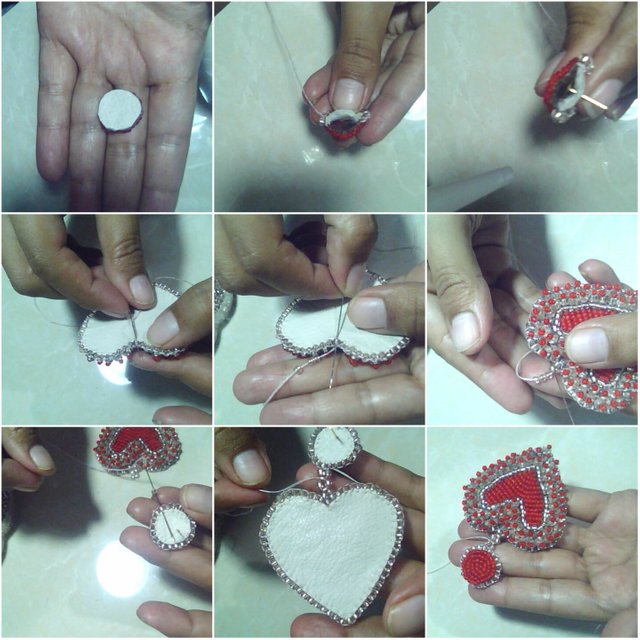 PASO 6: Cortar el cuero sobrante y bordarlo por toda la orilla como se le hizo al corazón, ahora desde abajo del corazón saca un hilo con la aguja desde el centro introducir 3 mostacillas y devolverte para formar un circulo ahora vuelve a introducir el hilo de un lado por la mostacilla de una orilla y la central y vuelve a introducir 3 mostacillas repetir el proceso 3 veces y luego introducir la aguja en el circulo que formamos con la base de zarcillo realizar un amarre y esconder el hilo entre las mostacillas para que tenga un mejor acabado de esta manera terminamos realiza todos los pasos nuevamente para realizar el otro zarcillo.
STEP 6: Cut the excess leather and embroider it all over the edge as it was done to the heart, now from below the heart take out a thread with the needle from the center introduce 3 beads and return to form a circle now reintroduce the thread on one side through the edge and central mostacilla and reintroduce 3 beads repeat the process 3 times and then insert the needle into the circle that we form with the tendril base make a tie and hide the thread between the beads so that it has a better finish. In this way we end up doing all the steps again to make the other tendril.
La invitación como siempre es a que lo intentes. Espero me comentes cómo fue tu experiencia
Si tienes una duda escríbeme un comentario, estaré feliz de ayudarte con cualquier detalle, Espero que mis diseños les gusten tanto como a mí me gusta, aprendan con placer ...!

Nunca olvides que el Poder es Querer y si quieres Puedes...
Eres Luz eres Energía, TU PUEDES ... Que el universo infinito Conspire para que todo siempre sea mejor ... Se les quiere ...

Venezuela FE
Somos Seres Abundantes! Qué las energías del universo vibren en sintonía con las de cada uno de nosotros en armonía! Cuidemos nuestras palabras, acciones y pensamientos!
If you have a question, write me a comment, I will be happy to help you with any details, I hope you like my designs as much as I like, learn with pleasure ...!

Never forget that Power is Wanting and if you want you can ...
You are Light, you are Energy, YOU CAN ... May the infinite universe Conspire so that everything is always better ... They are loved ...

Venezuela FAITH
We are Abundant Beings! May the energies of the universe vibrate in tune with those of each of us in harmony! Let's take care of our words, actions and thoughts!
!