En/Esp
---
A super cosmic greeting to everyone!
Un súper saludo cósmico a todos!
As well as i love to draw and enjoy colourful moments, cooking is something i also love. It is an art that requires patience, inspiration, love and a very good sense of taste to choose each ingredient. When we cook, we are seduced by the aromas and of course, the immense variety of vegetables and other spices captivate our sense of sight with their "palette" of colours. For me, cooking is like painting.
So today I invite you to "paint" with flavors.
---
Así como amo dibujar y disfrutar de momentos llenos color, la cocina es algo que también me apasiona. Es un arte que requiere de paciencia, inspiración, amor y un muy buen sentido del gusto para escoger cada ingrediente. Cuando cocinamos nos seducen los aromas y por supuesto, la inmensa variedad de verduras, vegetales y demás especias nos cautivan el sentido de la vista con su "paleta" de colores. Para mí, cocinar es como pintar.
Así que hoy te invito a que "pintemos" con sabores.
---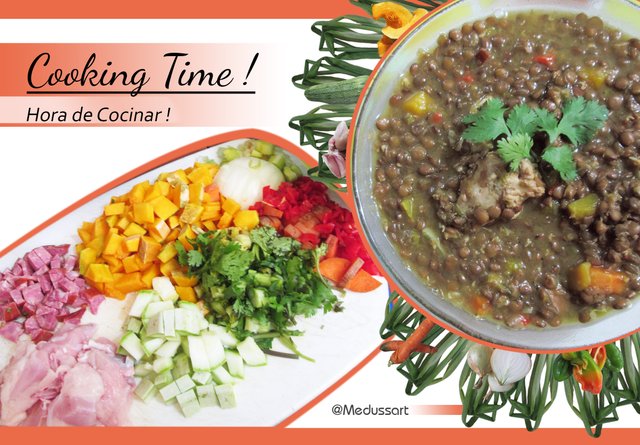 ---
Cooking Time
Hora de Cocinar
On cloudy and rainy days, with that cold that makes us fall into the temptation of laziness, it causes us to eat something warm and light. I am a lover of legumes, fresh and colorful vegetables; today i prepared a delicious lentil soup, perfect for these days.
Come with me to discover this recipe.
---
En días nublados y lluviosos, con ese frío que nos hace caer en la tentación de la flojera, también nos provoca a veces comer algo cálido y ligero. Soy amante de las legumbres, de los vegetales frescos y coloridos; hoy me dió por preparar una rica sopa de lentejas, perfecta para ésto.
Acompáñame a descubrir ésta receta.
---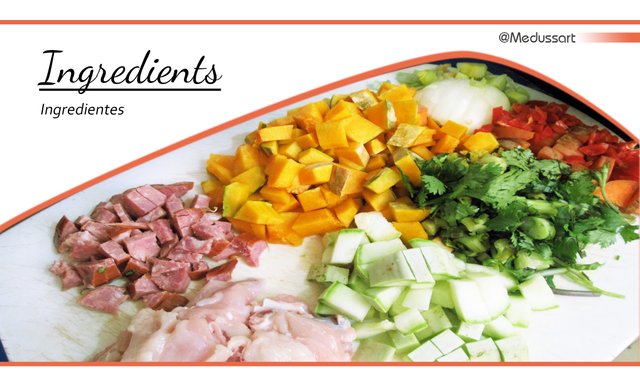 ---
Ingredients
Ingredientes
Lentejas
Carrot, zucchini, pumpkin.
Zanahoria, calabacín, auyama o calabaza.
Garlic, onions, sweet peppers, celery, coriander and chives.
Ajo, cebollas, ají o pimientos dulces, apio, cilantro y cebollín.
Spices, salt, brown sugar
Especias, sal, panela o azúcar morena.
Chicken, calabrese sausage (optional)
Pollo, calabresa (opcional)
Agua
Aceite vegetal
This recipe is also delicious as a vegetarian dish, we simply skip the animal ingredients.
---
Ésta receta queda deliciosa también como plato vegetariano, simplemente obviamos los ingredientes de origen animal.
---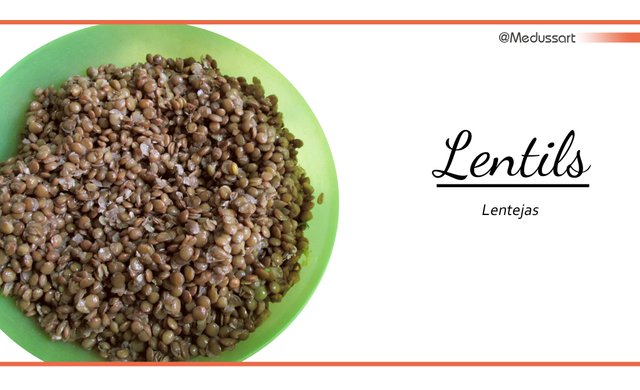 ---
Lentils are our guests of honor in this recipe. A great source of protein, they are versatile and abundant. One of my favorite legumes.
---
Las lentejas, son nuestras invitadas de honor en ésta receta. Una gran fuente de proteínas, son versátiles y abundantes. Una de mis legumbres favoritas.
---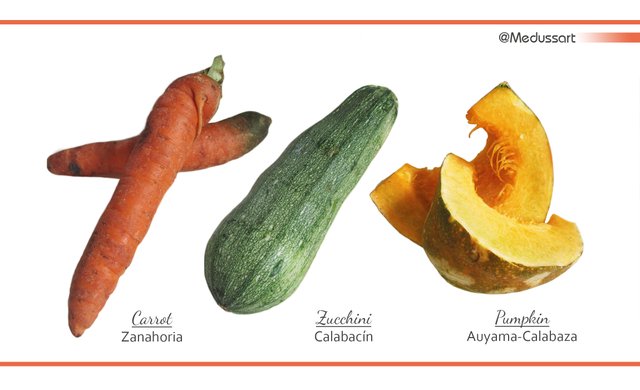 ---
This selection of vegetables has such a special sweetness and texture that it will give us creaminess and depth of flavour.
---
Ésta selección de verduras poseen una dulzura y textura tan especial que nos aportarán cremosidad y profundidad de sabores.
---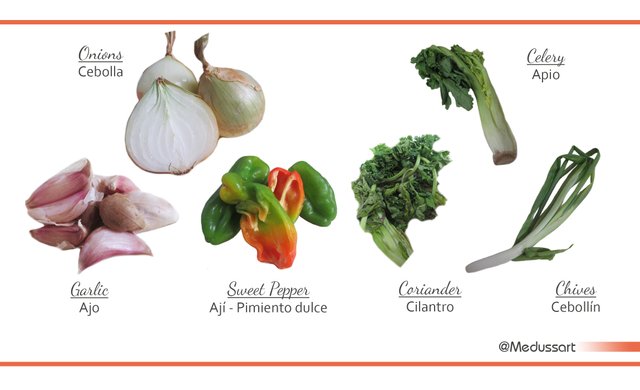 ---
Vegetables and aromatic herbs that will make this soup a delight of intense and warm flavors.
---
Vegetales y hierbas aromáticas que harán de ésta sopa una delicia de sabores intensos y cálidos.
---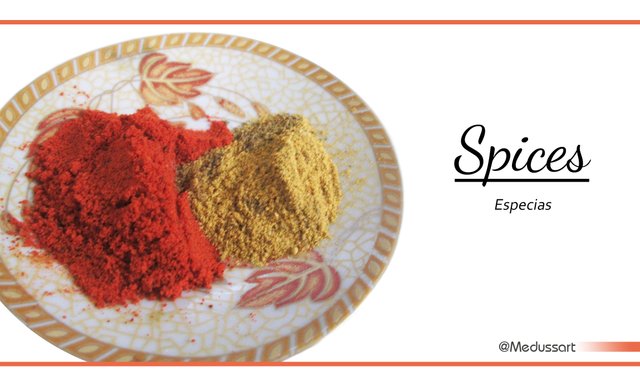 ---
Spices that intensify flavors and colors. For this recipe i used a mixture of curry powder and annatto.
---
Especias que intensifican sabores y colores. Para ésta receta usé una mezcla de curry en polvo y onoto (achiote)
---
Preparation Method
Preparación
Cut each of the ingredients into small pieces. In a large pot previously heated, add a little oil. If we use meats, that will be our first ingredient to fry. Then we add the carrot and pumpkin, onion, garlic and sweet peppers. A little salt to taste, a spoonful of brown sugar and the spices; i used a mixture of curry and annatto. Mix the ingredients together and fry for 2-3 minutes.
---
Cortamos cada uno de los ingredientes en trozos pequeños.
En una olla o cacerola amplia previamente calentada, agregamos un poco de aceite.
Si usamos carnes, ese será nuestro primer ingrediente a sofreír o sellar.
Luego agregamos la zanahoria y la calabaza o auyama como le decimos en Venezuela, la cebolla, ajo y el ají o pimiento dulce.
Un poco de sal al gusto, una cucharada de panela o azúcar morena y las especias; yo use una mezcla de Curry y onoto (achiote). Mezclar los ingredientes y dejar sofreír unos 2 a 3 minutos.
---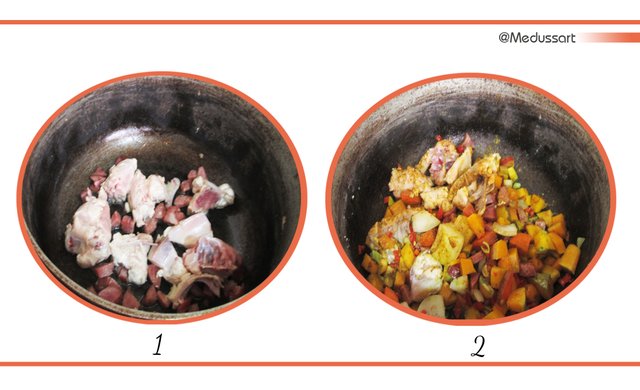 ---
Add the rest of the ingredients like zucchini, celery, chives and cilantro, mix again and let it fry for a few more minutes.
---
Agregar el resto de los ingredientes como el calabacín, apio, cebollín y cilantro, mezclar nuevamente y dejar sofreír unos minutos más.
---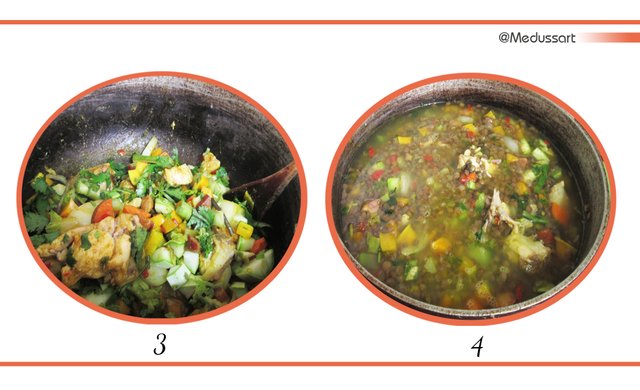 ---
This method helps to activate much more the flavors of each ingredient, the salts and the natural sugars of these will bring an intense smoked flavor to the recipe, even without adding meat.
---
Éste procedimiento ayuda a que se activen mucho más los sabores de cada ingrediente, las sales y los azúcares naturales de éstos le aportarán un intenso sabor ahumado a la receta, incluso sin necesidad de agregar carnes.
---
Add the lentils and water until all the ingredients are covered. Cook over medium heat for 40 minutes to 1 hr.
---
Agregar las lentejas y el agua hasta cubrir todos los ingredientes. Dejar cocinar a fuego medio por 40 min a 1 hr.
---

Culinary Tips
Tips Culinarios
An interesting tip to achieve dense smoky flavors in our recipes with legumes, is roasting carrots, pumpkins and onions in the oven or directly on the fire, just a little to activate their natural sugars. And although it may seem a little strange, adding brown sugar to our meals helps to intensify those dense, exotic flavors that many of us love. Even a touch of cinnamon.
---
Un tip interesante para lograr sabores ahumados y densos en nuestras recetas con legumbres, es asando zanahorias, calabazas y cebollas en el horno o directamente en el fuego, sólo un poco para activar sus azúcares naturales. Y aunque pueda parecer un poco extraño agregar azúcar morena o panela a nuestras comidas ayuda a intensificar esos sabores densos y exóticos que muchos amamos. Incluso hasta un toque de canela.
---

Ready to taste!
¡ Listo para degustar !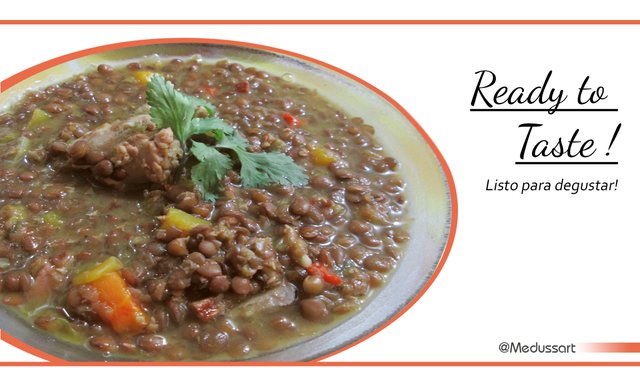 ---
And that's how we ended this blog, tasting warm and smoky flavors to warm up and relax during these rainy seasons. You can eat it with nothing else to add but in my case I love to accompany it with some rice. It's delicious and comforting.
---
Y así es como terminamos éste blog, degustando de sabores cálidos y ahumados para calentarnos y relajarnos durante éstas temporadas lluviosas.
Puedes comerla sola o en mi caso me encanta acompañarla con un poco de arroz. Es deliciosa y reconfortante.
---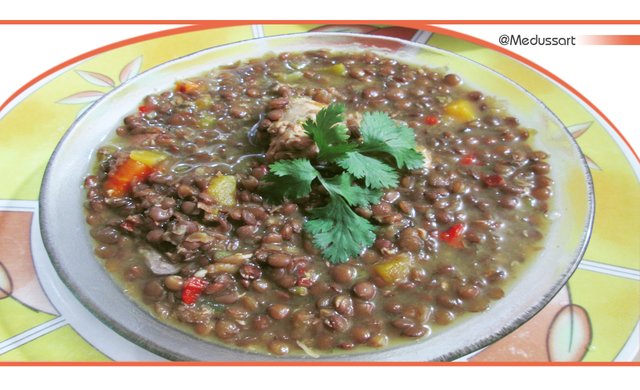 ---
Thank you for visiting and take a look of my little artistic corner!
Take care of yourselves and may the good vibes accompany you always!
¡Gracias por visitar y curiosear mi pequeño rincón artístico!
¡Cuídense mucho y que las buenas vibras les acompañen siempre!

Credits - Créditos
Translation - Traducción:
with www.DeepL.com
All the content - Todo el contenido
Text, design, photography, all done by me.
Texto, diseños, fotografía son de mi autoría.
Social media
https://www.instagram.com/medussart
https://www.facebook.com/medussart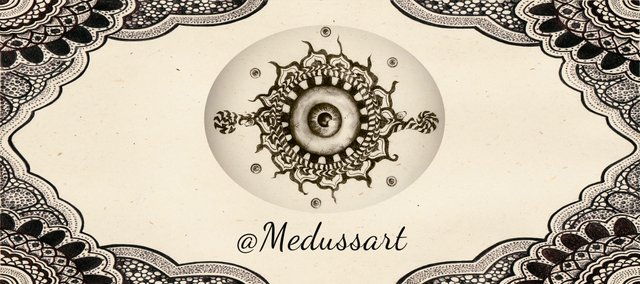 Copyright @medussart All Right Reserved