Greetings to all my dear hive. This time, I want to show you how to create in a simple way and, best of all, with recycling material. A Practical Emojic Organizer. In this case, the protagonists are: The cardboard tubes of toilet paper.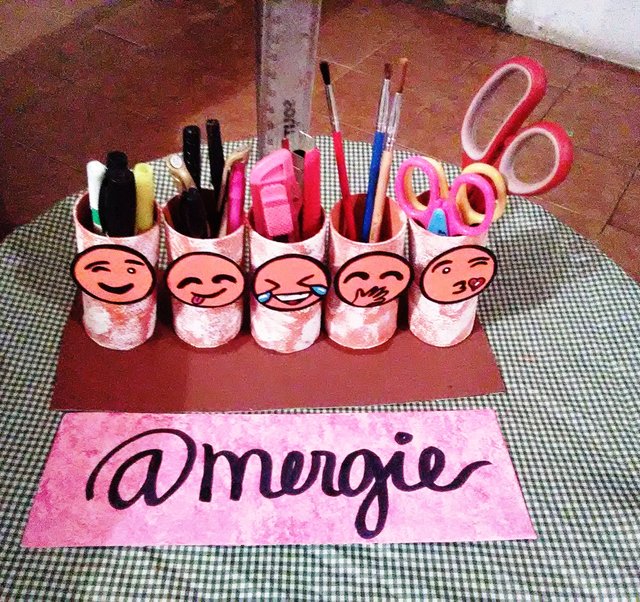 Saludos a toda mi querida colmena. Esta vez, quiero mostrarle cómo crear de una manera simple y, lo mejor de todo, con material de reciclaje.Un practico organizador de emojic
En este caso, los protagonistas son: Los tubos de cartón de papel higiénico.
The materials to be used were:
5 cardboard toilet paper tubes.
Cold paints in colors: orange, black, white, red, brown and blue.
Black thick tip marker.
White glue.
Silicone bar pistol.
1 silicone bar.
Brushes.
*1 small sponge.
1 sheet of cardboard (for circles).
For the base: 1 cardboard of 30 centimeters wide x 14 centimeters long.
Los materiales a utilizar fueron:
5 tubos de papel higiénico de carton.
Pinturas frías en colores: naranja, negro, blanco, rojo, marrón y azul.
Marcador negro de punta gruesa.
Pegamento blanco.
Pistola de silicona.
1 barra de silicona.
Pinceles.
1 esponja pequeña.
1 hoja de cartón (para círculos).
Para la base: 1 cartón de 30 centímetros de ancho x 14 centímetros de largo.
---
The steps to follow
Step 1
We will take our 5 cardboard tubes and with the help of the brush or sponge we will paint with the selected cold paint in this case the color orange inside and out.
Once our cardboard tubes are dry, we will apply a little of the white paint on a small sponge and press it little by little into our tubes, creating a pleasant effect.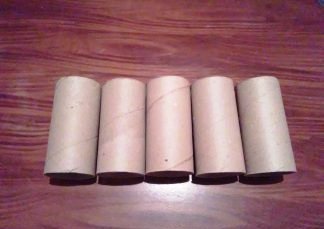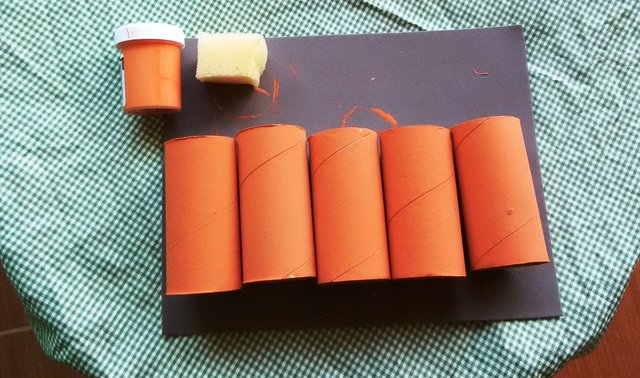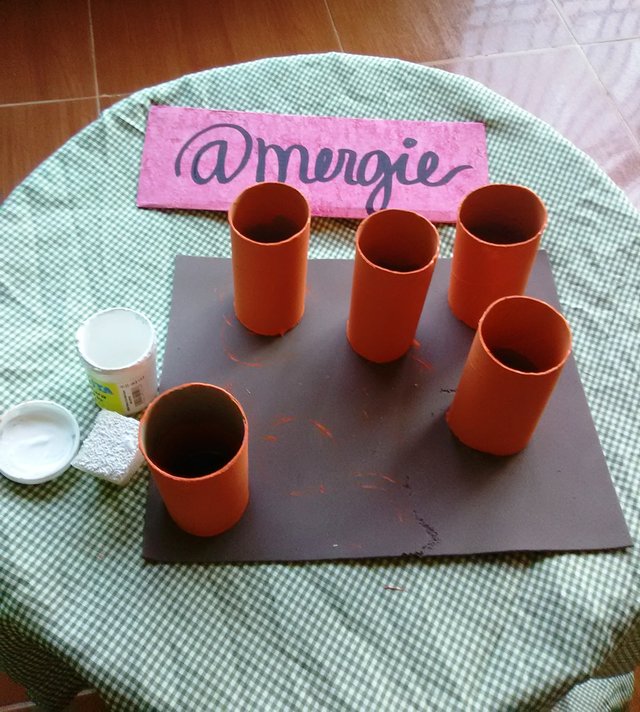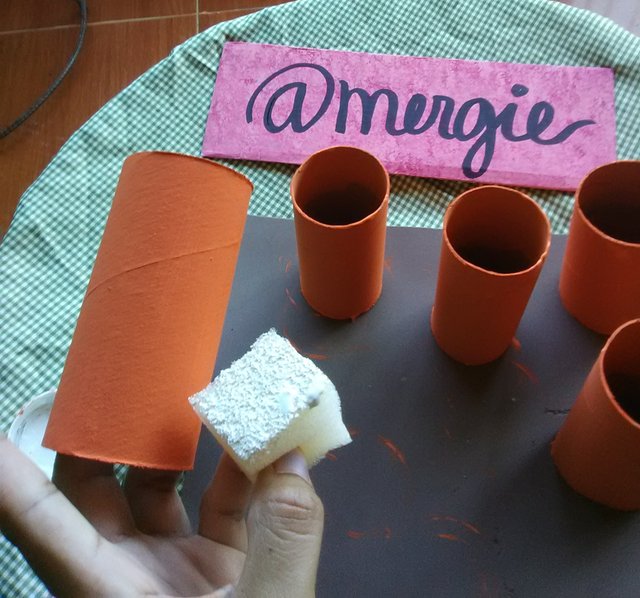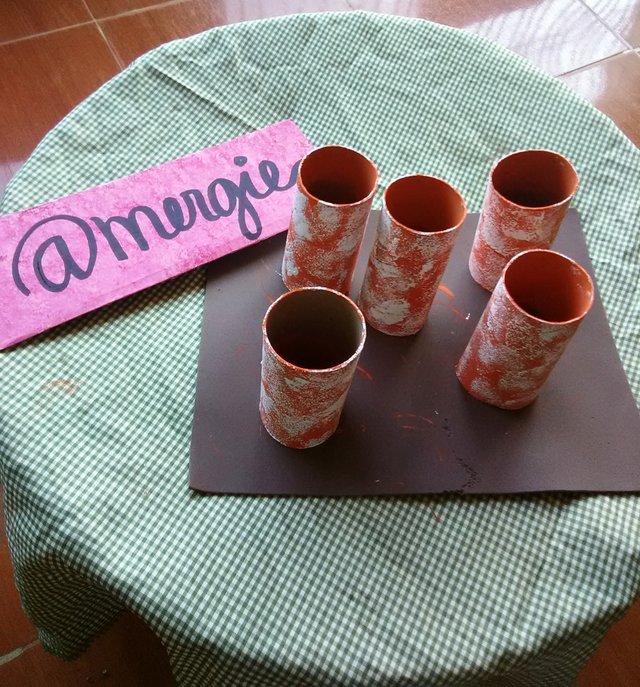 Los pasos a seguir:
Paso 1
Tomaremos nuestros 5 tubos de cartón y con la ayuda del pincel o esponja pintaremos con la pintura fría seleccionada en este caso el color naranja por dentro y por fuera.
Una vez que nuestros tubos de cartón estén secos, aplicaremos un poco de pintura blanca en una esponja pequeña y la presionaremos poco a poco en nuestros tubos, creando un efecto agradable.
Step 2
On a sheet of thick cardboard. With the help of a pencil we will mark 5 circles, and then with the scissors we will proceed to cut them.
Each circle we will paint in white, once dry we paint in orange we let it dry and then draw and paint our selected images of emojis, let it dry and at the end with the black marker, we will highlight the outline of our 5 circles to highlight our emojis.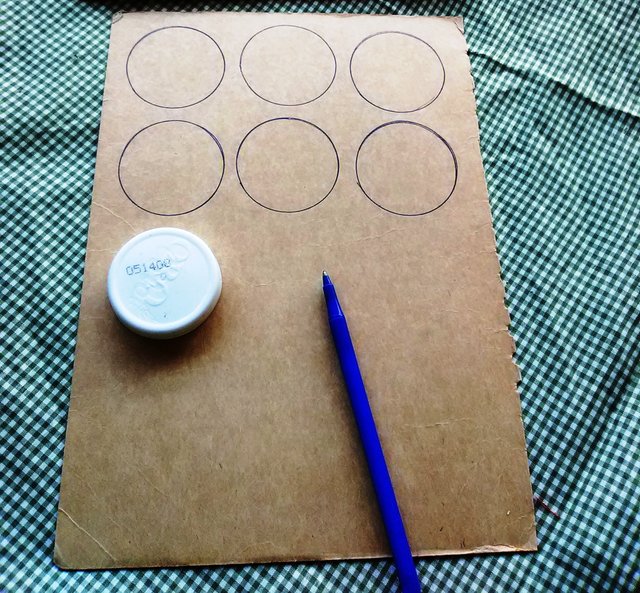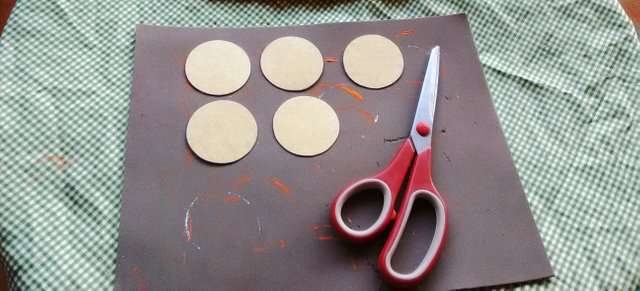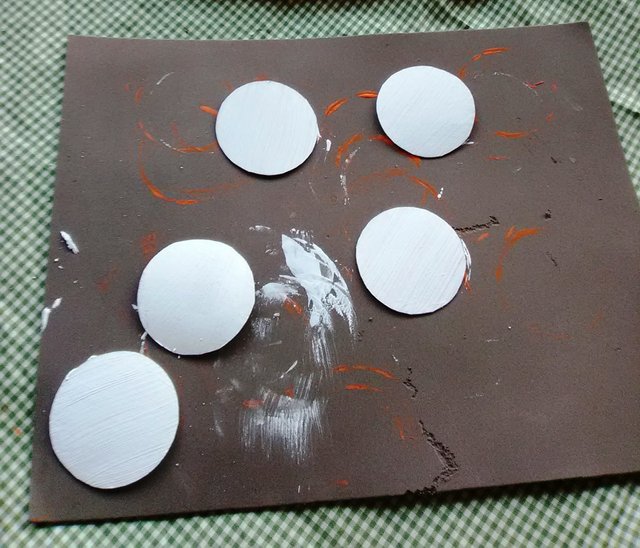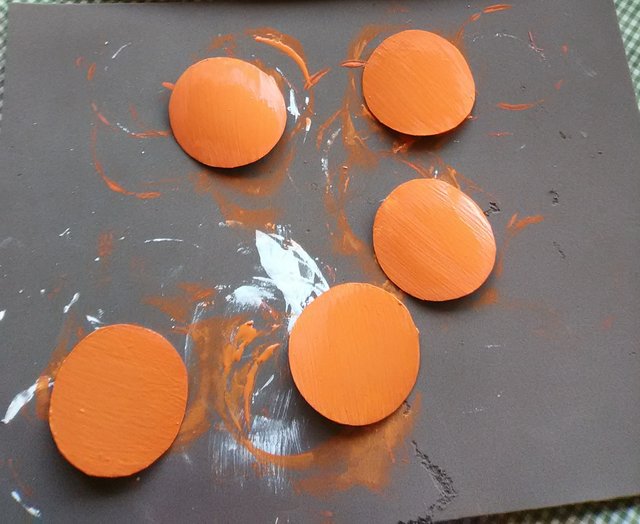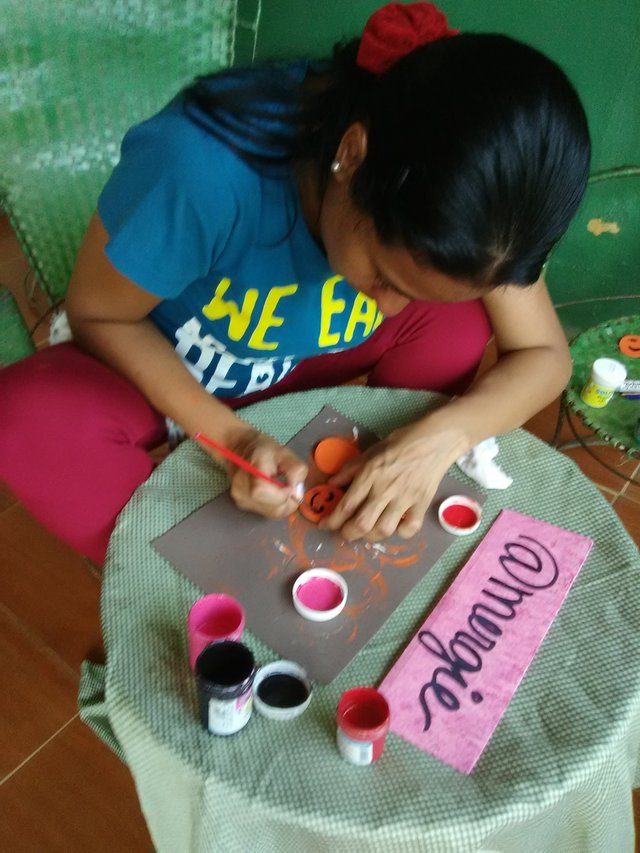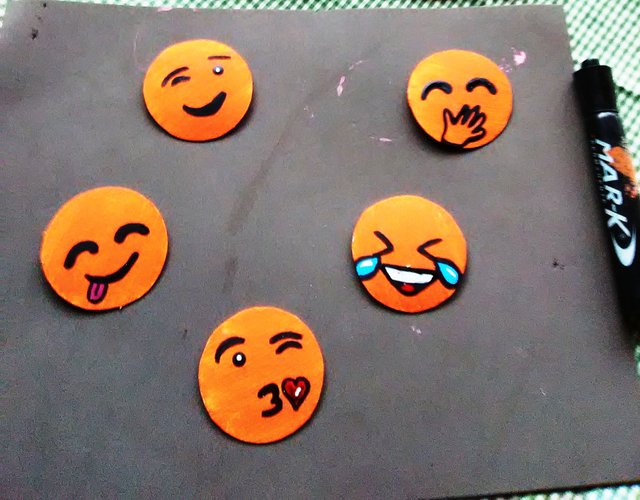 Paso 2
Sobre una hoja de cartón grueso. Con la ayuda de un lápiz marcaremos 5 círculos, y luego con las tijeras procederemos a cortarlos.
Cada círculo lo pintaremos en blanco, una vez seco lo pintamos en naranja lo dejamos secar y luego dibujamos y pintamos nuestras imágenes seleccionadas de emojis, lo dejamos secar y al final con el marcador negro, resaltaremos el contorno de nuestros 5 círculos para resaltar nuestros emojis.
Step 3
We will take the cardboard of 35 centimeters x 14 centimeters to make the base of our organizer and we will paint it brown, we will let it dry and then we will apply white glue to the bottom of the 5 cardboard tubes and we will immediately glue them all to the base. Once our cardboard tubes are dry and fixed to the base, we will stick the emoji circles with the hot silicone on the front of the tubes.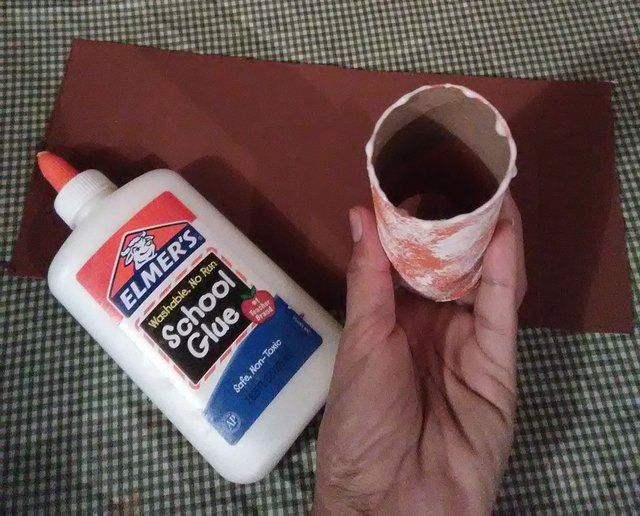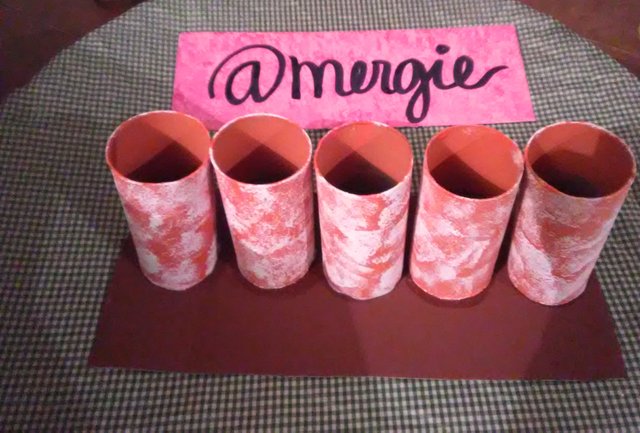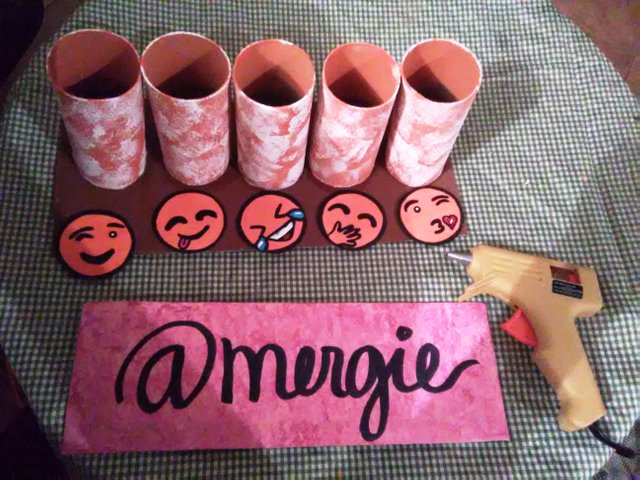 Paso 3
Tomaremos el cartón de 35 centímetros x 14 centímetros para hacer la base de nuestro organizador y lo pintaremos de color marrón, lo dejaremos secar y luego aplicaremos pegamento blanco en la parte inferior de los 5 tubos de cartón e inmediatamente lo pegaremos todos ellos a la base. Una vez que nuestros tubos de cartón estén secos y fijados a la base, pegaremos los círculos emoji con la silicona caliente en la parte frontal de los tubos.
Obtained Result
In this way, the Emojis Organizer remains.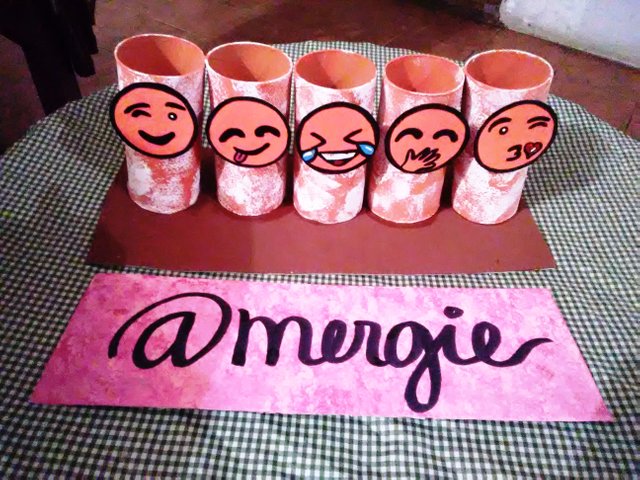 Resultado Obtenido
De esta manera, queda el Organizador de Emojis.
---
There are infinite options to place inside this organizer, I leave it to your imagination.But in these moments of quarantine for the Covid-19, where children have so many school tasks to do, it seems to me a perfect option for them to keep their school supplies very well organized, such as: (Pencils, erasers, sharpeners, colors, compas , ruler, brushes, markers, compas, scissors, etc.and carry out their activities in a more comfortable way.
Hay infinitas opciones para colocar dentro de este organizador, se lo dejo a su imaginación. Pero en estos momentos de cuarentena por el Covid-19, donde los niños tienen tantas tareas escolares que hacer, me parece una opción perfecta para que mantengan sus útiles escolares muy bien organizados, tales como: (Lápices, borradores, sacapuntas, colores, compas, regla, pinceles, marcadores, compas, tijeras, etc). Y llevar a cabo sus actividades de una manera más cómoda.