There are many ways to get an account on HIVE Blockchain instantly by spending a little amount, as little as 3 HIVE or $1.
Details can be found on the following link: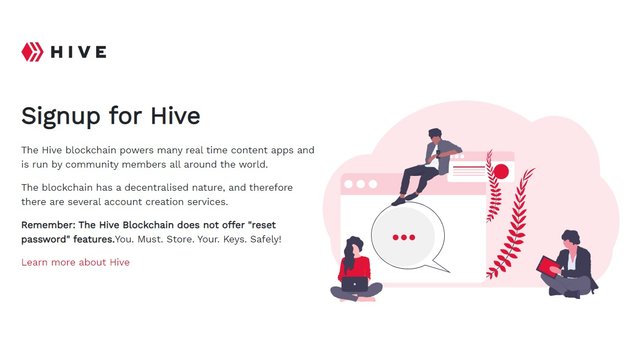 Source:
Signup for Hive
But, for some reasons if you are unable to buy the account and willing to get it quickly and for free, then you can have it from the following platforms by using the described methods.
HIVE Onboard
HIVE Onboard is one of the platforms which has brought a large number of new users on board on HIVE Blockchain by providing them free accounts.
For the purpose of writing this post, I have created my nephew Ali Salman's HIVE Account from HIVE Onboard.
steps to follow:
Select a User Name/ID,
Agree to TERMS OF SERVICE by checking the box, and
Click CONTINUE.
Click DOWNLOAD BACKUP; this will save your HIVE ID, KEYS & MASTER PASSWORD on your selected location on your device,
Press CREATE HIVE ACCOUNT.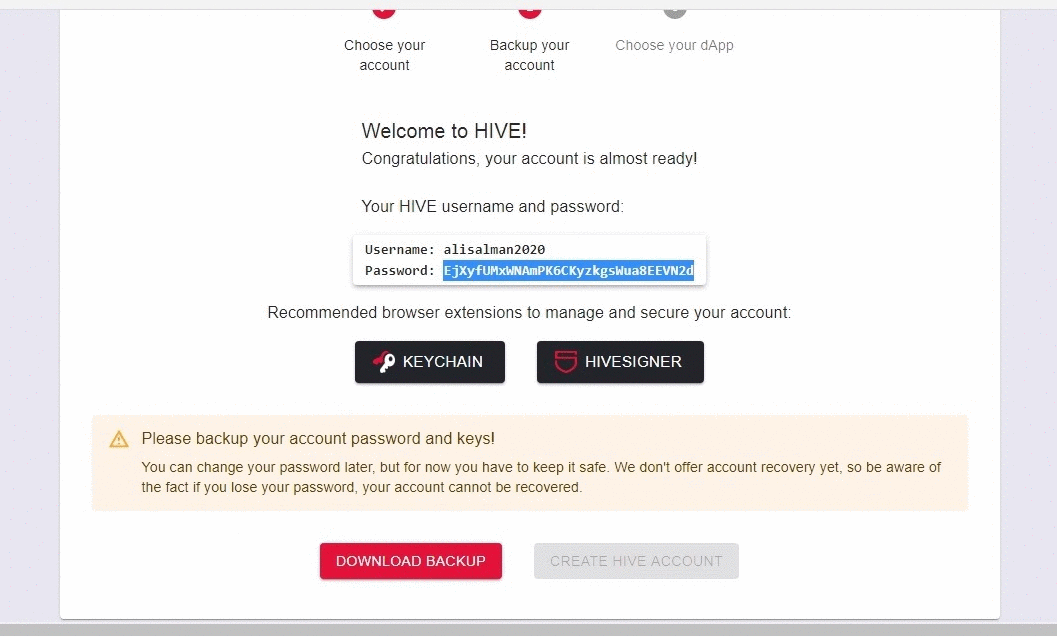 In the next step, select Country Code, enter Phone Number for One Time Phone Verification, and
Click the button, REQUEST SMS.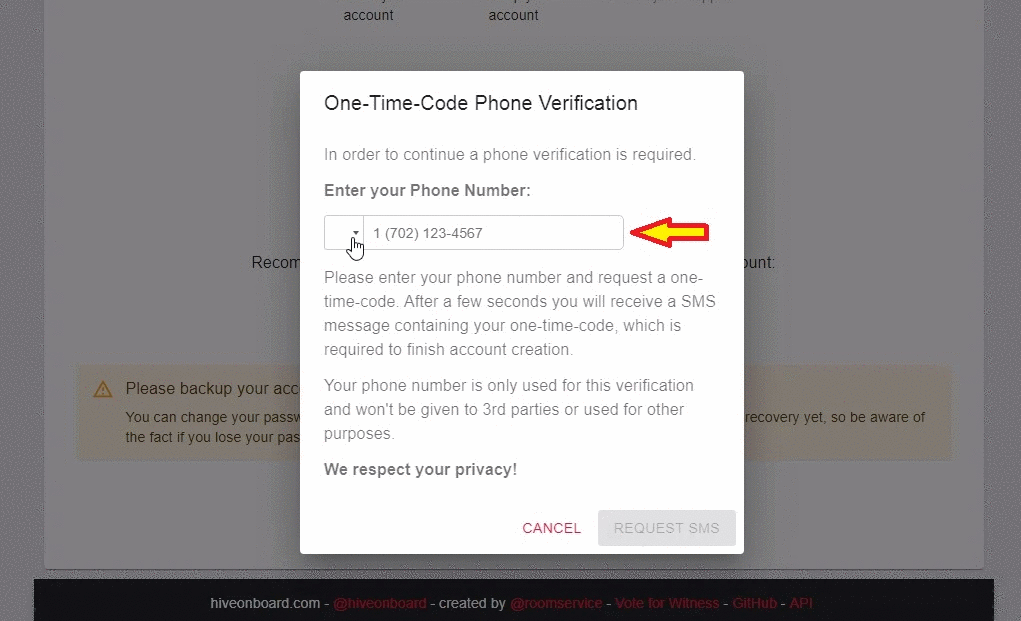 You'll receive a code on your phone, enter the code in the box below Enter your Confirmation Code:, and
Click the button SUBMIT CODE.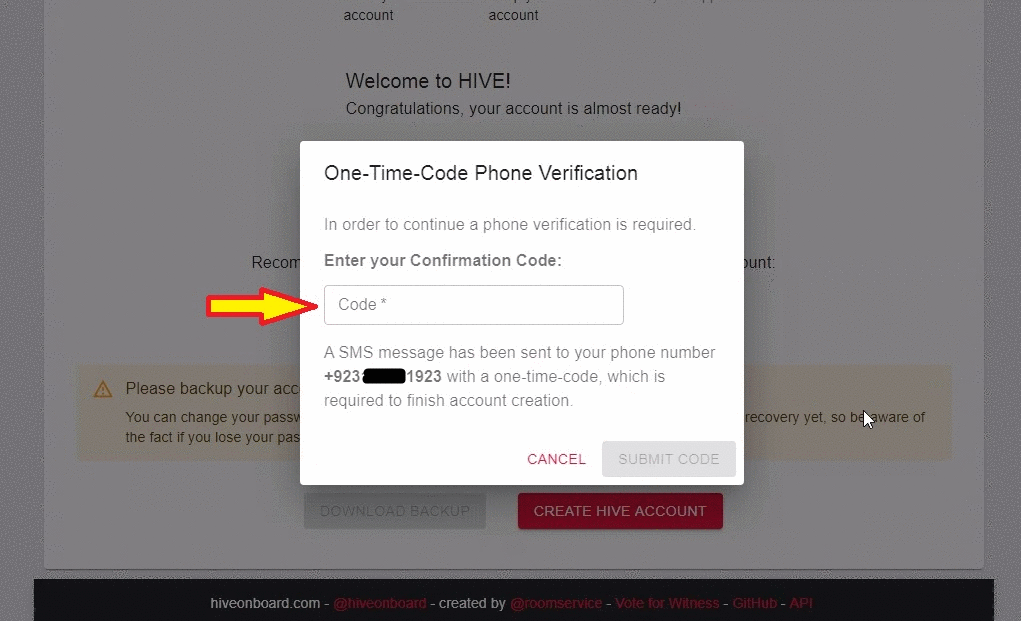 This will create your account on the blockachain. Now, you are free to select the dApp (HIVE Blockchain Interface) with which you'll start your journey on HIVE Blockchain (Posting Articles, Writing Comments on others' Articles, Upvote and Reblog others' Articles, Play games like Splinterlands, dCITY, Exodus, et cetera).
Esteem - Ecency
Esteem (Re-branding of this platform/dApp is under way, after that it'll be known as Ecency) is another platform/dApp/interface, which is being used by a large number of HIVE users, and it has brought many users onboard HIVE Blockchain with their offer of a free account as well. The only thing you are required is to download their app.
I have created my nephew Abu Bakar Salman's HIVE Account with Esteem for the purpose of writing this post.
steps to follow:
Go to this link, Esteem.App Signup.
Pick a User Name/ID,
Enter your email,
Write the ID of the Referred User (This is optional, you can use my ID, mobi72, if you want to, otherwise, leave it blank).
Click Continue.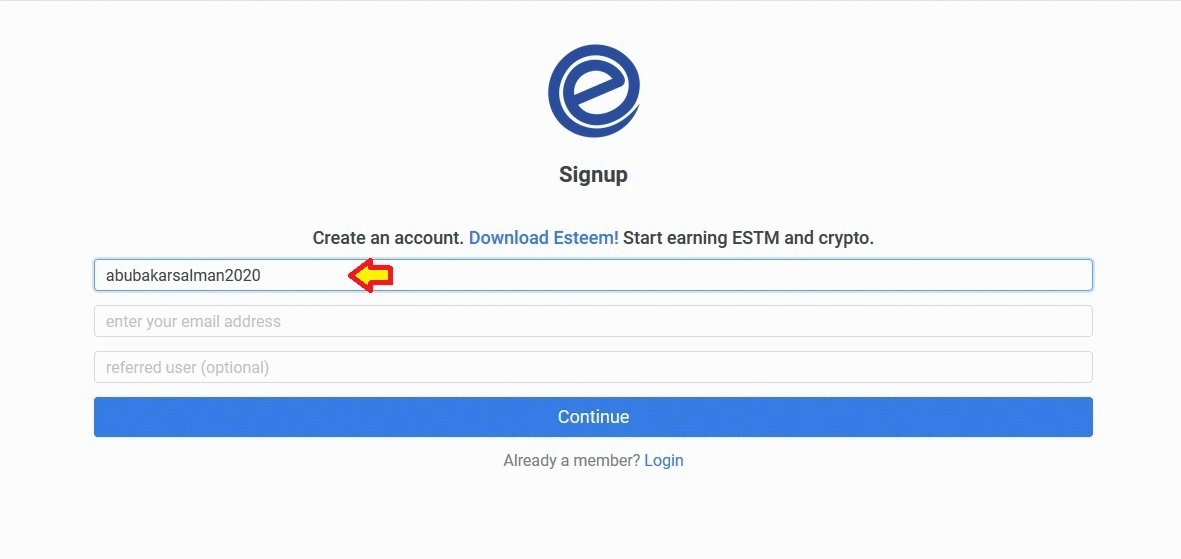 It'll send you an email for One-Time-Email-Verification.
Go to your inbox,
Open the Email,
Click the Verification/Confirmation Link.
Your account hasn't yet been created, your User Name/ID is reserved for you on HIVE. To finalize Account Creation, Esteem requires you to download its app. If you're an Android or iOS user, you'll find the download links on the Email Confirmed/Verified Page.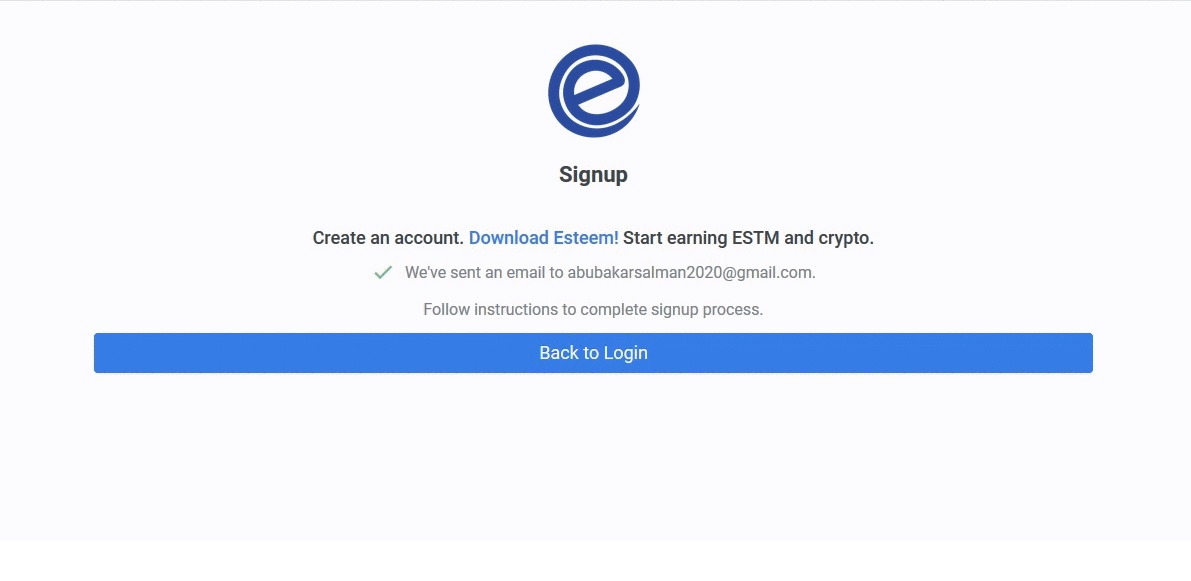 Next, you'll receive an email from Esteem Team, Your account created. This email have your User Name/ID and Password (Don't forget to change the password after first login).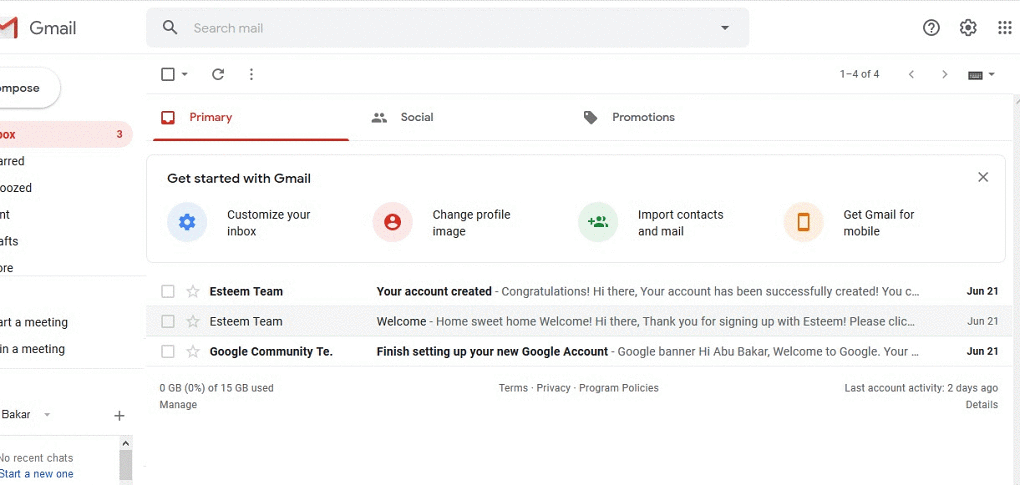 If you want to use Esteem.app on desktop then download the app from this LINK.
There, click the Downloads button on the right top corner.
Click on DESKTOP (Desktop version is available for Windows, Mac and Linux systems).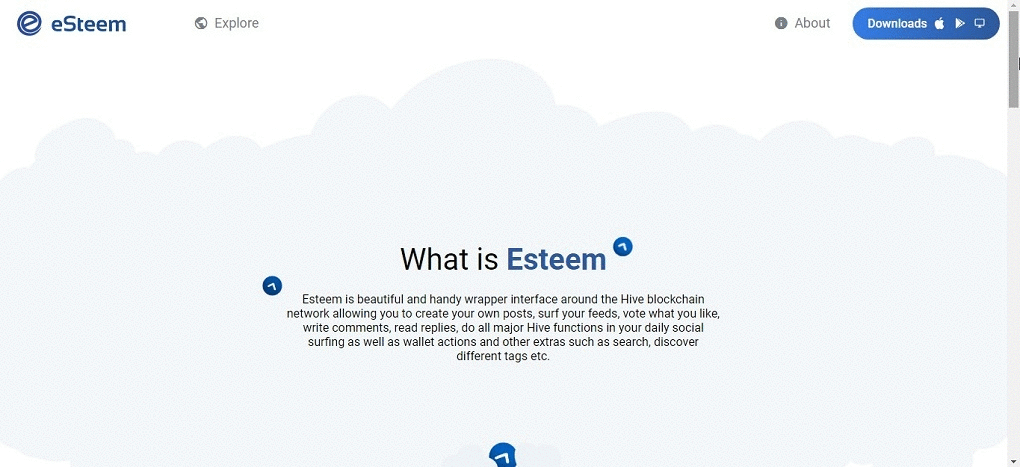 This will take you to Esteem.app's Github Download Page, download the installation file according to your device operating system; Windows, Mac or Linux. Download Esteem-Setup-2.2.7.exe for Windows systems.
Run the file and install the app.
When you first time run the app, it'll ask you to select any four numbers PIN CODE, you can choose any four numbers from 0 to 9.
Click button on the top right corner for login.
Enter the User ID and Password you got in the email.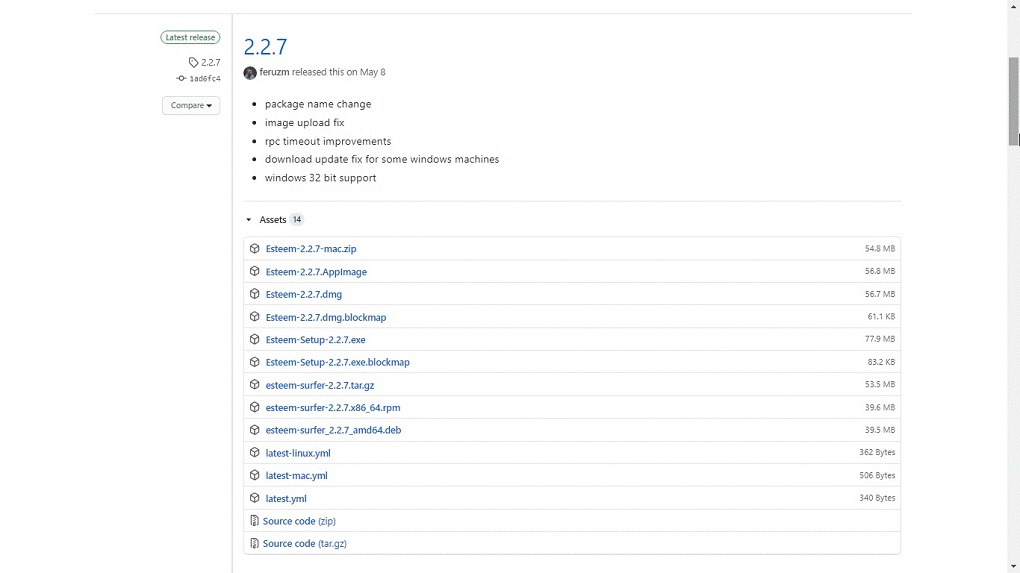 GEMS
GEMS is one of the biggest communities on HIVE with more than Five Thousands Subscribers where users are posting content in many categories and niches (Life, Education, Finance, Cryptocurrency, Games, Gaming, et cetera) in different languages and from all around the world.
This would be an excellent place for you to start your journey on the blockchain as well if you can write good content and honest comments, et cetera.
steps to follow:
Join GEMSDiscord; Discord server of the GEMS Community.
There, send a message to @bluemist, his Discord ID is BlueMist#7648, telling you need a HIVE account. Wait for the response, which will include the details.
@bluemist is one of the founders of the GEMS community and owns one of the highest HIVE staked account, @appreciator.
As is mentioned in the title, all of these three methods/platforms will provide you a FREE account on HIVE Blockchain, first 2 (HiveOnBoard and Esteem) will provide you the accounts INSTANTLY and GEMS will ALMOST INSTANTLY. The difference is of HP/HR (HIVE POWER) Delegation.
Unlike many Blockchains where users have to spend a GAS Fee for the transactions which cost the users, HIVE Blockchain requires Resource Credits (RC) which cost the users nothing. Users only need to have some HIVE staked in their accounts.
The more the the staked HIVE, the more the HIVE POWER, the more the Resource Credits, the more you can participate in different activities.
With zero HIVE POWER, you won't be able to Upvote/Curate too many posts/articles; this gives the reward not only to the author but to the curator, YOU, as well, 50% to the Author and 50% to the Curator.
Same is true for publishing the posts/articles and comments, playing games et cetera.
HiveOnBoard & Esteem (Ecency) only supports Account Creation and not the Delegation, whereas, GEMS will not only help you in Account Creation but in Delegation as well (Of course, this Delegation will be for a limited period which will give you enough time to earn and stake HIVE to become self dependent and operate on your own, and this only be possible if you keep engaging and participating in different activities).
Possibilities to engage, have fun, get and share information, and to earn on the HIVE are endless. It totally depends on you what you get.
and, one more thing...
WELCOME TO THE FAMILY
To extend its reach and spread the benefits to maximum number of people, this post is also cross posted on the following platforms.
Images' Sources: