Bored of the usual breakfast and want to eat something that's tasty and easy to cook at the same time? It's the season of Radish again and the best way you can eat Radish is in a parantha. The crisp parantha served with curd and butter is an absolute delight.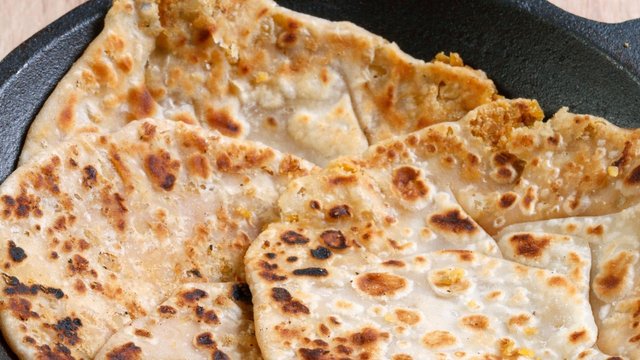 Cooking Time
1 Minute for each Parantha
Kitchen Standing Time
15 minutes
Servings
5 Parantha
Accompaniments
Any Vegetable, Pickle, Chutney, Butter
Ingredients:
• 1 cup Wheat Flour
• 2 Big Raddish
• Chopped Raddish leaves
• ½ TBSP Red chilli powder
• ½ TBSP Coriander Powder
• ½ TBSP Dry mango Powder
• Salt as per taste
• Oil for making paranthas
Step 1: Take Wheat Flour in a big bowl. Kneed into a dough. It has to be a regular dough, like we do to make chapatis.
Step 2: Wash and peel the radish. Now grate it using a grater. Add 1 TBSP salt to the grated radish and keep aside for 15 minutes. It will release all its water. Once done, squeeze it in a muslin cloth to drain all water. To it, add all spices and chopped radish leaves. Mix well.
Step 3: Take a small portion of the dough and make a flat, circular bread out of it. Note that it should be slightly thicker than a chapati but not too thick.
Step 4: Now take about 2 spoons of the radish mix and place it at the centre of the bread. Close the bread by making pleats ensuring the radish mix is well inside the bread. Now flatten the bread.
Step 3: Heat the tawa and add ½ spoon ghee. Place the bread on hot tawa. Let it cook.
Step 4: Once the parantha is cooked from one side, turn it upside down. Let the other side cook well.
Step 5: Now add some ghee on the tawa to make the parantha crispy and cook well until brown.
Step 6: Serve hot with any butter/pickle/vegetable/chutney
Try this recipe and home and enjoy thelockdown!
Happy Cooking!