We're looking here at some more major home improvements. Thank God they're not emergency repairs like last year, so I'm getting to look and research more and make some solid decisions.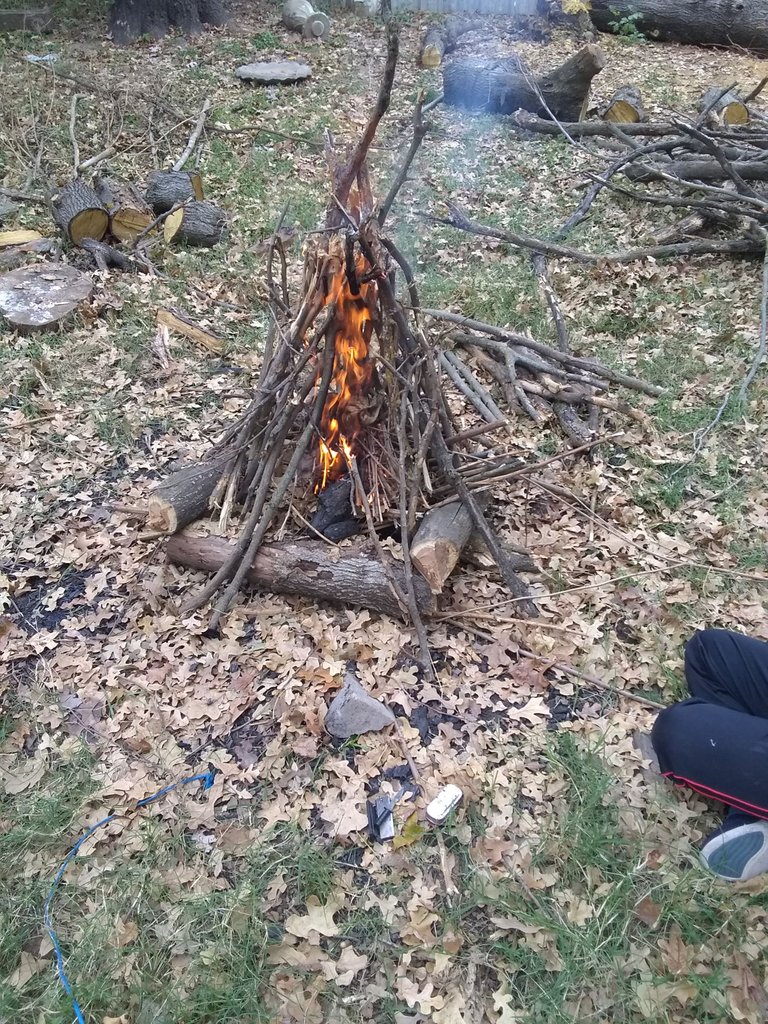 Today's campfire, courtesy of our big dead mulberry tree and yours truly, the pretend lumberjack 😉
One improvement we're looking into is installing a wood stove. It'd be a literal lifesaver in another major winter storm, and in a normal winter it'd save us money on our heating bill. I haven't confirmed for myself, but I've heard the Farmer's Almanac is calling for another winter blast in Texas like last year. Maybe we won't get be so blessed not to lose power this time, so I'm thinking ahead.
Right now in the US, wood stoves come with a 26% tax credit. So think of that as a discount on your purchase.
I'm looking at things to increase efficiency, and there's heat exchangers, heat reclaimers, and heat powered fans to make the whole operation more efficient. It looks like we'll be spending another $1,000-1,500 when we replace our roof. Looking at those products, the reviews sound good. They seem like they'd work well together too. I bet the whole thing would pay itself off within a few years, while adding to the comfort and quality of our life.
Concerning the roof, I've decided to register as a general contractor and do the labor myself, billing the insurance company so that I'd get all my money back. The goal is to do insulation and a metal roof myself for the same price a company would charge to slap new shingles on. Where they would look to profit, I'd just be looking for a quality increase. That way I (or whoever buys the house from us) wouldn't need to replace the roof ever again. If it doesn't work out that way, I'd settle for insulation and shingles with a little pocket money to go towards the stove, but I always prefer an increase in quality when I'm doing such projects.
The two projects go together because I'd install the stove chimney while replacing the roof. It'd just be a convenient time to do so. They'd both add to our quality of life and decrease our cost of living, which are two big goals here for us. While refinancing our home and making a few other financial adjustments, we're setting up to where we need less money to pay our bills, increasing the money we can save and decreasing the need for my current high paying job. If our bills get low enough, I'll be able to afford to do more rewarding work like farming. Eyes on the prize, Nate.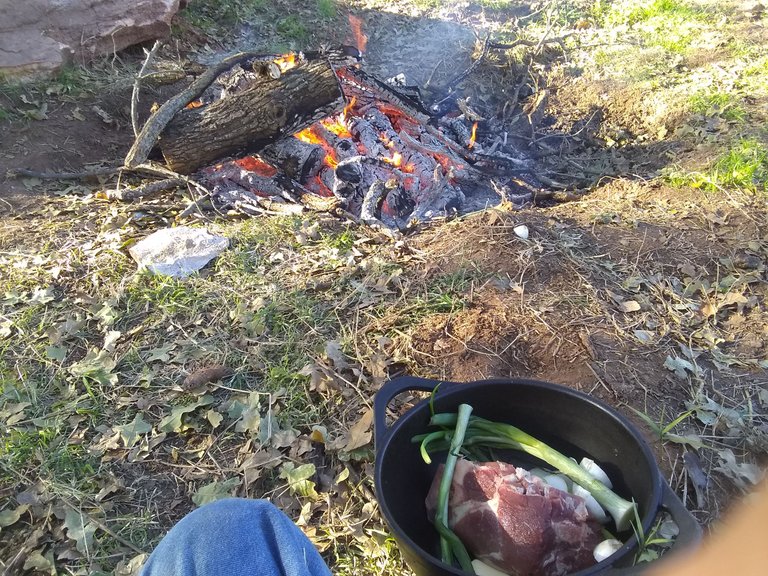 Campfire cooking with friends recently. Fall is campfire season.
I've started asking everyone I know if they know anyone that owns or works at an orchard. No luck yet, but there's still the other 8 billion folks out there to ask, and I'm bound to bump into an orchardist before I get to the last one. If not, I can always start my own. @foxfireorchards, start your engines...
I've started collecting the used up molasses tubs from the farm I've been working at. I'll be planting trees and blackberries in them from now on in anticipation of getting some more land to grow on and start up another project. I saw someone on YouTube having great success with blackberries in wicking beds made out of molasses tubs, which gave me the idea.
Well, I'm off to bed. Gotta be up in the morning to take the kids to school. Hope y'all had a blessed Lord's day.
Back shortly.
Nate