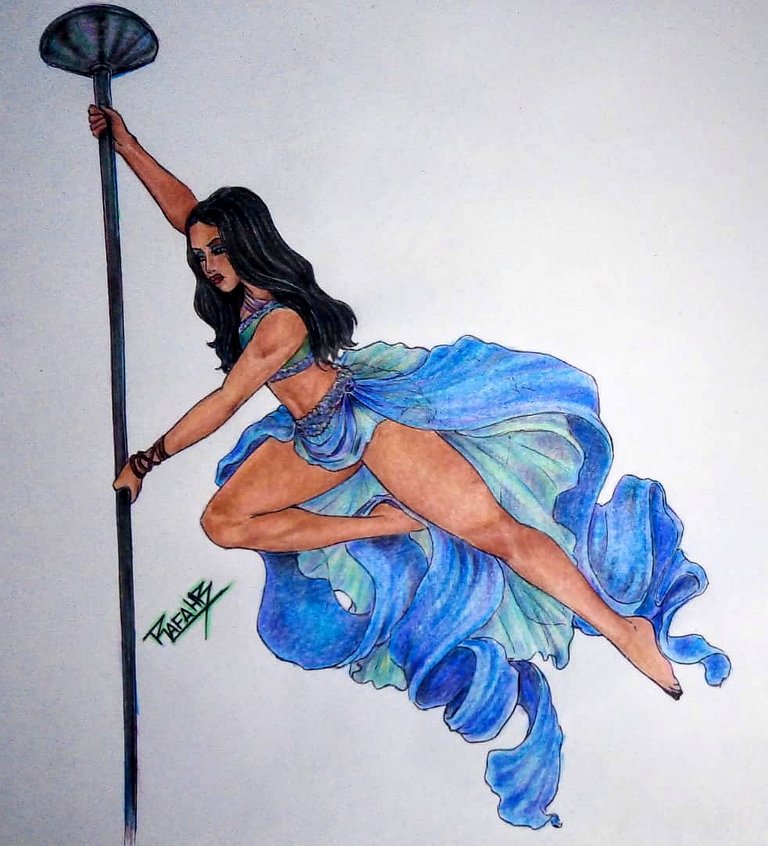 Buenas estimada comunidad, les presento este nuevo dibujo, el cual lo hice usando a una amiga de modelo, solo que yo le diseñe el traje. Ya llevaba tiempo queriendo dibujarla, y ella me pasó varias fotos de las cuales seleccione esa posición.
Well dear community, I share to you this new drawing, I made it using a friend as model, but I designed her suit. I've wanted to draw her for a long time, and I chose this pose beetwen several pictures.
Mi amiga es instructora de pole dance, y la conocí en la academia de salsa casino a la que asisto donde ella también es instructora. Ella siempre publica en sus redes videos de todas las figuras y poses que realiza en pole dance, y ya llevaba mucho tiempo queriendo dibujarla.
My friend is a pole dance instructor, and I met her in a salsa academy where I'm going and she is also an instructor there. She is always sharing videos at social media of pole dance figures and poses, and I wanted to make this drawing since a long.
Gracias a este estilo de dibujo he empezado a practicar lo que es la piel a color, debido a que normalmente realizo aves o flores a color, pero nunca retratos porque hacer piel a color siempre me ha costado mucho.
This kind of drawing is teaching me about coloring skin, because I usually draw birds or flowers with colors, but never portraits because it's hard to me use colors for the skin.
El traje lo diseñe basándome en varias imágenes de distintos trajes que tenían telas, las cuales se ven hermosas al momento de realizas las figuras de pole dance. Realizar este dibujo me tomo aproximadamente 5 horas.
I toke inspiration of different cloth suits that I saw in pictures to design her clothes, it looks beautiful with the pole dance figures. Making this drawing take a time of 5 hour approximately.
Primero realice el boceto, y luego realicé el delineado, para así proceder a colorear. Al momento de colorear, primero empecé con la piel, luego con el traje y al finalizar realicé las telas. Una vez terminada las telas hice el cabello y el tubo y con ello terminar el dibujo.
First I made a sketch, after that the borders, to later add colors. Using colors I started with the skin, later the suit and ending with the clothes. Once I over the clothes I made her hair, the pole and that was the end.
Los. Materiales que utilice fueron mi caja de 12 colores marca kores, con los cuales realicé todos los detalles, un lápiz del 2b para realizar el boceto del dibujo y un lapicero con el cual realice el delineado de todo el dibujo, espero les guste.
I worked using a box of 12 colors brand Kores, used to make the details, a pencil 2b for the sketch and a pen to the borders of the whole drawing, I hope you like it.