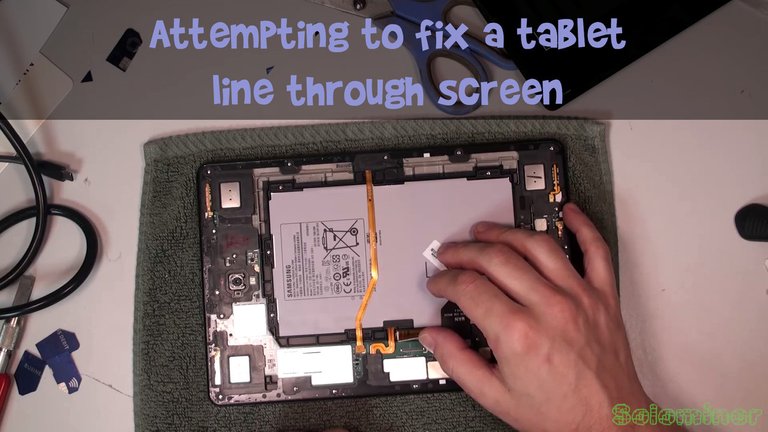 I bought a used tablet a few months back, it was real cheap but for a reason. It has a green line that goes through the screen. So from what I have read reseating the video ribbon cable inside of the tablet can solve that issue. I figured its worth opening it up and redoing it to see if that fixes it. After watching some videos I try to open using just a suction cup but that did not work out for me. I use a heat gun and a razor knife to open up the back side of the tablet. I start up by the camera and work the blade through the cover. I use a little alcohol to keep it from sticking right back as I move away from the camera.
I really did not like having to open this tablet, it was a real pain being sealed and all. But once I got it open I could see the cables. Upon inspection they appeared fine, so I disconnected them. Cleaned them and put it back in the slot. I planned on checking the video cable on the other side of the tablet as well, where the screen is. But after watching videos and reading comments I really felt like I would crack the screen. The backside removal seemed more safe. I try to remove the battery but find I would have to remove more components and decided against it.
I put the backside on gently but not sealed and try to turn it on. Half the screen would not work, so I powered it off and took the cover off again. I pulled out the ribbon cable and then reseated it a second time. I go to start it up and the same issue, so I repeat and eventually get a full screen but with a green hue. It sure seemed this cable could be placed in the slot all kinds of wrong ways.
After about five or so attempts with that video ribbon cable I get a good connection, but the line still remains. Making me think the other end of the ribbon cable behind the screen may be loose. Or the actual LCD screen needs to be replaced. Honestly its not a big deal to have that line go through the screen, ill probably just use it as is for now and if it really bugs me ill pay someone to fix it for me.
---
Addresses below to help me buy better camera equipment and support me to travel to locations to do photo and video and overall great blogs in new places.
| Coin | Address |
| --- | --- |
| BTC: | bc1qhfmvd2gywg4fvrgy2kkkkyqta0g86whkt7j8r7 |
| LTC: | ltc1qdyzm5cwgt8e2373prx67yye6y9ewk0l8jf3ys9 |
| DASH: | XkSqR5DxQL3wy4kNbjqDbgbMYNih3a7ZcM |
| ETH: | 0x045f409dAe14338669730078201888636B047DC3 |
| DOGE: | DSoekC21AKSZHAcV9vqR8yYefrh8XcX92Z |
| ZEN: | znW9mh62WDSCeBXxnVLCETMx59Ho446HJgq |