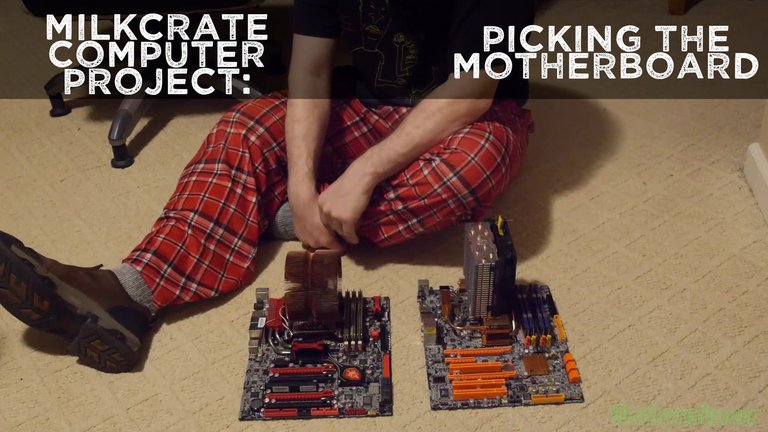 I had two motherboards to pick from to place into a milk crate to power my bee webcam. I talk about the different specs and what is probably best for me and for the needs of the task. This computer ran my webcam for my Mason Bees for live streaming. So looking at the RAM speed, RAM capacity, CPU generation and some other details I talk about how which ones are more important for what I planned on doing with it.
Running Linux on these machines is hit or miss for drivers, I will need to test alot once installing to make sure the software setup got everything recognized and installed. If not ill have to switch to that other motherboard and hope its better supported on Ubuntu. Its rare these days I run into incompatible hardware, so I will build this system only enough to test it, and once it looks legit ill secure everything better and have something that I can move around.
I decided to go with the lessor of the two motherboards, wanting to save the more powerful one more advanced computing projects. Both motherboards approaching ten years old, but they are still useful when running ubuntu and other headless operating systems these old boards work just fine. The most it will be doing is streaming OBS off of two webcams pointed at the bee homes.
I posted about this project a few months back, but had video of it that I got to editing, so I will be releasing few more videos showing how I built and configured this system.
https://peakd.com/hive-174578/@solominer/my-milk-crate-computer-build
Next is to prep the milk crate and start installing components including building risers for the motherboard to rest on. I use a hot glue gun, some spare jar lids and some extra water bottle caps to build my own non-conductive risers to hold the motherboard high up enough where the video card will seat.
---
Addresses below to help me buy better camera equipment and support me to travel to locations to do photo and video and overall great blogs in new places.
| Coin | Address |
| --- | --- |
| BTC: | bc1qhfmvd2gywg4fvrgy2kkkkyqta0g86whkt7j8r7 |
| LTC: | ltc1qdyzm5cwgt8e2373prx67yye6y9ewk0l8jf3ys9 |
| DASH: | XkSqR5DxQL3wy4kNbjqDbgbMYNih3a7ZcM |
| ETH: | 0x045f409dAe14338669730078201888636B047DC3 |
| DOGE: | DSoekC21AKSZHAcV9vqR8yYefrh8XcX92Z |
| ZEN: | znW9mh62WDSCeBXxnVLCETMx59Ho446HJgq |