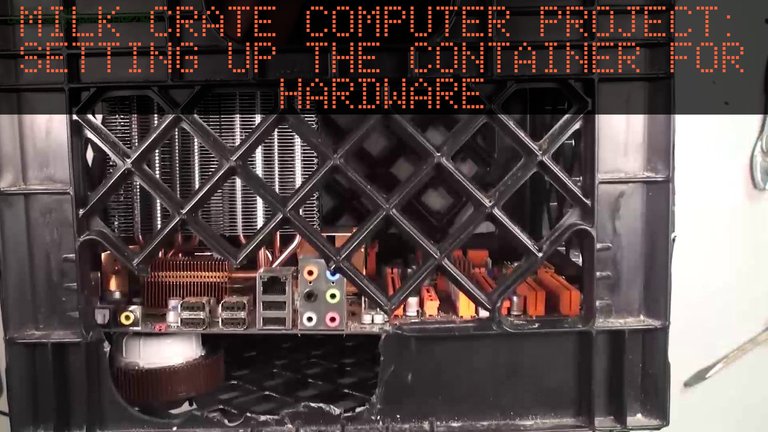 Using a milk crate for a computer case has some complications, though with some creativity those issues can be overcome. I built stilts for the motherboard to rest on. Using some old peanut butter lids and some water bottle caps I build risers so the video card and other PCI-E components will fit into the slots.
I use a hot glue gun to attach the water bottle caps to the peanut butter lids. After cooling, I place them into the milk crate and try out the motherboard inside. Fits well though now I need to deal with the ports being blocked by the milk crate. I need to get to the video card slot, usb, audio and network ports. To do this I cut out some of the milk crate, its pretty messy but works. The milk crate tends to break apart as I cut it but it did not fall apart too much. Next time using a Dremel would make clean quick work of the cutting. But this time around I use wire cutters, a screw driver and my hands...lol
I had to go back and cut it more after putting the motherboard and video card in. Always a little more I need to cut that what I thought I needed. Though id rather not cut enough than cut too much and ruin the crate.
Before building a computer out of this milk crate, it was my Mason Bee cocoon drying crate. Where I would lay the cocoons with a fan blowing on them to dry. You can still see some of the debris on the crate thought I dont think a little mud and pollen will hurt this old motherboard.
In my previous post on this project I showed the two motherboards I was considering and I chose which one I wanted to go with on this project.
https://peakd.com/hive-163521/@solominer/milk-crate-computer-project-choosing-the-hardware
In the next part I connect the power supply, hard drive and boot it up for the first time. Going through the settings to make sure its operating correctly.
---
Addresses below to help me buy better camera equipment and support me to travel to locations to do photo and video and overall great blogs in new places.
| Coin | Address |
| --- | --- |
| BTC: | bc1qhfmvd2gywg4fvrgy2kkkkyqta0g86whkt7j8r7 |
| LTC: | ltc1qdyzm5cwgt8e2373prx67yye6y9ewk0l8jf3ys9 |
| DASH: | XkSqR5DxQL3wy4kNbjqDbgbMYNih3a7ZcM |
| ETH: | 0x045f409dAe14338669730078201888636B047DC3 |
| DOGE: | DSoekC21AKSZHAcV9vqR8yYefrh8XcX92Z |
| ZEN: | znW9mh62WDSCeBXxnVLCETMx59Ho446HJgq |