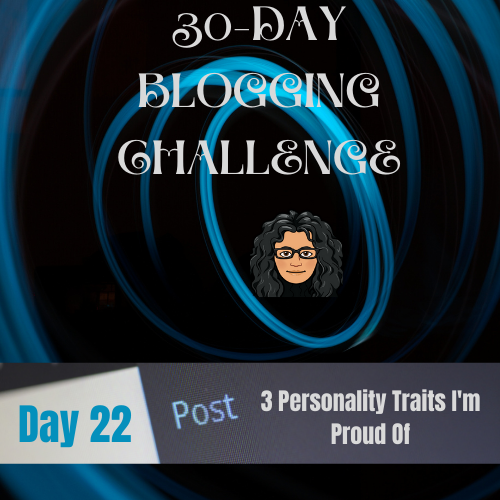 Image created in Canva by @justclickindiva utilizing its free images and bckgrnds

Today is Day 22 of 30-Day Blogging Challenge. I'm in the home stretch now. I get to talk about myself today and three personality traits that I am proud of. Usually people don't like to talk about traits.
However, a personality trait can be a person's way of feeling or thinking about life in general or specific items. It can also refer to how a person behaves. There are numerous personality trait tests that help society determine the type of social climate one will adapt well to or fit in a particular group.
When I was a teenager, I was trying to decide which career path in life I wanted to pursue. I don't remember how it came about that I took a personality profile.
The questions I answered helped me determine the type of job I would fit well in. I was surprised by my responses that predicted exactly the type of career path I would probably flourish in. I was skeptical about taking the test, but once I did, I could actually imagine myself devoted to the specific environment. It worked out well for me. My career in that field lasted 35 years.
I couldn't see how answering vague questions could expose aspects of how I actually thought about certain areas of my life. I found out traits on a personal level that I knew I possessed, but didn't give them a specific name.
A feel that a person has to recognize and acknowledge both good and bad traits they may exhibit. Some traits others may notice that you aren't aware of.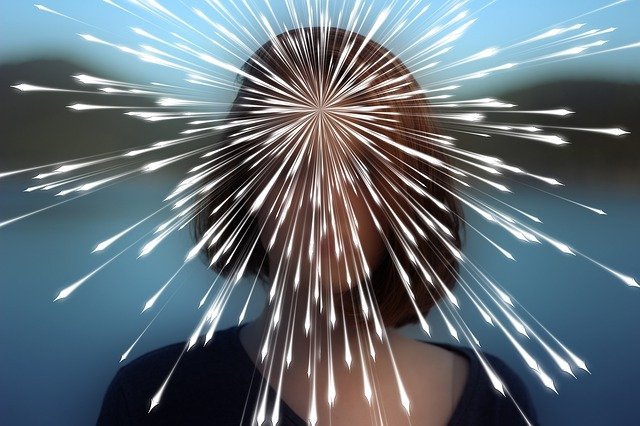 Image by geralt from PIxabay
Three personality traits that I am keenly aware that I am proud of are:
Persevering or Tenacity.
Even as a young child, my parents would always tell me I was stubborn. They never fully explained in what way. I always thought it in a bad way. However, I found out it was the opposite. Yes, I do have a determined mind. I have been described by others as having tunnel vision. I'm focused. Whenever I have a project or task to complete, I enter into, stay the course, and never waiver until I see it through to the end. There has to be extenuating circumstances for me to quit or just give up.
---
Versatile.
I feel that I'm able to adapt to any situation. I remember when I was young, I was the fifth of seven children. I was always outnumbered because the two younger ones always sided with the four older siblings. There was no winning for me. So I had to always go with the flow and not let anything bother me; except that one year I had to have a turkey for Thanksgiving. There was no satisfying me. No one else wanted a turkey. However, personality trait #1 above kicked in, and I got my turkey. Win one for me. However, they came few and far between. Also, my company was bought out and transferred me to another unit to learn a different position. I accepted and flourished. I got the chance to learn something new to add to my later resume.
---
Compassionate.
I have always known from an early age that I have compassion for others. It goes deeper into empathy also. With my time and financial resources. I try to help others who need it. My parents taught me early not to expect anything in return. They also taught me that when you give, and give willingly, it will be returned to you tenfold.
---
I think that personality traits can impact your life in a positive way if they are qualities you can be proud of.

Hoy es el día 22 del desafío de los blogs de 30 días. Ahora estoy en la recta final. Hoy puedo hablar de mí mismo y de tres rasgos de personalidad de los que estoy orgulloso. Por lo general, a la gente no le gusta hablar de los rasgos.
Sin embargo, un rasgo de personalidad puede ser la forma en que una persona se siente o piensa sobre la vida en general o sobre temas específicos. También puede referirse a cómo se comporta una persona. Existen numerosos tests de rasgos de personalidad que ayudan a la sociedad a determinar el tipo de clima social al que uno se adaptará bien o encajará en un grupo particular.
Cuando era adolescente, intentaba decidir qué carrera profesional quería seguir. No recuerdo cómo surgió que tomé un perfil de personalidad.
Las preguntas que respondí me ayudaron a determinar el tipo de trabajo en el que encajaría bien. Me sorprendieron mis respuestas, que predijeron exactamente el tipo de carrera en la que probablemente prosperaría. Era escéptico acerca de hacer el examen, pero una vez que lo hice, podía imaginarme dedicado a un ambiente específico. Funcionó bien para mí. Mi carrera en ese campo duró 35 años.
No podía ver cómo al responder preguntas vagas podía exponer aspectos de cómo pensaba realmente en ciertas áreas de mi vida. Descubrí rasgos a nivel personal que sabía que poseía, pero no les di un nombre específico.
Para que una persona crezca, tiene que reconocer y reconocer tanto los rasgos buenos como los malos que pueda exhibir. Algunos rasgos que otros pueden notar y de los que no son conscientes.
Tres rasgos de la personalidad de los que estoy muy consciente y de los que me siento orgulloso son:
Perseverancia o Tenacidad.
Incluso de pequeño, mis padres siempre me decían que era terco. Nunca me explicaron completamente de qué manera. Yo siempre lo pensé de una manera negativa. Sin embargo, descubrí que era lo contrario. Sí, tengo una mente determinada. Otros me han descrito como si tuviera visión de túnel. Estoy concentrado. Siempre que tengo un proyecto o una tarea que completar, entro, mantengo el rumbo, y nunca renuncio hasta que lo veo hasta el final. Tiene que haber circunstancias atenuantes para que renuncie o simplemente me rinda.
---
Versátil.
Siento que soy capaz de adaptarme a cualquier situación. Recuerdo que cuando era joven, era el quinto de siete hijos. Siempre me superaban en número porque los dos más jóvenes siempre se ponían del lado de los cuatro hermanos mayores. No había ninguna victoria para mí. Así que siempre tenía que seguir la corriente y no dejar que nada me molestara; excepto que un año tuve que comer un pavo para el Día de Acción de Gracias. No había nada que me satisficiera. Nadie más quería un pavo. Sin embargo, el rasgo de personalidad número uno de arriba me hizo efecto, y conseguí mi pavo. Gana uno para mí. Sin embargo, fueron pocos los que se interpusieron. Además, mi compañía fue comprada y me transfirieron a otra unidad para aprender una posición diferente. Acepté y prosperé. Tuve la oportunidad de aprender algo nuevo para añadir a mi posterior currículum.
---
Compasivo.
Siempre he sabido desde una edad temprana que tengo compasión por los demás. También se profundiza en la empatía. Con mi tiempo y recursos financieros. Trato de ayudar a otros que lo necesitan. Mis padres me enseñaron desde muy temprano a no esperar nada a cambio. También me enseñaron que cuando das, y das voluntariamente, te será devuelto diez veces.
---
Creo que los rasgos de personalidad pueden impactar tu vida de manera positiva si son cualidades de las que puedes estar orgulloso.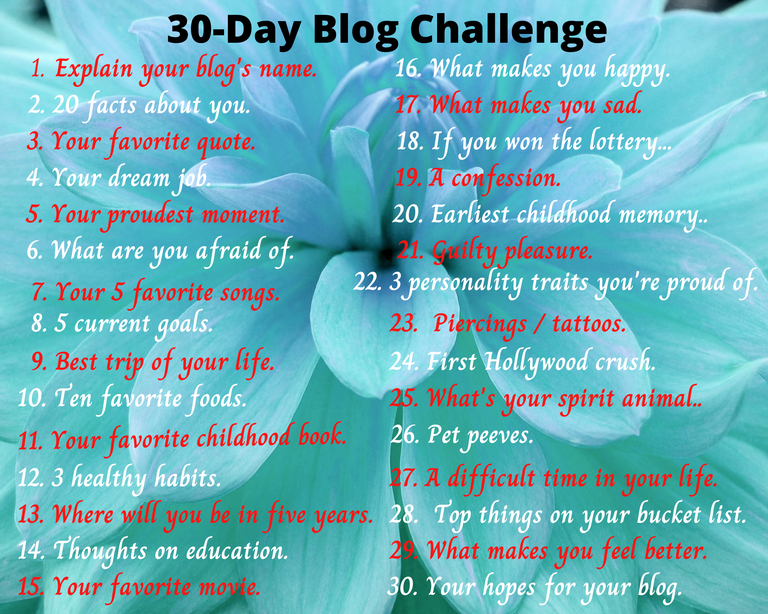 Follow my 30-Day Blogging Challenge below:

@flaxz initiative #iamalivechallenge (Published my post for my blog today)

Thanks,
@justclickindiva
Happy rest of the week everyone with whatever your endeavors.


SOURCES:
a) JustClickindiva's Footer created in Canva utilizing its free background and images used with permission from discord admins.
b) Unless otherwise noted, all photos taken by me with my (i) Samsung Galaxy 10" Tablet, (ii) Samsung Phone, & (iii) FUJI FinePix S3380 - 14 Mega Pixels Digital Camera
c) Purple Butterfly part of purchased set of Spiritual Clip Art for my Personal Use
d) All Community logos, banners, page dividers used with permission of Discord Channel admins.
e) Ladies of Hive banner used with permission of and in accordance with the admin's guidelines.

Your Personal Terminal Discord Invite